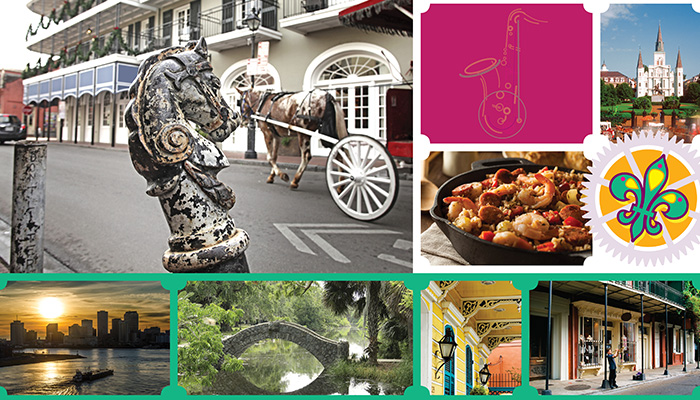 Whether you're into beignets, brass bands, or bridges, the Crescent City has something to suit every taste.
Like a great gumbo, New Orleans has always been more than a sum of its parts, yet its individual ingredients are grand. Founded at a crook in the Mississippi River roughly 100 miles upriver from the Gulf of Mexico, the birthplace of jazz music is a bastion of Creole culture, a culinary mecca, an architectural dreamscape, Mardi Gras central, a hurricane target, home to a major port, and arguably one of the best places to lose a few days in celebration of…well, anything. The city's oft-repeated motto, "laissez les bon temps rouler" (let the good times roll) never goes out of vogue.
A decade after Hurricane Katrina, the Crescent City is in full bloom. While some neighborhoods have yet to recover and the population remains well below pre-Katrina numbers, evidence of renewal continues to spread citywide, from the youthful energy and entrepreneurship along St. Claude Avenue, to the eclectic restaurants and businesses populating the Freret Street corridor, to downtown's newly named South Market professional district.
New Orleans in June is hot. And damp. Avail yourself of streetcars and sno-balls. A Sazerac cocktail (or two) wouldn't hurt. Neither would an umbrella, just in case. The steamy summer weather will force you to pace yourself like a New Orleanian—which will only make the good times roll more smoothly.
Four Key Food Groups
New Orleanians are, by nature, generous with their food knowledge. They're so generous that it can be difficult to get through the supermarket line without someone challenging the ingredients in your cart. "Looks like you're making red beans and rice. Where are your pickle tips?" Or, "You like Tabasco? I use Louisiana Hot Sauce, me." Food nerds should consider ducking into a locally owned grocery store like Rouses or Langenstein's and stocking their suitcases with such iconic Louisiana dry goods as Camellia red beans, Cajun Country rice, Zapp's Potato Chips (try the Spicy Cajun Crawtator), Creole-style coffee, crab boil, and boxed jambalaya mix. Food enthusiasts can dig deeper into the region's culinary history at Central City's Southern Food and Beverage Museum, home to informational exhibits and archives as well as the southern restaurant Purloo.
Gumbo is perhaps the best point of entry for a visitor who's curious about how New Orleanians eat—and, by extension, about what's important to them. It appears on every restaurant menu with even the slightest local bent. Gumbo is indefinable, but in very general terms is a soup or stew thickened with a roux and/or okra and/or filé (the cured and ground leaves of the sassafras tree). As a visitor, you need only to remember two rules: If there's a gumbo on the menu, order it; if there's gumbo on the table, eat it.
There's a wonderful chicken gumbo with tangy, house-made andouille sausage at Grand Isle, which is otherwise primarily a seafood restaurant near the Ernest N. Morial Convention Center; shrimp, sausage, and okra gumbo at Bourbon House, a welcoming French Quarter space with a stellar raw bar; Creole gumbo enlivened with spicy chaurice sausage at the landmark Dooky Chase Restaurant in Treme; and a filé-heavy gumbo at Brigtsen's Restaurant in Riverbend.
Po-boy sandwiches are equally vital to the New Orleanian belly. The po-boy is to New Orleans what the hoagie is to Philadelphia, the Italian to Portland, Maine, and the submarine to the rest of us. A few characteristics set the po-boy apart from these other sandwiches. The bread traditionally has a brittle exterior crust, for example, and fried seafood is a more common filling than are cold cuts. When you order a po-boy, you must answer whether you want your sandwich "dressed," meaning garnished with mayonnaise, lettuce, tomato, and pickles. The answer should almost always be yes.
Some loyalists believe that the only worthy po-boys are those that drip down your arm as you eat them. Among this category are the BBQ shrimp po-boy with peppery gravy at Liuzza's by the Track in Mid-City, and the French fry po-boy with roast beef gravy at Johnny's Po-Boys in the French Quarter. Despite the city's love affair with seafood, roast beef is the unofficially official po-boy of New Orleans. Café Dauphine in the Lower Ninth Ward serves a luscious version, and the bar at venerable Tujague's Restaurant in the French Quarter serves a brisket po-boy dressed with a unique red horseradish sauce. Fried seafood po-boys are often labeled "overstuffed," which appeals to the growling stomach, but it's best to judge seafood po-boys by quality rather than quantity. In other words, make sure what you're getting is from Louisiana or Gulf waters. You can trust the seafood at Killer PoBoys and Acme Oyster House in the French Quarter, and Mid-City's Parkway Bakery & Tavern. Raw Gulf oysters are not at their best in the summer months, though they still make a good showing when fried for a po-boy.
If there was a first pot of red beans in New Orleans, documentation hasn't been found. Everyone here knows, though, that whether true or myth, red beans and rice became a Monday staple for two reasons: It made good use of the ham bone from Sunday dinner, and cooks could stir the low-maintenance dish infrequently while tending to housework back when Monday was laundry day and people still set their washtubs over charcoal furnaces in the backyard. The origin of red beans and rice means little to most modern New Orleanians, who care only that no Monday passes without at least one helping. Reliable red beans restaurants include Uptown's High Hat Café, where cooks simmer the beans with sausage sourced in Cajun Country; Napoleon House, the historic French Quarter bar where you can order red beans every day; and Willie Mae's Scotch House, the Treme restaurant that fried chicken made famous.
New Orleans' best ammunition against the subtropical summer heat is, perhaps counterintuitively, not alcoholic. Sno-balls are simple but culturally important treats of finely shaved ice drenched in sugary syrups. They come served in cups or Chinese take-out containers and are generally sold from trucks, takeaway windows, and small sweet shops. One's favorite sno-ball vendor is generally the closest, though the standard bearer is Uptown's Hansen's Sno-Bliz, where the syrup flavors range from the traditional (nectar, chocolate, cream of strawberry) to the uber-contemporary (satsuma, cardamom, ginger).
Swinging Nightlife Sounds
It's nearly impossible to walk down a New Orleans sidewalk without eavesdropping on some kid practicing his trumpet or her trombone. Music begins in the schools and in the neighborhoods. Stet line parades, which include brass bands, roll every Sunday during the cooler months. And between the beads and masks in Carnival parades are junior high and high school marching bands, high-stepping and getting the crowds moving. For insights into the city's street-music culture, visit the wonderful Backstreet Cultural Museum on St. Claude Avenue. For a sneak peek at actual Mardi Gras preparations, book a tour at Blaine Kern's Mardi Gras World (right next to the Convention Center). For nighttime brass sounds year-round, you can count on clubs like Le Bon Temps Roulé in Uptown, The Hi Ho Lounge on St. Claude Avenue, and Oak Street's Maple Leaf Bar, where the Rebirth Brass Band raises the roof every Tuesday night.
Frenchmen Street, a quick walk from the French Quarter, is an excellent destination for live music of all kinds. Clubs from The Maison and Blue Nile to d.b.a. and The Spotted Cat host such stellar music simultaneously that picking which place to patronize turns into the day's most difficult decision. Most nights there's also an open-air art market on Frenchmen Street, not to mention the Louisiana Music Factory, a fantastic music store open until 8 p.m. Vegetarians would do well to reserve a table at Three Muses, a sit-down live music venue and restaurant with ample vegetable-oriented options.
The city boasts plenty of venues for music lovers whose enjoyment requires a chair. Among them are Preservation Hall (though seats in this mostly dance hall space cost more), a sanctuary for traditional New Orleans jazz in the French Quarter, and Snug Harbor on Frenchmen Street. Hotel lobbies and bars can be good places for finding live music paired with a mellow atmosphere. The Davenport Lounge inside the Ritz-Carlton New Orleans, the Polo Club Lounge at the Windsor Court Hotel, and Irvin Mayfield's Jazz Playhouse in the Royal Sonesta Hotel all fall into this category.
Wherever you choose to take in the sounds of the city, know that New Orleans is not a late-night food town. There are a couple of all-night diners, and Port of Call serves burgers until around midnight in the French Quarter. But otherwise your best bet is looking for a food truck or Lucky Dog cart.
Cocktails, on the other hand, are never a problem. The Crescent City had a cocktail culture long before "mixologist" entered the popular lexicon. New Orleans long ago laid claim to the Sazerac, a stiff drink of rye whiskey, bitters, sugar, absinthe or pastis, and wisp of lemon rind. Order Sazeracs in historic hotel bars, like the Carousel Bar in the Hotel Monteleone and the Sazerac Bar in The Roosevelt New Orleans, and also at classic restaurants like Galatoire's and Arnaud's, where the French 75 bar is a destination in its own right.
French Quarter
Most locals will tell you that to truly experience New Orleans you must explore beyond the French Quarter. That said, those roughly 13 square blocks compose the city's oldest and liveliest neighborhood. Bourbon Street speaks for itself. Some visitors find freedom in its excesses; others find that one look-see is enough. Either way, it's an unforgettable experience. Any visitor would do well to pass an hour people-watching at the central plaza, Jackson Square, and enjoying the street musicians who gather there. The riverside of Jackson Square is the best place to board a carriage for a horse-drawn tour of the area. (In place of north, south, east, and west, New Orleanians tend to use the Mississippi River, Lake Pontchartrain, Uptown, and Downtown as direction-setters.)
Beignets and café au lait at Café du Monde are a must, as is an olive-and-cold-cut-packed muffuletta sandwich from Central Grocery, which harkens back to the days, three quarters of a century ago, when the French Quarter was primarily a residential neighborhood largely populated by Sicilian immigrant families.The newly rehabbed and nearby French Market, which spans six blocks, dates to the late 1700s.
Contrary to its R-rated reputation, the French Quarter holds plenty of family-friendly entertainment. The Audubon Nature Institute's Woldenberg Riverfront Park offers fantastic views of the Mississippi River, with barges and tugboats passing so close you can almost touch them. It's along this stretch of walkway and green space where you might board the Creole Queen paddleboat for a cruise, or stop off at Audubon's Aquarium of the Americas, which aside from aquatic life houses an IMAX movie theater. Audubon's Butterfly Garden and Insectarium is just one block up Canal Street from the aquarium.
Streetcar Named Convenient
Who needs a tour guide when two main streetcar lines access some of the city's finest attractions? Take the St. Charles Streetcar from the edge of the French Quarter to Lee Circle, where you can hop off for a few deeply historical hours at the National World War II Museum. Then climb back on again for a ride through the stately Garden District, perhaps stepping off for a self-guided walking tour or lunch at the grande dame of Creole restaurants, Commander's Palace. Families might make Audubon Park and the Audubon Zoo (with a splash park and lazy river) their final destination, while others can continue on to Oak Street for dinner at the no-holds-barred Jacques-Imo's Café (don't miss the shrimp and alligator sausage cheesecake).
The Canal Streetcar passes through Mid-City—where a lunch stop at Mandina's for turtle soup and fried seafood would be wise—all the way to City Park, where the options for recreation and enlightenment are endless. Golf, tennis, paddle-boating, nature walks, jogging, biking, birding, and horseback riding are all possible here. Add to that a world-class art museum, sculpture garden, botanical garden, amusement park, miniature golf course, playgrounds, and the 24-hour Morning Call Coffee Stand serving beignets and other local specialties.
Nature Outings
While New Orleans in June feels rather jungle-like with its damp heat, unstoppable fauna, and—fair warning—bugs, it's possible to experience non-urban nature with a car. Swamp tours and fishing expeditions abound—consult your hotel concierge for recommendations. It's about a 35-minute drive from downtown New Orleans across the Crescent City Connection bridge to the bayous, swamps, marshes, forests, alligators, birds, and other wildlife of the 23,000-acre Barataria Preserve. You can view much of the preserve from boardwalks. A nature center provides terrific resources for additional information about the area. Alternately, drive roughly the same distance in the opposite direction across the Bonnet Carré Spillway to the sleepy fishing village of Manchac. There you will find the small but impressive Reno's Seafood Market stuck in time. A few doors down, Middendorf's Restaurant is a popular destination for thin-cut fried catfish, deck seating overlooking Pass Manchac, and a sandy play area for children.
Especially for Engineers
New Orleans lies below sea level, and you could spend a week exploring the many structures that span or contain waterways small and great. Of special interest is the cantilevered steel-through-truss Huey P. Long Bridge, which crosses the Mississippi River in Jefferson Parish carrying a two-track railroad line. The duel-span Lake Pontchartrain Causeway Bridge crosses the lake north of the city for 24 miles, making it the world's largest bridge across water. The Magnolia Bridge (or Cabrini Bridge) crossing Bayou St. John in Mid-City is smaller in scale but looms large in the New Orleanian heart. Now closed to vehicular traffic, it dates to the 19th century and often plays host to parties and weddings. Another pedestrian bridge, the gorgeous Piety Street Arch made from rusted steel, connects Chartres Street in the Bywater neighborhood to the new riverfront Crescent Park—a worthwhile destination for river-watching, exercising, picnicking, and views of downtown.
Over the past few years, New Orleans has built what experts say is the world's most expensive flood-control system. While official water-control tours don't exist yet, curious visitors could easily view parts of the system dubbed the "great wall." For example, the 26-foot-tall Inner Harbor Navigation Canal-Lake Borgne Surge Barrier, which cost around $1 billion to build, stretches for nearly two miles across marshland on the eastern edge of the city.
There are also several educational sites that a drive or phone call could make accessible. Last fall, Levees.org completed an outdoor Levee Exhibit Hall and Rain Garden at 5000 Warrington Drive in the Gentilly neighborhood. By June 2016, the New Orleans Redevelopment Authority's water education site overlooking a pump station on Broad Street should be open to visitors. Ripple Effect is an organization that promotes water literacy through school programs and curricula. One of its most successful projects is the courtyard rain garden and play area at KIPP Central City Primary school, which students helped design and build. The schoolyard used to flood every time it rained; no more. That offers hope that upcoming generations of New Orleanians will continue to keep this architecturally, culinarily, and musically rich city livable for another three centuries.
By Sara Roahen
Sara Roahen is a New Orleans-based food writer and author of Gumbo Tales: Finding My Place at the New Orleans Table.
Design by Francis Igot
Images Courtesy of Thinkstock