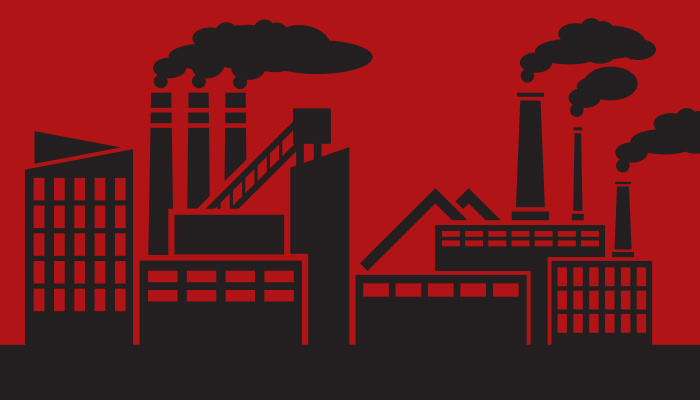 Carbon capture and storage may be what our warming climate requires, but getting energy markets on board will be tough.
Now that the United States and 194 other countries have pledged to cap global temperatures through cuts in greenhouse gas emissions, Larry Baxter's efficient, relatively cheap carbon-capture technology ought to be gaining traction. Baxter, a professor of chemical engineering at Utah's Brigham Young University, has found a way to slash the steep refrigeration costs that have prevented wide adoption of cryogenics, which super-cools flue gases of power plants so the carbon dioxide condenses and can be separated from other effluent and removed. In his cryogenics technique, most of the cooling of the effluent comes from putting the chilled and solidified CO2 and the cooled—but still gaseous—nitrogen into recuperative heat exchangers. That process melts the CO2 into a liquid, which makes it easier to transport. It's 50 percent cheaper than the most common solvent-based methods of carbon capture, according to pilot studies. And it removes 95 percent to 99 percent of CO2—a big improvement on current capture rates of 85 to 90 percent.
Carbon Capture and Storage (CCS) is seen by a number of experts as essential to fulfilling last December's Paris agreement, which calls for keeping global temperatures well below 2°C above pre-industrial levels. CCS takes carbon dioxide—the most prevalent of the greenhouse gases caused by burning fossil fuels—out of power stations and steel, concrete, and fertilizer plants and buries it deep underground or uses it for non-polluting purposes. But 30 years after policymakers began warming to CCS, the energy market has yet to make it profitable, and governments have slowed or even cut back subsidies for new plants and research spending. That leaves Baxter, one of many academic and industrial engineers around the world trying to improve CCS and make it more affordable, with technology he considers game-changing and transformative but that's stuck in the laboratory.
Despite expansion of wind and solar energy, an Earth fully powered by renewables is decades away, according to many experts. The world still derives 85 percent of its electrical power from fossil fuels, and global demand for electricity will be 69 percent greater by mid-century. "It's risky to assume the fossil fuel taps will be turned off," says Nigel Brandon, an electrochemical engineer at London's Imperial College and head of the university's Sustainable Gas Institute. "Is it realistic to switch [to renewables] overnight? Our view is that it isn't."
"It will be very, very difficult to achieve [the Paris] target if we take CCS out of the picture," says Mercedes Maroto-Valer, a professor of sustainable energy engineering at Scotland's Heriot-Watt University.
Losing Money
High costs have delayed or scrapped several big carbon-capture power-plants; others are drowning in red ink. FutureGen, an Illinois project that was slated to be America's first big "clean coal" plant, was initiated in 2003 by the Bush administration. It received $202.5 million before federal subsidies were halted due to the project's failure to secure additional private funding. It's now dead. The Kemper County CCS coal-fired plant in Mississippi is now more than two years behind schedule, and its costs have nearly doubled to $6.7 billion. The world's only commercial-size CCS plant, the coal-fired Boundary Dam plant in Saskatchewan, Canada, is losing money because it can't charge customers enough to cover its $1.3 billion price tag.
By now, the Global Carbon Capture and Storage Institute in Australia counts only 13 large-scale, CCS power plants worldwide at various stages of development, including Boundary Dam. Others are scheduled to open at various times between now and 2023, including a retrofit of the Petra Nova Parish Holdings coal plant in Thompsons, Texas, set to open late this year. Four of the projects are in China, the world's largest energy consumer. Still, that country is expected to rely on coal for more than two thirds of its power by 2030.
Politically, CCS is caught between opponents of costly efforts to curb carbon emissions, climate skeptics among them, and environmentalists pressing for a big leap forward in renewable fuels. Britain's Conservative government last November axed a plan to spend £1 billion ($1.3 billion) on CCS demonstration plants. In the United States, which spent more than $3 billion on CCS demonstration projects as part of the 2009 Recovery Act, research funding has since been flat. Baxter's invention came too late. His start-up, Sustainable Energy Solutions, is ready to build a 5-10MW demonstration plant to prove his technology can scale up, but he says it's been difficult to find the $25 million to $30 million he needs. "We need a government program to support that, and there's been no progress on that front," he says.
More than start-ups and demonstrations is needed to develop CCS, say Brandon and others. "We have a good feel today for the technologies needed for CCS, but we don't have a lot of confidence in the engineering," says Brandon. "We can only learn these things by building at scale. We learn by doing." But there's no way that CCS can work at a cost acceptable to investors or customers, says Howard Herzog, a senior research engineer at the MIT Energy Initiative. Around 30 percent of the power produced at a coal-fired plant—and 15 percent of a gas-fired plant's output—is needed to run the capture apparatus. Baxter says his cryogenic method can bring down the energy penalty for coal plants to around 14 percent. Still, "it's always going to be an additional cost," notes Hannah Chalmers, an engineering lecturer at the University of Edinburgh and an expert in capture technologies. "You are not going to do CCS if you are not interested in reducing CO2 emissions."
From Hot to Cold
Why is CCS so expensive? Blame heat. Most scrubbing technology today uses an amine solvent, usually monoethanolamine (MEA). Once it captures the carbon dioxide, the solvent is heated inside a stripper to a high temperature to break the strong chemical bonds between the carbon and the amine and release the gas. It then has to be cooled down. And that thermal swing sucks up a lot of power. Researchers are looking at different mixes of amines that wouldn't require so much heat. But Herzog says solvents with weaker bonds attract CO2 at a much slower rate and would require larger, costlier equipment.
Researchers at MIT are working on a voltage cycle instead of a thermal one: an electrochemical cell. Metal ions generated on the anode side of the cell bond with the amine and release the CO2, and on the cell's cathode side, the ions redeposit on the electrode to regenerate the solvent. Meanwhile, ExxonMobil and FuelCell Energy are in the early stages of a partnership to try to develop a carbonate fuel cell that not only captures the carbon but puts it to use to generate extra power, in addition to the electricity produced by the plant's turbines. That's a good idea, Herzog says, but the problem is "fuel cells work great when they're small. Scaling them up to utility levels will be challenging."
Other researchers are looking at improving solid sorbents that can be used as a capture material, as either adsorbents or absorbents. For example, a team at Britain's York University is working with a type of synthetic material it discovered 10 years ago called Starbons, which are made from biomass such as food waste and seaweed and are cheap to produce. When mixed with nitrogen, Starbons absorb up to 65 percent more CO2 than other absorption methods, the researchers say. Chalmers says that one issue with sorbents is that water is often in flue streams: "If sorbents get water in them, many can't handle it." The York team, however, reports that Starbons retain their ability to select and quickly absorb CO2 in the presence of water, and also have very fast desorption rates.
What's the Alternative?
Carbon capture is mainly done post-combustion, basically grabbing the carbon from the flue exhaust as it flows up the chimney. There are two rival options—pre-combustion and oxyfuel—but each has drawbacks. Pre-combustion technology uses gasification. The fuel is heated to a high temperature with oxygen or steam, producing a hydrogen-rich syngas. The CO2 is separated from the syngas, and the hydrogen is used to run the turbines. It makes for easier capture of the CO2, but the overall mechanics of it are expensive. Kemper is a gasification plant, Herzog notes, and while the process may be more efficient for capturing carbon, it raises the cost of actually producing electricity. "The economics are too hard," he says. Oxyfuel systems combust fuels with pure oxygen, which creates a flue stream with no impurities, so it's much easier to separate the CO2. Explains Chalmers: "You get a lot of CO2 and stuff, instead of a lot of stuff with CO2 in it." But oxyfuel systems don't produce power efficiently.
If world governments are serious about sticking to the Paris target, CCS may ultimately prove to be cost effective, argue researchers at Imperial College London's Sustainable Gas Institute—provided capture technology becomes more robust. That's because it will allow more fossil fuel to be burned instead of kept in the ground. The current capture rate of 85 percent to 90 percent is fine for the next 35 years or so, they say, but beyond that, a rate of at least 95 percent will be needed. If that improvement happens, the group's white paper says, the world could burn 65 percent of its reserves and still meet the target. Without CCS, it says, just 33 percent of those reserves could be burned. Herzog, who doubts even a 3°C target can be reached, disagrees. He argues that a commercial market for CCS won't exist unless government creates one via a carbon tax or a cap-and-trade system. "Without policies to not just put it up the smokestack, we'll continue to put it up the smokestack," he says. Make carbon pollution too expensive, he says, and the market will quickly figure out the best solutions to bring CO2 emissions to near zero—and he's certain CCS would be one of them. That would put Larry Baxter in business, but the question is when.
By Thomas K. Grose
Thomas K. Grose is Prism's chief correspondent, based in the United Kingdom.
Design by Michelle Bersabal.
Image courtesy of Thinkstock.