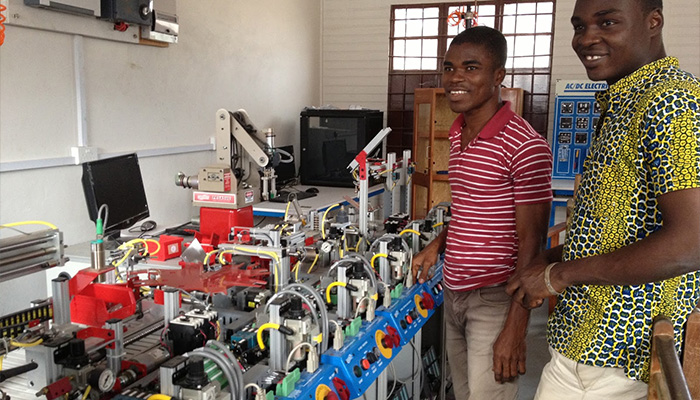 Despite a rapidly growing economy, many university graduates in Ghana are unemployed. One reason is a failure to match engineering education with the needs of industry.
Ghana's vibrant capital, Accra, displays the outward signs of a developing country with one of the world's fastest growing economies: new homes in manicured, gated communities, Western-style shopping malls, and just built fast-food joints like Burger King and KFC, as well as Airbnb and Uber. But catch an Uber to the National Theater or trendy Oxford Street, and you'll pass impoverished shantytowns and beggars asking you to roll down your window. Your driver, moreover, is likely to be a college graduate—possibly with an engineering degree—who can't find well-paid work in his or her field.
From its prospering oil, mining, and cocoa sectors to urban and rural areas lacking modern sanitation, and a coastline threatened by rising seas, Ghana needs a well-trained workforce. Yet unemployment among university graduates has reached "alarming limits," the government admits, and many of them work in the informal economy. So many university graduates struggle to find permanent jobs that Ghana's president, Nana Addo Dankwa Akufo-Addo, recently enrolled 100,000 in a public works and training program.
In engineering, various studies point to the country's inability to align education with what employers demand.
"There is a huge gap between the skills needs of industry," both technical and nontechnical, "and the skills acquired by the engineering graduates from the polytechnics in Ghana and Sierra Leone," concludes a 2017 study by researchers at Ghana's Ho Technical University. A report by the African Center for Economic Transformation (ACET) concurs, citing a lack of practical problem solving and computer, communication, and interpersonal skills. "One employer observed that recruiting engineers locally is a challenge because many of these engineering graduates are mostly familiar with the literature but have little or no practical knowledge on how to fix a problem."
Ghana is hardly alone among African nations that have failed to build and maintain the institutions and infrastructure needed to redeem the promise offered by their natural riches. Indeed, it's doing better than most, with economic expansion measured at 8.5 percent in 2017, up from 3.6 percent the year before. And it achieved this growth rate despite a devastating 2015 flood that affected 53,000 residents of metropolitan Accra. While grooming engineering students for industry is important, Ghana also needs technical prowess to correct infrastructure that remains woefully inadequate. For example, according to a paper published by the research firm Mathematica, the country has "one of the lowest rates of sanitation coverage worldwide."
A Promising Start
But Ghana embarked on an ambitious educational path following its independence from Britain in 1957. Reforms included expanding technical education to incorporate theoretical training and the awarding of engineering degrees, as well as the establishment of the Kwame Nkrumah University of Science and Technology (KNUST), named after Ghana's first prime minister. KNUST recruited the best students in mathematics and science from the secondary schools in the country and produced competent graduates who had a strong grasp of the theoretical and conceptual aspects of engineering, according to Gregory Yawson, an engineering educator at universities in the United States and Ghana who heads a workforce development firm, . Meanwhile, graduates from the erstwhile Tarkwa School of Mines were trained in all aspects of geodetic, geomatic, and mineral extraction and process engineering and were so adept they were able to take over the gold, bauxite, and manganese mining operations in the country, Yawson says.
The Nkrumah period also saw high levels of state ownership of enterprises, including cocoa and mining, and economic regulation, which free-market economists believe can stifle innovation. Still, some Ghanaians view the 1966 coup that overthrew Nkrumah as the beginning of a downward spiral in engineering education.
Fast-forward to the present, and there's wide recognition of a "mismatch between tertiary education and the needs of industry," in the words of a 2013 report published by the London-based International Growth Center. Among the problems are inadequate facilities and high student-faculty ratios. Companies are compelled to spend considerable resources to retrain graduates or hire expatriates for highly skilled jobs, the report says.
In information technology, a 2016 World Bank report says that while skill levels in Ghana are satisfactory, the ones needed in particular for cybersecurity, web design, and marketing are missing, and that "in a world of start-ups Ghana misses the entrepreneurship and business skills that would allow Ghanaian start-ups to survive in the commercial phase."
Slow to Change
Ghana has taken steps to address the gap, Yawson says. In 2012, several education councils in Ghana worked together to dissect engineering curricula. The result was a decision to convert polytechnic institutions into technical universities that will offer a blend of theory and practice. Over the past decade, the government has also embarked on a laboratory retrofitting program within some polytechnic and technical schools to enhance practical training. KNUST also has Maker Faires and internal project competitions to make courses more relevant.
Kwadwo Agyarko, a third-year electronics engineering student at KNUST, says he has yet to see the changes in his electronics lab: "There are just eight computers that service five different faculties, each comprised of about 100 students. Most of the equipment in our power lab is either archaic or in need of repair," he tells Prism. While Agyarko says he's learned a lot in his three years at school, he doesn't consider himself fully prepared for a career because much of what he knows is theoretical. "I feel there is a lot more to be done to improve the quality of education, specifically regarding hands-on experience and redefining the entire scope of education," he says. Large classes mean less student-teacher interaction, he adds: "Most people are unable to build their confidence levels and public speaking skills, which are becoming increasingly important for successful engineering careers."
Agyarko's last point appears to have resonated within the government. One of the aims of the National Builders Corps, the new public works and training program, is to build "soft, future employability, and work readiness skills," without which graduates are kept out of the labor market.
The past decade has seen strong efforts on the part of private institutions and new universities to improve engineering education. The establishment of the Ghana Institution of Engineers has enhanced the professional development and licensing process. The areas of metallurgical, petroleum, civil, environmental, mechanical, and electrical engineering have made significant strides. Electrical/electronic engineering and information technology have seen the greatest increase in graduates who are turning Ghana into a new IT hub in West Africa. IBM, Cisco, Oracle, and Google have provided various kinds of assistance in improving Ghana's technological infrastructure as well as training.
Opened in 2015, the engineering program at Ashesi University, a private, 1,000-student university founded by former Microsoft engineer Patrick Awuah, a 2015 MacArthur fellow, emphasizes entrepreneurship and the infrastructure and product needs of Africa in its programs in computer science and computer, electrical, and mechanical engineering.
Rapidly growing Lancaster University Ghana, begun in 2013 as a foreign branch campus of the British university with the same name, has drawn praise from the World Bank for innovative STEM programs and quality instruction. In October 2018, the school introduced a foundation program for students who don't meet all the criteria to study engineering.
Gregory Yawson's daughter Freda, a consultant at ACET, started Innovate Ghana, which seeks to inspire innovation with competitions and a two-week summer camp for college students that teaches human-centered design, operations management, industrial health, quality management, and CAD. Students also look at problems and create solutions using human-centered design. One summer, they looked at the menace of plastic waste. At Ghanaian universities generally, "there still seems to be a lot of rote learning geared towards passing tests as opposed to practical learning," says Freda Yawson, who earned a bachelor's degree in mechanical engineering at the University of Michigan and a master's in international affairs at Columbia University. Oil and gas engineers, computer scientists, and civil engineers seem to find easier placement given the plethora of international companies in the field, she says, whereas biomedical engineers have fewer prospects. Some graduates accept below-market salaries at local engineering firms. Initiatives like hers aim to give them a brighter future.
By Alice Daniel
Alice Daniel is the news director at Valley Public Radio in Fresno, Calif., and teaches at California State University–Fresno. She was a Fulbright scholar at the University of Ghana during the 2017-18 year, teaching print and radio journalism. 
Design by Francis Igot