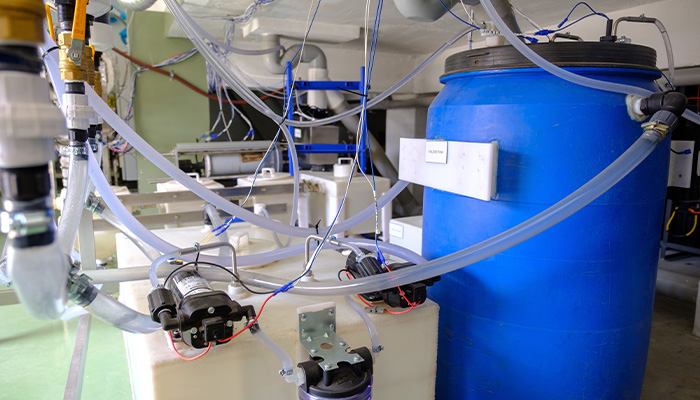 Eight years after the Gates Foundation launched its Reinvent the Toilet Challenge, promising prototypes may be poised to transform urban sanitation—and make money.
By Thomas K. Grose
More than half the world's population lacks access to decent sanitation. In many cities in the Southern Hemisphere, around half of the human waste produced ends up untreated, polluting rivers, lakes, and groundwater. The Centers for Disease Control and Prevention says 88 percent of all deaths globally are caused by diarrheal diseases linked to the absence of clean water and sewerage.
This global health crisis is likely to get worse, as an additional 2.5 billion people crowd into urban areas between now and 2050. In the industrialized West, development of water and sewer systems in the late 19th and early 20th centuries mostly wiped out the threat of diseases like typhoid and cholera. But the cost of such infrastructure is beyond the means of rapidly growing cities in the developing countries of Africa and Asia. Even if they could raise the money, it would be next to impossible to build fast enough to keep up with booming populations.
The solution, say a number of engineers, lies in decentralization—off-grid sanitation systems that treat human waste in situ, without need of external sources of electricity and water, and use technologies that are so cheap their operating costs are just pennies a day. These systems also typically produce products with commercial value, including water clean enough for farming, power, and fertilizers.
That was the idea behind the Reinvent the Toilet Challenge, launched by the Bill and Melinda Gates Foundation in 2011. Inventors were asked to come up with ideas for toilets that would cost a user no more than 5 cents a day ("A Way With Waste," Prism, March 2012). The foundation that year and the next gave $400,000 awards to 12 finalists. Since then, several of those award winners have received additional foundation funding to further develop their prototypes. In total, the foundation has spent $200 million on developing off-grid sanitation technologies. Bill Gates declared in a recent blog post that "several companies are business-ready," with inventions that kill pathogens and don't require sewer infrastructure, external water sources, or continuous electricity. However, they still cost too much, so the foundation is putting more money into R&D to bring down the price and make them affordable for the poor.
Profit Potential
While still out of reach for the poorest, off-grid toilet technologies already show market potential. Academic and private-sector engineers have over the last decade developed a number of off-grid technologies that are now ready for commercialization in markets ranging from the world's poorest to richest nations. Boston Consulting Group (BCG), in a recent report, determined that the global market for decentralized treatment systems will hit $6 billion annually by 2030. "We absolutely see these [technologies] as a win-win opportunity," says Jim Larson, BCG managing director and lead author of the study. "They have tremendous market potential as well as offering a tremendous opportunity to improve public health."
Like cellular technology, which has allowed the developing world to overcome a lack of well-functioning telephone systems, off-grid toilets represent a leap-frog technology that obviates the need for major infrastructure. "It's really the miniaturization of waste-treatment plants, so it's all done at the household level," explains Jeff Glass, a professor of electrical and computer engineering at Duke University, who is involved with several non-sewered toilet projects. Moreover, they use little or no water at a time of increasing water scarcity. As Alison Parker, a lecturer in international water and sanitation at Britain's Cranfield University, says: "Using water to transport waste is becoming less sustainable as water becomes more scarce."
Among the systems featured at a Gates-sponsored expo in Beijing last November was one of the foundation's repeat grant recipients, a team led by Glass and Brian Stoner, a materials science research professor in the department of electrical and computer engineering, which is working in conjunction with RTI International, a nonprofit company near Duke's Durham, N.C., campus. Duke's toilet, which has received millions of dollars in grants, is based in part on electrochemical disinfection. Field-tested in India and South Africa, it separates solid from liquid waste. The solids are dried and then combusted to produce heat that's used to regenerate the drying agent. The combustor produces ash and gray water, both benign and suitable for use on gardens or farms. Meanwhile, the liquid flows through two settling tanks to remove sediments, then passes through activated carbon filters to remove odors and color from the water. Finally, the water is zapped with an electric current, which draws power from a solar panel. The resulting electrochemical reaction breaks down the salts in the wastewater, producing a strong disinfectant: chlorine-containing oxidants. The now cleansed water is used for the next flush. It's a squatting toilet, a type common in many developing countries, and the working parts are housed beneath it. "It was engineered to be easily maintained, not to be small," Glass says. It would likely be built within an outhouse that would serve two to three households, potentially extended families. RTI, working with the U.S. Army's Natick Soldier Research, Development, and Engineering Center, has developed a similar model, called Toilet With On-site Waste Remediation, or TOWR, for use on forward operating bases or during natural disasters. The Duke team also received a $5.6 million grant to set up a Sanitation Technology Cluster overseeing several other projects. including a public toilet that uses a supercritical water oxidation system, which treats wastes with high temperature and pressure.
Another recipient of a 2012 Gates grant (and exhibitor in Beijing) is the Nano Membrane Toilet, developed by a team at Cranfield. It's a single-household, sitting toilet. Sit-down toilets will be accepted in most cultures, Parker says. "People do like them, but not shared, not as public toilets." A mechanism activated by closing the lid shunts the waste into a holding tank, where the solids and liquid naturally separate. Next, an Archimedes screw lifts and carries the solids to a chamber where they're dried and combusted, producing ash and also energy—which is used to power the nano-membrane filters. The liquid, warmed by the heat from the combustor, then passes through the filters and vaporizes. That gas then collects on a heat exchanger, condenses back into water, and flows into a collection tank. The water that results is suitable for washing or watering gardens.
Ideal for Crowded Space
At the University of South Florida, another Gates-funded team has combined membrane filtration with an anaerobic bioreactor in a system powerful enough to treat waste on site from any toilet with little or no dilution. The system, dubbed the NEWgenerator, was displayed in Beijing. It has been tried out in India and is now undergoing field tests in Durban, South Africa. The closed-loop, off-grid treatment system can be hooked up to one or several toilets—or basically in a minigrid layout—in lieu of sewer or septic tank connections. It generates disinfected water, some of which is reused for flushing and the rest for irrigation. It is particularly suited to congested slums where space is tight and many people use a single toilet. The foundation is also funding the development of small, off-grid waste-treatment plants—called omni processors—that would handle large loads of biowastes collected from public latrines. Janicki Industries, a Washington State aerospace composite tooling supplier, was approached by the foundation in 2011 to see if it was interested in designing and building one of these processors. It was. And by 2013, the first iteration of the Janicki Omni Processor was ready for field testing in Dakar, Senegal. A separate spin-off company, Sedron Technologies, now oversees its development. The process dries and burns the wastes. The solids turn to ash. The fire in the combustor also boils water in boiler pipes to create steam for a generator that produces enough electricity to power the entire plant. Waste heat from the steam engine is piped as steam back to the dryer to provide it with heat. And steam created by the drying waste is captured and condensed to water, which is filtered and can be processed to a potable level. A second, larger processor is scheduled to ship to Dakar in April.
Local Culture Matters
Field tests are important not only to see if the designs work but to learn whether they require changes to fit local cultures. Each of Duke's electrochemical prototypes included changes made to accommodate lessons learned from field-testing earlier versions. For instance, initially the water wasn't filtered before it underwent electrochemical disinfection. The resulting flush water, though clean, was "light brown, but because of the lack of clear water, people wouldn't use it," Glass explains. So Duke engineers added the filtration system to remove colors and odors. Unexpectedly, the filtering made the electrochemical process more efficient and cheaper to operate. Daniel Yeh, the associate professor of civil and environmental engineering at USF who is leading the NEWgenerator project, says all systems have to be adjusted to compensate for differences in the chemical composition of inputs. For instance, in India, people tend to wash after defecating, which adds more water to the system, but South Africans wipe afterwards, so there's more paper. "The challenge is handling things across a big range," Yeh explains. Moreover, all systems "have to be really robust and resilient … you have to overdesign because failure is not something you want to happen." Yeh recounts that in India, for example, someone once flushed a T-shirt into the system. For Sedron's processor, a big lesson from its ongoing Dakar operation was less cultural than geographical. The quality of the sludge there was very different from the materials used in tests back in Washington. It contained a lot of sand and dirt—from pit latrines, septic tank leakage, and other sources—which doesn't burn, "so we had to adjust accordingly," says Justin Brown, Sedron's program and business development manager.
As these off-grid technologies make their way to market, will they meet the goal of costing users no more than 5 cents a day? And can companies earn a profit on products that cost so little to use? While Gates says cost is still a problem, Glass foresees economies of scale as the market grows. "All the [economic] models we've done so far say it's viable. The question isn't if, but when." Customers for all the systems will likely be a mix of local governments, private companies, and nonprofits. Initially, to keep costs down, the toilets may require government subsidies—not unlike green fuels. "There will be cost improvements over time," Larson says. "It's early days, but many products are already cost-competitive."
Most possible business models factor in selling the electricity, water, and fertilizer the systems produce to help defray costs. Business plans could involve either sales or lease agreements, and include repair and maintenance. The academic teams will typically seek out commercial partners. Yeh's USF team, for instance, is talking to potential business partners with an eye toward licensing the technology but has also launched a start-up called BioReNEW to eventually manufacture the system for the U.S. and Caribbean markets. Ideally, all the teams and companies aim to try to keep manufacturing local, or at least regional, if possible. "Local manufacturing is important, if it can be done," Glass says. "The local community has to have a stake in it to make it work." Yeh says the local buy-in could also come from secondary industries created by these technologies, including servicing companies.
Besides the obvious need in poor countries, BCG predicts a growing market in developed countries for off-grid toilet systems. Given the cost of updating or building new treatment plants—in the U.S., it's estimated the total cost of meeting treatment demands exceeds $271 billion—systems that work without connection to sewers and municipal water supplies will look increasingly attractive. "It meets two converging trends," Larson says: the huge cost of constructing new infrastructure and water scarcity.
If engineers sat down today to design an urban waste treatment from scratch, they wouldn't opt for a vast network of underground sewer lines, the pumping of billions of gallons of water, and industrial-size treatment plants. Says Glass: "It would instead be decentralized, cheap, use less power and water, and be better for the environment."
Half the world is waiting.
Thomas K. Grose, Prism's chief correspondent, is based in the United Kingdom.
Design by Francis Igot