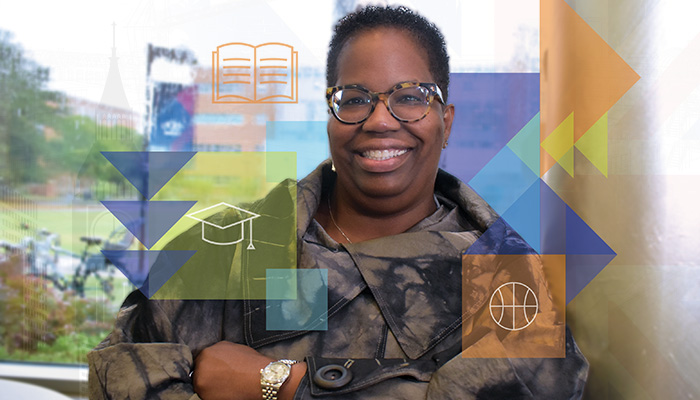 Steeped in STEM as a child, ASEE's President brings personal and professional experience to ensuring that engineering's "hidden figures" get their due.
By Pierre Home-Douglas
Women of color represent a sliver of engineering graduates and an even tinier proportion of faculty, but if anyone was destined to follow that rarefied route, it is Stephanie Adams. Both parents earned bachelor's degrees in biology and began their careers as public school teachers. Her father, Howard, rose to become vice president of student affairs at Norfolk State University in Virginia and later pursued a Ph.D. and ran the National GEM Consortium, which provides funding for minority students to attend graduate schools in engineering. Her mother, Eloise, decided at age 45 to pursue a Ph.D. in molecular biology, which she earned from the University of Florida shortly after her 50th birthday. "Science was something we always talked about at home," recalls Adams, the newly installed dean of the Erik Jonsson School of Engineering and Computer Science at the University of Texas–Dallas. "Some would say a career in STEM was in my DNA."
Adams, 54, traces her interest in engineering to a middle-school basketball injury that "introduced me to the world of biomedical engineering and people who developed artificial joints." A series of summer camps during high school further fueled her enthusiasm. She cites several, including one at Purdue University after ninth grade, some Saturday academies at the Illinois Institute of Technology during sophomore year, and an eight-week program at the University of Wisconsin for rising seniors, "where we did design, took classes and industry tours, and learned about the process of engineering." Was this a personal choice? Partly, she allows, but "basically my parents said I was going." Adams adds: "I liked the campus environment—the intellectual discourse, the activities, the arts, the sports. Everything you need is on a college campus."
Parental influence extended to introducing Adams to ASEE as a high school student. Her father, an active member, planned the family's 1981 vacation to coincide with that year's Annual Conference at the University of Southern California. Seventeen years later, Adams, then a doctoral student, presented at her first Annual Conference. She found the experience so energizing that she took leadership roles in the Engineering Management Division and, later, on the Board of Directors.
Systems and Synergy
Adams might have found her calling in medicine instead of engineering education were it not for a serendipitous twist of fate. After earning her B.S. in mechanical engineering with honors at North Carolina A&T State University in 1988, she set her sights on a joint M.D./Ph.D. program with the aim of becoming an orthopedic surgeon. She looked around for a school that offered high-quality degrees in both fields and picked the University of Virginia. It proved a poor fit, however. The engineering side was focused on the electrical part of biomedical engineering and Adams's interest was more on the mechanical side, so she switched to systems engineering, which is focused on process. "When you think about it, a building is a conglomerate of systems," she notes. "You have electrical systems, mechanical systems, structural systems, etc. The goal in systems engineering is to create a synergy to manage those systems. It's a holistic, interdisciplinary approach."
The leap did not come out of the blue. After freshman year, Adams had landed a summer job as a new product engineer at 3M in St. Paul, Minn., and she continued working there every summer until she finished graduate school. "I was doing a lot of testing, doing quality control and design experiment work" on a range of products, she explains. Among them: coatings for video and cassette tapes, earplugs, artificial shoulders and hips, internal and external skin staples, and fine-grade sandpapers used to polish cars. Her last stint involved making braces and metal crowns for teeth.
After earning her master's in 1991, Adams enrolled in a Ph.D. program in interdisciplinary engineering at Texas A&M, taking courses in business, management, industrial engineering, education, and systems engineering. At the time, she saw herself ending up in industry. But encounters with people focused on engineering education shifted her view. "I had really good mentors and got connected to a lot of initiatives that were looking at educational reform," she recounts. Karan Watson, her thesis adviser and the head of interdisciplinary engineering at the time, was particularly influential. "The way Stephanie thought was clearly as a very good, organized engineer," Watson says. "But the way she communicated and the passion she communicated and [the way she] related her engineering ideas to how to make the workplace better and the learning experience better for humans were clearly part of her daily conversation."
Upon graduation in 1998, Adams received two faculty offers and one from industry. She chose to remain in academia because "I knew that not only in the present, but also 10 or 15 years down the road, I wanted to teach." Adams spent 10 years at the University of Nebraska–Lincoln, ending up as associate dean for undergraduate education while also serving from 2005 to 2007 as a program officer with the National Science Foundation's Division of Engineering Education. She then spent three years at Virginia Commonwealth University before moving to Virginia Tech as head of its engineering education department. Meanwhile, she earned a National Science Foundation CAREER Award to improve effective teaming in the engineering classroom. In 2006, she was an invited participant at the National Academy of Engineering's Frontiers in Engineering symposium. She received ASEE's DuPont Minorities in Engineering Award in 2008.
Adams found the role of associate dean "the place where you actually worked with students and focused on the student experience." Meeting with students became harder as she advanced to become the first female and first African-American engineering dean at Old Dominion University, whose childcare center she'd attended as a toddler. Adams says she still tries to find ways with all her other responsibilities to interact with students. At Old Dominion, for example, she launched a bridge program for incoming freshmen who needed extra help getting up to speed in math. She created a student ambassador program, with engineering students giving tours and providing counsel to other students at the college. Adams met regularly with the ambassadors and hosted an end-of-year party at her house. In 2017 she helped organize a private screening of Hidden Figures, the inspirational true story of three pioneering black women who worked as "computers" at NASA Langley in the 1960s, for 200 local middle- and high-schoolers—mostly girls—many of whom, Adams says, had never met a scientist or an engineer. "Hollywood has given us a gift," she told the Virginian-Pilot, in showing that underrepresented minorities could succeed in the most demanding of arenas. Adams also gave students a chance to talk to ODU engineering faculty and industry engineers. This past summer, before starting her new job as dean of engineering at the University of Texas-Dallas, she took nine ODU students to Germany to visit universities and take tours of Audi and other engineering-driven companies. "The kids loved it. It was a great experience for them," she says.
From Tinkering to Teaching
From her first days as a faculty member, Adams has made active learning a central tenet of her approach to teaching. "Let's get out of the book; let's look at real-world problems," Adams urges. She cites capstone design, Engineering Projects in Community Service (EPICS), and programs like Engineers Without Borders as offering some much needed practical problem-solving challenges. "When I was a student we merely solved the problems that had an answer in the back of the book, but the problems today's engineering students must solve do not have ready-made answers and students have to be more focused on the unknown, the process, and looking at all aspects of the problem." She adds, "We need students to be working in teams, being more involved and engaged in their learning. We should constantly be reminded of the fact that we are not locked into whatever our existing pedagogy is. We don't have to teach the way we were taught, just because it's always been done that way."
Adams believes students would benefit from more tinkering around as kids and teens. "When I was a kid, my dad would build furniture. He made me a dollhouse when I was 6. We always had a garage with junk in it that I would go out and do things with." She remembers trying to make a skateboard from a piece of scrap wood, using the wheels she'd detached from her old skateboard. "There is something you learn in that process of trying to design and building something," she reflects.
As a woman and a person of color, Adams is keenly aware of the discrimination that both groups face, especially in senior academic and industry positions. While she says that didn't hit home as an undergraduate at NC A&T, the nation's largest historically black college, where "everyone around me looked the same," the lack of diversity became a bigger issue at U.Va. Plus, she adds, "my dad was someone who was advocating for minority students to go to graduate school, so I was always aware that there were not enough people of color going into engineering." Adams has used her dean's bully pulpit to advocate for engineering's "hidden figures" while promoting systemic transformation. "Time's up for inequality in our field," she wrote in a guest column for the Virginian-Pilot last year. "We must stop trying to change women and start changing systems by changing policies and practices that continue to leave women out of the classroom, the boardroom, and any other place that doesn't fully use our talents."
That will require an array of efforts, she contends. Among them: mentoring young girls, creating opportunities for young women to tinker, break things, and question how things work; providing more practicing engineers to serve as role models; and urging community leaders and organizations to continue to create and support programs like STEM camps. "Women must continue to work on our individual biases and stop discriminating against our fellow women," underscored Adams. "We must stop second-guessing our talents and experiences."
Adams also sees a need not just to change how engineering is taught but also to educate the broader public about engineering's vital role in society. A Citizen Engineering course for nonengineers, for instance, "would prepare the next generation of leaders who are outside of the technical realm" and establish a "direct relationship" with what engineers and educators will require in the future, she suggests. Engineering projects, both big and small, require funding, sometimes billions of dollars' worth. "If we don't have people who are educated about what we do," Adams wonders, "how can we expect them to advocate for us at a policy level?"
Adams says she has two main goals during her tenure as ASEE President: unifying the Society and improving graduate education. "Some of our members don't feel fully embraced by ASEE or [they feel] that their voices are not always heard or respected," she states. "At times there also seems to be a lack of communication, coordination, cooperation, and mutual respect among our various committees, councils, zones, etc." [See Adams's Letter from the President in the ASEE Today section.]
Adams says she has learned a lot in the past year talking to graduate students who were members of ASEE student chapters at their campuses. They spoke to her about "finding their place in ASEE, what should they expect from ASEE, how to maximize their involvement in ASEE, and how to work with ASEE when their major professor is not a member and doesn't support their involvement." Graduate programs, she says, need to do a better job of preparing students to use their knowledge to open up doors to multiple careers.
In her spare time, Adams enjoys photography, golf, "and, like everybody else, binge-watching series on TV," she says with a chuckle. Another of her passions is travel. When she was department head at Virginia Tech she took students abroad for five years as part of a program called Rising Sophomore Abroad Program: four times to Europe and once to China. On a recent 10-day cruise with her mother, Adams asked a couple she met on the ship to join them in forming a trivia team. "Steven was in the military and I believe was either an engineer or a computer scientist. Debbie had a sixth sense about things, and before she fully understood what I did and who I was, she told me she saw me on a stage in front of a large number of people making a speech." The couple attended her swearing in as ASEE President. "And by the way," Adams adds, "we were an awesome trivia team."
Montreal-based freelance writer Pierre Home-Douglas is a frequent contributor to Prism.
Design by Miguel Ventura
Image Courtesy of Keith Pierce/College of Engineering and Technology, Old Dominion University and Miguel Ventura