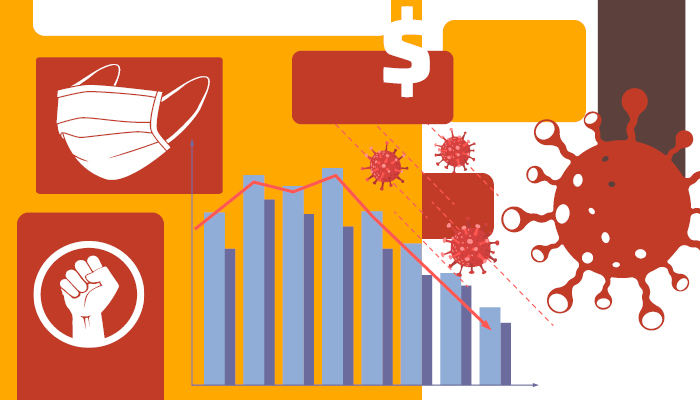 Provosts plucked from engineering schools weather tense times in the era of COVID-19 and Black Lives Matter.
By Lucy Birmingham
As dean of engineering and applied sciences at the University at Buffalo from 2012 to 2019, Liesl Folks brought in 75 additional faculty and 2,700 students, initiated two new departments, and saw research spending grow by 35 percent. In her new job as University of Arizona provost, just "making payroll" to hold on to as many existing faculty and staff as possible has meant temporarily slashing salaries by as much as 20 percent.
Folks is not alone. As university chief academic officers, provosts across the country must face the financial fallout from COVID-19 and try to limit damage to instruction and student aid. They're the ones who have had to implement furloughs, streamline or drop programs, and deliver discouraging news to anxious faculty, staff, and students.
For engineering deans and professors recently elevated to provost, this role has meant an abrupt change. In the halcyon years from about 2010 through 2019, engineering schools across the country rode a wave of national enthusiasm for a field seen as critical to recovery from the Great Recession. With swelling enrollment and research funding, they added faculty, disciplines, and new facilities—from well-equipped maker spaces to gleaming state-of-the-art buildings. Universities rewarded a number of high-performing senior engineering faculty and deans with promotions to campus-wide leadership. Last spring, when the spreading coronavirus forced colleges to send students home and refund housing fees, engineer-provosts suddenly looked out on an altered landscape. As Folks puts it: "No aspect of our operations is untouched by the pandemic."
Preserving Access
Like Folks, Joseph Hartman led an array of successful initiatives as engineering dean from 2013 to 2019 at the University of Massachusetts–Lowell, including new degrees in biomedical, environmental, and industrial engineering, and engineering management. Now provost, Hartman is tasked, along with the university's executive team, with overseeing financial affairs, including tuition, fees, grants, and financial aid, affecting 14,000 undergraduates, 4,000 graduate students, and 1,110 faculty and staff. His background as an industrial and systems engineer, with a specialty in engineering economics, lets him speak with accountants in their language.
What the financial team presented for fiscal year 2021 wasn't pretty: an anticipated budget hole of $50 million, requiring temporary employee layoffs. With hundreds of students having sought urgent financial assistance last spring, the university declined to make them shoulder the burden and instead froze tuition. "As a public university, one of our missions is access. And we take that very seriously. We want to hold down tuition and fees and offer financial aid to get as many deserving students as possible into the university," Hartman says.
In a reprise of the Great Recession, falling state revenue is taking its toll on public institutions. For Hawai'i, reeling from the collapse of tourism, the effects are worse than in the previous downturn. The state and the University of Hawai'i at Mānoa face "the most dire fiscal crisis in our history," Provost Michael Bruno, a former engineering dean at Stevens Institute of Technology, wrote to faculty and staff on September 11, adding that mere "routine evolutionary change" won't be enough to bring recovery "for a number of years to come."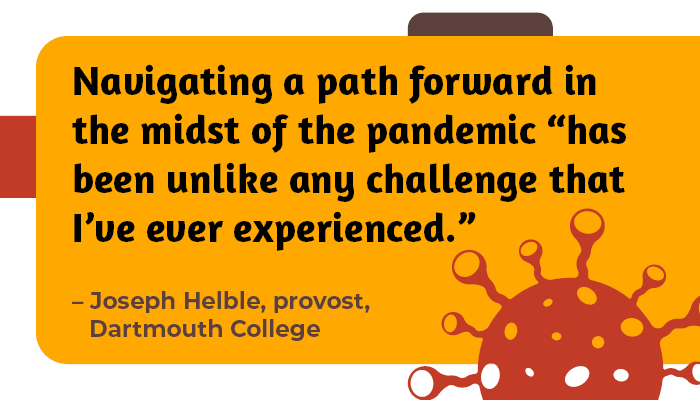 Revenue Losses
The COVID-19 squeeze hasn't spared provosts at elite private institutions. "We've lost revenue and experienced increased costs associated with the overnight transition to remote learning and sending students home in the spring," says Dartmouth College Provost Joseph Helble, a former engineering dean. Yale University estimates the pandemic has cost it $250 million, according to a September 24 joint message from its provost and chief operating officer. At Carnegie Mellon University, Provost James Garrett has taken a 10 percent pay cut, as has his boss, President Farnam Jahanian.
But financial woes aren't all that has preoccupied provosts over recent grueling months. As engineering dean, Garrett had made a concrete commitment to diversity, launching a joint Ph.D. program with historically Black Howard University. ("Force Multipliers," Prism, January 2019). As provost, he initiated an Inclusive Teaching Fellows program, encouraging faculty to diversify their curricula. But neither effort inoculated him from student dissatisfaction in the searing aftermath of the police killings of George Floyd and Breonna Taylor, and the failure by police to bring charges in the shooting death of Ahmaud Arbery.
Jahanian had issued a statement saying he was "heartbroken and outraged by these tragedies," and said, "It is up to each one of us—no matter our background—to confront and dismantle racism and injustice wherever they exist." Garrett and Dean of Students Gina Casalegno followed with a lengthier e-mail June 8, pledging anew to hire a vice provost for diversity, equity, and inclusion. The search, which launched on July 22, is now underway.
But petitioners backing the Black Lives Matter movement issued specific short- and long-term demands for action and published a number of accounts of what writers said was racist treatment on campus. Three weeks later, the administration issued a 14-page statement, "Confronting Racism and Promoting Equity and Inclusion," spelling out 34 specific steps. Jahanian acknowledged, "Carnegie Mellon exists within the very system that has failed Black Americans." Garrett tells Prism his to-do list includes finishing Becoming by Michelle Obama, and he has recently read James Baldwin's The Fire Next Time and Between the World and Me by Ta-Nehisi Coates.
Twin Pressures
At the University of California–Los Angeles, Executive Vice Chancellor and Provost Emily Carter found her crisis-management skills tested both by the pandemic and the unrest following the George Floyd killing. On June 2, dozens of faculty members contacted her and Chancellor Gene Block about the Los Angeles Police Department's use of the school-leased Jackie Robinson Stadium parking lot to process people arrested in Black Lives Matter protests. Their letter said protesters were confined to buses for five to six hours, "without access to restrooms, food, water, information, or medical attention." The leaders responded the next day in a message to the community, saying, "We at UCLA are nothing short of outraged." The university had permitted police to use the lot as a law-enforcement "staging area" during the protests, but even that was a mistake, they said.
The heated moment demanded a quick reaction by UCLA, as had the pandemic and a wildfire crisis the previous fall. But Carter, formerly dean of engineering at Princeton, says even a rapidly moving and evolving situation "requires people to get the data that's needed to make a proper decision." And "there's nothing shameful about taking back a decision" based on better evidence. Longer-term, UCLA has set up task forces to respond to, and ultimately recover from, the pandemic as well as to develop recommendations for increasing equity and breaking down structural racism, with "special attention to policing issues."
Emergency planning is nothing new to University of Miami Provost Jeffrey Duerk. He was 10 weeks into the job on September 10, 2017, when Hurricane Irma ripped across south Florida and pummeled the Coral Gables campus. Hurricanes hammer south Florida so frequently—Irma, then Maria, then Dorian—that he spends six months of the year thinking and planning for them. "Down here you appreciate just how much preparation goes into this." Meanwhile, Duerk laid the groundwork this past summer for a return to in-person classes. Faculty expressed concerns over in-person classes and personal safety when Miami-Dade County emerged as a COVID-19 hot spot. But the spike died down, and UM's fall semester began as scheduled on August 17 with health precautions in place, including mandatory face coverings and required testing for all students.
"Classes started today at 8 a.m. and my phone's not ringing off the hook," Duerk reported happily on opening day, comparing it to a rocket launch. A biomedical imaging expert with approximately 40 patents, he came to Miami after 30 years at Case Western Reserve University, the last five-and-a-half years as dean of engineering. "I think the university appreciates having an engineer as provost," he says. "It allows you to think about how you break down a problem. How do you tackle the most important, the primary, the first-order of things as your highest priority?"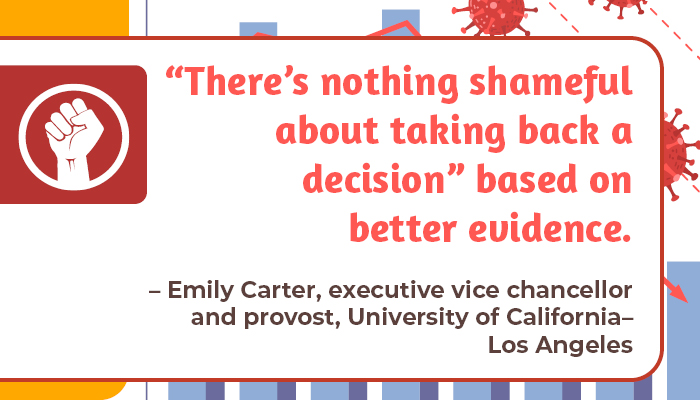 A Reason to Cheer
Salutary events may be rare on campuses these days, but one place to find them is Rice University's Oshman Engineering Design Kitchen (OEDK), begun a decade ago as "a hub for undergraduate engineering innovation." Recently, students there developed a ventilator that can be built for less than $300 worth of parts. These machines, used to keep severely sick COVID-19 patients alive while medical practitioners fight the virus, ordinarily cost hospitals between $25,000 and $50,000. When Rice students posted their designs online, "there were over 2,000 different municipalities, countries, and companies that downloaded the plans," reports Provost Reginald DesRoches.
The former engineering dean relates this proudly, citing Rice's leadership in low-cost health technology. But he himself needs solutions relevant to reopening a university. "How do we manage the risks of COVID-19?" he asks. "What kind of measures can we put in place to minimize the risk so that we can accomplish the university's educational mission of teaching and research?" DesRoches knows a lot about risk, at least from a civil engineering standpoint; a native of Port-au-Prince, Haiti, he has returned there numerous times in recent years, bringing his noted expertise in earthquake risk and resilience. When Rice opened on August 24, he worked to ameliorate risk with diminished class attendance, a "culture of care agreement" that all undergraduates must sign, and contracts with health care providers to perform 60,000 tests.
The fall semester will determine whether Rice and other schools assessed risks correctly. If DesRoches and his engineer-provost peers manage the coming months well, they will have proven their value in good times and bad. For her part, Folks is betting on advances in vaccines—the "medical miracle"—to help sustain her university and the national economy. She just hopes the faculty whose pay she had to temporarily cut "will be with us as we get through this and emerge on the other side."
Lucy Birmingham is a freelance journalist based in Los Angeles.