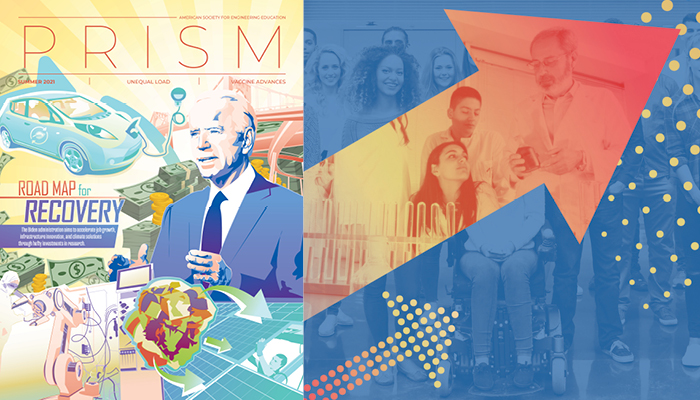 The Biden administration launches on a bold mission to accelerate innovation and job creation, propel climate solutions, and bolster U.S. competitiveness through hefty boosts in federal R&D funding.
By Mark Bocchetti
When Joe Biden took office on January 20, few could have anticipated how swiftly the "dark winter" of challenges he saw looming would give way to a spring ripe with possibilities. From world-high daily caseloads and deaths on Inauguration Day, the country's worst pandemic in a century has been knocked back with lightning speed by scientists and engineers. A $1.9 trillion COVID-19 relief package that Biden signed in March is bolstering vaccine deployment along with aiding hard-hit schools, businesses, and families. And the stars seem aligned for significant government investment in basic research after decades of stagnation.
"America is ready for takeoff," the president declared in his April 29 congressional address. "We're working again. Dreaming again. Discovering again. Leading the world again." His remarks, capping 100 days in office, outlined the administration's blueprint for hefty increases that would return federal spending on science and engineering innovation to levels not seen since the 1960s. Both Biden's $2 trillion American Jobs Plan and proposed $1.5 trillion budget for fiscal year 2022 (FY22) include big R&D spending boosts, with the latter requesting substantial increases for federal agencies that fund engineering basic research (See Table 1). High-priority investment areas include advanced materials, biotechnology, telecommunications, artificial intelligence, and clean energy. The goals: create homegrown jobs; improve transportation and other infrastructure; reinvigorate U.S. competitiveness, particularly with China; and address the growing threat of climate change.
Whether the administration's push for science and technology proves as transformational as FDR's financial reforms and public works projects or JFK's moonshot remains to be seen. The jobs plan, which focuses broadly on infrastructure, faces an uncertain future in a narrowly divided Senate, while the President's proposed FY22 budget would add to the enormous deficits generated for COVID-19 relief. Legislators are also debating the money's destination—whether to augment basic research or target such high-tech favorites as advanced batteries or quantum computing. But while the details remain to be negotiated, one thing is clear: Engineering academics will play a prominent role in realizing what pundits have dubbed Biden's New Deal.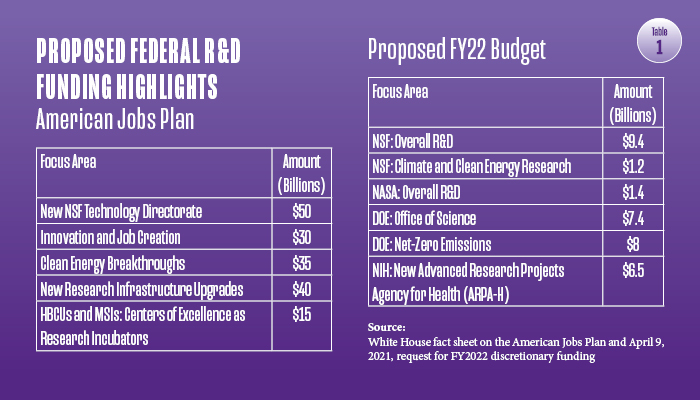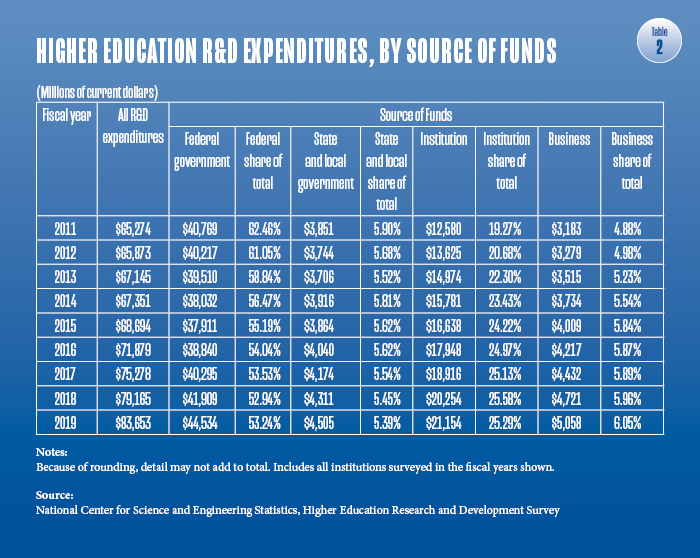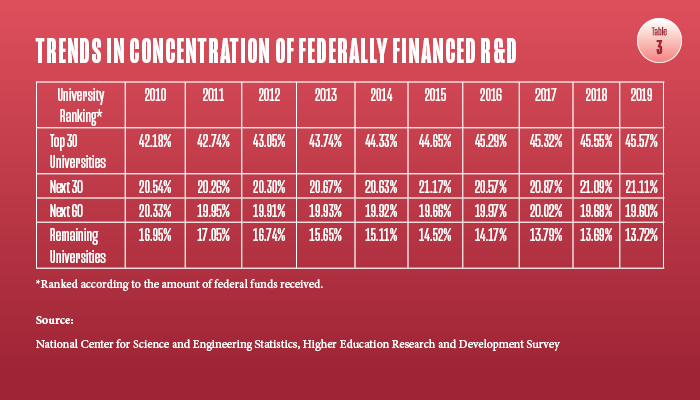 Gathering Storm
For many industry and academic leaders, the R&D renaissance is long overdue. In 2005, the National Academies of Sciences, Engineering, and Medicine issued an alarming report on America's eroding competitiveness due to dwindling government investment. A 2010 follow-up report, Rising Above the Gathering Storm, Revisited, portrayed an even graver outlook for the country "if it were to continue on the perilous path it has been following in recent decades." Survey data released in January by the National Center for Science and Engineering Statistics (NCSES) show a similarly steady slide in the proportion of university R&D funded by the federal government—from a 62.5 percent share in 2011 to 53.2 percent in 2019. (See Table 2.) State and local government funding also declined.
The squeeze has affected some universities more than others. The share of federal R&D funding claimed by the top 30 institutions rose from 42.2 percent to 45.6 percent between 2010 and 2019—a $1.5 billion extra slice of a $44.5 billion pie—despite efforts by NSF and other agencies to build more research capacity among smaller, less well-endowed schools. (See Table 3.) While universities have picked up more private-sector support, the amounts don't come close to filling the gaps. Moreover, the prospects for R&D support from business rise or fall based largely on geography, cautions James R. Martin II, dean of the Swanson School of Engineering at the University of Pittsburgh. He speaks from more than 20 years of experience at Virginia Tech, a research university in rural Virginia, which, like many institutions far from cities or tech centers like Silicon Valley, faces a greater challenge in securing private-sector dollars. "If the innovation ecosystem is there, you can capture some," Martin explains.
That has left schools to plug the holes themselves. While institutions' share of overall R&D funding climbed from 19.3 percent in 2011 to 25.3 percent in 2019, their resources pale compared with the federal government's deep coffers and capacity to cover risky, long-term basic research.
"Tough Environment" for Faculty
The impact on fundamental or "pure" research is particularly acute in grants to early-career researchers. NSF, whose $8.5 billion annual budget covers roughly a quarter of all federally funded basic research conducted by U.S. colleges and universities, offers a cautionary example of the consequences of reduced budgets. The heart of the agency's mission is to fund research proposals with the potential to advance fundamental knowledge and transform the future. Whereas industry concentrates R&D efforts on creating smarter phones, better batteries for electric cars, or other specific applications, NSF finances researchers across disciplines as they move knowledge forward in ways that may not seem relevant to technology for years, or decades.
But funding constraints have forced NSF to leave more projects on the table each year. In the agency's latest merit-review digest, the National Science Board, an independent body of presidential appointees that oversees NSF, highlighted the hefty backlog of quality proposals that didn't make the FY2019 cut: 4,262 ranked "very good" or better, worth an estimated $2.8 billion. Those numbers represent a substantial increase over some 1,800 projects worth $1.5 billion sidelined in FY2018. "Breakthroughs in fundamental research today pave the way for the industries of tomorrow," the board observed. "A persistent inability to fund many outstanding research ideas and programs also puts at risk our country's long-standing success in retaining and attracting the best STEM talent."
The squeeze on young faculty seeking grant funding has become worrisome, stresses Christopher Keane, vice president for research at Washington State University. Those who get discouraged tend to leave for the private sector. "The research community is pretty well aligned on the need for additional money," says Keane, who chairs the Council on Research for the Association of Public and Land-grant Universities.
Declining support for graduate education from NSF and the National Institutes of Health (NIH) only compounds the pressure. Oregon State University has turned to teaching assistantships to make up the gap, explains Scott Ashford, the dean of engineering. Still, "it's a tough environment," he says. "We have good faculty and they are successful. But the bigger [research] efforts are harder. That's where it's most competitive. The dollars are getting really tight."
In one sense, science and engineering departments are victims of their own success, with rising graduate school enrollments clashing with tighter research funding. The number of science and engineering doctorates climbed by almost 57 percent from 2000 to 2019, according to NCSES. Master's degrees in math and computer science more than doubled at U.S. universities from 2010 to 2017, and engineering master's degrees jumped 51 percent.
Engineering a Brighter Future
Biden is hardly the first U.S. president to herald research and innovation as the keys to progress, prosperity, and bold policy solutions. Science, engineering, and democracy have intertwined since the nation's inception, from Thomas Jefferson's commissioning the Lewis and Clark expedition to Abraham Lincoln's founding of the National Academy of Sciences to Dwight D. Eisenhower's establishing the national highway system and the Defense Advanced Research Projects Agency (DARPA). The rapid development and deployment of COVID-19 vaccines—financed by the Trump administration's $12.4 billion Operation Warp Speed—offers a vivid recent example of just how much bang the public gets for its R&D bucks.
The vaccine effort also was an exception to the hostile, politicized environment in which many government scientists had to operate—as repeated administration efforts to cut R&D funding were thwarted only when Congress ignored the proposals to slash funding, particularly for climate and geoscience research. By contrast, Biden is doubling down on R&D in a broad bid aimed at "winning the future." In a January 20 letter to geneticist Eric Lander, his nominee to head the Office of Science and Technology Policy in what is now slated to be a cabinet-level job, the president laid out several goals. How can breakthroughs in science and technology address climate change while stimulating employment and more equitable economic growth and improving health? How can the United States remain the world leader in technology?
In his first major press conference at the end of March, Biden put the spotlight on R&D in the context of "stiff competition with China." The Chinese have turned their attention to areas such as artificial intelligence, biotechnology, space exploration, and surveillance technologies, sparking trade and national security concerns. "China has an overall goal to become the leading country in the world, the wealthiest country in the world, the most powerful country in the world," warned Biden. "That's not going to happen on my watch, because the United States is going to continue to grow and expand."
Later that month, the White House announced a $2 trillion proposal to finance infrastructure and boost economic growth that would include $180 billion for R&D spread over eight years. In his address to Congress, Biden asserted that his American Jobs Plan included the "biggest increase in nondefense research and development on record."
Some elements of the proposal track congressional initiatives. For instance, a provision to add $50 billion for NSF to create a technology directorate that would focus on fields like advanced computing, energy technologies, and biotechnology echoes the Endless Frontier Act, the bipartisan bill spearheaded by Senate Majority Leader Chuck Schumer to invest $100 billion in U.S. innovation, competitiveness, and national security. Other elements dovetail with the work of engineering researchers, including eliminating lead pipes in drinking water systems, developing electric vehicles, demonstrating carbon-capture technologies, and expanding access to high-speed broadband. The plan also would target money toward breakthroughs in clean energy and aims to establish a new national climate lab at one of the nation's Historically Black Colleges and Universities.
Beefy Budget
The administration's top-line budget for FY22, submitted on April 9, also hints at engineering priorities. In its cover letter to appropriators, the Office of Management and Budget noted that the 8.4 percent jump over the FY2021 enacted budget would address "a legacy of chronic underinvestment" in domestic priorities such as public health, education, and research. Biden's ambitious climate-change agenda propels much of the increase. Just hitting the target of slashing U.S. greenhouse gas emissions in half by 2030, compared with 2005 levels, will require what the White House calls "a historic, whole-of-government approach."
Some $1.2 billion is proposed for climate and clean energy research, for example, and funding to increase the participation of underrepresented groups in science and technology would double, to $100 million. There would be a 27 percent surge in Department of Energy funding for electric vehicles and green energy technologies to help achieve a net-zero emissions economy by 2050. And the National Institute of Standards and Technology would get an additional $128 million for research on climate-resilient building codes as well as cybersecurity, artificial intelligence, and advanced manufacturing.
Not every agency stands to gain, however. The Biden administration's hope to keep defense funding flat could lead to cuts in the Department of Defense's share of funding for basic research. Still, plenty of other R&D players stand to share in the largesse. For instance, DOE's Office of Science, which oversees basic research, would see an increase of more than $400 million over FY21. NSF's budget would increase about 20 percent, to $10.2 billion, including $9.4 billion for research and development, while NASA R&D funding would jump 30 percent, up some $325 million, and NIH's budget would rise by 21.4 percent. The proposed budget would allocate $6.5 billion to create a new Advanced Research Projects Agency for health.
Professional societies have voiced support. In April, ASEE submitted testimony to the House Appropriations Committee to advocate for at least $10 billion "to help alleviate impacts of historical underinvestment at NSF, advance core research and education activities, and address critical technologies where the U.S. is facing major competition from China."
China has increased its R&D spending at about four times the rate of the United States, NSF Director Sethuraman Panchanathan warned House and Senate appropriators in mid-April hearings.
Even if the administration's budget received every dollar requested, it still would fall short of covering the backlog of deserving proposals, Panchanathan said. He also explained that NSF would like to increase the average grant from about $200,000 to $300,000 to reflect higher research costs. Addressing both pressure points would mean doubling the agency's core budget. But letting quality research proposals languish unfunded invites America's competitors to "try to see how they can invest in them and leap forward," Panchanathan stressed. "We cannot let that happen."
Big Ideas Wanted
Research leaders also want to guard against the skewed distribution of big government investments and spread funds around to smaller institutions. NSF panels have warned that top-down R&D initiatives risk eroding crucial support for potentially game-changing projects inspired by researcher curiosity. University administrators emphasize that large, multidisciplinary projects tend to bypass smaller engineering departments, which lack the dedicated grants staff of juggernauts like Penn State or Georgia Tech.
"Maine has no MIT; that's just reality," says Shane Moeykens, an engineer in his sixth year leading the state's Established Program to Stimulate Competitive Research (EPSCoR). The federal program currently benefits 28 U.S. states and territories. Moeykens notes that it has helped level the playing field by enabling Maine to build well-equipped centers and faculty expertise in areas such as sensors, advanced composites, and forest bioproducts, bringing in more than $500 million in federal funding. Provisions in the Endless Frontier Act would send a greater share of funding to smaller institutions, addressing legislators' concerns about concentration of research funding at the big players. Meanwhile, NSF is emphasizing geographic diversity in such major research-center competitions as its AI Institutes.
Some of the Biden administration's early awards suggest the focus on large institutions is here to stay—but with deeper efforts to involve a more diverse array of researchers and schools. In February, for example, the Department of Defense chose 25 teams for a $179 million multidisciplinary research initiative. The lead institutions mostly rank in the top 30 in research dollars. While a few smaller schools won awards, big players dominated. Among them: the University of California at Berkeley, the Universities of Texas and Michigan, Penn State, and Purdue University.
Tackling specific technology challenges through multidisciplinary R&D was a favorite Obama administration strategy, so it's a safe bet the practice will continue under Biden. For instance, DOE's Office of Science started the Energy Research Frontier Center program in 2009 with five-year grants to 46 centers. Its mandate: attack tough energy-sector problems with creative, multidisciplinary research. New rounds increased the number to 88 centers, with 41 still active in 34 states.
The centers, which coordinate team efforts, work with the Office of Science to channel funding to associated researchers who focus on slices of the larger technology challenge and often use advanced tools found at DOE labs. For instance, Ultra Materials for a Resilient, Smart Electricity Grid, a center established in 2020 at Arizona State University, will study the thermal properties of materials to find ways around heat gain in high-power electronics. The team includes the University of California at Riverside, Cornell and Stanford Universities, Michigan State University, and Sandia National Laboratories.
DOE credited the Center for Light Energy Activated Redox Processes (LEAP) at Northwestern University with finding ways to use perovskites' peculiar crystalline structure to make more efficient solar cells. On March 25, the agency announced awards of $40 million for research aimed at manufacturing perovskite-based cells. Along with powerhouses such as MIT and Stanford, winning teams also included Brown University, Wichita State University, and the University of Texas at Dallas.
Green infrastructure offers another robust area for aligning new grant awards with administration climate goals. On March 22, DOE announced 16 awards totaling $27.5 million for projects that seek to decarbonize the U.S. water infrastructure. The projects in 13 states aim to reduce carbon emissions and wastewater treatment costs while improving water quality and "equity of distribution" through development of novel renewable energy supplies and other innovations. A UCLA-led project, for example, will use "electroactive anaerobic membrane bioreactors" to scrub wastewater, with cooperation from Princeton University, Shell North America, and local government. Worcester Polytechnic Institute will lead another team focused on producing energy from wastewater by converting toxic sludge to natural gas. Collaborators on the $2 million project include Syracuse University, which will work on developing the gasification reactor and catalyst, with researchers at the American Institute of Chemical Engineers in charge of commercializing the overall process.
Innovation With Impact
Many higher-education groups, including the American Academy of Arts and Sciences and the Association of American Universities, have called for a sustained, inflation-adjusted growth of 4 percent annually in basic research funding to upgrade and maintain a robust innovation ecosystem. While expanded R&D funding seems likely under the Biden administration, there are competing visions of how best to spend the potential windfall.
One often-neglected area that is ripe for attention and funding is U.S. research infrastructure—including the engineering and technology education pipeline. The National Science Board makes the case in its Vision 2030, released last year. The guiding document for NSF and other federal science and engineering agencies calls for investing in research tools, facilities, and talent—an imperative reflected in the American Jobs Plan's proposed $40 billion for research infrastructure—and devoting greater effort to cultivating a larger, more diverse U.S. science and engineering workforce. Perhaps most critically, Vision 2030 emphasizes the need for research that moves ideas from lab to product faster as well as stronger partnerships with the private sector, states, and international players. In other words, innovation with impact—an imperative echoed by a seminal 2009 ASEE report.
NSB chair Ellen Ochoa, a former astronaut who headed NASA's Johnson Space Center and holds a Ph.D. in electrical engineering, helped prepare the Vision 2030 roadmap. She and her fellow board members don't endorse specific targets for funding in conversations with policymakers. Rather, "we provide the data and talk about how important the fundamental research mission is to the country," says Ochoa. And that, she adds, "really does point to increased investment."
The feedback loop between lab and marketplace remains vital, Ochoa says. As new applications are commercialized, they often raise new questions that require investigation. Moreover, today's basic research may take decades to bear fruit. Consider the eight years required to land humans on the moon.
There is reason for optimism. As Chinese President Xi Jinping reportedly said in a phone call with Biden: "You've always said, Mr. President, that you can define America in one word: possibilities."
Mark Bocchetti is a reporter and former economist at the U.S. Department of State.