Click above for complete view.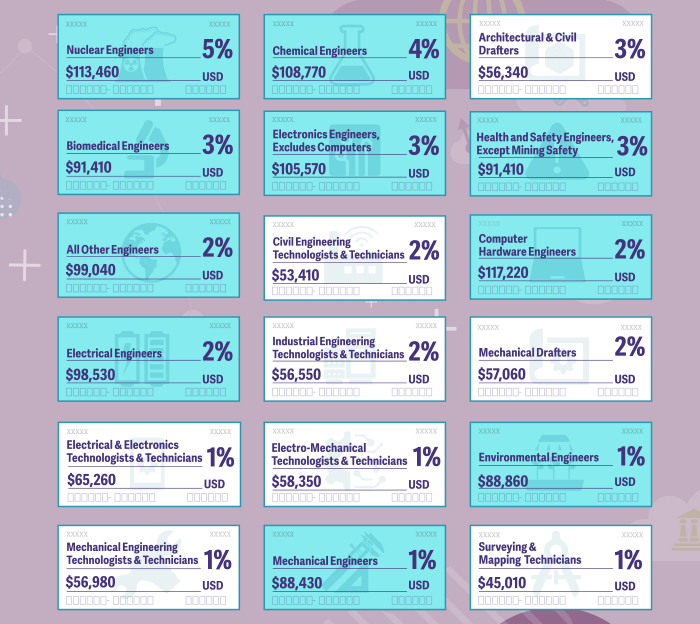 Learners to Earners
Compiled by Carolyn Wilson
Engineering occupations consistently appear on lists of best-paying careers. In the September 2020 U.S. News and World Report ranking of college majors with the highest starting salaries, engineering degrees claimed nine of the top 10 slots (the remaining one: computer science). The U.S. Department of Labor's 2019 list of highest-paying careers ranked engineering occupations in five of the first 50 positions.
From 2018 to 2019, median engineering salaries increased 2 percent on average, according to the Bureau of Labor Statistics. Petroleum engineers commanded the highest median salary of the disciplines, at $137,720. Only architectural and engineering managers earned more, with a median salary of $144,830. The lowest median annual salary was $80,720 for agricultural engineers, the only category that did not beat the overall median salary for STEM professionals of $86,980.
Engineering technician and technologist median salaries* also showed a slight increase from 2018 to 2019—1 percent on average. In 2019, the median annual salary for these positions ranged from $45,010 for surveying and mapping technicians to $66,020 for aerospace engineering technicians and technologists.
Source: U.S. Bureau of Labor Statistics (BLS), Occupational Employment Statistics. *The data combining engineering technicians and technologists are reported as provided by the BLS.
Design by Toni Rigolosi