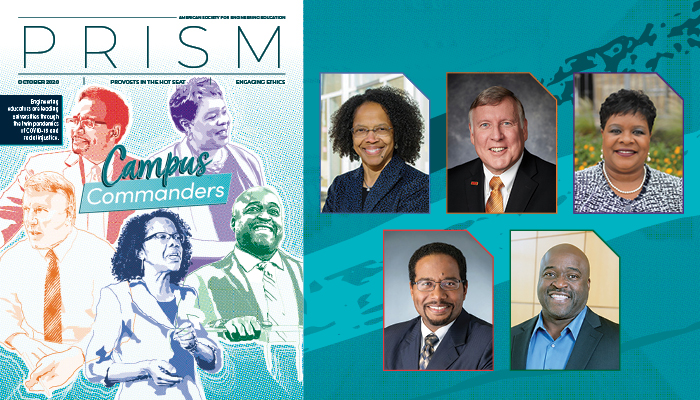 Engineering educators are increasingly providing leadership and solutions as institutions navigate unprecedented challenges during turbulent times.
By Lucy Birmingham and Mary Lord
Long before face masks became back-to-school essentials and protests against racial injustice roiled campuses nationwide, university leaders recognized the need to shake up higher education. A 2014 Chronicle of Higher Education survey found that while just 12 percent welcomed "massive" change, 67 percent of four-year-college presidents called for "at least a moderate amount of disruption" to improve student outcomes and the public's perception of their institutions. As the old adage warns: Be careful what you wish for.
Having shuttered schools nationwide this past spring, the novel coronavirus continues to upend teaching and learning. Out of nearly 3,000 institutions tracked by Davidson College researchers, more than a quarter (27 percent) were holding classes primarily or fully in person. Some 44 percent were teaching primarily or fully online, while the rest offered a hybrid of remote and in-person learning. Even as they grapple with technology-related inequities, campuses also have come under pressure to address institutional inequities highlighted by the Black Lives Matter movement and the killing of George Floyd, Breonna Taylor, and other Black Americans at the hands of police. Beyond their immediate need to cope with COVID-19, higher-education leaders face demands to innovate teaching, increase the diversity of faculty and students, remove symbols of White supremacy, and improve the student experience and success rates—all while cutting costs.
"The best leaders are great teachers," is how Sydney Finkelstein, a professor of management at Dartmouth College's Tuck School of Business, summed up his research on exceptional executives in the Harvard Business Review. For former secretary of state Gen. Colin Powell, effective leaders are problem solvers. So perhaps it's unsurprising that a growing number of universities have elevated engineering educators possessing both talents to top leadership positions. According to the American Council on Education, nearly 15 percent of presidents at doctorate-granting institutions earned their highest degree in an engineering field. Among those installed this past summer are three former engineering deans with deep involvement in ASEE who are profiled in this issue: Gilda Barabino at Olin College in Massachusetts; Darryll Pines at the University of Maryland's flagship College Park campus; and Gregory Washington at George Mason University. "It's not a coincidence. It's happening by design," Washington told the Washington Post of the decade-long trend to tap engineers. Northern Virginia, where GMU is located, is already home to growing defense-industry and cybersecurity sectors. As the area prepares to add Amazon's second headquarters ("Prime Rewards," Prism, May 2019), "individuals with an understanding of science and technology are critical to this region's long-term success."
That three of the newest presidents are African American stands in stark contrast to the small pool of Black engineering faculty from which they emerged. At a recent symposium hosted by the National Action Council for Minorities in Engineering, the three agreed on the need to expand the pool and equip more students to join it. Panel moderator Gary May, another Black former engineering dean who became chancellor of the University of California–Davis in 2017, insisted, "We know how to fix this." But the numerous successful programs pointing the way amount to "a thousand points of light but no constellation." Needed are a national plan, sustained resources, and "the will to make it happen."
An opportunity is at hand, May said. "We are in a position of leadership that allows us . . . to be unapologetic champions for diversity." There should be no hesitation at setting such an agenda on campus, since, May said, "We believe diversity makes us better."
The leaders profiled below spent the summer sweating the details of whether and how to open in the fall with the pandemic still raging. The collective portrait that emerges reveals both a variety of challenges and commonality of purpose. History will judge whether engineering educators have an outsize impact as university leaders. Early signs are promising.
Lucy Birmingham is a freelance journalist based in Los Angeles. Mary Lord is deputy editor of Prism.
Design by Francis Igot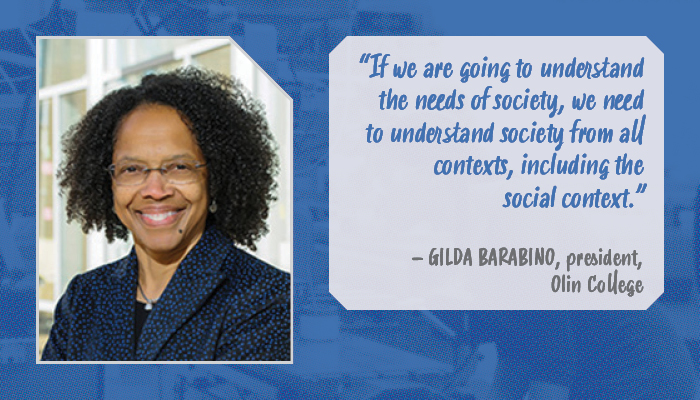 President, Olin College of Engineering; professor of chemical and biomedical engineering
INSTALLED: July 1, 2020
PREVIOUS POSITIONS: Dean of engineering, City College of New York (CCNY); professor and associate chair for graduate studies in the Georgia Tech-Emory University Department of Biomedical Engineering; vice provost for academic diversity, Georgia Tech
FUN FACT: She instigated a collaboration between engineering students and faculty and the Dance Theater of Harlem.
ASEE MEMBER
Trailblazer for Equity
A diversity champion aims to make an elite school famous for innovation into a model of reform and inclusion.
When Gilda Barabino's high school teacher left her with the impression that girls could not become chemists, it only steeled the gifted teen's determination to prove her wrong. She proceeded to earn a bachelor's degree in chemistry and a Ph.D. in chemical engineering, and then embark on an academic career combining teaching, research, mentorship, management, and professional organization leadership.
Like the radically innovative, interdisciplinary school founded 20 years ago that she now leads, Barabino is used to being a pioneer. She was the first Black student to receive a doctorate in chemical engineering at Rice University—and only the fifth African American woman in the nation to obtain that degree. She also was the first Black woman to hold a tenure-track position in the field, as well as the first to lead an engineering school other than a historically Black college or university. Last year, she became the sixth African American female elected to the National Academy of Engineering. A noted researcher on sickle cell disease and tissue engineering, she is also past president of both the American Institute for Medical and Biological Engineering and the Biomedical Engineering Society.
If these milestones hold meaning for Barabino, it's because they represent leading by example and "taking the roles, positions, and responsibilities that help pave the way for others."
Barabino, who attended a racially segregated school in Florida at one point in her elementary schooling, has made "dismantling systemic racism in higher education" a key part of her mission as Olin's new president. "Engineering colleges are a good place for breaking things down and rebuilding," Barabino wrote in a recent Science magazine op-ed. She pointed to the Olin commitment to a "cocreation model of change" in which students, faculty, and administrators all work together and share responsibility for designing approaches with the potential for meaningful, positive impact.
In her seven years at CCNY, the Grove School of Engineering doubled the retention rate of its diverse student body and added several graduate programs. Continuing to run a biomedical research lab, Barabino helped expand its research footprint. After a career at large urban universities, Barabino was drawn to Olin, a school with just 350 students in Needham, Mass. (population 31,000), because of its founding goal to transform engineering education, its gender-balanced admissions, and its mission to make students active participants in their own learning. She has long practiced the kind of cross-boundary collaboration for which Olin is known, looking, for instance, at "how we can use engineering approaches and systems toward things like eliminating health disparities." She welcomes social scientists as partners: "If we are going to understand the needs of society, we need to understand society from all contexts, including the social context."
If no college was fully prepared to cope with COVID-19, Olin at least had the advantage of being set up to experiment, "to try new ways of learning and teaching," says Barabino. Ultimately, after a long deliberative process that included students and alumni, the college decided that its small size and improved Massachusetts caseload permitted a safe reopening in September, with online options for students who wished to remain off campus. Barabino herself has wrestled with choices of in-person vs. remote, and hybrid learning models. "How do you capture those really exciting and dynamic interactions between a faculty member and a student when you're guiding the learning?" she asks. For someone who hopes, as Barabino does, to help write higher education's next chapter, Olin's COVID journey should provide valuable lessons.
Images Courtesy of Olin College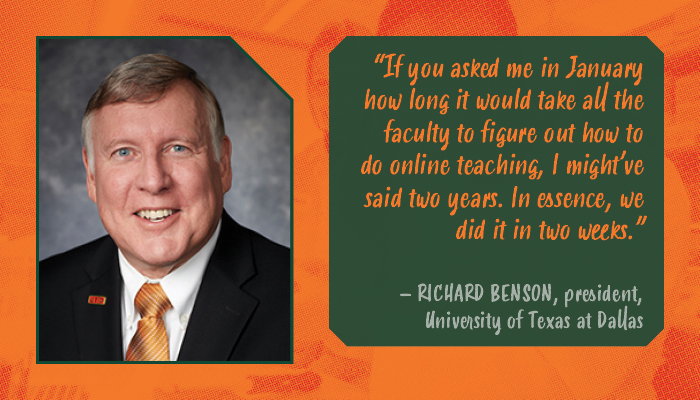 President, University of Texas at Dallas
INSTALLED: July 15, 2016
PREVIOUS POSITIONS: Dean of engineering, Virginia Tech; mechanical engineering department head, Penn State
FUN FACT: His school boasts "a killer chess team."
ASEE MEMBER
Crisis Manager
A leader stresses transparency, information gathering, and regular campus updates.
At least this time, Dick Benson had advance notice of looming trouble. When a crisis occurred on his watch once before, it came with horrifying suddenness. Benson was engineering dean in 2007 at Virginia Tech when an angry and disturbed student went on a shooting rampage through his school, killing 32 people—including 14 engineering students and faculty—before turning the gun on himself. Over the year that followed, Benson took a leading role in coaxing a shattered and grieving community forward (See "Grief, Grit, and Grace," Prism, April 2008).
Now president of the University of Texas at Dallas, Benson could respond to the spreading coronavirus as an engineer, basing decisions on available data. In January, his leadership team began releasing announcements about the risks of COVID-19 and foreign travel. "It was clear we had to limit people from traveling to other countries that were hot spots. Then as soon as we had more information, we quickly got it on the Web. From the start we've tried to be as open and transparent as possible about the coronavirus health risks," he says. Later, "when we learned how important this disease is in terms of airborne transmission, it became clear that wearing a mask and social distancing are extremely important. And so, you try to then work on that. You try to be analytical in your reactions."
Like other campus leaders, he couldn't duck pressure for a return to normal. "The state of Texas has been more anxious than most about reopening the economy," Benson says. "We've had to learn to react to the local approach on things." After announcing May 4 that UT Dallas would reopen in the fall, the school decided courses could be taught five different ways, ranging from online-only to in person with limited class size. In August, it banned student gatherings. During September, the school posted daily, anonymized updates of persons affiliated with the university who tested positive for the virus, including what on-campus facilities those people had visited.
The speed with which faculty and students shifted to online learning in the spring and summer surprised Benson: "If you asked me in January how long it would take all the faculty to figure out how to do online teaching, I might've said two years. In essence, we did it in two weeks."
Appointed president in 2016, Benson brought a record of growth from his decade at Virginia Tech that meshed with UT Dallas's history and goals. Founded in 1961 by the three men who started Texas Instruments—Eugene McDermott, J. Erik Jonsson, and Cecil Green—the school is one of the drivers of the Dallas area's economic expansion—particularly in the suburban Telecom Corridor. It became part of the UT system in 1969.
A mechanical engineer with degrees from Princeton, the University of Virginia, and the University of California–Berkeley, Benson has maintained UT Dallas's close ties with industry and strong research focus. In a partnership with UT Southwestern, home to one of the state's largest medical schools, UT Dallas is now "bringing what we know about imaging, nanotechnology, and microelectronics to bear on medical issues." Whether growth can continue in the short term seems unlikely. Like public universities nationwide, the UT system has been slammed by coronavirus-related losses and state pressure to cut costs. If UT Dallas has to shrink, "that will ripple through the community," Benson says. For now, it can enjoy a bit of good news amid the gloom: a notch-up in U.S. News & World Report rankings from 68th place to 65th among public universities.
Images Courtesy of University of Texas at Dallas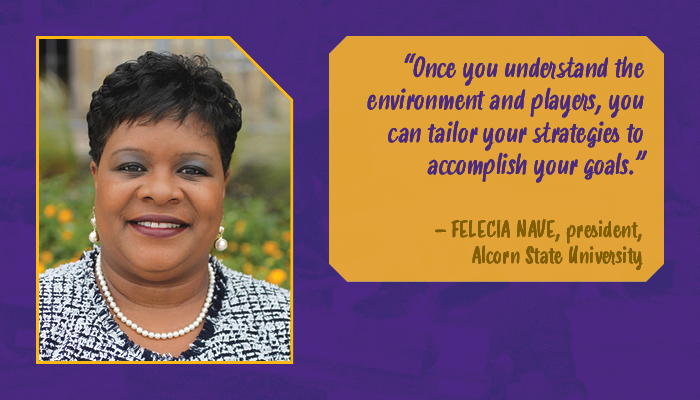 President, Alcorn State University
INSTALLED: July 1, 2019
PREVIOUS POSITIONS: Provost and vice chancellor for academic affairs, North Carolina Central University; provost and senior vice president for academic affairs, professor of chemical engineering, Prairie View A&M University
FUN FACT: First woman to lead Alcorn State
ASEE MEMBER
Brave Start
A sports-loving educator brings a knowledge of the world back to her alma mater.
Some 80 miles southwest from Jackson, Miss., the state capital, just off Highway 552, lies the storied 1,700-acre campus of Alcorn State University. America's oldest historically Black public land-grant university was established in 1871 to educate the descendants of enslaved Africans. The school boasts a championship football team, a top-tier nursing program, and notable alumni, including civil rights activist Medgar Evers and Roots author Alex Haley. One of those graduates, an engineering educator with a track record of leadership and fundraising success, returned last year as the school's first female president and, in her words, "cheerleader-in-chief."
Felecia Nave credits her academic rise in part to the Alcorn State chemistry professor who ran the National Science Foundation's Louis Stokes Alliances for Minority Participation program. "That's where I began to bud and grow," says the Prentiss, Miss., native. She went on to the University of Toledo, where she was the only Black woman in a chemical engineering doctoral program.
Nave knows firsthand the struggles academics of color can experience. In a 2019 interview with the Association for Women in Science, she recalled "faculty and peers who were not always welcoming," people questioning her knowledge, and "flat-out sexist attitudes" on the part of some male HBCU colleagues. "I quickly learned how to read the people," she added. "Once you understand the environment and players, you can tailor your strategies to accomplish your goals." Nave has put that understanding to work in a string of collaborations with industry and other partners to support faculty development and expand opportunities in STEM for students of color.
Building on Alcorn State's athletic strengths, Nave is encouraging two new coaches in their bid to restore men's and women's basketball teams to their former glory. "We like to refer to ourselves very proudly as a home of champions and scholars who excel in the classroom and on the field," she says.
Yet it was sports that, earlier this year, presented Nave with one of her biggest leadership dilemmas: Should she postpone this fall's football season to shield Alcorn State's team from COVID-19? The powerhouse Braves, Southwestern Athletic Conference (SWAC) champions and the source of a number of NFL players, stood to reap $475,000 playing the season opener against Auburn University, according to the Jackson Clarion Ledger. Braves fans were deluging the school with messages of support.
Nave, who had assembled an advisory team to map out a response to COVID-19, ultimately was spared the tough call when the conference announced in July that, given the pandemic's disproportionate toll on Black students and families, fall sports competitions would be postponed for all member institutions.
Loss of football revenue compounded what Nave says are "very negative budgetary impacts" from the pandemic, including a drop in enrollment and the need to return housing fees. She has worked with her vice president and others to identify cost-cutting measures and preserve both "a strong financial standing" and a quality educational experience.
"We are bigger than this pandemic—and stronger together," Nave insists. Indeed, she sees a possible silver lining: Working on ways to expand the nursing program, which produces "a significant percentage" of the state's nurses, her team is eyeing a community-based grant to do COVID-19 training and education in communities of color and low-socioeconomic status communities. "We're also very excited about developing some type of nursing academy with the area school districts," she notes, to train the next generation of essential health care professionals in high school.
Images Courtesy of Alcorn State University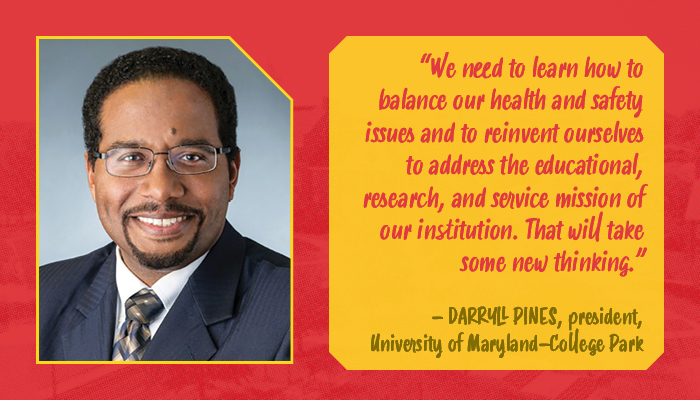 President, University of Maryland–College Park
INSTALLED: July 1, 2020
PREVIOUS POSITIONS: Dean, A. James Clark School of Engineering, University of Maryland
FUN FACT: UMD's second Black president has an identical twin, Derek, also an engineer.
ASEE MEMBER
Hands-on Visionary
A passionate promoter of public higher education takes on multiple challenges with two guiding themes: excellence and inclusiveness.
As a young boy in East Oakland, California, Darryll Pines set his heart on flying in space, inspired by Neil Armstrong's walk on the moon and the 1982 movie E.T. At 13, he attended a summer camp for aspiring pilots, where he met one of the Tuskegee Airmen, the legendary Black World War II aviators. While Pines never pursued a career in flight, aerospace became his field and aiming high a habit. The son of blue-collar parents, he earned scholarships to the University of California–Berkeley and then to MIT, where he received a Ph.D. in mechanical engineering, and entered academe as a spacecraft control and navigation expert.
If Pines's 25-year career at the University of Maryland pointed skyward, the top job has brought its share of terrestrial troubles. Besides the coronavirus pandemic, the state's flagship school has had to face lingering ills of race and health exposed by three tragedies that occurred prior to the current president's tenure: the murder of a Black student from a nearby college by a White former UMD student, the heatstroke death of a 19-year-old offensive lineman, and the death of an 18-year-old freshman from adenovirus complications.
Since reopening University of Maryland–College Park in late August, with 20 percent in-person instruction and the rest virtual, Pines has kept up an active dialogue with his 41,000-student campus while staying alert to potential sources of coronavirus contagion, like student parties. When he noticed a group of barefaced students one recent weekend, he offered them masks with UMD's terrapin mascot theme and snapped a selfie with them, the Washington Post reports. The pandemic "will likely continue for a while," he says, "so we need to learn how to balance our health and safety issues and to reinvent ourselves to address the educational, research, and service mission of our institution. That will take some new thinking."
Pines took on problems of longer standing with 12 initiatives under three general headings: improving the student experience, creating an inclusive environment, and advancing the university. He promised increased mental health services; a coordinator for immigrant and undocumented student life; and enhanced diversity, equity, and inclusion in the curriculum and among students, faculty, and staff. His plan also includes a new research-leaders fellows program, aimed at newly tenured faculty.
He sounds intrigued, rather than overwhelmed, by the challenges ahead. "As an engineer, I find this situation quite interesting," he says. "The level of complexity that we're in lends itself to tools that we use in engineering to solve problems and come up with solutions. So I believe I'm actually adequately prepared to do the risk-benefit analysis and project management to assess the uncertainty, assess the risk, and try to execute a plan."
Pines says he is guided by two main priorities—to put excellence "in everything we do": teaching and learning, research, innovation, the arts, and athletics; and to create an inclusive, multicultural campus environment.
Pines's initiatives play to strengths he demonstrated as engineering dean. They include expanding research, showcased by a striking new bioengineering building; increasing faculty diversity; achieving high student retention; and partnering with Baltimore schools to improve STEM education and interest women and underrepresented racial minorities in engineering. His pledge to draw philanthropic support for students looks achievable; he helped UMD secure $219.5 million from the A. James & Alice B. Clark Foundation to expand scholarships, among other investments.
Pines points to his own life as proof of the value of public higher education. He is encouraged by a step he hopes will expand access at the University of Maryland and mitigate the impacts of COVID-19, particulary for students in disadvantaged ZIP codes: removing the requirement for SAT or ACT scores for spring and fall 2021 incoming students. He also finds hope in the participation by Whites in the Black Lives Matter movement. Referencing the National Academy of Engineering's 14 Grand Challenges, he points to a 15th: a national imperative for diversity. "We cannot lose this opportunity," he says.
Images Courtesy of University of Maryland–College Park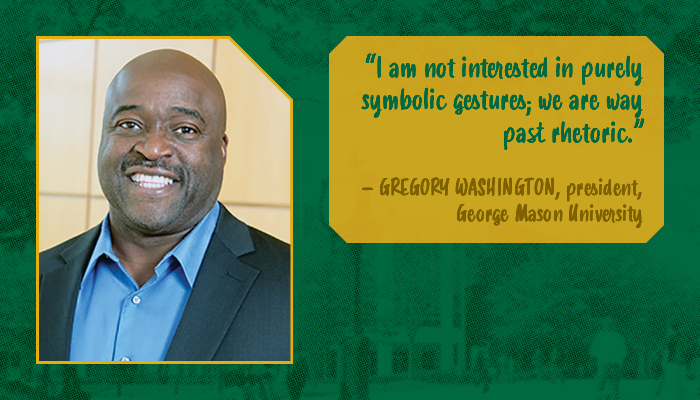 President, George Mason University
INSTALLED: July 1, 2020
PREVIOUS POSITIONS: Dean of engineering, University of California–Irvine; professor of mechanical engineering, associate dean for research, Ohio State University
FUN FACT: As a child, he alarmed his mother by disassembling every toy he was given.
ASEE MEMBER
Managing the Message
Communicating ambitious goals with an audience of 36,000 students, plus faculty, can get tricky.
A week after the death of George Floyd at the hands of Minneapolis police, Gregory Washington joined George Mason University's interim leader, Anne Holton, in declaring, "Our nation is fighting two pandemics—the COVID-19 virus, and the pandemic of racism in America." Since Washington became GMU's first Black president on July 1, Virginia's largest public university has made the battle against both scourges a high priority.
Part of being an engineer, Washington tells Prism, is discerning "what factors are truly important and what factors are more at a noise level." In combating racism, he evidently placed a controversy over preserving his school's name in the noise category. "I am not interested in purely symbolic gestures; we are way past rhetoric," he wrote in an op-ed. As monuments linked to White supremacy fell in Virginia and elsewhere, he acknowledged George Mason's contradictory legacy as both the founding father who inspired the Bill of Rights and a slaveholder. But "the really hard work of transforming our institution" mattered more than focusing intently on a name, Washington argued. In addition, he sees Mason and other founding fathers in a different light than Civil War generals who took up arms against the country. Seeking to make the school of 36,000 students "a national exemplar of anti-racism and inclusive excellence in action," he created a task force to tackle "how we recruit, educate, and support students; how we hire and promote faculty and employees; how we choose the content of our curriculum, and how we teach it," in addition to names on structures.
While Washington tries to make sure "the message I'm giving is the message that people are hearing," misunderstandings occur. A case in point was his effort to recognize committed faculty who put time and effort into helping students. Oftentimes, "they don't get the raises they need or tenure promotion they deserve. That's a problem," he says. Female, first-generation, and students of color at GMU who need emotional support will reach out to female faculty and faculty of color more often than to White or Asian faculty. "It's been known in academia for years that there's extra expectation of those faculty to help and support these students." As the first member of his family to attend college, "I didn't have people around me who could guide me on what I could expect after getting into college," Washington says, "and that's how it is with most first-generation college students."
On the university's website, he posted a notice that specific promotion and tenure mechanisms would be developed that "recognize the invisible and uncredited emotional labor that people of color expend to learn, teach, discover, and work on campus." A conservative think tank objected. "They felt the words 'people of color' were discriminatory because [White] faculty also do that extra uncredited work," Washington says. "I didn't say we would only give credit to faculty of color. But I understand why they interpreted it that way."
Similarly, GMU's effort at comprehensive COVID-19 health preparations needed clarification just before campuses reopened in late August. The school required negative tests before students returned, set up a quarantine center, posted a trademark symptoms form for everyone to complete daily, and worked with the Virginia Department of Health. But questions arose over at-home tests mailed to students, which were not approved by the Food and Drug Administration for home use and in some cases had "for research purposes only" labels. Washington had to explain that the specimens would be processed at a certified lab and that replacing the labels would have been a waste of time and materials. Ultimately, the reopening worked out; GMU drew praise September 22 from Virginia Gov. Ralph Northam, a physician, for its "enviable" 0.45 percent positivity rate—reportedly the lowest of any of the state's big public universities.
Images Courtesy of George Mason University