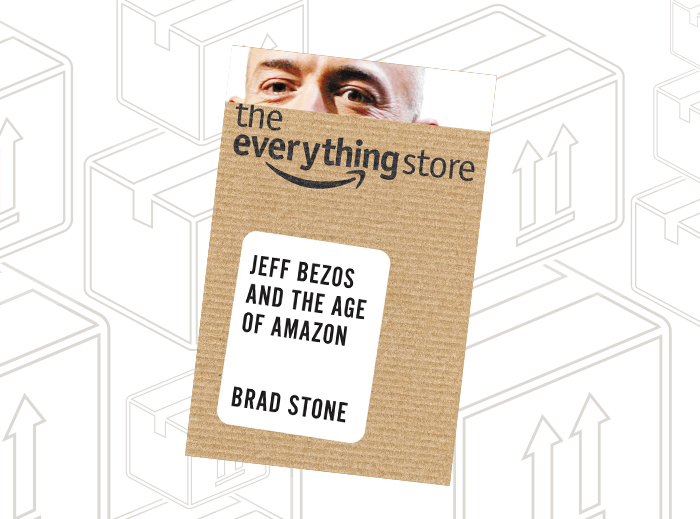 Keep the Customer Satisfied
A ruthless visionary and the commercial revolution he launched.

The Everything Store: Jeff Bezos and the Age of Amazon
By Brad Stone
Little Brown and Company 2013, 372 pages
Reviewed by Robin Tatu
As of mid-January, Amazon.com's newest project was still under wraps but prompting debates as to whether the promised "media device" would be a new type of Kindle, a smartphone, or something wearable. It also reignited interest in Amazon's growing threat against Netflix, the movie-streaming and DVD outfit. Aside from ongoing speculation about Amazon's profit margin – which has been famously anemic for years – talk about the company tends to revolve around these dual narratives: its latest seductive option for consumers, from free shipping to cloud services to a recently unveiled grocery service; and its increasing ascendancy, typically at the cost of competitors. Brad Stone explores both issues in The Everything Store, a close study of Amazon's history, from its inception through its development and phenomenal growth over the past two decades.
As a journalist covering Silicon Valley for the past 15 years, Stone is well positioned for this task, delivering amusing and sometimes shocking accounts of the company's inner workings – of frenzied mobilization during holiday sales, when employees have worked killing hours and slept on-site or in their cars, for example; of rough tactics with rivals and vendors alike; and, most notably, of founder Jeff Bezos's ruthless yet visionary business acumen. Indeed, in reading about a company that has become such an important daily presence in the lives of many of us, it is fascinating to learn of the strategies undertaken by its demanding, idiosyncratic leader.
We learn, for example, that Bezos bans PowerPoint and bullet items from his associates' reports, requiring instead persuasive proposals limited to six pages and presented in the form of press releases. Reproduced and distributed, these are read silently at the beginning of a meeting. He discourages most meetings as a waste of time, however, and views customer phone contact as indication of a failure in operations. His criticisms can be brutal and, just as often, entirely accurate: A team that pondered a supply chain problem for nine months had its report summarily dismissed. As the stunned engineers watched Bezos work the white board, despite his total lack of background in control theory or operating systems, "every stinking thing he put down was correct and true," says Bruce Jones, a former vice president. "He had this unbelievable ability to be incredibly intelligent about things he had nothing to do with, and he was totally ruthless about communicating it."
Strongly influenced by Sam Walton's belief in change and new strategies, Bezos uses the Walmart founder's autobiography as core reading for his own executives. Stone demonstrates the several times Bezos has proved agile enough to accommodate shifting challenges of e-commerce while others' inability contributed to their businesses' dissolution – think Borders, Blockbuster, Kodak, and Sears. Like Walton, Bezos also sticks to rock-bottom costs, even as this aggrieves his suppliers. Publishers, in particular, have gone to battle with Bezos: over his aggressive campaign to digitize books then offer e-versions at significantly reduced prices, his policy of listing used books alongside new ones, and his use of customer reviews in addition to professional ones. Bezos insists that these innovations serve the customer – one of his prevailing mantras—but others remain unconvinced. Steve Jobs came to publishers' rescue in offering an alternative pricing scheme for e-books on Apple's iPad. But in 2012, Apple and five major publishers lost a suit that accused them of colluding to fix prices — and this year has seen Amazon dropping e-book costs to $7.99 and lower.
If Amazon succeeds in forcing publishers and other manufacturers to meet its discounted prices, will the move drive some out of business and narrow the field of quality goods? Stone poses this dilemma without passing judgment. In addition to an in-depth examination of the company, the book offers an illuminating portrait of Bezos, his operations, and his future ambitions. It also provides a helpful look at how businesses are changing, driven by an evolving e-commerce. Whether in favor of his tactics or not, readers would do well to consider these lessons of agility from Jeff Bezos and The Everything Store.
Robin Tatu is Prism's senior editorial consultant.