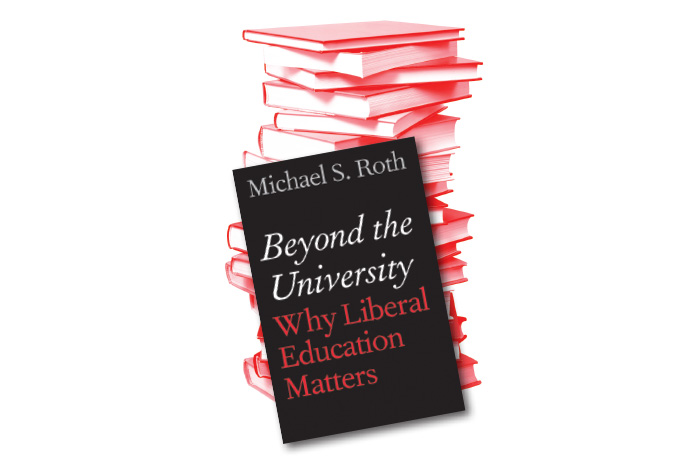 A Strong Yet Flawed Case
Technology gets short shrift in this defense of broad learning.
Beyond the University: Why Liberal Education Matters
By Michael S. Roth
Yale University Press 2014, 228 pages
Heated by skyrocketing costs and economic pressures, challenges to American higher education have intensified. Has a liberal arts education now become an unaffordable luxury, critics demand to know; and is college becoming both irrelevant and unnecessary for today's economy? Among academics responding with a resounding "no" is Michael S. Roth. As president of Wesleyan University, Roth has long been involved in higher education, as well as his own scholarly research, which spans history, philosophy, and psychology. Roth firmly asserts that college teaches young people to think and to engage, allowing them to better themselves and their societies. "Liberal education matters far beyond the university," writes Roth, "because it increases our capacity to understand the world, contribute to it, and reshape ourselves."
Beyond the University is a clarion call to those concerned with America's intellectual future, as well as, Roth would argue, its political, social, and competitive future. He scaffolds an argument defending what he terms "pragmatic liberal education" – one that seeks to expand experience, understanding, and the ability to critique.
Roth traces the evolution of American educational philosophies, examining the position taken by various thinkers and leaders from the very start of the Republic. George Washington advocated a nonsectarian national university that could "inspire national unity" and teach "the science of government." Thomas Jefferson watched Washington's political battles and ultimate defeat at the hands of Congress on this issue before turning to his own state – and founding its state university. Jefferson was determined to stanch the loss of Virginia's native sons to neighboring Kentucky, home to Transylvania University since 1780.
Jefferson linked America's freedom to freedom of thought and supported an open curriculum: He wanted students to be free to make their own discoveries. It is a model that has continued to serve the vision of the "liberal education," yet his vision of free access to knowledge did not encompass everyone, notably excluding women, African-American slaves, and Native Americans. His oversight – and those of the leaders of his time – would inspire succeeding generations to fight their own battles for schooling. Frederick Douglass identified education as the pathway out of slavery; Ralph Waldo Emerson, in such essays as "Self-Reliance," insisted that self-knowledge helps combat the dangers of conformity. Roth invokes Emerson's strongly held belief that education should not encourage young people only to criticize existing systems; rather, education should foster the desire to create, improve, and contribute.
The book guides us through varying beliefs of such figures as W. E. B. Dubois, John Dewey, and Jane Addams, the early 20th-century activist whom Teddy Roosevelt labeled "the most dangerous woman in America" for her advocacy in behalf of workers and ordinary people. Addams felt strongly that greater knowledge could defeat class oppression while fostering social responsibility and civic engagement. Roth allows critics of elite education their say, including the entirely self-made Benjamin Franklin, who lampooned the pretentiousness of Harvard University, idleness of its students, and vacuity of its education. Parents, "because they think their Purses can afford it, will needs send [their children] to the Temple of Learning," Franklin sneered, "where, for want of a suitable Genius, they learn little more than how to carry themselves handsomely, and enter a Room genteely."
This book explores provocative current issues about liberal arts learning today; yet, the discussion about technical education is disappointing. Too often Roth starkly pits the social, intellectual, and personal gains from liberal education against a narrow money-driven "vocationalism." He writes, "In an age of seismic technological change and instantaneous information dissemination, it is more crucial than ever that we not abandon the humanistic frameworks of education in favor of narrow, technical forms of teaching intended to give quick, utilitarian results." Engineering academics who infuse depth, complexity, and responsibility into their curricula will justifiably object to such a limited understanding. It is not only through liberal arts that students can learn to "liberate, animate, cooperate, and instigate."
Offering few serious solutions for financially strapped families or students struggling to make ends meet, Roth fails to explain how America can shrink the growing divide between those who can afford the "luxury" of a liberal arts education and those who cannot.
Review by Robin Tatu
Robin Tatu is Prism's senior editorial consultant.