Breakthroughs and trends in the world of technology.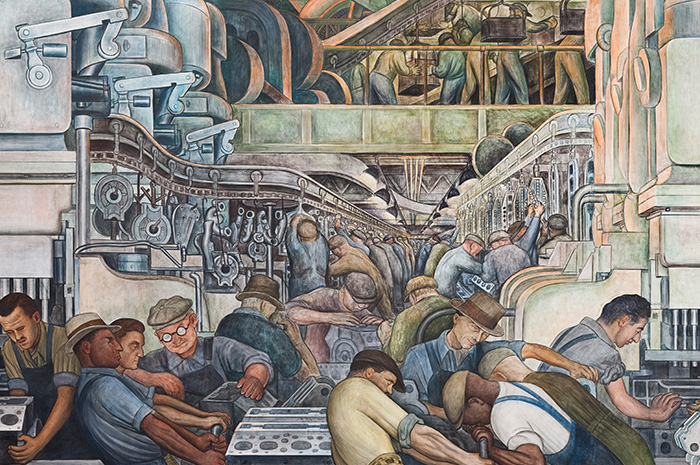 Manufacturing
Motor City Muscle
Diego Rivera's rhythmic, active lines are instrumental to Detroit Industry, the mural series highlighting the Detroit Institute of Arts' (DIA) new exhibit, "Diego Rivera and Frida Kahlo in Detroit." Designed to promote a feeling of busy but harmonious industry, this 17-by-45-foot panel, inspired by the Ford Rouge plant, depicts men of all races working toward a common goal. Conceived in Detroit's heyday but completed in the job-hemorrhaging Great Depression, the art takes on new meaning in 2015. The DIA was recently rescued from almost certain closure – the city wanted to sell its pieces to pay down debt – and is now protected by a trust. Like much of the city, the DIA is experiencing resurgence. Fresh faces and even new acquisitions are filling its halls. Rivera's mural is a bustling reminder of the past, as well as a symbol of hope for the future. – Jennifer Pocock
©Detroit Institute of Arts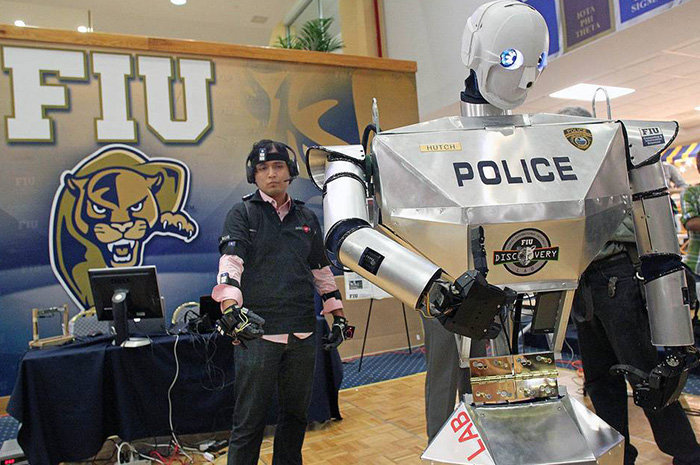 Robotics
Human Touch
Researchers and undergraduates at Florida International University's Discovery Lab have built a prototype RoboCop. Well, sort of. As fans of the sci-fi movie will recall, the title character was a badly injured cop given a new lease on life with robotic spare parts. The Florida team's TeleBot is 100 percent robot, but its head, arms, and hands mimic the actions of a human controller fitted with a sensor-laden apparatus. The android's camera eyes let the controller "see." The project began a year and a half ago when Jeremy Robins, a lieutenant commander in the U.S. Navy Reserves, gave the lab $20,000 from his own pocket to bring to fruition technology that could help disabled combat veterans and police officers rejoin their forces. It's hoped that the TeleBot will be able to interact with the public. What's particularly impressive about the prototype – which stands 6 feet tall and weighs 75 pounds – is that it was built entirely from scratch, with most of the work done by the students. They overcame such hurdles as getting the robot's hands to function properly. The team will next focus on fabricating an external shell and fine-tuning the software ahead of field tests. – Thomas K. Grose
©Florida International University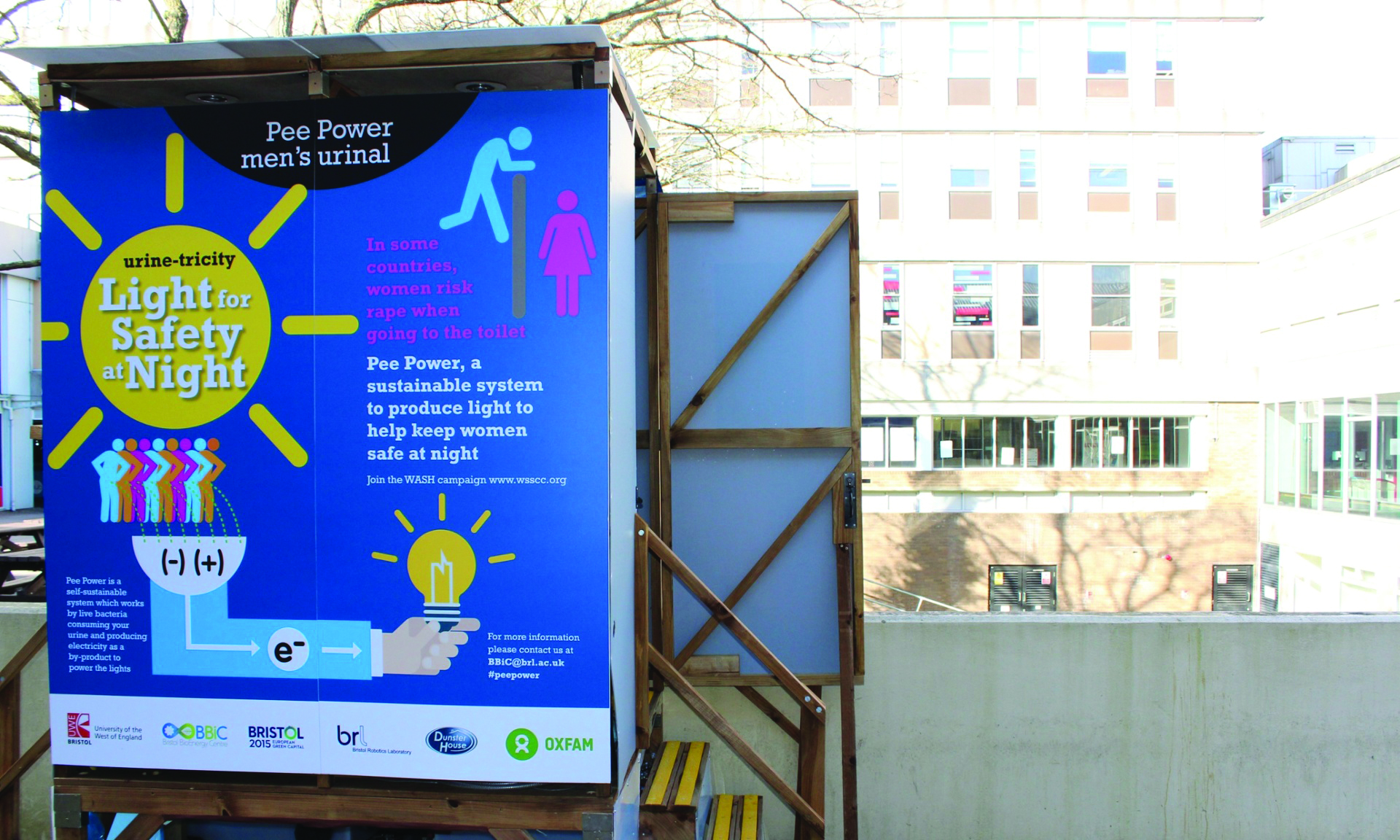 Alternative Energy
Pee Power
The University of West England (UWE) is testing an unusual urinal. Strategically located near the student union bar, it's guaranteed to get plenty of use – which is what researchers want. Instead of flushing, the device pumps urine into stacks of microbial fuel cells. Each contains live microbes that feed off the waste stream, producing biochemical energy – a portion of which is tapped and converted to electricity. The research, sponsored by the charity Oxfam, will show whether such systems can generate enough power to light cubicles in refugee camps, making them safer – especially for women. In 2013 the UWE team proved such fuel cells could generate enough "urine-tricity" to power cellphones. It's estimated that a urinal outfitted with enough cells to produce a useful amount of electricity would cost around $900 but in theory could continue working forever. The campus prototype is built like those used in camps, but with one big difference: A clear screen beneath it allows users to see the fuel cells in action. – TG
©Thinkstock
Biomedical Engineering
Mending Minds
Can implants help brain-injured people recover their ability to form recent memories? That's the focus of initial-stage research at the University of Pennsylvania and the University of California, Los Angeles. Worldwide, around 10 million people with traumatic brain injury (TBI) struggle to form and retain memories because their damaged neurons, as well as the axons that connect brain regions, impair the process. Penn's researchers aim to first map the brain's key areas for forming memories. If successful, they next will try to stimulate those regions with low amounts of electricity to see if it helps TBI patients recover their ability to recall recent events. Several patients with severe epilepsy have had electrodes implanted beneath their skulls to record their EEG signals prior to surgery. They, volunteered to play computer memory games to see if Penn researchers can find markers of memory formation. Meanwhile, UCLA's team is building on its previous findings that stimulating an area of the brain called the entorhinal might help improve memory function. The Defense Advanced Research Projects Agency is funding both efforts; it's giving Penn $22.5 million over four years and UCLA $15 million. Some 270,000 U.S. service men and women have been diagnosed with TBI since 2000, which explains DARPA's interest. – TG
©Thinkstock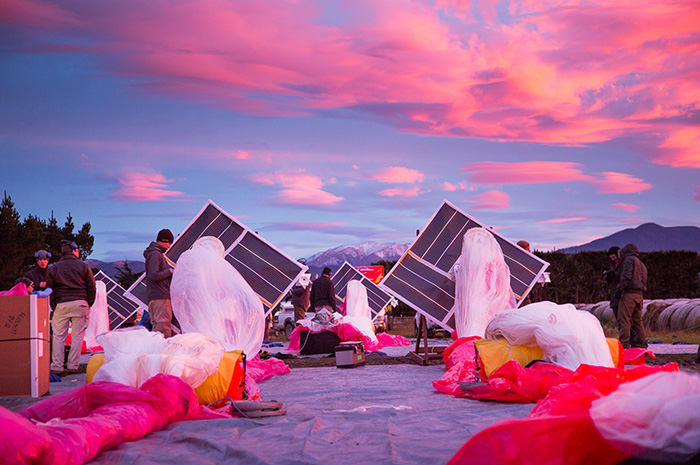 Telecommunications
Higher Calling
Google, the search-engine giant, may make the bulk of its money from advertising. But it is also a tech pioneer willing to jump into promising new areas, such as cellphones and tablets, and invest huge sums researching a range of nascent technologies, including self-driving cars. One of those efforts, two-year-old Project Loon, is making rapid progress toward its goal of providing Internet access to the two thirds of the world's population that currently lack it. The effort involves putting polyethylene plastic balloons into the upper stratosphere, above air traffic and weather systems, where the network would relay signals from cellular towers back down to Earth, expanding coverage to remote areas. Google recently announced that just one of its balloons now can provide 4G cellular service to an area the size of Rhode Island, and it can keep a balloon aloft for six months. Meanwhile, the company recently allied with Johnson & Johnson to bring advance imaging and sensing technologies to robotic surgical tools. The market for such systems is growing, but manufacturers have been subject to multiple lawsuits because of failures. J&J is hoping Google software can make its prototype system more precise as well as more cost-effective. – TG
©Google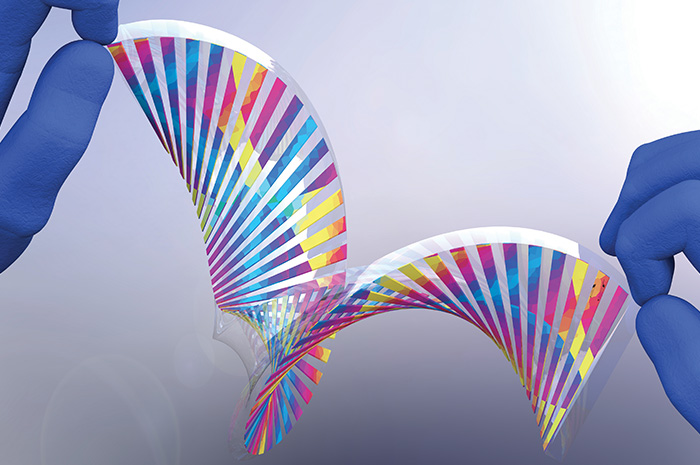 Biomimicry
Whose Hue?
Chameleons can change color to blend in with their surroundings. Now researchers at the University of California, Berkeley, have developed a thin film "skin" that likewise can shift hue on demand. The team drew inspiration from lizards, butterflies, and beetles that, like the chameleon, rely on structural rather than chemical changes in their skin, wings, or shells to reflect light differently. The Berkeley skin changes colors simply by being bent or tugged. To achieve this effect, the researchers used silicon film a thousand times thinner than a human hair and etched it with microscopic ridges, each smaller than a wavelength of light. They then tuned the spaces between the ridges to select which colors they wanted reflected. When the material is manipulated, the altered spacings reflect a different wavelength. The material could lead to new ways to camouflage vehicles, and might also be used in sensors that change color when structural fatigue in bridges, buildings, or airplane wings occurs. It could also inspire novel types of display technologies to enhance color presentations. – TG
©Connie Chang-Hasnain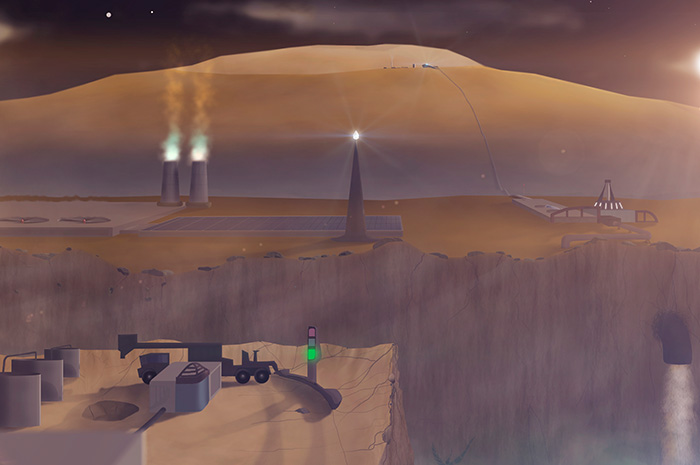 Space Exploration
Lunar Eclipse
Five years ago, President Obama admonished NASA to drop plans to return to the moon. Instead he wanted the space agency to plan for an asteroid landing that could be used as a launchpad for a manned expedition to Mars. That's been the game plan since. But Eric Berger, who writes the SciGuy blog for the Houston Chronicle, says NASA is quietly reconsidering a return to the moon as the best way to get to the Red Planet. For instance, lunar ice caps could be used to produce fuel for the next leg of the journey. Writing in the Huffington Post, retired astronaut Clayton Anderson gave thumbs up to the idea. Humans on Mars would need to figure out how to produce oxygen and hydrogen – the building blocks of life-support systems, propellants, construction materials, and energy, he notes, "and what better place to enable and test the development of all this needed technology than the moon?" Meanwhile, writing in Nature Communications, researchers at Northumbria and Edinburgh universities in Britain says they've developed an engine that's powered by solid carbon dioxide (dry ice), which is abundant on Mars. The engine makes use of the Leidenfrost effect, which occurs when drops of liquid near a surface hotter than their boiling point levitate. Blocks of dry ice would hover above hot surfaces on a cushion of CO₂ vapor, which could be siphoned off to power an engine or turn a turbine. "For Martian exploration, it could be a game changer," the researchers write. – TG
©Thinkstock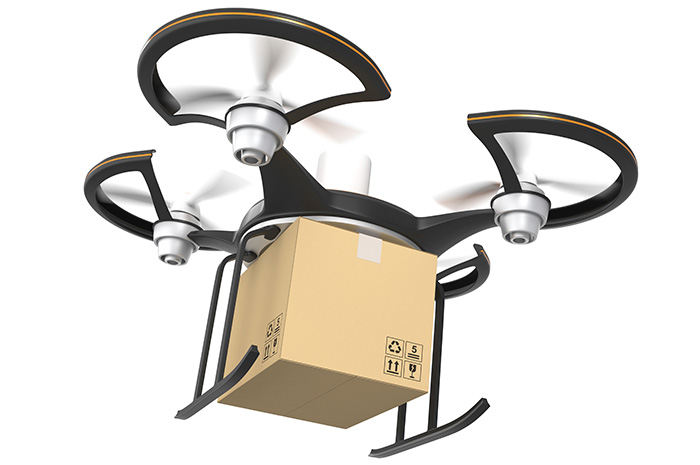 Commercial Drones
Flights of Fancy
All that talk about Amazon drone deliveries may be a little closer to reality – with help from the agency that regulates air traffic in Canada. The Seattle-based online shopping colossus had approached the Federal Aviation Administration for permission to test a system that could ferry parcels weighing up to five pounds from purveyor to purchaser in half an hour, but grew frustrated after getting caught up in what the Washington Post described as "bureaucratic limbo." Transport Canada, which governs air regulations, issued a one-year permit last December that will allow Amazon to test its drone aircraft delivery service at a secret rural location in British Columbia, near the border of Washington state, where the world's largest retailer is headquartered. "We are rapidly experimenting and iterating on Amazon Prime Air, working to make it a reality," Amazon spokesperson Kristen Kish said in an email to the Canadian Broadcasting Corporation. Meanwhile, Paul Misener, the company's vice president of global public policy, told a U.S. Senate aviation subcommittee in March that "this low level of government attention and slow pace are inadequate, especially compared to the regulatory efforts in other countries." Ominous words considering that the use of drones has been described as an economic game changer of the future – one the FAA estimates will constitute a $90 billion industry in the next decade. – Pierre Home-Douglas
©Thinkstock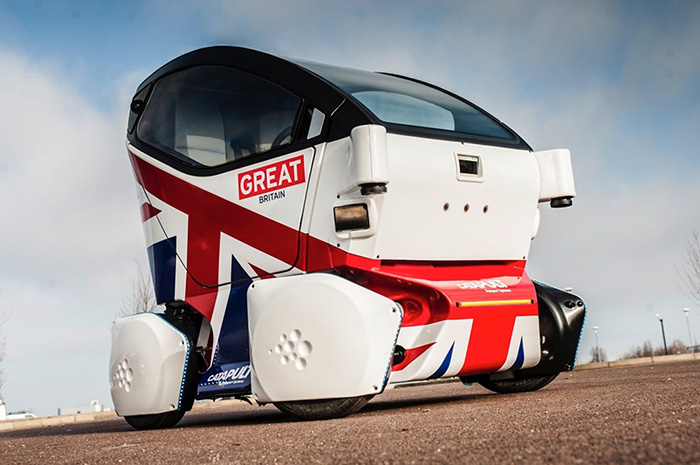 Autonomous Vehicles
Shuttle Service
In February, the U.K. government gave the green light to the testing of driverless cars on British roads. To mark the occasion, RDM Group, a Coventry engineering company, took to the streets of Greenwich in East London to unveil its Lutz Pathfinder, an electric "pod" car that can carry two passengers and run for eight hours. The Pathfinders, which look like amusement-park bumper cars on steroids, will get their first test drive later this year in Milton Keynes, some 50 miles north of London. Initially, three pods will carry passengers between the town center and main railroad station. Eventually, more Pathfinders will be added to take riders to other nearby areas. Milton Keynes volunteered to be an "urban laboratory" to see how well self-driving cars interact with motorists and pedestrians, and vice versa. Each Pathfinder, which has a top speed of 15 mph and range of 40 miles per charge, is outfitted with GPS and arrays of cameras, radar, and lidar (light detection and ranging) sensors to provide 360 degrees of "vision." During the early part of the trial, a human driver will sit behind the steering wheel, ready to take control. Just in case. – TG
©Transport Systems Catapult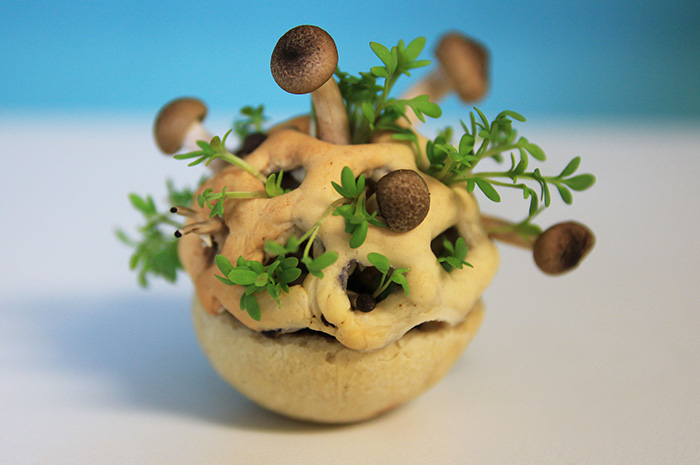 Additive Manufacturing
Carb Appeal
Ready to grow your own hors d'oeuvres? Three-D printers have been churning out chocolates and other sugary treats. But Dutch food designer Chloé Rutzerveld, a recent graduate of the Technical University in Eindhoven, has a concept for a savory printed snack that grows its own filling. Edible Growth, as she calls her still-unrealized concept, would use a printer to put down layers of seeds, spores, and yeast in a tiny basket-shaped configuration. The outside layer would be similar to pizza dough. Inside would be an edible gelatin that enables seeds and mushroom spores to sprout. Within three to five days, the doughy basket would be brimming with baby mushrooms and bits of watercress. Rutzerveld told Wired that she wants to use technology to produce foods that don't consume lots of resources going from farm to table. She admits, however, it could be another decade before additive manufacturing technology can handle the crumbly architecture of pastry dough. For now, it's still a half-baked idea. – TG
©Chloé Rutzerveld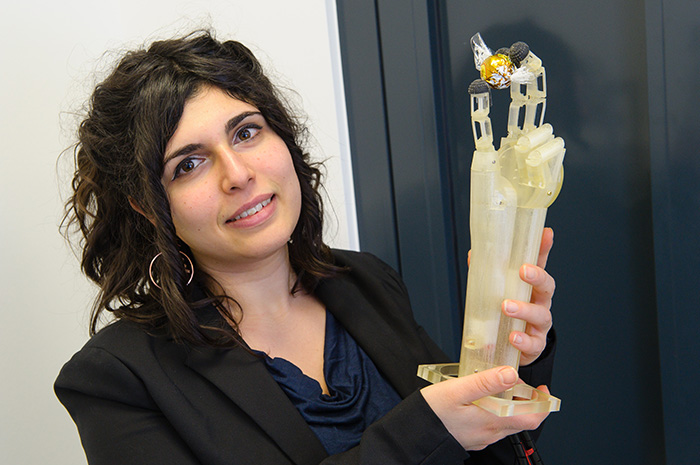 Biomechatronics
Digital Dexterity
The human hand is an evolutionary marvel, but duplicating this versatile tool for use in robots and prosthetic devices has proved difficult. Mechanical hands often are fairly inflexible, sometimes noisy, and expensive to make. So a German team at Saarland University has taken a different approach, building a prototype robotic hand that uses bundles of hair-thin wires fashioned from a nickel-titanium alloy as "tissues" that mimic human muscles. The alloy has shape memory, meaning it returns to its original shape if deformed. The result, the researchers say, is a hand that's quiet, inexpensive to make, and, because it has a high energy density, can exert power in tight spaces. To make the bundles of wires work like muscles, a current is applied to heat them, causing them to contract. When cooled, which the individual wires do rapidly, they return to their previous shape. A semiconductor chip measures and analyzes electric resistance in the wires to control the hand's fingers with high precision. The researchers are continuing to model human hand-movement patterns to further improve the prototype's dexterity. High fives, all around. – TG
©Oliver Dietze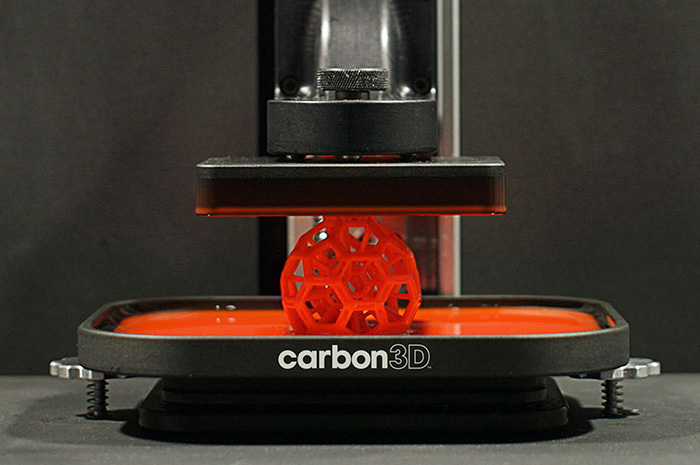 3-D Printing
Pour Moi?
The 3-D printing revolution has only just begun, but already there's a new technology – called CLIP, for continuous liquid interface production – that claims to be 25 to 100 times faster in rendering 3-D CAD drawings into real products. Inspired by the famous scene in Terminator 2 where the nasty robot T-1000 reassembles from a pool of metal, CLIP's technology "grows" shapes from fluid plastic resin. Existing 3-D printers create a product layer by layer. "It's really just 2-D printing over and over again," Joseph DeSimone, the University of North Carolina, Chapel Hill chemistry professor who cofounded Carbon3D, the company that designed the CLIP printer, told the Washington Post. By contrast, CLIP printers have a window that, like a contact lens, lets in oxygen, allowing a polymer resin to remain liquid until exposed to light. The machine's software-guided controls determine how much light hits the resin and where, with the predetermined shape rising out of the polymer ooze without stopping. The process yields smoother parts with more consistent, predictable mechanical properties than those made with traditional 3-D printers, the company says. It can work with the whole family of polymers to make plastic parts for products from tennis shoes to cars. – TG
©Carbon 3D
Marine Science
Undersea Sensors
Oceans comprise 70 percent of Earth's surface, yet exploring the depths has long posed challenges. Nitrogen in scuba tanks can be toxic below 100 feet, for example, so divers rely on a mix of oxygen, nitrogen, and helium pumped from the surface through an umbilical tube into specialized suits. U.S. Navy researchers at the Naval Experimental Diving Unit in Florida have developed a canister that improves that system by extracting as much as 80 percent of the expensive helium from each breath a diver exhales. Meanwhile, in June, a permanent network of undersea sensors will begin monitoring and measuring the physical, chemical, geological, and biological aspects of the Atlantic, Pacific, and Southern oceans. Funded by the National Science Foundation, the $385 million Ocean Observatories Initiative's seven stations will work in tandem with a similar Canadian venture that was launched in 2006 and that also has a post in the Arctic Ocean. The observatories include remotely operated and autonomous vehicles, telecommunications cables, and buoys with satellite uplinks. In total, OOI will deploy 830 instruments to measure such things as sunlight penetration, chlorophyll and oxygen concentrations, and water density, pressure, temperature, and salinity. NSF says the data should help researchers better understand issues ranging from climate change and severe weather to plate tectonics. – TG
©NAVY