Click below for complete view.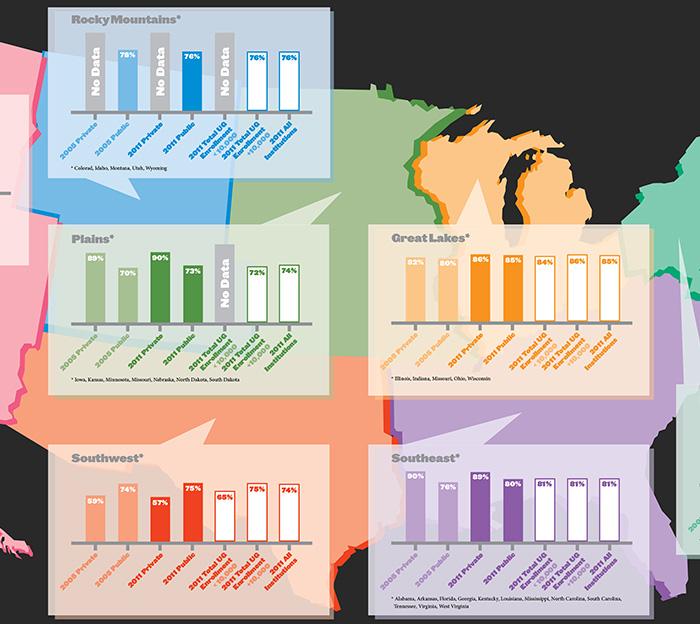 Retention Trends
The graphics below use three variables to compare retention rates for full-time, first-time freshmen who entered U.S. engineering programs in 2011: total undergraduate enrollment, region, and public vs. private institutions. Survey data collected and analyzed by ASEE show that first-year retention rates were highest among institutions located in the Mid-Atlantic, Great Lakes, and Far West regions. Institutions with large – 10,000-plus – undergraduate enrollments retained students at higher rates than their smaller counterparts. Private institutions showed higher retention rates except in the Southwest, where public institutions performed better, and in the Great Lakes region, where public and private institutions were about the same. An additional comparison was made with data collected on the same cohort that entered in 2005. It showed no change in the broad trends. The analysis was based on a sample of 48,578 students drawn from 31 small and 73 large institutions.
Retention percentages were calculated by taking the total number of students in that cohort who persisted in the second year and dividing it by the cohort size. The differences in retention rates do not necessarily reflect the relative quality of the engineering programs across geographic region. The rates may be affected by such factors as admission policies, school missions, and location that are beyond a program's control.
Compiled by Amlan Banerjee
Infographic by Francis Igot