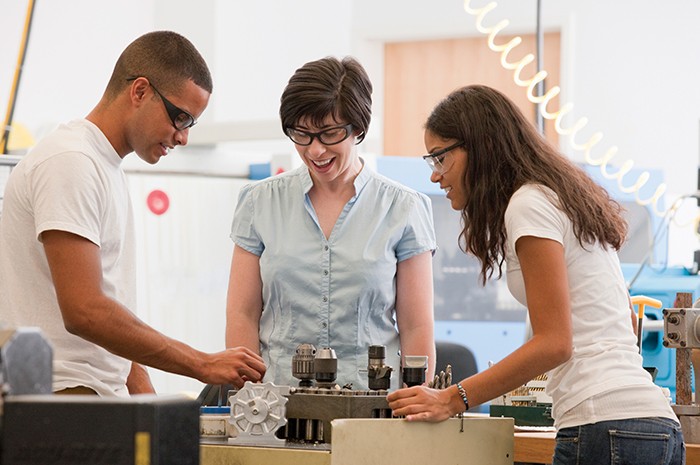 A Hook for People Persons
Participation in research helps socially minded undergraduates stay the course and succeed.
By Sara E. Branch, Anna Woodcock, and William G. Graziano
Engineering research is critical to scientific discovery and technological innovation. Recognizing the need for career researchers, a number of agencies, including the National Science Foundation, are investing heavily in recruiting and retaining talented students. Despite these efforts, however, statistics indicate a continued need to reduce student attrition from engineering. Our work examined a particular population of students at risk for leaving engineering – those with a high interest in people – and the factors that can affect their persistence toward a career in engineering research.
Consider your interest in the following activities: watching a machine work and meeting a new neighbor. Do you find one more captivating than the other – or both? These questions capture interests in things versus people. Students scoring high in thing orientation are drawn to engineering because it aligns with their interests in things. However, many engineering students are high in both person and thing orientations. The impact of person orientation on interest in engineering is not clear, but research suggests that students scoring high on person orientation may be less likely to persist in engineering. Theories of person environment fit indicate that students' experiences in undergraduate engineering programs and their beliefs about the professional engineering workplace might fail to satisfy their interest in people.
We were interested in how the undergraduate engineering environment could satisfy person oriented interests. We focused on the role of faculty encouragement and undergraduate research. Perceived encouragement from faculty members benefits students in numerous ways. It leads them to have more positive academic self-concepts, improves both their internal and external academic motivation, and increases students' feelings of belonging. Faculty encouragement may particularly benefit person oriented engineering students for two reasons. First, encouragement is an interpersonal process and thus social by its very nature. Second, faculty members are likely to encourage students to become involved in the academic environment by participating in activities outside of class, offering greater opportunities for interpersonal engagement. In engineering, a valued academic activity is participation in undergraduate research. Students who conduct research are more likely to stay in engineering and show greater interest in engineering careers. For students high in person orientation, encouragement has the added potential benefit of motivating them to pursue undergraduate research.
Our study examined how person and thing orientations, perceived encouragement from faculty to participate in research, and students' intentions to be involved in research affect undergraduates' interest in an engineering research career. Some 292 students at a large public university completed an online survey of their person and thing orientations, perceptions of encouragement, interest in undergraduate research, and career goals. We then used an ordinary least squares (OLS) regression approach to simultaneously test two sequential mediators to explain the impact of person orientation on research career interests.
Our results showed that students who score higher in person orientation perceived greater faculty encouragement to participate in research, which in turn increased their interest in being involved in undergraduate research. The greater the intentions to be involved in research as a student, the greater the interest in pursuing a career in engineering research. Neither encouragement nor intentions to be involved in research alone explained the association between person orientation and career interests.
Students high in both person and thing orientations may be ideally suited for a career in engineering because they are likely to possess both critical interpersonal and technical skills. However, they may leave engineering in favor of careers that are better able to satisfy their people focused interests. Our findings suggest that encouragement from faculty to participate in undergraduate research may improve the retention of these students. Faculty encouragement can serve as an external motivator that helps to direct person oriented engineering students toward participation in undergraduate research, which in turn may satisfy both person and thing orientations.
Sara E. Branch is an assistant professor of psychology at Hobart and William Smith Colleges, Anna Woodcock is a social psychology researcher and lecturer at California State University San Marcos, and William G. Graziano is a professor of psychological sciences at Purdue University. This article was adapted from "Person Orientation and Encouragement: Predicting Interest in Engineering Research," published in the April 2015 issue of the Journal of Engineering Education.