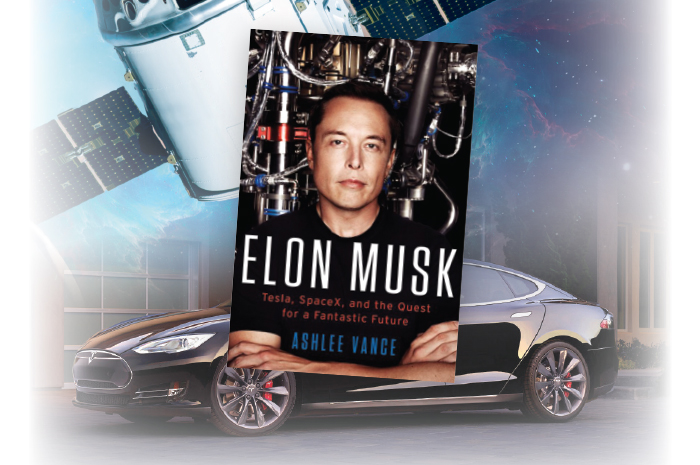 Reach for the Stars
A compelling portrait of a Silicon Valley icon explores his engineering savvy, broad imagination, and dramatic risk-taking.
Elon Musk: Tesla, SpaceX, and the Quest for a Fantastic Future  
By Ashlee Vance
Harper Collins 2015, 392 pages.
It's no surprise that this biography of one of the world's most visionary entrepreneurs immediately shot to bestseller status. Elon Musk's business involvements – from Paypal to the groundbreaking electric car Tesla, private launch company SpaceX, and SolarCity, America's largest installer of photovoltaic systems – have demonstrated engineering and commercial genius. Since 2010, Musk has been racking up awards and honorary degrees for electronics, spacecraft, and innovation. And the billionaire entrepreneur may just be warming up. He recently broke ground on an enormous factory for lithium-ion batteries in Nevada; he's proposed a high-speed commuter train between Los Angeles and San Francisco; and he speaks of plans for a solar-powered electric jet and satellite-driven "space Internet."
Yet Musk remains a controversial figure. A brutally demanding employer, he leaves scorched trails of former workers and partners. His unrealistic deadlines and obsessive attention to detail are legendary, as are his seemingly ludicrous ambitions – colonizing Mars has long been a key objective. He brusquely discounts detractors while dismissing automakers' work on hydrogen fuel as "bullshit." Nonetheless, journalist Ashlee Vance believes that Musk's bluster and bullying are all part of the "marketing savvy… engineering smarts, and indomitable spirit" that ensure his success. "Dramatic risks accompany just about everything Musk does," he writes. While clearly an advocate, the author takes pains to present differing valuations of the man, citing one pundit who judges Tesla "an utterly derivative overhyped toy for show-offs," as well as those who extol Musk's brilliance, joking that he is the genetically engineered love child of Bill Gates and Steve Jobs. The result is an entertaining, informative profile that contemplates the future of industrial technology and Musk's role in it.
Opening chapters review Musk's upbringing in South Africa, youthful explorations with computer programming, and his decision at age 17 to emigrate to Canada. He brought his entrepreneurial ambition to Kingston's Queen's University, making money on the side by selling custom-designed computers. Transferring to the University of Pennsylvania, he financed his physics and economics studies through profitable weekend keggers held at his off-campus house. Other early chapters trace Musk's years of striving with the Silicon Valley start-ups Zip2, X.com, and PayPal, a lifestyle he describes as "eating glass and staring into the abyss."
The chapters that trace the development of SpaceX and Tesla are particularly compelling, detailing the gritty make-or-break trajectory of each company. They also give insight into Musk's business strategies and acumen. Bucking the trend for global manufacturing, for example, he strives for in-house production. By manufacturing 80 to 90 percent of their own materials, SpaceX engineers could make weight-reducing refinements that radically reduced the costs of their space launches, helping them win NASA contracts to fly supply missions to the International Space Station. Tesla similarly defied standard automotive practice not only with its lithium-ion battery cells but also by selling directly to consumers, bypassing dealerships. The company has since gained a reputation for its continuous technology upgrades, many of which are passed on to current owners. And in 2014, Musk again astounded the industry by opening Tesla's patents, allowing open access to its electric-vehicle technology.
If Musk does things differently, his supporters argue it's because he is focused on larger issues: not on cars but on energy and technology, on correcting Earth's problems – and on developing an evacuation plan, if necessary. Google co-founder Larry Page asserts that Musk's willingness to eschew "short-term, inconsequential goals" and his multidisciplinary approach to problems should serve as an inspiration. "Engineers are usually trained in a very fixed area," he notes. If their education were to link a more general engineering and scientific background with leadership and business training, it would enable greater progress. Says Page: "When you're able to think about all these disciplines together, you kind of think differently and can dream about much crazier things and how they might work."
Review by Robin Tatu
Robin Tatu is Prism's senior editorial consultant.