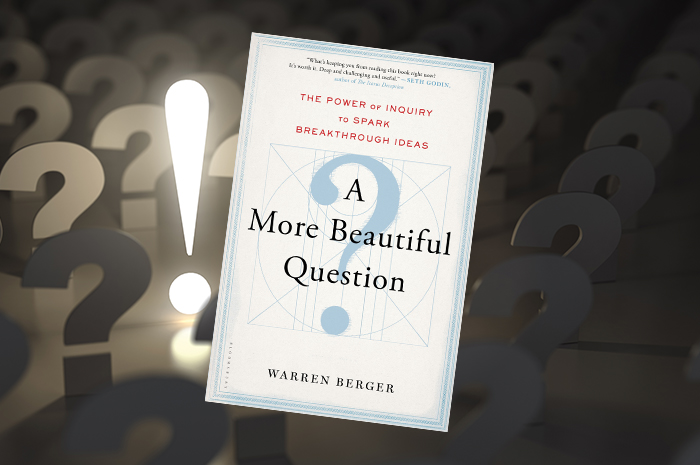 The Art of Asking Why
A business writer urges educators to cultivate their students' ability to challenge conventional wisdom and think differently about solving problems.
A More Beautiful Question: The Power of Inquiry to Spark Breakthrough Ideas
By Warren Berger
Bloomsbury, 2014. 260 pages.
As any parent knows, young children are naturally inquisitive. But that doesn't mean we humans are naturally good at asking questions. Why? One reason may be that questioning is sometimes discouraged and often downplayed in lieu of answers. The average toddler poses 390 queries a day, but by the time children enter school, their relentless inquiry makes a steep and steady decline.
In elementary school, the average number of questions a child poses per day drops to 76; by high school it's down to 44. Methods for teaching through questioning are as old as Socrates, and "inquiry-based learning" is becoming standard educational nomenclature. Yet it is typically educators, not students, who craft a lesson's "essential questions," directing their charges to anticipated "right" answers rather than promoting independent exploration. And even as teachers design curriculum around inquiry, they can fail to recognize that effective questioning is a skill that needs be cultivated.
In A More Beautiful Question, reissued in paperback this year, Warren Berger urges re-engagement with thoughtful, probing questioning. "Questions challenge authority and disrupt established structures, processes, and systems, forcing people to have to at least think about doing something differently," he argues. His book aims to show the way.
A journalist and business writer by training, Berger clarifies from the outset that he is concerned with "actionable questions" rather than vast philosophical ones. His framework for action identifies a three-part progression: Why; What If; and How. Asking "why" identifies problems and issues but needs to be followed up. "What if" opens a range of alternate possibilities, and "how" begins translating inspiration into potential solutions. Each chapter models this pattern of questioning ("why does stepping back help us move forward," "what if you could not fail," "how can we make a better experiment?") while providing examples of innovations ranging from Gatorade to TED conferences, Pandora, and Airbnb, as well as lesser-known initiatives, such as Water.org, ReWired for Change, and the Right Question Institute.
Not surprisingly, many of the innovators the book profiles are engineers. As a young man who lost his left foot in an accident, Van Phillips asked why a prosthetic had to be so awkward and limited, and, further, why it had to mirror the shape of a heavy human foot. What if he could create something entirely different—and how would he go about doing so? His inquiry took decades of education, work, and experimentation as a biomedical engineer. But the Flex Foot Cheetah that Phillips produced has proven so effective that its early use in running competitions was hotly disputed. Polaroid's creator Edwin Land was spurred by his young daughter's frustration—why do we have to wait to see the picture you've just taken? Teenager Jack Andraka pushed past teachers "tell[ing] you what to do" to devise his own inexpensive and highly accurate cancer-screening test, winning the 2012 Intel International Science and Engineering Fair's grand prize. Such examples offer models that can inspire educators, students, and others to a process of persistent, focused questioning.
The book's early chapters explore the importance of questioning and its uses as well as struggles in schools and business. Concluding with "Questions for Life," Berger draws closer to those larger philosophical issues, challenging readers to grapple with their personal "whys." Too many people fail to investigate what motivates them, he writes. And if you can't answer what makes you tick, comments filmmaker Roko Belic, "then you're not paying attention to some real basic things about what it means to be alive." Berger advocates breaking down overwhelming meaning-of-life questions to specific, manageable considerations: Why are you climbing the mountain? What did you love doing as a child? What if you made one small change? He concludes the book with a 10-page index of every question posed within its pages.
A More Beautiful Question stands out among a raft of inquiry books and programs through its own vibrant questioning. Indeed, the book began as an online project using volunteers to locate innovative inquiry work—to date, more than five hundred examples are listed. Weaving together some of the most compelling examples, Berger produces a crisp yet thoughtful narrative on the art of problem solving that is well worth the read.
Review by Robin Tatu
Robin Tatu is Prism's senior editorial consultant.
Image Courtesy of Amazon/Thinkstock