Year to Commit to P-12: WhEn Engineering Begins
Engineering Education for Every Child
The Pre-College Engineering Education Division sets forth on a bold new path.
By Pamela S. Lottero-Perdue
This past June, the Pre-College Engineering Education (PCEE) Division—formerly the K-12 and Pre-College Engineering Division—approved a new vision, mission, and set of core beliefs to capture who we are, what we value, and what we do. These new statements build upon the important work of members who founded the division 12 years ago and define "pre-college engineering education" as engineering education that occurs prior to the typical age for college or university students. That includes preschool through high school learners in schools as well as in such informal learning environments as museums or summer camp programs.
We envision a world in which every child engages in high quality pre-college engineering education facilitated by effective educators. Our mission: to grow and sustain a community whose members collectively build expertise and capacity in pre-college engineering education knowledge and practice. This mission is driven through the enactment of our core beliefs and values, which include:
Being a part of a community of thought leaders in pre-college engineering education;
Research that continually improves our collective understanding of pre-college engineering teaching and learning;
Professional learning experiences for our members and for educators through conferences and professional workshops;
Educational resources that support high-quality pre-college engineering education;
Diversity within our membership and the engineering workforce, and among the children who ultimately benefit from the work that we do;
Dedicated and responsible service to the division and ASEE's other pre-college engineering education efforts through elected leadership and volunteerism;
The development of leaders and advocates for pre-college engineering education within and beyond the division; and
Policies and standards within and beyond ASEE that support our mission and vision.
While our vision and mission are unique, the bold elements of our core beliefs align with those of other ASEE divisions. The commitment to diversity and inclusion is relevant to every division, especially ours. Realizing our vision—for every child to engage in high-quality pre-college engineering education—not only will help create a more engineering-literate society; it also will help prepare a more diverse student body to enter colleges of engineering.
Diverse Members
The PCEE Division is an inclusive community of about 700 members who welcome those who share our vision and core beliefs. Currently, 46 percent of our members are female, one of the highest proportions across ASEE's divisions; half are male; and 4 percent did not provide a response regarding gender. Our members identify as: Hispanic (5 percent), Black (9 percent), Asian/Pacific Islander (5 percent), American Indian/Alaskan Native (1 percent), and White (58 percent), with 18 percent not responding and 5 percent declining to participate.
Our members also are diverse with respect to employment. Over two thirds specified a primary job function in their membership profiles. Of these: 33 percent are college or university professors of varying ranks; 14 percent are teachers in preschool to high school; 12 percent are directors of STEM education, engineering outreach centers, or other program; 10 percent are deans, including associate and assistant deans; 7 percent are lecturers or instructors in colleges or universities; and 4 percent are chairs or associate chairs. The remainder includes graduate students, program coordinators, consultants, advisers, and other jobs too numerous to list here.
Common Purpose
While the PCEE Division shares the vision of the ASEE Board of Directors Committee on P-12 Engineering Education that Liz Parry wrote about in the September Prism, the missions are different. Our division aims to build and enrich our community of expertise in pre-college engineering education research and practice, particularly through ASEE's annual teachers' workshop and conference. The committee's mission is to provide strategic recommendations to the ASEE Board of Directors about proposed initiatives that are relevant to pre-college engineering education and that may draw from ASEE's human and capital resources. Working together within ASEE, both the committee and division aim to have a positive impact on pre-college engineering education and situate the Society as the premier organization for expertise and action in this arena.
Pamela S. Lottero-Perdue, an associate professor of science education at Towson University, is chair of ASEE's Pre-College Engineering Education Division and a member of the ASEE Board of Directors' Committee on P-12 Engineering Education.
The link provided for ASEE's Equality in STEM project (September Prism, page 48) should have had lowercase rather than capital letters. Please use this URL: http://diversity.asee.org/lgbtq/.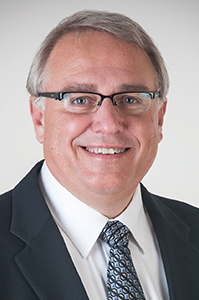 Board Profile
Gary Steffen
First Generation Faculty
When Gary Steffen talks about teaching, he sends you back in time to when, feeling both excitement and fear, you stepped into your first college classroom. "I love teaching freshman courses, like digital electronics or basic electronics," he says. "The incoming freshmen—there's a buzz and a charge about them when they first come into the classroom that I can just feed off of. A lot of times, they're being introduced to brand-new information that they've never seen before."
Steffen chairs two departments at Indiana Purdue University at Fort Wayne (IPFW): the Computer Electrical and Information Technology (CEIT) department and the Manufacturing and Construction Engineering (MCET) department. He got there by way of an electrical engineering technology degree from IPFW, a stint in the telecommunications industry, 10 years of computer networking and electronics laboratory administration, and part-time teaching that turned full-time when the department recognized his skill and passion. "I went back and got additional education along the way, of course," he says. "But I just love what I do."
Before all that, however, he was a farm boy in rural Adams County, Indiana, about 30 miles from the IPFW campus. A first-generation student himself, he had no idea what to expect when he went to college. "My father looked at me and gave me some wise words. He said, 'Gary, go to college. You can always farm.' I'm happy that he did that." One thing that he wants first-year students to understand is that failing a test or a course won't define them—too often, they get one bad grade and think that they should go back to the farm. It's even more difficult when parents at home don't understand what students go through.
Steffen loves the applied nature of engineering technology. In his tenure at ASEE, he hopes to make clear the importance and breadth of engineering technology. "We're always talking about how we're not graduating enough engineers. But engineering technology is putting a lot of people into employment with engineering titles," he says. ASEE recognizes that, he says. But too many people don't, including the students walking in for the first time.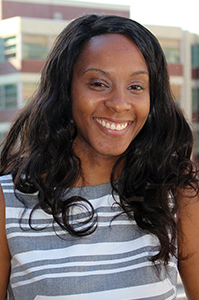 Meet Your Staff
A Global Citizen with Local Roots—and Dining Tastes
By Nathan Kahl
Rashida Johnson brings a rich and diverse background to her role in ASEE's Fellowships and Research Opportunities (FRO) Department, with a mother from Guyana, a father born in Southern California, and a husband from Nigeria.
After spending her early years in Burbank, Rashida moved to her mother's homeland at age 12. Life in the South American nation was idyllic, and she came to particularly appreciate the food and natural beauty there. Her mom, a lawyer, did judicial reconstruction work, helping the country establish election systems, efficient courts, and more.
After finishing high school Rashida took a big leap—geographically and culturally—to Smith College in Northampton, Mass., for a degree in political science. She earned her master's in public policy from Georgetown and, after a stint working at Howard University, joined ASEE in 2009.
She's worked in various levels and in multiple programs in FRO, and recently was promoted to run the Department of Defense's high-profile Science, Mathematics and Research for Transformation (SMART) program. She enjoys the challenge of learning the new role. "SMART is a bit different from our other programs in FRO in that it's a workforce development program, while the others are more strictly scholarships," she notes. SMART comes with a scholarship for awardees and a guaranteed DoD job upon graduation.
Rashida's husband works in IT for the government and also runs a foundation (named "Victoria House" after his late mother) to bring technology to disadvantaged children in developing regions of Sub-Saharan Africa, Central America, South America, South East Asia, the Caribbean, and urban areas in the United States. Rashida is deeply involved as well; she recently helped organize a fundraiser for the foundation, drawing 100 people to a swank Annapolis, Md., venue.
Outside of work, her two kids, ages 2 and 6, keep her busy. She is also well-versed in local eateries, taking part in a monthly dinner club that hits up District of Columbia hot spots. Her local family network (her mom, siblings, cousins, etc.) are a source of support in the D.C. region, but when she wants to get out—like, really out—Rashida puts on her proverbial feathers and heads to Carnival. She's been to the festival in Miami, Trinidad, St. Lucia, and Toronto.
Of working at ASEE Rashida says, "I really like making great connections with my coworkers and learning new things from them; we have a brilliant group of people here. It's corny, but I get inspired every day by them."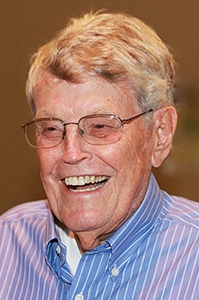 Obituary
Joseph C. Hogan, ASEE President (1982–1983); Notre Dame Dean
Joseph C. Hogan, dean of engineering emeritus at the University of Notre Dame and a past president and Fellow of ASEE, died August 18, 2016 at Friendship Village in Tempe, Arizona. He was 94.
Hogan's tenure as dean from 1967 to 1981 is credited with significantly enhancing the College of Engineering's endowment, academic prestige, and physical facilities, including the Fitzpatrick Hall of Engineering, dedicated in 1979. He came to Notre Dame after serving as the youngest-ever engineering dean at the University of Missouri.
He became president of ASEE the year after he stepped down as dean and was elected a Fellow of the Society in 1983.
A native of St. Louis, Hogan earned a degree in electrical engineering from Washington University before enlisting in the U.S. Navy. After seeing action in the Philippines during the closing days of World War II, he resumed engineering studies at the University of Missouri and the University of Wisconsin, where he earned a doctorate.
According to an obituary published by Notre Dame, Hogan was a frequent speaker before national and state legislative bodies advocating for the development of engineering education and its increasing inclusion of women and minorities.
Donations in his memory may be made to Logan Center in South Bend or Maggie's Place in Phoenix, Arizona.
©Bueler Mortuary