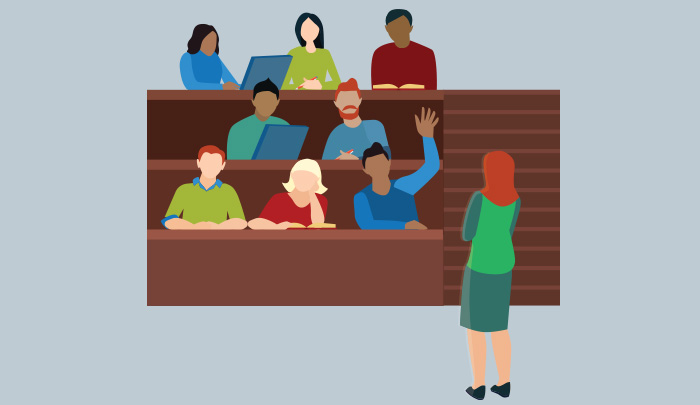 Stepping Up or Standing By?
Some faculty members are blind to gender inequities. While others see them, only a few respond.
By Elizabeth E. Blair, Rebecca B. Miller, Maria Ong, and Yevgeniya V. Zastavker
Undergraduate faculty members are well positioned to help correct a stubborn gender imbalance in engineering by promoting equity and women's persistence. Yet they often receive little comprehensive training in gender equity or institutional incentives to advance engagement and learning among all students, not just those who traditionally succeed.
Research suggests that sociocultural factors, including implicit biases held by faculty and peers, contribute to educational disparities. To learn more about how STEM instructors conceptualize their roles, responsibilities, and teacher identities in relation to gender inclusivity in engineering, we interviewed 18 faculty members who taught undergraduate gateway engineering courses (mathematics, physics, and introductory engineering) at three colleges. Our analysis adopted a feminist, post-structural perspective, suggesting that while identity categories (such as woman or professor) may appear fixed and "natural," they are actually being made and remade continuously through everyday language and activity. This process can create opportunities for broader social change by making new ways of understanding social relationships, identities, rights, and duties socially legitimate. In paying attention to language, we explored how faculty members constructed teacher identities and justified particular pedagogical behavior.
We identified three positions that faculty members took as they talked about students' gender expression in relation to their role as teachers. In the first position, gender blindness, faculty members denied perceiving their students' gender. They claimed that gender has no meaning or influence in their classroom. As a consequence, they justified business as usual in their classrooms and disclaimed responsibility to promote equity. In the second and most frequent position, gender acknowledgment, faculty members observed specific gendered trends in students' preparation and performance in college STEM courses. Yet again they justified failure to act to promote gender equity in their teaching practice by suggesting that these gender differences were beneficial for women (for example, predicting that women who persist despite bias would be more committed to engineering) or arguing that actions to support gender equity fall outside their duties as faculty members. One participant explained, "[I]t's just a fact that more high school guys come out better prepared for math and physics than high school girls. So there's nothing we can do there."
In the third and least prevalent discursive position, gender intervention, faculty members identified current teaching and institutional practices as impairing women's STEM persistence and recounted their own moves to disrupt bias in their classrooms. One participant described intervening when students divided group project tasks along gender-stereotyped lines—men worked in the shop while women created a presentation—by privately addressing the pattern with the women. As with many of the equity interventions faculty members described, this approach diverges from best practice; it puts the burden on female students alone to monitor and change their behavior instead of engaging the whole class in dialogue.
As campaigns to promote gender equity have gained traction in universities, discourses on gender equity have become accessible to many faculty members. However, familiarity with equity issues may not be sufficient to spur meaningful change: In most instances faculty in this study rejected individual responsibility to intervene to promote equity. These findings illuminate the pernicious nature of systemic gender bias: As overt sexism has become less culturally acceptable in STEM, subtle discourses and everyday interactions still perpetuate systemic inequalities.
Departments need to establish everyday practices that promote access and equity as part of the expected duties of faculty members. Faculty members should undertake sustained professional development and change their pedagogy to make sure a wider range of students can succeed in engineering.
Elizabeth E. Blair is a visiting assistant professor of education and youth studies at Beloit College, Rebecca B. Miller is an advanced doctoral student at Harvard University Graduate School of Education, Maria Ong is a senior research scientist and evaluator at TERC (formerly Technical Education Research Centers), and Yevgeniya V. Zastavker is an associate professor of physics at Franklin W. Olin College of Engineering. This work was supported by Olin College and by the National Science Foundation under grant 0624738. This article was adapted from "Undergraduate STEM Instructors' Teacher Identities and Discourses on Student Gender Expression and Equity," published in the January 2017 issue of the Journal of Engineering Education.