Letter from the President
Hearts and Minds
A new political environment compels us to take on engineering's latest challenge: policy advocacy.
By Louis Martin-Vega
It has often been said that "time passes quickly when you are having fun" and so it has been in many ways for me during this year. As my predecessors have noted, the year in this role goes very fast, and so I find it a bit hard to believe that this will be my last opportunity to address ASEE members as President from the pages of Prism magazine.
Since the time I last communicated with you, our country has gone through a very significant political transition that portends a number of major challenges for many in the engineering education community. With this in mind, I am pleased to report that ASEE has been very active on the policy and advocacy fronts in the last few months, and I point to a few very specific examples.
On January 17th, the ASEE Board of Directors released a statement in general support of federal investment in education, noting that engineering is an economic driver and urging that "bipartisan support for engineering education and research continue and, if possible, increase." On February 1 we released a statement in response to the new administration's proposed travel restrictions, noting that "the proposed ban on visa and green card holders from seven countries may impact thousands of engineering and engineering technology students and faculty members from continuing their education and/or research in a timely and reasonable manner."
Lastly, at the ASEE Board meeting in early February, we endorsed a policy statement by our Engineering Technology Council encouraging the U.S. Office of Personnel Management to change its standards so that an ABET-accredited Engineering Technology Bachelor of Science degree would meet the "basic requirements" to apply to entry-level government engineering positions.
In addition to the individual impact of these statements, collectively they represent a positioning that heretofore ASEE as a corporate entity has not often taken. ASEE belongs to multiple coalitions that focus, broadly, on STEM education, and our prior advocacy efforts had generally been in support of other institutions' statements. We feel that this is no longer satisfactory and the time has come for us to take more of a lead in our own community. I'm happy to report that thanks to ASEE's positive budget situation, headquarters will be employing the services of a respected government relations firm to help ASEE more effectively represent the interests of the engineering education community going forward.
Speaking of being active in our community, I encourage ASEE's individual and institutional members to participate in the National Academy of Engineering's Grand Challenges program. This project has grown significantly from its inception nearly 10 years ago, and Grand Challenges Scholars programs have been established at universities across the country, with approximately 125 institutions committing to implementing this excellent effort. In addition, the NAE recently hired our colleague B.L. (Rama) Ramakrishna, a longtime faculty member at Arizona State, to oversee the Grand Challenges effort, demonstrating the academy's commitment to it moving forward.
This project motivates an educational experience for our students that emphasizes "breadth" as well as "depth" in their development, further encouraging them to be excited about engineering and seeing it as the creative, helping profession that it is. Because its goals are so aligned with ours, ASEE should be heavily involved with this activity. In late July, the third Global Grand Challenges Summit will take place in Washington, D.C., and we encourage you to join a number of ASEE leaders who will be in attendance.
Let me also remind you that we are in the midst of the Society Year entitled, "Commit to P-12, When Engineering Begins," with a special focus on activities and programs geared toward our "future engineers." While ASEE had generally focused on post-high school populations, our new mission statement clearly expands this by saying that we advance innovation, excellence, and access at all levels of education for the engineering profession. Providing support and opportunities for those who educate our budding engineers across the P-12 spectrum helps ensure that our colleges of engineering and engineering technology attract a greater and more diverse number of the best and brightest of our young and that they come to us with a solid engineering foundation.
All of the above falls under one broad theme: It is imperative that ASEE use its resources, connections, members, and activities to continue to raise the image of engineering, engineering education, and ASEE itself as part of the national landscape. And at this moment in time ASEE must be proactive in taking on changes and challenges to our field as well as in identifying and better leveraging new opportunities that arise with the growing recognition of engineering as a positive engine of economic and societal progress. This we do not only to serve our own interests, but because we know that it is a national imperative to defend and support the engineering research enterprise.
As we face the Grand Challenges of this century, we need to provide even greater support for our talented engineering students and faculty, who are striving to make the world a better place. We must also play a more active role in defending with facts and evidence endeavors that are being questioned, thereby assuring that such major societal challenges as sustainability, health, and security are addressed in objective ways. And we must seek to continue and enhance a culture of respect for those who educate our young people at all levels. This is where we have tried to position ASEE during this last year and I appreciate all the support that the Board and membership have provided to enable the strides and progress that have been made in these areas.
Thank you again for allowing me to serve as your President during this last year. It has been a true privilege and honor to serve you in this role and I look forward to seeing all of you in Columbus, Ohio at our Annual Conference in June.
Louis Martin-Vega is President of ASEE.
ASEE Board of Directors 2017 Election Results
ASEE members elected Stephanie Farrell to serve as ASEE President-Elect for 2017–2018. Farrell, a Fellow of ASEE, is a professor of chemical engineering and chair of experiential engineering education at Rowan University. She will assume the position of ASEE President-Elect at the 2017 Annual Conference and become President the following year.
Full election results for all ASEE offices are as follows:
President-Elect
Kenneth Burbank (291 votes)
Professor and Head, School of Engineering Technology,
Purdue Polytechnic Institute
Purdue University
Stephanie Farrell (387 votes)
Professor and Founding Chair,
Experiential Engineering Education
Rowan University
Vice President, Finance
Dan Sayre (247 votes)
Executive Marketing Manager
John Wiley and Sons Inc.
Douglas Tougaw (375 votes)
Department Chair of Electrical and Computer Engineering,
Richardson Professor of Engineering
Valparaiso University

Vice President, External Affairs
Catherine Skokan (291 votes)
Associate Professor Emerita,
Department of Electrical
Engineering and Computer Sciences
Colorado School of Mines
Sheryl Sorby (346 votes)
Professor of Engineering Education
The Ohio State University
Chair, PIC II
Saleh M. Sbenaty (256 votes)
Professor and Program Coordinator of Computer Engineering Technology,
Department of Engineering Technology
Middle Tennessee State University
Peter L. Schmidt (290 votes)
Associate Professor of
Mechanical Engineering
University of Evansville
Chair, PIC III
Atsushi Akera (281 votes)
Associate Professor, Historian of Engineering Education, Department of Science and Technology Studies
Rensselaer Polytechnic Institute
P. K. Imbrie (300 votes)
Head and Professor, Department of Engineering Education and Professor,
Department of Aerospace Engineering and Engineering Mechanics
University of Cincinnati
Chair-Elect, Zone II
Scott Schultz (162 votes)
Associate Dean, School of Engineering
Mercer University
Andrew Kline (208 votes)
Associate Dean for Research and Graduate Education
College of Engineering and Applied Sciences
Western Michigan University
Chair-Elect, Zone IV
Ananda M. Paudel (223 votes)
Assistant Professor of Mechanical Engineering Technology
Metropolitan State University of Denver
Constitution – Article IX: Amendments
I ACCEPT the proposed Constitutional Amendment (644 votes)

I REJECT the proposed Constitutional Amendment (18 votes)
Call for Nominations
The ASEE Nominating Committee, chaired by Most Immediate Past President Joseph J. Rencis, requests member participation in nominating board officers for the 2018 ASEE elections. Officers to be nominated for Society-wide positions are: President-Elect and Vice President Member Affairs.
All nominees must be individual members or institutional member representatives of ASEE at the time of nomination and must maintain ASEE membership during their term of office. Nominating Committee members are not eligible for nomination. The slate of candidates selected by the committee will not exceed two candidates per office.
Candidates for President-Elect must be active members who have served or are serving on the Board of Directors. The nominees for Vice President Member Affairs shall be chosen from those who have served as Zone Chairs.
Candidates for Chair of the Engineering Research Council, Chair of the Engineering Technology Council, and Chair-Elect for Zone I and Zone III will be nominated and selected by their respective councils and zones, as the ASEE Constitution stipulates.
For each proposed candidate for a Society-wide office, submit a biographical sketch of fewer than 400 words that documents career contributions, ASEE offices held, awards and recognitions received, and educational background. Include comments on leadership qualities, ability to cooperate with others to achieve objectives, and willingness to serve if elected. For nominations for the office of President-Elect, please include a statement summarizing why you think your nominee is a good candidate for the position. A listing of members who meet constitutional eligibility requirements for the offices of President-Elect and Vice President Member Affairs is available from the Executive Director's office at ASEE headquarters.
Nominations will be accepted electronically at c.evangelista@asee.org. Please include a subject line that begins with the words "2018 Nomination" so that it can be forwarded to the Nominating Committee. Please be assured that your nominations are confidential and will be seen only by the Assistant Board Secretary and Members of the Nominating Committee. The deadline to submit nominations is June 1, 2017.
Nominations postmarked by June 1, 2017, will also be accepted by mail. Please mark the envelope CONFIDENTIAL and address it to Joseph J. Rencis, Chair, ASEE Nominating Committee, ASEE, 1818 N Street, N.W., Suite 600, Washington, DC 20036.
If you have any questions, please contact ASEE Assistant Board Secretary Christian Evangelista at (202) 350-3516 or c.evangelista@asee.org.
Board Profile

Agnieszka Miguel
Signals Expert and Women's Advocate
Agnieszka Miguel is chair of the Professional Interest Council I on ASEE's board of directors, as well as an associate professor and chair of electrical and computer engineering at Seattle University. She received her M.S. and B.S. in electrical engineering from Florida Atlantic University and her Ph.D. in electrical engineering from the University of Washington.
Miguel loves working with signals—anything to do with images, video, and sound. Her current research applies image processing and machine learning to camera-trap images in an effort to identify and count snow leopards. The world's most elusive big cat species, these leopards hide in some of the most remote places on Earth. Miguel, along with two of her undergraduate students, designed an algorithm that sorts images of snow leopards from other wildlife. The eventual goal of their project is to identify individual leopards based on their spot patterns.
"The snow leopard's spot patterns are basically like fingerprints," she says. No one now knows how many snow leopards exist. Panthera, the organization Miguel has partnered with, puts the number somewhere between 4,500 and 10,000 (or possibly more).
In addition to her teaching and research, Miguel is a fierce advocate for attracting women and underrepresented minorities to engineering. "I want to make sure that women can see themselves as engineers," she says. To realize this goal, she focuses not on one big thing, but on making diversity and inclusion part of every small decision that happens in the department—from website photos and stories in publications to mentorship assignments, alumna networking, and professional and career development. "We have a great community in our department," she says, emphasizing that she strives for diversity in personality types and backgrounds, as well as gender parity. The Seattle U ECE curriculum is also based not on competition but instead on active learning and collaboration. "Learning is better when you have support from your peers."
Miguel was first introduced to ASEE through a conference in 2004, before she was a faculty member. After the conference, her "head was spinning with new teaching ideas and strategies." She sees the organization as a major platform to facilitate innovation in engineering education.
In addition to ASEE, Miguel is a member of the Electrical and Computer Engineering Department Heads Association, Society of Women Engineers, IEEE, and Tau Beta Pi, the engineering honor society.
Meet Your Staff

A Passion for the New and Unknown
By Nathan Kahl
It was Cupid's random arrow, and not a carefully laid plan, that led ASEE's Tom Walker to the United States from his home in southeast England.
A friend had suggested Tom play host to a visiting Yankee. The two hit it off and met again when Tom took a previously scheduled trip to the States a short time later. A few days together over a couple weeks on two continents was all it took for them to know there might be a future, and Tom left a nascent teaching career to come to the U.S., where the happily married couple resides in the Maryland suburbs.
When asked what he misses most about merry old England, he talked about the English countryside, painting a picture rivaling a Peter De Wint painting. "Where I'm from is known for rolling hills—there's something very pleasant about cresting a hill near farmland," he reminisces. "The U.S. is about big farms, but in the U.K. you have crop diversity, so looking out across a farm you get a patchwork effect that's really pretty. And within walking distance of my home I could find four different fields with horses, sheep, cows, etc. I've been stuck behind cows while driving on multiple occasions."
Impressively, Tom has thrown himself into learning U.S. history, with a goal of reading the biography of every American president. He's up to Lyndon Johnson, chronologically, with books on George Washington and Ulysses S. Grant ranking among his favorites.
The adjustment to the United States has gone fine, though there are some challenges. "Road signs are different here, not just cosmetically but logistically. And grocery stores…Do you know how hard it is to negotiate an aisle when you don't recognize the brands? A native recognizes colors and brands at a glance, but it's all new for me!" In addition, the former English Lit. major laments the lack of, even in Washington, D.C., world-class Shakespeare at affordable prices.
As the program assistant for external affairs, Tom works on the International Forum, ABET relations, Tau Alphi Pi, and other ASEE efforts. "There are a lot of different things that I need to be shifting my mind towards at any given moment," he says. "It's engaging, which is what I liked about teaching as well." A brief chat with Tom reveals a passion for taking on the new and unknown and a sense of purpose summed up by a line from Troilus and Cressida: "Things won are done; joy's soul lies in the doing."
Year to Commit to P-12: When Engineering Begins
A STEM Teacher's Odyssey
In transforming an elementary teacher's practice, engineering has shaped the lives of students and their families well beyond her classroom.
By Alison Baranowski

In January 2012, my fourth graders and I were featured in Prism's cover story, "A Deeper Partnership." The article communicated the many ways that engineering was being incorporated into the ground levels of education even before the Next Generation Science Standards debuted. My journey as an engineering educator started years before, however. In the summer of 2009, I was immersed in some of the best professional development of my teaching career: piloting a new integrated science and engineering unit that used the Engineering is Elementary (EiE) curriculum. Towson University's Pamela Lottero-Perdue, current chair of ASEE's Pre-College Engineering Education division, was presenting to a room full of fourth-grade teachers. For the first time in my life, I understood engineering and what engineers do for society. After teaching the integrated unit for a year and offering feedback for its revision, I became a master teacher, leading professional development for other fourth-grade teachers.
In the summers of 2012 and 2013, I became involved in another program—the Science Academy—which aimed to provide teachers with background content knowledge. I learned more about science from geologists, biologists, and environmental scientists over those two summers than in my whole high school career.
Being an elementary engineering master teacher and Science Academy member led to another experience that has shaped my career. Having obtained my master's degree as reading specialist from Towson University, I sought to continue my education. At that time, Lottero-Perdue was advertising a new graduate program in integrated STEM (iSTEM) education, which seemed like the perfect way to grow as an educator. Of the six graduate classes that prepared our cohort of 10 teachers in northeastern Maryland to be iSTEM instructional leaders, four focused on developing content knowledge that connected to other STEM areas. For example, our Engineering in iSTEM Education course focused on the engineering design process and habits of mind, and made connections to standards-based mathematics, science, and technology concepts and practices. Engineering also was a part of other courses, which focused on science or mathematics content. Every class allowed us to try new things with our students and built up to our professional development and practicum courses, where we designed and delivered our own iSTEM unit and two professional development experiences for other teachers or administrators. In January 2016, I received my Post-Baccalaureate Certificate in iSTEM Instructional Leadership along with an Instructional Leader: STEM (PreK-6) endorsement from Maryland's State Department of Education. Shortly after completing the program, I was awarded a scholarship to attend the EiE Teacher Educator Institute in Boston to learn three units I had not yet taught.
In February, I was one of two P-12 teachers awarded the Rising Star Award from the Northeastern Maryland Technology Council. It was an honor to share the room with the mentors, leaders, and college professors working to bring engineering to our school communities. Perhaps one reason I earned this award is that I not only have created exciting engineering and STEM experiences for my own students but also have been able to reach far beyond the walls of my classroom. For example, during my practicum project I led a schoolwide STEM night, coordinating colleagues to facilitate several engineering activities. Over 141 families signed up to protect eggs, make rockets, engineer a hot chocolate machine, and even save Army soldiers! It felt good to have such a positive impact, helping children and their families understand the excitement and importance of engineering and STEM education.
This school year I was invited to share my perspective as an elementary teacher and member-at-large on the ASEE Board of Directors' Committee on P-12 Engineering Education. It has been exciting to work with the committee on preparations to showcase P-12 engineering education at the upcoming Annual Conference in Columbus and to help develop a strategic direction for the organization in P-12. I look forward to sharing my experiences with you at our exhibition hall booth!
Engineering has changed my professional life and greatly expanded opportunities for me to learn from and teach others of all ages. In shaping my practice, I believe it will shape my students throughout their lives.
Maryland fourth-grade teacher Alison Baranowski is a member-at-large on the ASEE Board of Directors' Committee on P-12 Engineering.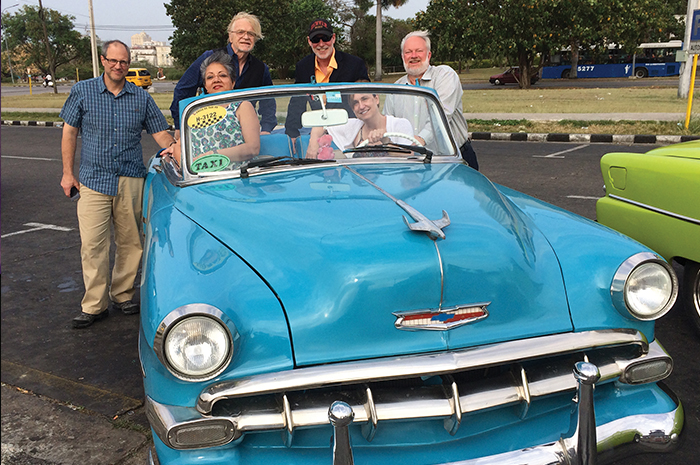 David Ferro, Dean of Applied Science & Technology, Weber State University; Ranu Jung, Interim Dean of Engineering and Computing, Florida International University; Hans Hoyer, Secretary General of the International Federation for Engineering Education Societies and Executive Secretary of the Global Engineering Deans Council; JB Holston, Dean of Engineering and Computer Science, University of Denver; Julia Ross, Dean of Engineering at Virginia Tech (effective July 31; currently Dean of the College of Engineering and Information Technology at the University of Maryland, Baltimore County; and Ken Ball, Dean of Engineering, George Mason University
Cuba Connection
By Nathan Kahl
At the conclusion of the Engineering Deans Institute in Coral Gables, Fla., in early April, five engineering deans, the Global Engineering Deans Council secretary general, and an ASEE staffer traveled to Cuba to meet with faculty from the Havana University of Technology (commonly known as CUJAE). Ruben Herrera Rodríguez, the vice president for life sciences, and José Maria Ameneiros Martinez, director of international relations, met with the group for nearly two hours. Martinez gave a presentation on the school's statistics and took questions from the visitors.
Martinez addressed the issues facing U.S.-based universities seeking to collaborate with those in Cuba. First, he noted, the "bridges are open" and Cubans are eager to have opportunities to work with institutions in the States. However, Americans must be aware of what he referred to as "Cuban volition," which operates at a much different pace from our own. He cited a curriculum in traffic engineering developed with assistance from an American university, which took four years to implement from the time of initial discussions. A planned workshop on the topic—also several years in the making—was canceled due to what Martinez referred to as the political situation in the United States. He also said that Cubans are wary of the sources of funding behind potential collaborations, and that if the funding entity is one that has been historically hostile to Cuban interests (for example, in their view, USAID), it becomes problematic for work to move forward.
Martinez was generally optimistic about the state of engineering education in his country. His institution has developed programs to teach its faculty better instruction methods and tactics. Most of the faculty members do research and teaching equally well and simultaneously, he asserted. Further, students now make it a priority to learn a second language.
He finished with encouraging words accompanied by a note of Cuban pessimism. "I would like my sons and grandsons to have a relationship with yours. But some damage has to be repaired—the present situation is not comfortable, and it is not a secret that we've suffered. I don't have enough money to send me or my students to conferences." He noted as an alternative that they are operating in networks in various places in Central and South America and that it would be encouraging to work "side by side" with U.S. institutions in these locations.
While the ASEE envoys received little in the way of specific next steps  for their institutions to collaborate in Cuba, the firsthand exposure to cultural challenges and local attitudes was instructive for guidance moving forward.
In addition to this meeting, the ASEE group had numerous opportunities to interact with Cubans, including a walking tour of Old Havana, time in the Almacenes San José Artisans' Market, a cigar factory tour, visits to art galleries, meals in small cafés, and attendance at two evening musical performances.
ASEE is organizing a trip to Cuba open to all ASEE members next February. We will share details in the coming months.
Norman's Notes

Updates on Spending Reductions, Year of Commitment
By Norman Fortenberry
(This is one of a series of quarterly letters to ASEE members from the executive director.)
In the 1960s, ASEE moved its headquarters from Chicago to Washington, D.C., at the encouragement of President Eric Walker, then Penn State's engineering dean, because, as he said, it's "where the money is and the rules are made."
It is my intent, with support of the ASEE Board, to have our Society be more involved with the rulemaking that President Walker had in mind. In fact, I can point to our recent involvement on several important public policy issues. The Engineering Technology Council released a statement earlier this year encouraging the Office of Personnel Management to change its engineering qualification standard to allow engineering technology graduates to apply to be engineers for the federal government.
In addition, ASEE's Board of Directors released two statements around the time of the presidential transition, one generally showing support for federal investment in engineering and engineering technology education and another on the potential negative impact to engineering and engineering technology programs of President Trump's proposed travel restrictions. You can find these statements at http://asee.org/about-us/the-organization/public-policy. We intend to make investments in the coming months in the policy arena to better represent our members.
My second new item to share is that by midsummer we hope to be able to provide members and others with a Washington outpost. As part of an office rearrangement and lease negotiation, ASEE soon will have a meeting and education center in our headquarters building. Individual and institutional members will be able to rent the space at a discounted rate for special events. More details will follow in the months ahead.
ASEE President-elect Bevlee Watford has informed you that she will lead an ASEE member delegation to Cuba February 19-24, 2018. This is an exciting opportunity for ASEE members that should not be missed. The trip involves discussions with Cuban education officials, meetings with engineering society representatives, and visits to engineering campuses including meetings with faculty and students as well as laboratory tours. There is also an opportunity to take nonmember guests and to extend the duration of the visit. Check out the details at http://connections.cmail20.com/t/y-i-htkyhhy-l-y/. (See "Cuba Connection" elsewhere in this section for a report on a deans' visit.). I hope you are all enjoying some nice spring weather, and I look forward to seeing you at the Annual Conference in June.