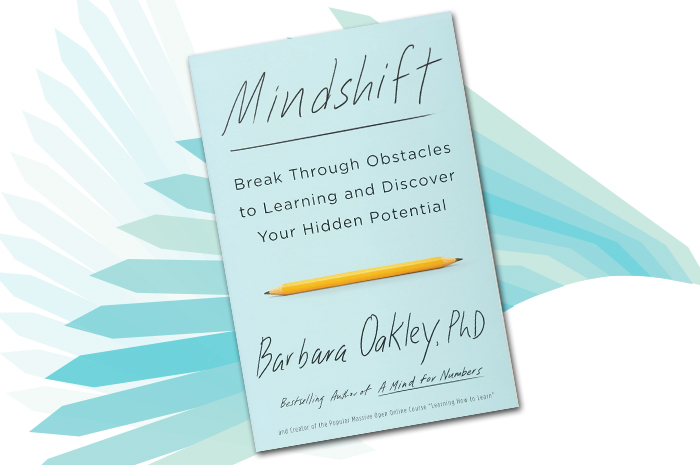 About-Face
An engineering professor's fascination with career changers yields insights on how learning can unlock creativity and open fulfilling new pursuits.
Mindshift: Break Through Obstacles to Learning and Discover Your Hidden Potential
By Barbara Oakley.
TarcherPerigee, Penguin. 2017. 297 pages.
Engineering educator Barbara Oakley lays claim to the world's most popular MOOC, or Massive Open Online Course, one that attracted more than a million students in its first year. The success of Learning How to Learn, which she co-teaches with Salk Institute neuroscientist Terrence Sejnowski through Coursera/University of California, San Diego, convinced the author that "we need a manifesto about the importance of mind shifts in producing vibrant and creative societies and in helping people to live their full potential." Her latest book serves that role.
Oakley, an Oakland University industrial and systems engineering professor, defines mind shift as "a deep change in life that occurs thanks to learning." She explores the concept in profiles of musicians who become doctors and other inspiring individuals who have used learning, often in unusual ways, to gain a new lease on life and career. Oakley also weaves in material from her course, discussing research-proven study techniques and effective approaches to learning—such as how to avoid procrastination, "chunk knowledge," master new skills, and embrace change.
Those familiar with self-help books will recognize the framework of inspirational stories, highlighted statements ("Key Mindshift: Learning something new sometimes means stepping back to novice level. But it can be a thrilling adventure!"), and interactive practice sections. Early chapters detail how mind shifts can be invigorating, valuable, and increasingly necessary in a time of rapid technological and workplace change. Profiled individuals include those who build upon seemingly "useless" past knowledge (Chapter 4), take advantage of nontraditional learning (Chapter 5), and avoid sliding into career inertia (Chapter 8). Oakley's Coursera co-instructor Sejnowski, for example, followed his passion despite the objections of his girlfriend's parents, who questioned why such a promising physics graduate student would be "slumming around with an interest in biology." The girlfriend split, but Sejnowski pursued his interest in the emerging field of neurobiology and brought to his Harvard neurobiology postdoc "a comprehensive knowledge of physics, with its rich ways of modeling the world" and a technical prowess that many biologists lacked. Now the head of Salk Institute's Computational Neurobiology Laboratory, Sejnowski believes that narrow specialization in a single discipline can be a real disadvantage: "You get a skill. You use that skill over and over again. But after a while, you get stuck in a rut." Shifting to another field and career, by contrast, "can be like starting a new relationship . . . . It's a process that can take years, but it's exciting and rejuvenating."
Some of the profiled professionals shifted lanes by happenstance. Dutch administrative assistant Tanja de Bie, for example, spoke out when she realized that none of the professors preparing Leiden University's first MOOC knew about trolls—the ugly online provocateurs she had encountered through years of online gaming. Leiden embraced her experience, but it was de Bie, who now serves as the school's project coordinator and MOOC community manager, who worked to move her career in a more fulfilling direction. In Singapore, "second-skilling" has gained government support and funding, thanks in part to legislator Patrick Tay, who wants his countrymen to avoid getting trapped in obsolete jobs with outdated skills. The SkillsFuture program he helped develop offers each adult citizen a small incentive grant to defray training costs in any field a worker chooses, "not just what their employers want."
Not surprisingly, many of the profiled subjects pursue MOOCs, which are highlighted throughout the book and feature prominently in Chapters 11, "The Value of MOOCs and Online Learning," and 12, "MOOC-Making: A View From the Trenches." For Oakley, a member of ASEE and past contributor to the Journal of Engineering Education, online learning offers tremendous advantages, from synching well with "how the brain learns" to providing affordable education and retraining while allowing for both failure and exploration. Students struggling with their educational or career trajectories as well as educators open to insights into more effective approaches to learning—and teaching—will find tips along with inspiration.
Review by Robin Tatu
Robin Tatu is Prism's senior editorial consultant.
Image Courtesy of Amazon/Thinkstock