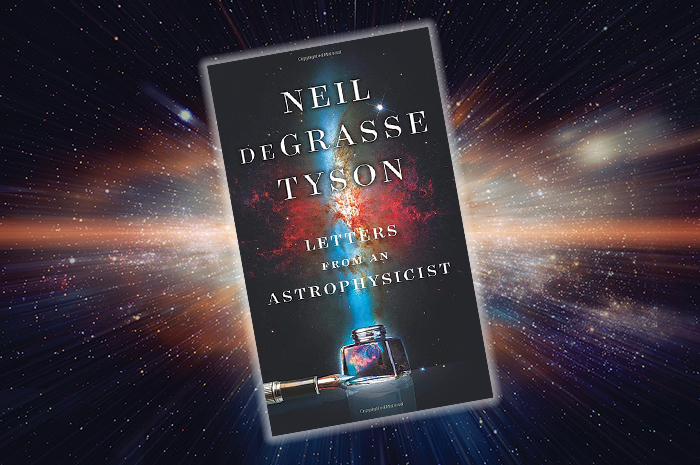 Welcome to His Universe
A prolific space scientist explores life, death, and other cosmic questions in a collection of correspondence with the public.
Review by Robin Tatu
Letters from an Astrophysicist
By Neil deGrasse Tyson.
W.W. Norton & Company, October 2019. 247 pages.
Astrophysics is such a vast, complex, and difficult field of study that it may seem surprising that ordinary people harbor such fascination with the subject. Yet as Neil deGrasse Tyson's latest book demonstrates, these cosmic issues resonate—often on a very personal level. The 101 letters contained in this collection represent two decades of the astrophysicist's correspondence with the public, primarily during his tenure as head of New York's Hayden Planetarium at the American Museum of Natural History since 1996. People write seeking answers or offering their own take on questions of existence, death, cosmology, and science. Some are deeply earnest, some "sad, sensitive, and poignant," and others, "rambling" or "angry with the world," the government, technology, and Tyson himself. Why should government funding go to space exploration rather than medical research? If there is no God, can life have meaning? What does Tyson think about Nostradamus's predictions and the Mayan calendar? Then there's the fan who jots an apology for having deemed Tyson a "big poo-poo head" 12 years earlier, at age 10, for supporting the demotion of Pluto to dwarf-planet status.
Engagement with the public is not new for Tyson. Today he may be best known for his popular television shows and podcasts—as current host of National Geographic's podcast StarTalk, and PBS's NOVA ScienceNow (2006-2011) and the 2014 series Cosmos: A Space Time Odyssey, which reprised the show of his mentor, Carl Sagan. But Tyson has also authored 10 books, most focused on breaking down big ideas with clear authority and a good measure of humor. His 2017 Astrophysics for People in a Hurry hit bestseller lists upon publication and was followed this year by a young readers' version. Throughout his career, Tyson has pursued a mission of public education, and Letters From an Astrophysicist continues this effort.
Part of the pleasure of this volume is seeing what interests Tyson's correspondents and how they voice their concerns. James is outraged that the Air Force would devote $7.5 million to study psychic teleportation, while Todd asks, "How come you guys don't pick on the Buddhists?" Deployed to Iraq, PFC Derek Phillips shares that Tyson's Death by Black Hole inspired him to turn on his night-vision goggles and reconsider the complexity of the dark sky above. Tyson responds to each inquiry with information and humor—$7.5 million represents "ten minutes of military spending," he tells James—and often with touching compassion. He encourages the single mother worried "all the time that I won't be able to provide for my children" to continue her graduate education, urging that she should not fear failure but "loss of ambition." For a son who has bonded with his dying mother over Tyson's works, he offers his essay that suggests that there is spirituality, humanity, and humility to be found in what he calls the "cosmic perspective." Frequently, Tyson's response contains a tinge of scientific sanctimony, as to Roger, who argues in favor of Biblical scripture over scientific discovery. "The source of your denial does not hold your intellectual enlightenment as its priority," Tyson notes not once but twice in his response, which outlines various proven methods for dating the Earth's crust, moon rocks, and the Sun.
Letters also continues Tyson's own life narrative. The first pages contain an open letter to NASA that celebrates their mutual 60th birthdays in 2019, but also notes barriers Tyson faced as an African-American child struggling with economic disadvantage, poor schools, and deep bias at a time when "my skin color was much too dark for you." In other letters, Tyson responds to inquiries about race, reflecting in one that, despite ongoing instances of bias, "references to me as a 'black' scientist are today, extremely rare." He shares his daughter's frustrations with rigid school math requirements, the tribute he wrote his parents upon receiving his master's degree in astronomy, and his 2017 eulogy for his father, celebrating the elder Tyson's determination, accomplishments, and model for his son. Small and personable, Letters offers an enjoyable collection of perspectives on space exploration—and a crash course for educators on responding to all inquiries with patience, humor, and enlightenment.
Robin Tatu is Prism's book editor.
© Amazon