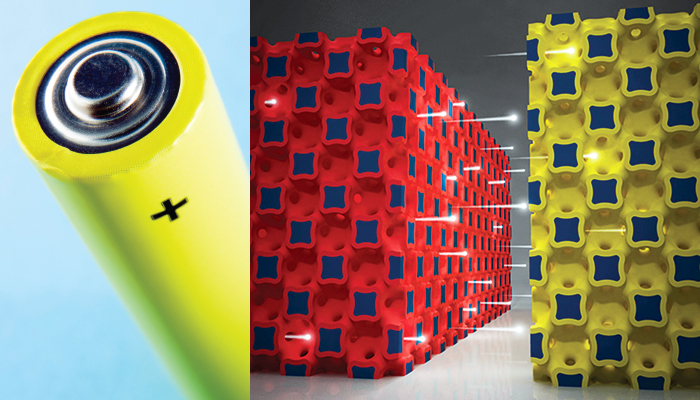 Breakthroughs in electrical storage technology are transforming the lowly battery.
As national missions go, the Joint Center for Energy Storage Research's 5-5-5 plan is both succinct and descriptive. It commits engineers to develop a pair of prototype batteries — one for electric grid-level storage, the other for electric vehicles (EVs) — that are one-fifth the cost of and five times more powerful than today's best versions, in just five years.
If that seems a tall order, consider the rush of recent discoveries. In the 11 months since the Department of Energy launched the $120 million JCESR battery hub at Argonne National Laboratory near Chicago, universities and industry researchers have announced power-storage innovations involving materials from copper nanowire to wood. Teams from General Electric and Lawrence Berkeley National Laboratory, for example, are developing a water-based flow battery that could triple the driving range of EVs – yet cost a quarter of the price of today's car batteries. Should the technologies prove viable, these high-performance power sources could help countries reduce their fossil-fuel dependence, harness wind or solar energy more efficiently, and spur the creation of flexible, featherweight computers and medical devices. "This is a whole new way to think about batteries," says William P. King, a professor of mechanical science and engineering at the University of Illinois, Urbana-Champaign, whose team recently unveiled a lithium-ion microbattery with enough punch to recharge a car battery.
Beyond keeping electronics humming, next-generation power storage is critical to the prosperity of nations. In a 2010 Foreign Policy article entitled "The Great Battery Race," technology writer and Georgetown adjunct professor Steve LeVine called advanced batteries "the most important technological battleground of the next two decades" and predicted they would become a $100 billion-a-year business by 2030. By then, the electric car industry could exceed $500 billion.
+Slow Progress+
The recent breakthroughs take on added significance when you consider how little battery technology has changed in the past. Italian physicist Alessandro Volta is credited with creating the first battery, a "voltaic stack" composed of alternating layers of zinc, brine-soaked cloth, and silver, in 1799. The next advance, a copper-and-zinc device called the Daniell cell after its English chemist inventor, came in 1836. Lead-acid rechargeable batteries arrived in mid-century, followed by the 1886 debut in Germany of the "dry cell" – which became America's first commercially available battery a decade later. The common alkaline battery, which emerged from Union Carbide engineer Lewis Urry's quest to extend the life of zinc-carbon batteries, didn't hit the market until 1959. Today's most efficient battery, the lithium ion, was developed in 1985 by a Japanese research team and commercialized by Sony six years later.
The Energy Department, which has partnered with the Universities of Michigan and Illinois and Northwestern University, isn't the only large investor in advanced batteries. Bill Gates and IBM have placed big bets on burgeoning battery technologies. Meanwhile, engineering academics are racing to commercialize electricity-storage innovations from their labs.
George Crabtree, JCESR's director and a professor of physics and electrical and mechanical engineering at the University of Illinois, Chicago, is convinced all this activity will pay off in dramatic advances. Citing the laws of thermodynamics, he says today's most efficient batteries could in theory be improved by a factor of 10. "So half that, a factor of five, is doable," Crabtree calculates. "There is plenty of room to do better."
Batteries aren't complex. Their three main parts – two electrodes separated by an electrolyte – generate an electrical flow from chemical reactions that occur when a light bulb or other device is connected. Disposable batteries convert chemical to electrical energy until they run out of reactants and "die." In rechargeable batteries, connecting to an external power source reverses the chemical system's operation, restoring potential energy.
Yet while batteries are simple in concept, "in practice, it's very difficult to get all the details right," explains Elton Cairns, an emeritus professor of chemical engineering at the University of California, Berkeley, and a senior scientist at the Lawrence Berkeley National Laboratory, where researchers are working with General Electric to develop a water-based flow battery for EVs. Those details include developing corrosion safeguards, electrodes with the right properties, electrolytes that don't react with them, and materials robust enough to withstand thousands of recharges – yet also cheap, lightweight, and abundant. "It's very difficult to manage all those things," says Cairns, adding that some batteries pack a lot of energy into relatively very small packages, "and that's an inherently an unsafe situation." Indeed, Boeing had to temporarily ground its fleet of Dreamliner 787s earlier this year because its lithium-ion batteries overheated, resulting in a fire.
One of the biggest issues for improving EV batteries is energy density, or the amount of power a fuel source can store on a per-weight basis. A kilogram of gasoline, for instance, contains about 100 times more energy than a lithium-ion pack of the same weight. However, gasoline engines convert only around 15 percent of that energy into power, while electric motors are typically 60 to 80 percent efficient. Increasing the energy density of batteries by a factor of five would allow EVs, which have an average range of around 80 miles, to equal or even exceed the 300 miles most cars average between fill-ups. A quicker recharging time – today's EVs require at least eight hours – also could compensate for shorter range, though Cairns is leery. "If you tried to charge a Nissan Leaf [an EV] in five minutes, you would need a multimegawatt substation in your garage," he cautions.
The bottleneck for alternative energy lies in the lack of grid-capable batteries that can cheaply capture and store massive amounts of power from intermittent wind or solar sources. Renewables currently supply only around 12 percent of America's energy, the bulk of it from hydropower. A mere 1 percent of that total gets stored, usually using pumped-storage hydropower (PSH), where excess power is used to pump water uphill. When that power is needed, the water gets released through turbines to generate electricity. Though cheap at $100 per kilowatt-hour (kwh), the technology is limited by geography. Luis Ochoa, an electrical engineering lecturer and part of the Electrical Energy and Power Systems Group at England's Manchester University, says even expensive batteries could be viable because they offer "more flexible storage, they can be put where they are needed, and that's an extra benefit." Grid-storage batteries must be long-lasting to justify their capital expense, however. At a minimum, the Department of Energy wants grid batteries capable of 5,000 discharge/charge cycles.
"A big part of what we're doing is fundamental discovery," says JCSER director Crabtree. For example, the center is using supercomputers to search through an encyclopedia of materials based at MIT and model their properties to pinpoint the likely best combinations for advanced batteries.
Some researchers already are moving into commercial prime time. Donald Sadoway, a professor of materials chemistry in MIT's materials science and engineering department, has come up with a grid-storage battery with liquid-metal electrodes and an electrolyte of molten salt. The high operating temperature (500 degrees Celsius) makes for a high-performance battery, which Sadoway believes will reduce costs by requiring fewer cells. Initially, Sadoway used magnesium and antimony for the electrodes, but he has since moved on to other, "dirt cheap" metals and is "looking at an array of candidates." Ultimately, he says, his batteries could last 10 to 15 years, and cost much less than $500/kwh. He has formed a company, Ambri, to commercialize the invention and aims to have a prototype ready by next summer. Jay Whitacre, an associate professor of materials science and engineering at Carnegie Mellon University, has set up a company, Aquion, to produce a sodium-ion battery that uses two plentiful and inexpensive materials, sodium and manganese, with a saltwater electrolyte. Aquion says its battery's operating costs are less than $300/kwh, and ultimately will slide to less than $200.
+Storing solar power+
Wood-framed batteries may not wind up in laptops anytime soon. But work by University of Maryland researchers Teng Li and Liangbing Hu could lead to cheap sodium-ion behemoths that store electricity from solar power stations overnight. The pair used slivers of yellow pine coated in carbon nanotubes and tin – the preferred material for the anode in lithium or sodium batteries – to frame the electrode as a way to reduce corrosion. Though its capacity fell from 339 to 145 milliamp hours per gram during a 400-cycle trial, the prototype outperformed a similar control battery with copper slivers.
Meanwhile Richard Kaner, a professor of inorganic chemistry in the materials science and engineering department at the University of California, Los Angeles, is working on a way of ditching batteries altogether. His approach is to build a better supercapacitor, which uses a static charge to store energy. Though much less energy dense than batteries, supercapacitors also can discharge and charge within a split second. Researchers hope to develop versions with relatively high energy-density levels. Kaner and his graduate student Maher El-Kady found that after coating a DVD with plastic, then adding a layer of graphite oxide and popping it into a LightScribe optical device, they could produce graphene – a one-atom-thick sheet of honeycombed carbon that's one of the most conductive materials known. Next they discovered that they could use the laser-scribing technique to cover the disc in more than 100 micro-supercapacitors, each of which is highly energy dense and also able to charge and discharge 100 to 1,000 times faster than any battery. Moreover, supercapacitors, unlike batteries, truly can last. "There's no reason why carbon-based supercapacitors shouldn't last for millions of cycles," says Kaner, who acknowledges that "it's not clear if it will work at the macro levels" necessary for EV use.
Given the exciting new energy-storing technologies in the works, several useful solutions are likely to emerge that will allow consumers and power companies to tailor technologies to specific needs. "That's true today," says Mark Barteau, a chemical engineering professor who heads Michigan's Energy Institute, "and it's fair to say it will be true in the future." The triple-nickel era may be at hand.
Story by Thomas K. Grose, Prism's chief correspondent.
Images Courtesy of PG&E and Beckman Institute for Advanced Science and Technology