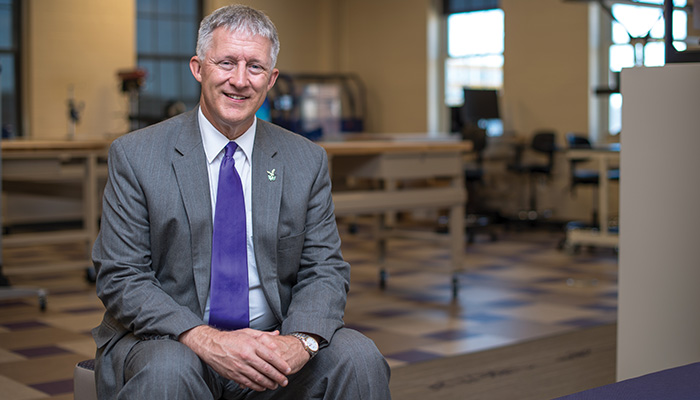 ASEE's president found his calling as a teacher and his passion as a leader.
As a teen in northwestern New Jersey, Joe Rencis never imagined he would one day lead an engineering department – let alone become a dean. Academics wasn't his strength back then. "I wasn't sure I even wanted to go to college at the time," the affable 57-year-old says, chuckling. Guided by his father, a packaging engineer, Rencis attended a vocational high school. There, the future ASEE president studied drafting with a teacher who had an engineering background and a decidedly practical approach to his subject – including having seniors do capstone projects. "We had clients we had to talk to and find out what they wanted, then design and manufacture it," recalls Rencis. "One town wanted a bandstand, so we had to work with their requirements and then go into the carpentry shop and actually have it built."
While he loved that hands-on, learning-by-doing experience, Rencis realized his preparation was limited. "I knew with the knowledge I had then that I wouldn't be able to design something complex from beginning to end," he says. So he looked for a college that would meet two non-negotiable requirements: He wanted to be "a Day One professional where I was doing engineering right away" and then "graduate as a Day One professional – job-ready when I got out."
Rencis found the right spot at the Milwaukee School of Engineering. Founded in 1903 with the then-novel idea of involving business and industry leaders in the curriculum, the school trains students for jobs needed in society. After four years, Rencis graduated with an associate's degree in applied science and a bachelor of science degree in architectural and construction engineering technology. He also passed the Fundamentals of Engineering and Professional Engineering examinations in his senior year.
Diving Into Theory
The future academic in Rencis started to emerge. While certainly "job-ready" when he finished at MSOE, Rencis thought he should get more background in theory. So he pursued a master's degree in civil engineering at Northwestern University, where Rencis worked with the world-renowned professor of computational mechanics, Ted Belytschko. One project, he recalls, was sponsored by the U.S. Air Force. It involved developing a finite element model on how lumbar vertebrae are affected during pilot ejection. Rencis went on to earn a Ph.D. in civil engineering from Case Western Reserve University in Cleveland, Ohio. There, he developed the first error estimation and adaptive technique for the boundary element method.
While at Case Western, Rencis also got his feet wet teaching a course in architectural engineering technology at nearby Cuyahoga Community College. With his hands-on background dating back to high school, Rencis figured it was a perfect fit and thoroughly enjoyed the experience. It added a new element in choosing his career path. "I was thinking: Do I want to teach? Do I want to do research? Or do I want something in between?" explains Rencis. "I decided on something in between."
Worcester Polytechnic Institute, which featured a project-based undergraduate program that applied technology to the needs of society, offered that middle route. "It was a program about 25 years ahead of all the other engineering schools that were trying to go in that direction," recalls Rencis, who worked his way up to full professor. Marie Planchard, who took two of his graduate courses while earning her master's in mechanical engineering from WPI, remembers him as an "excellent professor" who was "very clear in class and inspiring and filled with energy." Partway through her first course, she started thinking, "Wow, I would really like to do my thesis with this professor." By the second course, she knew she definitely wanted to work with him. One of the few students who also worked full time in industry, Planchard appreciated how Rencis accommodated her schedule. "He just made it so I was successful," she says.
That included giving wise postgraduate counsel. Planchard, who was working as a software engineer, "had a grandiose plan that I wanted to design stuff" and called Rencis to see if she should change careers and go into robotics. "He said, sure, that it was a great idea and there was nothing wrong with changing direction." Rencis later advised her to accept a job as professor and department chair at a community college as well as to join ASEE— both decisions she is glad she made: "If you find a good mentor, you can accomplish so much in your career. And for me, Joe was that mentor."
Engineers Don't Drive Trains!
During his 19 years at WPI, Rencis became interested in getting young people excited about engineering well before college. Engineering had already become part of the Massachusetts K-12 curriculum, and the university had a close relationship with local public schools. Rencis proposed that rather than simply add an engineering course, the schools integrate engineering into science classes. "You can't add another hour to the school day," he observes. He was co-awarded the first GK-12 National Science Foundation grant in the country to work in classrooms with two undergraduates and one graduate student, helping elementary school teachers design lesson plans that integrated engineering into their curricula. Rencis engaged WPI third-year students, who had to complete an Interactive Qualifying Project equivalent to nine semester hours focused on society and technology. "We developed lesson plans depending on the interests of the teacher tied to the science course being taught."
Rencis vividly recalls how little the K-12 students knew about engineering when the lessons began, underscoring the importance of early exposure. Asked to depict what engineers do, they typically drew a train. "At the end of the year it was totally different," he says. Students had learned "that engineering is very broad in how it can help society in so many ways. They would see something that they would become passionate about and that affected their vision of what an engineer does." For example, those with biomedical interests might draw a doctor or prosthesis. Other students drew space shuttles or astronauts.
Leaving WPI in 2004 to head the department of mechanical engineering at the University of Arkansas, Fayetteville, Rencis vowed to continue in the classroom. "I wanted to lead by example with my research while staying in touch with students," he explains. "You don't really know a place until you teach." Bob Smith, the university's provost at the time, saw potential in Rencis "right from my first meeting" when he took the new professor and his wife to dinner. He found Rencis to be earnest, dedicated, and "a visionary and creative thinker."
Becoming a dean was not on Rencis's radar, but when Tennessee Tech recruited him as dean of engineering in 2011, he welcomed the offer. "I saw it as an opportunity to make a very large impact over an entire college," he says. "I want to lead rather than manage. That's my strength. That's my passion." In his new role, Rencis helped create a strategic plan for the school's vision: 21st-century renaissance engineers revolutionizing engineering to solve societal problems. "We want graduates who not only get jobs but create jobs — young men and women who come up with new ideas and new companies," he says.
'My Best Few Hours'
At Tennessee Tech, Rencis has continued with an activity he began at WPI decades earlier: advising students in the Formula SAE racecar competition. "It's a great application for engineering that involves so many different areas, including research, design, manufacturing, testing, developing, marketing, management, and finances. It's my best few hours a week," he declares.
Jimmy Nguyen led the business presentation for Tech's 2015 entry in the Formula SAE competition in Michigan. The contest required that students offer a plan for building and marketing between 25 and 1,000 cars. Nguyen's team came up with the novel idea of building a kit-car using both off-the-shelf parts and some of their own manufacture. They opted to make the case that building 1,000 cars would be the most cost-effective approach. Their business plan placed them in the top 10 out of 120 universities from around the world. Rencis brought important guidance and an informal, "Call me Joe" demeanor, recalls Nguyen, a 2015 electrical engineering graduate. "He knew everything we had to look at from his years working on the competition. He stressed that we double-check our work and have a good rationale for why we chose 1,000 cars as our goal." Rencis also helped the students refine their oral presentation, which they rehearsed 30 times, until they had it down pat. "We had a 10-minute time limit, and we came in at 9:50. That's how perfect we had it," exults Nguyen. Rencis, he adds, also showed an interest in team members that extended beyond the competition. "He wanted to know what we were doing in the summer and what we planned to do once we graduated."
During his year as president-elect of ASEE, which ended in June, Rencis worked closely with President Nicholas Altiero and Kenneth Galloway, immediate past president. The three agreed on the importance of continuity in policies and priorities from year to year. "Presidents come in with a certain agenda on what they want to do," Rencis explains. "They serve for a year, and they do something great, and then the next person comes in and does what he or she wants. We're working as a presidential team, trying to be inclusive and engage the membership for the long-term success of ASEE."
Altiero credits Rencis with introducing the concept of Strategic Doing to ASEE – making advances while continually evaluating and modifying goals based on experience, rather than setting long-term objectives that often become irrelevant or unachievable in a fast-changing organization. "Joe has been very proactive in moving the process at ASEE," Altiero says. "I believe he has both the understanding of the process and the energy to make it successful for the organization." Rencis doesn't have a lengthy to-do list. "One thing I have learned is to limit the number of things you are trying to do," he says. "We're not going to do 50 things. We're going to have a few initiatives or priorities that we're going to focus on at ASEE. And we're going to get them done."
By Pierre Home-Douglas
Pierre Home-Douglas is a freelance writer based in Montreal.
Image courtesy of Tennessee Technological University