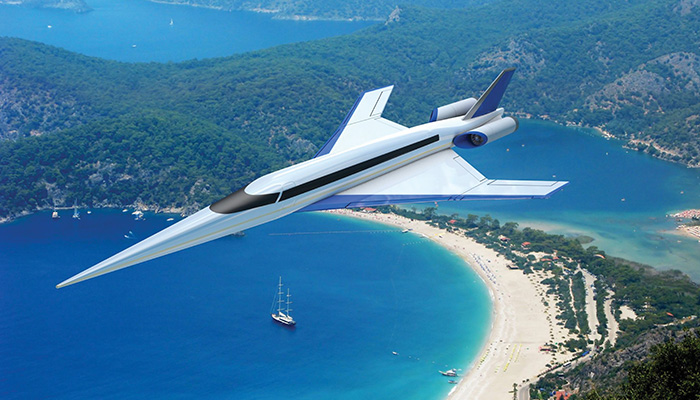 Advances in design and engine technologies could signal a coming boom in supersonic business transport.
Commercial supersonic air travel ended with a whimper in November 2003, when British Airways and Air France retired the glamorous Concorde after 27 years of service. Designed and built by a consortium of British and French aerospace companies in the 1960s, the sleek, needle-nosed jet flew at twice the speed of sound – around 1,350 mph – and could zip champagne-sipping VIPs across the Atlantic in 3.5 hours. At 60,000 feet, "the fine art of flying" touted in a 1988 ad included a view of Earth's curvature.
This engineering marvel mostly proved a money sink, however. Concorde's ear-splitting, bone-jarring sonic boom prompted regulators to ban overland flights, which strictly limited its routes and thus commercial viability. The supersonic transport's two Rolls-Royce turbojet engines guzzled tons of expensive fuel just taxiing to the runway. And although the elite fleet – just 14 plied the skies – managed to weather its first-and-only crash in July 2000 that killed all 109 people aboard, neither carrier could overcome the steep drop in demand following the 9/11 terrorists attacks coupled with soaring maintenance costs and concerns about possible damage to the ozone layer.
For executives, time still is money, however. Just 12 years since Concorde closed a chapter in commercial aviation history, supersonic flight is poised to take wing again. Buoyed by market studies and research advances, a number of aerospace companies aim to serve a new class of business traveler: the deep-pocketed executives and entrepreneurs for whom an hour saved is potentially $1 million earned. "We are doing the engineering work today that will allow us to build and fly a supersonic jet at the turn of the next decade," explains Mike Hinderberger, senior vice president for aircraft development at Aerion Corp., one of two R&D firms – the other is Spike Aerospace of Boston – that plan to have small supersonic business jets in service by the early 2020s.
Pie-in-the-sky vision? Not according to a 2005 study by California-based Alden & Associates Marketing Research, which estimated that initial global demand for supersonic business jets was north of 300 aircraft. "There are a series of market studies that say there is a case for supersonic business jets in the near term," notes Peter G. Coen, NASA's project manager for commercial supersonic technology. Aerion, a Reno, Nevada-based company, has already received an order for 20 of its Mach 1.5 AS2 jets from Flexjet, a Texas jet-share and leasing enterprise – a $2.4 billion purchase. The firm is now looking for a U.S. manufacturing location. Other aerospace companies expressing interest or intending to enter the market include Gulfstream, Lockheed Martin, Boeing, and Airbus, an Aerion R&D partner.
Noise Busters
The future of supersonic transport (SST) hinges on winning regulatory approval for overland flights. That's why a large chunk of the more than $6 million NASA is spending on academic and corporate research into commercial supersonic transport is aimed at finding ways to muffle the shock wave's roar. "Boom reduction is the critical step to open that (business) market," Coen says. Rather than wait on technology, Aerion will initially fly its eight-to-12 seat AS2 at supersonic speeds only over oceans, slowing down to near-sonic velocity over land. While that may carve out a niche, says Coen, the broader market will require boom mitigation.
Researchers also are working to make supersonic flight more fuel-efficient and less damaging to the ozone layer. The Concorde's turbojet engines were famously noisy – so there's also a need to ensure that the next generation of SSTs doesn't jar airports and nearby neighborhoods.
NASA engineers are convinced that once a fleet of supersonic business jets – seating no more than 20 passengers – is successfully established, models that carry up to 100 passengers soon will follow. "If that goes well, and new technologies become available, there is an estimated market" after 2030 for airliners that could carry up to 200 passengers, says NASA's Coen.
Beyond their appeal to a narrow customer base, small supersonic business jets make sense from an engineering perspective. When an aircraft breaks the sound barrier, it produces cone-shaped shock waves that propagate like a boat's wake. As that cone of pressurized air molecules reaches the ground, there's a sharp release of pressure that results in a china-rattling boom. Many factors can affect the decibel levels, but in general, the bigger the plane, the louder its boom. "Sonic booms are partly a function of the volume and mass of an aircraft," explains Luis Gonzalez, an assistant professor of aerospace engineering at Embry-Riddle Aeronautical University in Florida. "The smaller the aircraft by way of volume and mass, the easier it is to mitigate its booms."
Fine Tuning
Working at the small end of the jet spectrum, engineers already have found ways to shape the plane's profile and lower sonic booms to acceptable levels – essentially by tuning their wave signature. Most will be swept-wing jets that are longer and narrower than usual, with extended noses. Indeed, NASA and Gulfstream engineers have successfully demonstrated that placing an antenna-like spike on the nose of a jet can help ease booms. Concorde's booms were measured at 105 PLdB, or perceived noise level. But researchers have proven they can get booms from smaller aircraft down to around 70-75 PLdB, Coen says, and he's confident of reaching 60-65 PLdB. "That would be as quiet as the inside of a luxury car when it's driving – this is not your father's sonic boom."
So convinced is NASA that researchers can reduce booms to tolerable levels that the space agency already has begun working with the International Civil Aviation Organization, whose membership includes the Federal Aviation Administration, to lift the widespread bans on overland supersonic flight and create a new global standard on noise settings. NASA's contribution to the process is to develop the best metric for measuring boom levels.
Designing larger planes able to meet that new standard will require a few more tricks. "Size is a big factor," says Paul Bruce, an aeronautical engineering lecturer at London's Imperial College. "With bigger planes, it gets harder." One possible piece of the solution may involve placing the engines on top of wings instead of below them. Boeing researchers have shown that such a design is effective. While engines don't have a direct effect on booms, the external geometry of their inlet and nozzle can play a role. Placing engines on top of wings allows other components to shield their contribution to the boom.
Making supersonic jets somewhat more fuel efficient is also possible, although some solutions run counter to boom reduction. "What helps mitigate sonic booms can make fuel consumption worse," says Gonzalez. And vice versa. Aerion's AS2, for example, has sharper wings set to a certain angle to produce natural laminar flow, which eases drag. That means it will be relatively efficient but also produce loud booms. While future generations of supersonic planes will be more efficient and quieter than the Concorde, says Coen, they will always be around 30 percent less efficient than their subsonic brethren.
When scores, and eventually hundreds, of supersonic commercial jets are screeching through the upper stratosphere, what impact will they have on ozone? Last year NASA gave Steven Barrett, an assistant professor of aeronautical engineering at MIT, a $1.2 million, four-year grant to investigate the possible effects. For now, Coen says a possible mitigation strategy will be flying SSTs at no higher than 50,000 feet – which is still some distance from the ozone layer. Cleaner alternative fuels – such as ethanol or other plant-based fuels that produce less sulfur and other pollutants – may provide a solution in the future.
Whisper Jets
What about takeoff and landing noise? Turbojet engines like those that powered the Concorde cruise quietly at high speeds but roar at low speeds. So at least initially, both Aerion and Spike plan to use turbofans like most commercial jets now use. In turbofan engines, some incoming air passes through a fan and into the core turbojet; the rest bypasses the engine to turn the fan, creating extra thrust and quieter exhaust. The higher the bypass ratio – in most engines, eight of every nine pounds of air flows around the core – the greater the engine's efficiency and quietness. Speeds of around Mach 1.5 to 1.8 are "a sweet spot," says Imperial College's Bruce, because turbofan engines operate fairly effectively at those supersonic speeds. Meanwhile, efforts continue to make powerful turbofan engines even quieter at subsonic speeds. For example, NASA recently awarded a two-year, $599,000 grant to GE Global Research to find new ways to reduce subsonic engine noise.
Eventually, NASA's Coen says a better solution may be a type of engine still in development: a variable cycle engine that can work as a high-bypass engine for subsonic takeoffs and landings, then reduce the bypass ratio for cruising. Key to creating that type of multi-stream engine is reducing the speed at which exhaust gases exit an engine at takeoff. Toward that goal, NASA last year gave Dimitri Papamoschou, a professor of mechanical and aerospace engineering at the University of California, Irvine, a two-year, $575,000 grant to work on quiet nozzle concepts.
Perhaps the most revolutionary idea for supersonic flight is the bi-directional flying wing. Developed by Gecheng Zha, a mechanical and aerospace engineering professor at the University of Miami, it won a $100,000 NASA grant in 2012 for a conceptual study. The star-shaped craft features a mid-body that rotates 90 degrees. It takes off and lands using a long-wing shape that improves efficiency at subsonic speeds, but once it hits cruising altitude it rotates to a shorter, swept-wing silhouette that's better for supersonic speeds. Because of its wing shape, the whole body creates lift. Zha says this helps reduce boom – down to 72 PLdB – as well as producing greater fuel economy.
Despite the study's "extremely positive" results, "the concept is very radical and the industry isn't ready for it yet," says Zha, adding "we still think it's the best idea." Commercial supersonic flight may be gearing up for an encore, but for now the flying wing will remain grounded.
By Thomas K. Grose
Thomas K. Grose is Prism's chief correspondent, based in the United Kingdom.
Design by Francis Igot
Image courtesy of Spike Aerospace