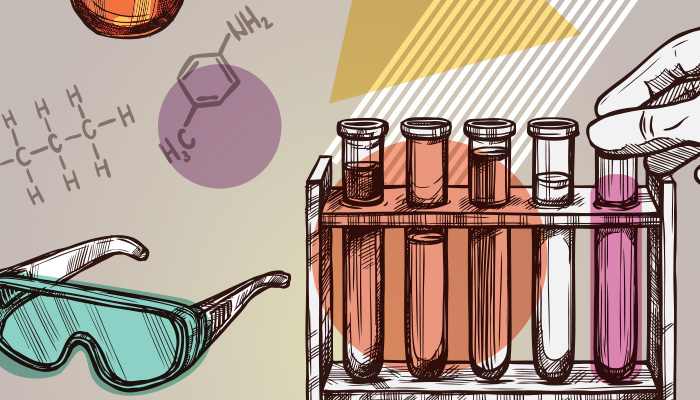 Embracing standard industry practice, engineering schools seek to improve lab safety by transforming their cultures.
In early 2009, a young research assistant at the University of California, Los Angeles, died from burns caused by an easily preventable fire in a chemistry lab. The following year, an equally avoidable explosion in a Texas Tech University chemistry lab critically injured a graduate student. Then, in 2011, a Yale University physics major strangled to death when her hair snagged in a lathe while conducting an experiment for her senior thesis. In each case, investigators faulted a lack of such elementary safety practices as proper training and use of personal protective equipment.
Lab procedures have come a long way toward mitigating risks since explosions left swashbuckling 19th-century scientists like Richard Bunsen blind in one eye. Still, the tragic incidents jolted the university research community – particularly chemists – and spurred the American Chemical Society, National Academies, and other groups to study safety practices in the nation's academic labs. In a 2011 report by the U.S. Chemical Safety Board, for example, the federal agency charged with investigating chemical safety mishaps declared itself "greatly concerned about the frequency of academic laboratory incidents," having identified at least 120 over the previous decade. The CSB study also noted the stark difference between the strict safety standards generally observed in industrial labs and the much more lax practices widely tolerated at universities.
Institutions – including several colleges of engineering – responded by initiating serious efforts to boost lab safety. While many campuses still have much room for improvement (witness the National Science Foundation's recent suspension of active grants to a Kentucky university sanctioned for major safety violations), a few have radically shifted priorities. "It's a research imperative that we have safe programs," explains Forrest Masters, associate dean for research and facilities at the University of Florida's Herbert Wertheim College of Engineering in Gainesville, which has undertaken a major lab-safety upgrade. "It is not just about compliance. It's about optimally running our programs."
Such views echo a 2013 National Academies' report that stressed the critical nature of a strong, pervasive, and proactive safety culture. That culture arises "not because of a set of rules, but because of a commitment to safety throughout the organization." Among its hallmarks are free exchanges of safety information, an emphasis on learning and improvement, and assigning "greater importance to identifying and solving problems rather than placing blame." Safety is paramount "all the time, not just when it is convenient or does not threaten personal or institutional productivity goals."
To establish such a culture, the report concludes, universities must make safety a "core value" at all leadership levels, from the president to the department chairs and principal investigators. There also must be "robust collaboration" on safety among researchers, lab chiefs, institutional leaders, and others; "nonpunitive" incident reporting that encourages learning from errors and near misses; "before-the-fact" integration of hazard analysis into the research projects; and appropriate safety training for all the organization's members. The latter is particularly important at universities, stressed the report, where researchers are "relatively young and have limited experience," and thus often don't know "how to assess the risks in what they are doing" or "keep a small error from causing major problems."
Compliant and Complacent
That idyllic description didn't begin to describe the "deeply ingrained, fear-based culture" that greeted Amy Haberman when she became Wertheim College's newly hired director of safety in 2013. The engineering faculty safety committee was headed at the time by chemical engineer Jennifer Sinclair Lewis, then the associate dean for research and facilities and now dean of engineering at the University of California, Davis. She was eager to improve the college's practices. Yet many engineering educators worried about the university's Environmental Health & Safety (EH&S) division "coming and shutting down their lab" after infrequent inspections, Haberman says. Safety was viewed as compliance with regulatory requirements backed by potential punishment.
Haberman's baseline survey, patterned on a 2012 international online poll of academic researchers, revealed a safety culture in dire need of repair. Sent by the engineering dean to all faculty, staff, and students, the questionnaire attracted a healthy 26 percent response rate. While 80 percent of respondents reported knowing that they should use personal protective equipment, only 65 percent actually did so. Respondents said slightly more than half of incidents were being reported, and just 34 percent knew who was in charge of safety in their own labs. Despite leadership's desire to make commitment to safety an integral part of the college's life, faculty "didn't feel comfortable taking responsibility in their labs," says Haberman. Though confident of their disciplinary expertise, professors "weren't sure where to go for the resources to ensure the safety of their lab" without suffering "negative consequences" for asking.
David Breeding, director of engineering safety at Texas A&M University and its Dwight Look College of Engineering, also discovered a surprisingly deficient safety culture when he arrived in 1999 after a decade working on safety in industry. Instead of finding an "even better" safety consciousness on campus, as he expected, programs proved harder to implement in an environment where "everybody's a free spirit and used to having their own way" – a problem highlighted in the CSB report. With professors functioning as "independent entrepreneurs" responsible for seeking funding to support their labs, "one more thing like a safety program was something they didn't have time for," recalls Breeding.
Cultivating a Safety Culture
To shift the mindset at Florida from compliance to commitment, Haberman, a certified associate health professional who holds a bachelor's degree in environmental health and safety and certification, created the Connect Not Inspect program. By visiting and learning about labs, she hoped faculty would come to view her not as an inspector but as a resource, partner, and even "an extension" of their lab teams. "When I come into the lab, it's really to help improve" their ability to meet research goals, she says. "How do we integrate safety into your practice?" she asks. "How do we optimize your training?"
Instead of commanding, "No, you can't do this," Haberman says, "let's figure out how we can do it." When EH&S has nixed something, she has gone in to "dig and dig and dig" and find ways to achieve the desired goals. "EH&S doesn't have the resources to solve these problems for faculty," Haberman says. By contrast, she can devote the time and effort. Result: "The faculty have really welcomed me with open arms," she says. "They understand that my role is to help them."
Breeding, who has a Ph.D. in interdisciplinary engineering and a specialty in safety engineering, takes a similarly cooperative approach. "To work with engineers, it helps to think like an engineer," he says. Like his Florida counterpart, Breeding also wants engineering faculty and researchers to "see me as a member of their team, not as the safety cop that comes in from the outside and finds things wrong." That some professors have included Breeding's résumé on their grant proposals shows he is succeeding, he says.
"Career Imperative"
Another sign of success at both colleges is the proliferation of safety courses, training programs, and opportunities for engineering students of all levels to participate in safety-related committees and activities. At Texas A&M, for example, everyone who works in the lab, from freshmen to senior faculty, must have engineering laboratory safety training in addition to any past safety training. "We give them all the information they need in order to walk in the door to their lab and then be trained on the specific [piece of] equipment," says Breeding, who posts safety-training materials online so international students can learn at their own pace and schedules. The keystone, however, is a requirement that every research proposal must include an approved project-safety analysis. "Each faculty member, each researcher, even student projects, come to me," says Breeding. He and the prospective researcher then scrutinize everything from equipment to people, identifying hazards and ensuring proper controls.
Florida goes a step further, including safety in faculty performance reviews. While the first year's evaluation has been "very subjective," Haberman says the new criterion "sets the tone that [safety] is important." Over time, she expects the evaluation to become "more objective and measured."
Engineering students should view safety as "a career imperative," contends Florida's Masters. "If they're going to be productive [after graduation], they need to be very familiar with these processes [as] something they adopt as a way of life while they're here." Employers routinely complain that graduates of even top programs often lack adequate safety training and awareness. "If they can get students who already value safety, that's a huge win for them," says Masters. Companies, he adds, "love that we're doing this."
To help students grasp the centrality of safety to engineering professionalism, Haberman created a set of health and safety objectives that align with the college's Gator Engineering Attributes – characteristics expected of all University of Florida engineering students and faculty. Unveiled at a widely publicized event attended by the dean, department chairs, faculty safety committee members, and industry partners, the roster includes creativity, leadership, integrity, professional excellence, and service to the global community. To demonstrate integrity, for example, Gator engineers are now expected to "hold all accountable for contributing to the improvement of our safety culture." Creativity is tied to encouraging everyone to develop a "safety-awareness mindset," while leadership aligns with preparing faculty and students to become "safety ambassadors."
Underscoring the college's commitment, a newly established engineering safety certificate has joined the array of prizes presented at the Engineering Attribute Awards ceremony held each spring. Recipients must have taken specified training, served on their department's student safety committee, and completed a safety case study that won approval from the faculty safety committee.
Safety principles apply equally well to field research, notes Masters, who studies hurricanes. "Transport the people, the policies, the culture," out of the lab, he urges. "Field research requires a bit more improvisation, [but] we're trying to develop sound, consistent policies."
Social scientists say it takes at least a decade to change an organization's culture. Moving engineering schools from bureaucratic compliance to the collective responsibility for "identifying hazards, reducing risk … and implementing appropriate controls" described in the National Academies' report could require longer. That suits Breeding, who has seen enormous strides at Texas A&M in the past 10 years. Change, he says, is "more firmly in place if it comes slowly."
But transformation can snowball quickly. Haberman cites the precipitous 55 percent drop in EH&S findings over the past two inspection cycles, with some departments reducing problems by 89 percent. She plans to conduct a follow-up safety-culture survey this year – and expects to see improvement.
By Beryl Lieff Benderly
Beryl Lieff Benderly is a Washington, D.C.-based freelance writer and a fellow of the American Association for the Advancement of Science.
Design by Michelle Bersabal
Image courtesy of Thinkstock