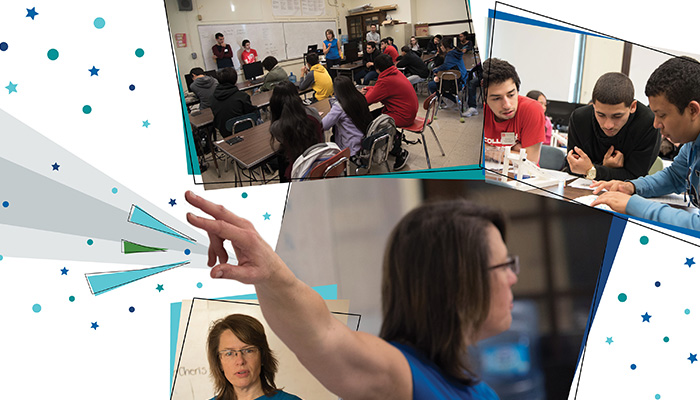 Boston University reimagines K-12 engineering outreach, dispatching undergraduates across the country as speakers and instructors.
It's the last class before the weekend on a sparkling mid-November afternoon, but no one is yawning or eyeing the exit. Instead, the lab fills with excited chatter as students launch vivid blue gel beads down hole-punctured slopes, testing the delivery of cancer-fighting medicine. These "nanodrugs" are simulations, but the biomedical research behind this experiment is real. So are the Boston University engineering undergraduates assisting each team. Don't look for Ph.D.'s among the investigators, however. They're inner-city Boston teens, and their Friday science lesson is part of an ambitious initiative to deepen and diversify the nation's engineering talent pool, including those who teach it.
If colleges hope to graduate thousands more engineers each year, "you have to excite kids about what science and engineering can do," contends BU's engineering dean, Kenneth Lutchen. At BU, that has meant deploying students as engineering ambassadors to their home communities across the country, and forging boots-on-the-ground partnerships with local schools to design and deliver engaging curriculum, mentor pupils, coach teachers, and create engineering degree pathways that lead to teacher licensure.
While the Next Generation Science Standards, adopted by 18 states, include engineering design, "most teachers don't have the comfort or confidence level to teach engineering," says Gretchen Fougere, the College of Engineering's first associate dean of outreach and diversity. The Technology Innovation Scholars Program (TISP), Fougere's brainchild, is BU's attempt to bridge the gap.
A number of engineering schools conduct K-12 outreach, but few, if any, match TISP's scale. Since the program began five and a half years ago, its "inspiration ambassadors"—engineering sophomores, juniors, and seniors—have reached 17,600 kids in 27 states by mentoring local robotics teams, guiding science students through one-period design challenges, and visiting their old middle and high schools during break to give interactive presentations about engineering and share tales of campus life, often igniting college dreams in the process.
Diverse Envoys

It helps that the ambassadors, who are selected from more than 100 applicants, look like their audiences: Women comprise half the corps and underrepresented minorities more than a fourth. "I see not only myself but my friends" in these students, says Arley Trujillo, a computer engineering major from Miami and the first in his family to graduate from high school. On a recent visit home, as he fielded questions in the school cafeteria from 100 kids, including his old baseball teammates, he tried to convey "not that I made it but that there is a road you can take that's successful" beyond the familiar local options.
Such "living by example is very crucial to education," says TISP member Joel Caffey, a third-year biomedical engineering student who had no exposure to engineering as an African American growing up in Chesapeake, Va., and thus had "no idea" what it entailed or its value to society. Tess Gauthier, an electrical engineering major from South Hadley, Mass., concurs: "It's super important having role models who look like you." Anecdotal evidence suggests TISP's near-peer encounters are powerful. Lutchen points to the TISP participant who was the first in her all-girl school's history to pursue engineering and went back over break to talk about her experience. The next year, engineering schools around the country admitted 20 girls from that school. "Ambassadors are really charismatic," Lutchen notes. "They're already breaking stereotypes … by being socially engaged and not some nerd." High schoolers, he adds, come away from their presentations thinking, "Wow, if that's what an engineer is, then that's what I want to do!"
Message to Math Teachers

K-12 education wasn't among the challenges Lutchen had in mind when he refocused the bachelor's program on the "social consequences" of engineering a decade ago. He wanted BU's "Societal Engineers"—the college's trademarked term—to emerge with communication skills, global awareness, an understanding of how public policy affects innovation, and the ability to work with people from diverse backgrounds to create a safer, healthier world, independent of their career path. But it soon became clear that enhancing the engineering pipeline would have to be a "major component," Lutchen says. Looking around the country, he saw the needle stuck on 20 percent for women in engineering and a dramatic dearth of diversity. He wondered how K-12 teachers could incorporate design thinking when few if any had engineering education backgrounds. Figuring that math instructors were natural allies, Lutchen sent a letter to department chairs in 100 nearby high schools offering to visit and talk to a class about engineering. "I kind of wrote it as a commercial for BU," he admits. Ten schools accepted.
On a visit to Brookline High School, where he spoke about such grand challenges as making solar energy affordable and how engineers help to solve healthcare problems, "kids were energized. I got question after question!" Lutchen recalls. He got a similar response from his daughter's fifth-grade class for a presentation on the 20 greatest inventions of all time. Lutchen realized he had a busy day job and couldn't run around giving talks, but there were plenty of others who, with training, might make great proxies: his undergraduates.
Enter Fougere, a research engineer who had shifted from industry to being a senior leader at the Engineering is Elementary curriculum project at the Museum of Science, Boston. Fougere's excitement about Lutchen's outreach idea, plus the academic credibility of a Northwestern University Ph.D. in materials science and engineering, spurred Lutchen to sign her on in 2011.
Basic Training

With Kern Family Foundation seed funding, Fougere set about building more than a speakers' program – it would also train and deploy undergraduates as teaching assistants. She understood the power of hands-on design challenges to help underserved students "connect the dots" between math, science, and applications with real-world impact, such as clean energy innovations or curing cancer. Fougere also recognized the need to make those connections explicit—calculating the mean size and standard deviation of those blue gel "chemotherapy" beads, for example, is doing statistical analysis, not just math—and fit workshops into one class period.
Inventor Dean Kamen, a member of Lutchen's engineering leadership advisory board, suggested having undergraduates mentor teams competing in FIRST Robotics, which he founded. Some eight schools jumped aboard that first year, with BU ambassadors spending eight hours a week sharing their knowledge of the design process and computer programming as students built and tested prototypes. Meanwhile, Fougere had the ambassadors develop their own hands-on design challenges. Dubbed "innovations in a box," these activities drew upon research involving clean energy, fiber optics, synthetic biology, and other areas that made clear connections between technological breakthroughs and engineering's benefits to society. As Fougere explains in a promotional video, TISP is taking "things that are really cool and really far out there, and bringing them to a classroom and showing kids this is the path, this is what we need your smart minds doing for us for the future."
Hometown visits began the following year. TISP quickly struck a chord among BU students, growing from 17 initial ambassadors to 62 today, with far more applying than can be accommodated. "Seeing students engage in engineering is inspiring," explains ambassador Jessica Seto, an electrical engineering major from Los Angeles, who was attracted to BU by its societal engineering focus. Alumni want to participate. So do foundations. At Boston's Josiah Quincy Upper School, for example, TISP is funded by a $145,000 grant from AT&T. Another sign of the program's success: BU faculty members have asked for undergraduates to be dispatched to their local schools.
To hone presentations to K-12 students, ambassadors use research-based messaging from the National Academy of Engineering's "Changing the Conversation" report that stresses how engineers solve problems and help people. They also develop the interactive design challenges that teams then help teach, including building the ramp-like model of the human circulatory system that Josiah Quincy's kids used to test the delivery of cancer therapies, and a NASA origami challenge for the Webb telescope.
A weekly prep session, led by Fougere, where the ambassadors run through their next design activity, timing each step, is just one example of the preparation and rigorous training in guided inquiry built into TISP. Before the chemotherapy delivery challenge at Josiah Quincy Upper School, Fougere and her ambassadors were in the sunny fourth-floor lab 45 minutes before the high schoolers arrived. First order of business: Adjust the activity to correct glitches from a previous session, during which humidity caused the students' gel beads to get too sticky to roll downhill.
Next come teaching tips. "It's important for everyone to be pushy but firm" and keep students moving, Fougere tells the ambassadors. Since there are no clocks in the classroom, use your phones to keep track of time. Distribute materials, such as the one-page primer listing five different types of cancer and which population each affects disproportionately, only when needed; otherwise the kids will get distracted. Make sure students write down which organ they want to treat—the brain having the least porous membrane and the liver the spongiest—and the size of the pipette they use to create their mock nanotherapy beads. "If you feel like they're not engaging, ask them, 'What do you think will happen?'" suggests Fougere. "We want them to be invested and make decisions based on what they know."
Guiding a Design Challenge
After the high school students file in, Fougere opens with a quick review. "Who can tell me what we did last week? You made little blue gels to kill cancer cells. Awesome!" she beams. "There's some variability. Size, right? You used some math and statistics. Is it real cancer? No, it's a model." Next come overviews of how cancer cells travel in the body, in which she likens the circulatory system to a ramp, and the challenges of just getting the medicine to them without harming healthy cells. Finally, she shows a graph with the mean bead size for each pipette and says: "Here's the great news: We did all the math." (That doesn't always get cheers; some students are so empowered by discovering they can calculate statistics that they insist on crunching the numbers.)
As each ambassador guides a pair of students through the design challenge, Fougere walks around troubleshooting. Sticky beads? Try rolling them around in your hands, she demonstrates. Miss the target? In the real world, drugs don't always work. The activity wraps up with more questions. What if you're a patient … or a drug company? "How many of you had fun?" she asks, and hands shoot up. Finally, Fougere wants to know what else the teens would like to know about engineering and college.
Along with talking about choices, such exercises offer opportunities to learn from failure. When a student's wind turbine fell down during a design challenge, it prompted laughs and a discussion about the number and length of the blades and how to tweak the design to better catch the breeze and generate electricity. The students improved their design because "they own it," says Fougere.
Her ambassadors learn to be resourceful. Third-year mechanical engineering student Mischa Rothko, for example, learned to keep two flirting ninth graders apart by feeding them questions, and to engage unenthusiastic kids by joining them with partners to talk through questions. Working with students is a "big part of the reason I came here," says Rothko. "It definitely keeps you applying your studies in a different way," while exposing him to aspects of engineering outside his own discipline. Chris DeLucia, a senior in computer engineering and a FIRST mentor from Long Island, N.Y., says one of his biggest challenges is "reaching those kids who just want to put their heads down." TISP, he says, has bestowed "the sense of patience. Lots of times, you just have to take a step back when working with kids." The same holds true for solving problems.
For Josiah Quincy science teacher Yuyu Chen, TISP has been a godsend. His school doesn't offer engineering, so these hands-on challenges help students engage in high-level thinking. "This will help tie them back to the big picture of what the engineering design cycle involves," he says, noting how focused students become.
Only a small fraction of BU engineering students—five or 10 among the 400 graduates each year—seek careers as K-12 STEM teachers. But for those who do, the engineering and education schools created a five-year master's program, the STEM Educator Engineer Program, with $1.2 million in National Science Foundation support that prepares candidates for licensure in almost every state.
Several ambassadors believe TISP makes them better students. "It's given me a much better understanding of the engineering design process," says Alyssa Arnheim, a junior majoring in biomedical engineering who worked with Fougere over the summer to develop the "what is cancer?" part of the cancer therapy design challenge. Rahat Khan, a senior majoring in mechanical and aerospace engineering and a three-year TISP veteran, finds teaching others "definitely helps my academic performance." Others credit TISP with expanding their outlook. "You lose yourself going from class to class, and yeah, you do projects, but you never impact anyone's lives," says Trujillo, the third-year computer engineering student from Miami. "We're all engineers. We all want good GPAs, but coming here, it's different." TISP, he adds, has equipped him to empower younger students with career options few knew they could pursue. Isn't that what engineering education is all about?
By Mary Lord
Mary Lord is deputy editor of Prism.
Design by Michelle Bersabal