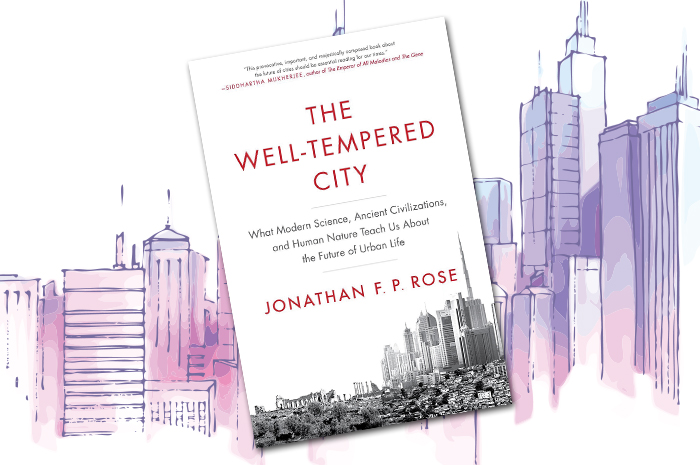 Perfect Pitch
A pioneering developer of green housing projects reimagines the metropolis as one big, compassionate community, engineered for efficiency and in tune with nature.
The Well-Tempered City: What Modern Science, Ancient Civilizations and Human Nature Teach Us About the Future of Urban Life
By Jonathan F. P. Rose.
Harper Wave, 2016. 480 pages.
At nearly 500 pages, Jonathan Rose's study of cities from ancient Mesopotamia to modern-day Singapore is not for the faint of heart. From the outset, the author, a leading real-estate developer of affordable green housing, declares urban problems to be "wicked"—ill-defined, intensely complicated, and lacking full solutions. That's because each challenge—whether London's 19th century cholera epidemics, municipal-waste disposal, food deserts, or the devastating social and economic costs of inequality—is a symptom of another, and "every intervention changes the problem and its context."
Yet Rose believes a harmonious city is attainable through continual adaptability and smart engineering. Taking inspiration from the Well-Tempered Clavier, Bach's masterful musical series composed in all 24 major and minor keys, Rose proposes an approach to "compose wholeness" in urban ecosystems by balancing "prosperity and well-being with efficiency and equality in ways that continually restore the city's social and natural capital."
If that goal sounds lofty, consider that Rose earned his reputation as an urban-planning visionary through years of work on ambitious mixed-income housing and green projects. His firm was recently selected to lead an East Harlem housing project that will feature 655 apartments, with a significant percentage reserved for lower-income and senior residents. Other parts of it include a charter school, Mount Sinai wellness center, YMCA, and gardens. And as a "passive project," it aims for high energy efficiency and a minimal environmental footprint. The principles that guide such intentional design can be found in The Well-Tempered City, alongside lessons gleaned from urban centers past and present. A recent example is Singapore's biodiversity initiative, which promotes an array of plant and animal wildlife. From the need for wastewater reuse to studies linking obesity to a city's "walkability," Rose addresses critical challenges.
The book's five parts present five qualities of a well-tempered city, according to Rose. These include coherence—a city's organizing framework; circularity—its flow of resources; resilience—ability to withstand challenges; community—human culture, connections, and contentment; and compassion—support for members, ideally relieving suffering and achieving social unity.
Part One begins with an ambitious historical study of human communities. From China's Yangshao culture to the Maya El Mirador and the Greek grid-city Melitus, the author weighs each society's successes, failures, and unifying principles, asking what they teach us. The Greek agora, or marketplace, made space for commercial and civil exchange, giving rise to democratic assemblies, for example. Tenth-century Islamic city planners recognized the social benefits of conjoining mosques to public baths, schools, and social service agencies; each worked toward coherence.
While engineers with a historical bent will enjoy these sections, others may learn from recent efforts, such as New York City's 2007 PlaNYC program, which tasked city agencies to integrate their separate domains into "a vision of an environmentally sustainable city." They did so, in part, by sharing data as never before. One million newly planted trees were geocoded, for example, to measure effects ranging from storm-water absorption to air pollution reduction, temperature variation, and residents' sense of well-being.
Part Two, Circularity, examines issues of water, waste, and production and consumption, with emphasis on current and future crises cities face as a result of climate extremes. Here, too, Rose highlights innovations such as one in Las Vegas, which now pays residents to replace their lawns with xeriscaped gardens. In December 2016, the city declared itself powered 100 percent by renewable energy sources, thanks to its extensive solar panel program.
Part Three highlights Rose's knowledge of natural infrastructure, ranging from Staten Island's Living Breakwater project, designed after Hurricane Sandy, to "biophilia" practices, green roofs, microgrids, and ecodistricts. Parts Four and Five demonstrate the author's more spiritual ideals, from harmonizing humans with nature to the importance of supporting all members of a society, economically, physically, and emotionally. Only through deep compassion can cities achieve true wholeness; yet the well-tempered will, he believes, "bend the arc of their development towards equality, resilience, adaptability, well-being, and the ever-unfolding harmony between civilization and nature."
Cursory treatment of certain topics strikes a discordant note in this otherwise fine book. The social mobility of 19th-century Pullman railroad porters is attributed to their exposure to the middle-class passengers they served, for instance, rather than their own considerable efforts to work, succeed, and educate their children. Bali, Indonesia's irrigation system is hailed as a model of environmental cooperation, ignoring growing dissension on the island over water shortages and unchecked tourist development. Such lapses raise questions about information elsewhere in the book. But for the most part, The Well-Tempered City offers a thought-provoking consideration of modern metropolises' wicked problems.
Review by Robin Tatu
Robin Tatu is Prism's senior editorial consultant.
Image Courtesy of Amazon/Thinkstock