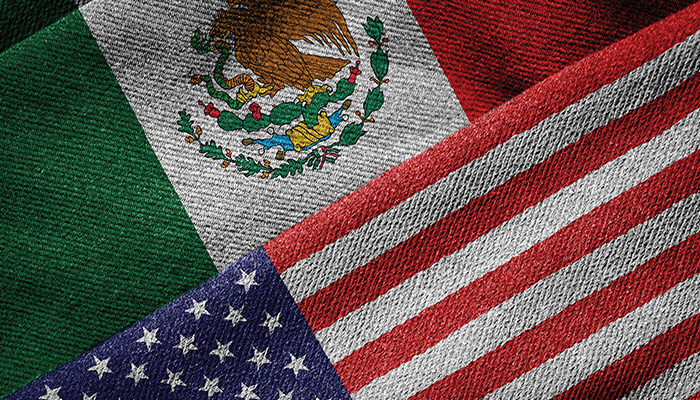 U.S.-Mexican research collaboration flourishes despite political strains.
Some life-threatening disorders of the brain—from cancers to traumatic injuries—are treatable with lasers. But medical laser beams cannot penetrate human skulls, so patients have to undergo repeated craniotomies, or the removal of a portion of their skull. In 2013, researchers at the University of California, Riverside, developed a way to make transparent, yttria-stabilized zirconia, a ceramic already widely used for implants. They theorized that the ceramic could be implanted into a skull as a literal "window to the brain"—a clear, but bone-hard, porthole through which lasers could treat damaged tissue below. In 2015, the Riverside team, in collaboration with researchers from three Mexican universities, received a five-year, $5 million grant to determine if a clear, cranial implant is feasible. The National Science Foundation provided $3.6 million of the total, while NSF's Mexican counterpart, the National Science and Technology Council (CONACYT), ponied up another $1 million. In-kind contributions from the three Mexican schools made up the remaining amount.
Already, the research is showing promise. The team recently reported that the implant is biocompatible with tissue, and that they were able to shoot laser light through it to treat bacterial infections without damaging healthy tissue. "We are very happy with the progress we've had," says Guillermo Aguilar, a Riverside mechanical engineering professor, who is the co-leader of the project, along with Santiago Camacho-Lopez, an expert in biomedical optics at the Center for Scientific Research and Higher Education of Ensenada (CICESE), in Baja California, Mexico.
The Riverside project is but one of hundreds of ongoing research and education collaborations—often involving engineering academics and students—that link American and Mexican universities, agencies, and businesses that are continuing despite political tensions that arose with the election of Donald Trump last November. The U.S. president has angered many Mexicans by promising to build a wall along the entire U.S.-Mexican border; denouncing the 25-year-old North American Free Trade Agreement (NAFTA), which has boosted Mexico's economy; and vowing to crack down on and deport Mexican illegal immigrants, many of whom he labeled during the campaign as "rapists" and "criminals."
While some researchers worry about the effect of Trump's tightened border controls on these joint efforts, there's widespread agreement that Mexican-American academic collaborations already begun will not only survive but thrive. "I think that U.S. universities now more than ever are very open to collaborations with Mexican universities," says Guillermo Fernandez de la Garza, executive CEO of the U.S.-Mexico Foundation for Science (FUMEC), a nonprofit organization created in 1993 to promote mutually beneficial economic development through science and technology partnerships.
Praise for Mexican Scientists
International collaborations are increasingly important to good science, researchers say. "I think they are absolutely essential in this day and age," says Riverside's Aguilar. "We are not the owners of all the good ideas in the world. Without the freedom to exchange ideas, you do not get to the edges of knowledge, and that's essential for the development of science and technology." American researchers also praise the knowledge and skills of their Mexican partners. "We work with some very high-quality scientists who do high-caliber research," says Jordan Goodman, a physics professor at the University of Maryland, College Park. He is the principal investigator at the High Altitude Water Cherenkov Observatory (HAWC), a $16 million, gamma ray observatory funded by NSF and CONACYT that's located some 13,500 feet above sea level on the slopes of the Sierra Negra volcano in Puebla, Mexico.
NSF has more than 180 active awards that involve Mexican researchers and institutions. Eighteen of them are engineering or computer-science projects, but many others probably involve engineers or computer scientists. CONACYT, meanwhile, is collaborating on scores of projects with at least a dozen American universities. Among its most recent calls for research applications were projects involving technological development and energy at the University of Texas system, and engineering and computational sciences at the University of California Institute for Mexico and the United States. A number of American colleges have staff and facilities in Mexico involved in bilateral research and education programs, including the Universities of Arizona, Notre Dame, Oklahoma, and New Mexico, and the State University of New York, Colorado State University, and Texas A&M.
FUMEC facilitated CONACYT's replication of two successful NSF programs: the Industry/University Cooperative Research Centers (I/UCRC), and I-Corps. NSF has 81 I/UCRCs that promote public-private research among universities, research centers, and businesses, and it encourages them to work with partners in Mexico, too. A few years ago, "we saw that there were some very interesting opportunities for Mexican universities and companies" to work for some of the U.S. centers, particularly in the areas of industrial informatics and advanced nonferrous alloys, Fernandez says. He eventually set up meetings between CONACYT and NSF, which helped the Mexican agency create a similar program, the Industry-Academy Innovation Binational Consortia (CoBI). Also in 2015, CONACYT, at FUMEC's urging and with NSF assistance, launched the Binational Innovation Nodes (NoBI), its version of NSF's I-Corps program, which trains academics on how to determine if markets exist to commercialize their discoveries.
The biggest worry among academics involved in these collaborations is that the Trump administration will restrict travel to the United States. While the president's executive orders to date have been aimed at travelers from predominantly Muslim countries, there are concerns the restrictions could eventually also target other countries, Mexico included, possibly affecting academics and students. Goodman says some of his Mexican colleagues have to travel to the United States at least once a year, "so yeah, we are worried about this. There is a lot of visa stuff being implemented in weird ways, and we don't know what the impact will be on scientists crossing the border." Even the perception of anti-Mexican attitudes in the United States could discourage some from coming. "I do feel that it creates an unstable environment," Aguilar says. "I fear we will lose some talent."
In a March 17 letter to the editor of Science, three Mexican academics wrote to thank their American colleagues for challenging Trump's immigration policies, and to stress the history of fruitful relationships between American and Mexican scientists. "The long-term social and academic consequences of the current political climate could be dire," they wrote, and deportations and travel bans "only promote anti-Americanism." They urged bolstering and expanding existing exchange programs as a means of fostering continued good academic relations between the two countries.
Worry Over Budget Cuts
There's also some anxiety over future funding for joint projects. Initial White House budget documents for both fiscal 2017 and 2018 call for sharp cutbacks in research funding at several U.S. agencies, although Congress ultimately decides on spending levels. And Mexico enacted an austerity budget last fall because falling oil prices have hurt revenues. HAWC's biggest expense is data storage—it collects an eye-popping 1 petabyte of data a year that has to be stored on servers in both countries—and funding from Mexico this year was 80 percent less than expected. Meanwhile, the value of the peso plunged in large part because of worries about NAFTA. The currency eventually recovered after Trump appeared to back off his threat to scrap much of the trade pact. But Goodman worries that Trump policies could once again hit the peso. And since much of the equipment Mexico needs to keep HAWC running—particularly servers—comes from the U.S., a weak peso could strain the HAWC budget.
Not all collaborations in Mexico involve NSF, CONACYT, or federal funding, however. Ara Arabyan, an associate professor of aerospace and mechanical engineering at the University of Arizona, also runs the school's Engineering Design Program, which solicits "real work" design projects from a wide variety of companies for students to work on in their senior year. "Because of our location, we also often go into Mexico," he says, and Arizona students regularly travel to those facilities. Many North American and European companies have large manufacturing plants there. For example, German auto parts maker Continental has a manufacturing plant in Nogales, and Canada's Martinrea International, another auto supplier, has three Mexican plants. For one Martinrea project a few years ago, a team of Arizona students worked with a team from the Monterrey Institute of Technology and Higher Education's Northern Sonora campus in Hermosillo to develop an in-car device that could sense a driver's mood, as a way to combat distracted driving.
And in February, the University of Louisiana at Lafayette signed an agreement that will promote academic and research collaborations between it and 18 Mexican colleges in the states of Veracruz, Tabasco, and Campeche. Mark Zappi, dean of UL's College of Engineering, says the initiative began a few years ago when he met a delegation of academics from Tabasco at an energy conference and discovered many overlapping areas of educational and research interest, including energy production, environmental concerns, and ecological issues like coastal protection. "These are big issues, and they have several very strong universities, so it's a perfect match," Zappi says.
Doctoral Training
Only around 40 percent of Mexican faculty have Ph.D.'s, so the agreement will focus initially on enrolling Mexican instructors in UL doctoral programs. The first two students—a mechanical engineer focused on solar energy and a civil engineer who will work on the containment of contamination areas—begin classes this fall. The hope is that up to 50 faculty members will eventually study at UL. There are also plans for Louisiana academics and their Mexican peers to work together on research projects, Zappi says.
Zappi says he's not worried about national politics severing his school's bonds with Mexican schools. "We'll just work around the land mines of politics. There's trust between us. This is a long-term, organic relationship that's not dependent on federal funding. So we are all systems go." A Mexican might say, "Al mal tiempo, buena cara"—smile in the face of adversity.
By Thomas K. Grose
Thomas K. Grose is Prism's chief correspondent, based in the United Kingdom.
Design by Francis Igot