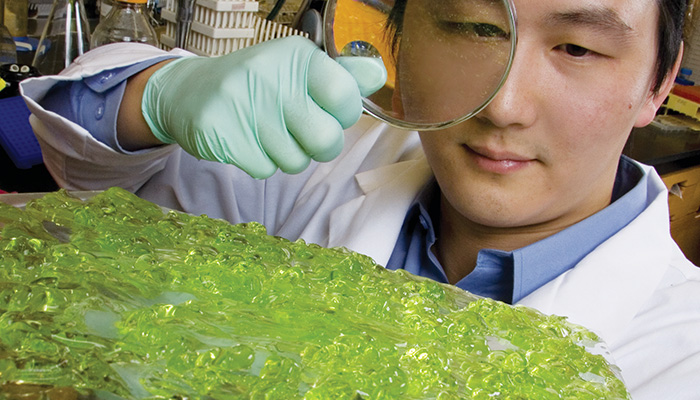 Synthetic biology may hold the key to battling a critical global health threat: antibiotic-resistant microbes.
Even for a journal devoted to scourges, a recent Lancet Infectious Diseases report conveyed a sense of alarm typically reserved for Michael Crichton thrillers. Writing in the August 29 issue, physicians in southeastern China described isolating a lethal new type of pneumonia that not only is extremely drug-resistant but also spreads easily. The bacterium, a strain of Klebsiella pneumoniae, killed five patients in an intensive care unit in Hangzhou. All had undergone surgery for multiple trauma and subsequently been put on ventilators. The doctors, who also detected the hypervirulent strain in specimens from other parts of China, recommended implementing control measures "to prevent further dissemination of such organisms in the hospital setting and the community."
In the seven decades since penicillin's World War II debut, antibiotics have kept a host of infections in check, from debilitating skin diseases to once-fatal meningitis and strep. "A common cut could become a death sentence without antibiotics—they've been coined as miracle drugs for a reason," observes Kathy Talkington, director of the Pew Charitable Trusts' Antibiotic Resistance Project. They've also served as a prophylactic, making possible such otherwise perilous procedures as hip replacements, heart surgery, and chemotherapy.
But pathogens have evolved along with treatment advances, giving rise to seemingly immune superbugs—a process accelerated by antimicrobial overuse and misuse. At the same time, current business models discourage pharmaceutical companies from funding the development of next-generation antibiotics. The World Health Organization has warned that the world is nearing a "post-antibiotic era" as drug-resistance accelerates, underscoring the urgency of developing alternative treatments in a report last month that found a "serious lack" of new antibacterial agents in the clinical pipeline. Annually, some 700,000 people—including around 23,000 in the United States—now die from untreatable bacterial diseases, including common ones such as urinary tract infections. That death toll could hit 10 million, or three people every second, by 2050 if the situation isn't addressed, a British government report warned last year.
Biopharmaceutical Pioneers
Still, there are hopeful signs—and engineering is in the vanguard. Last year, the National Institutes of Health and the Health and Human Services office responsible for preparedness and response announced an Antimicrobial Resistance Diagnostic Challenge, which will award $20 million for innovative laboratory diagnostic tests that can identify and characterize antibiotic-resistant bacteria or distinguish between viral and bacterial infections to reduce the unnecessary uses of antibiotics. Earlier this year, the two agencies established an investment fund with Wellcome Trust, a British health charity, with the goal of providing $455 million in seed money for early-stage antibiotic research over five years. In March, CARB-X (Combating Antibiotic Resistant Bacteria Biopharmaceutical Accelerator) awarded $24 million to 11 companies, with the potential for another $24 million in grants if they meet targets over the next three years. In July, seven additional companies received $17.6 million for such projects as developing a new treatment for drug-resistant gonorrhea and a molecule targeting a superbug that threatens cystic fibrosis patients. Also underway are efforts to develop new economic models to spur innovation. Synthetic biology pioneer James Collins, a professor of biological engineering at MIT who is involved in several antibiotic research efforts, favors publicly funded subsidies "like those that ushered in biofuels. If you commit, you get the subsidies."
Government backing also makes sense because "antimicrobials are a public good," notes antibiotics researcher Timothy Lu, an associate professor of biological engineering at MIT. "If they work, it's a short-term treatment, a cure." But antibiotics also must be relatively cheap. And that runs counter to pharmaceutical industry practice, whereby companies tend to recoup billions of R&D dollars by selling often-expensive drugs that patients use continually. As a result, adds Lu, "antimicrobial research is one of the areas that's hardest to support."
In a way, antibacterial research is a victim of its own success. The painstaking trials of Prussian medical scientist Paul Ehrlich that resulted in a treatment for syphilis in 1910 popularized the concept of a "magic bullet" and paved the path for Scottish biologist Alexander Fleming's discovery of penicillin, which is derived from mold, in 1928. The first medical use of penicillin occurred in 1942, launching a golden age of antibiotics discovery in the 1950s and '60s. But the last new class of antibiotics, which are based on molecules found in soil and mold, was introduced 34 years ago. Since then, the only advances have been tweaks to existing therapies—which are only short-term solutions, the latest WHO report notes. "Basically, the low-hanging fruit for finding new antibiotics has been picked," says Talkington. Since finding microbes that kill bacteria without harming human cells requires much time and money, big pharmaceutical companies have largely abandoned the effort. Only four are currently actively working on antibiotic development, down from 19 in the 1990s.
Fresh Approach
The quest for breakthrough drugs typically falls into three categories: finding new classes of microbes, developing new ways to supercharge existing antibiotics so they regain their potency, and innovative approaches using new technologies that kill pathogens.
Engineering educators are involved in all three—including in the hot synthetic biology sector, which attracted $1 billion in investment in 2016, according to California-based SynBioBeta. Blaine Pfeifer, an associate professor of chemical and biological engineering at the University of Buffalo, for example, is leading a team whose breakthroughs could result in stronger versions of current antibiotics. His lab spent a decade creating a way to turn the DNA of a benign strand of E. coli bacteria into mini-factories that spew out slightly altered versions of erythromycin, an antibiotic used to treat many infections, including gonorrhea and impetigo. Of 50 versions, three proved effective in killing drug-resistant bacteria.
Postdoctoral research assistant Goujian Zhang says the team now is working to improve the E. coli platform and produce other antibiotics, not just erythromycin. Because the initial proof-of-concept version worked against "relatively tame bacteria," says Pfeifer, the next step is trying to ramp up potency and kill more dangerous pathogens. Another challenge, he adds, is that "this is not a high-yield method." Though optimistic of engineering a method to produce sufficient quantities at low cost, Pfeifer acknowledges that will likely require the efforts of a large pharmaceutical company with the "necessary firepower" to overcome production issues.
MIT's Collins is searching for ways to use synthetic biology to reengineer harmless bacteria to detect and kill dangerous versions. One problem with current classes of antibiotics is they take a sledgehammer approach and kill healthy, helpful bacteria as well as pathogens. "This opens up the possibility of a very targeted approach," says Collins. "We have an exciting study that's under revision," he adds, noting he can't say much more, other than that the method is based on animal studies, and human trials are in the offing.
Killers by Design
Meanwhile, his colleague Lu is involved in two efforts to develop novel therapies using synthetic biology. Bacteriophages are viruses that parasitize and kill specifically targeted bacteria. Lu's research involves tweaking the genomes of bacteria-killing phages to make them more effective. Using a method based on the CRISPR gene-editing tool that is part of the intellectual property of Paris start-up Eligo Bioscience, Lu's team replaces a phage's DNA with a version designed to produce an RNA-guided enzyme, or CRISPR, that causes bacteria with antibiotic-resistance or hypervirulence genes to self-destruct.
"Delivery is the main challenge," Lu says, adding that his team has done "a lot of work to deliver the payload effectively." While earlier versions had somewhat anemic kill rates, Lu says as delivery improves, so does lethal efficacy, since the "two are linked together." Eligo may start clinical trials as early as next year.
Lu also is involved in research looking at engineering antibacterial peptides to increase their effectiveness. Peptides are compounds of two or more amino acids, and some are natural bacteria-killers. Part of their structure is hydrophobic, which allows them to interact with and destroy bacteria cell membranes. But, Lu says, natural peptides aren't terribly efficient killers. The MIT team added extra amino acids to an antimicrobial peptide to make it even more hydrophobic; the resulting compound was able to destroy dangerous strains of E. coli and Staphylococcus aureus—the antibiotic-resistant strain behind the sometimes lethal MRSA superbug that lurks in many hospitals. Lu is hopeful that clinical trials could happen within a few years.
Eric Skaar, a Vanderbilt University pathology professor, also is gunning for S. aureus—using light. His team screened for and found a synthetic molecule that activates an enzyme in the bacteria that prompts its cells to produce a photoreactive molecule. When hit with blue light, this molecule—CPIII—kick-starts a lethal internal chemical reaction. In mouse trials, the technique worked against four different types of staph infections, he says. The light does not harm human cells. The treatment is applied topically, since staph infections often begin as skin colonies. Skaar says the aim now is "a strategy to go deeper into the tissue (with the light), perhaps with a probe," and he is working with Vanderbilt bioengineers to come up with a delivery method.
Culture Club
Another promising area for bioengineers lies in swifter detection and analysis of bacterial infections. It can take several days to culture an infection. In the meantime, physicians often prescribe megadoses of antibiotics that are effective against a large range of bacteria. Faster diagnosis could help stop the unnecessary use of antibiotics, which could slow the pace of resistance and extend the shelf life of existing drugs.
MIT's Collins is part of a group that has developed an inexpensive, paper-based test that not only can detect bacterial infection at a very early stage but can also determine if it's resistant to some antibiotics. Called SHERLOCK, this variant of CRISPR technology works within 20 to 30 minutes, and can indicate the presence of as little as one molecule. Unlike CRISPR, which edits DNA, this method releases a CRISPR enzyme, Cas 13a, that targets a specific bit of RNA. Once that job is done, it also starts to cut nearby RNAs—a bit of "collateral cleavage" that releases a fluorescent signal. And that signal can be used to identify various strains of life-threatening pathogens, including E. coli and Klebsiella pneumoniae. The diagnostic chemicals can be freeze-dried on paper, Collins says, and produced for as little as 61 cents each.
Given all the cutting-edge research underway, Lu says he is "moderately optimistic" that "in time we will respond, that we can keep ahead" of the world's rapidly evolving superbugs—like the one now surfacing in China. The basic tools and technologies exist, he says. Given the financial disincentives for pharmaceutical firms, however, it may take a full-blown crisis before enough money is invested in new "wonder drugs" to win the battle against antibiotic-resistant bacteria.
By Thomas K. Grose
Thomas K. Grose is Prism's chief correspondent, based in the United Kingdom.
Design by Francis Igot