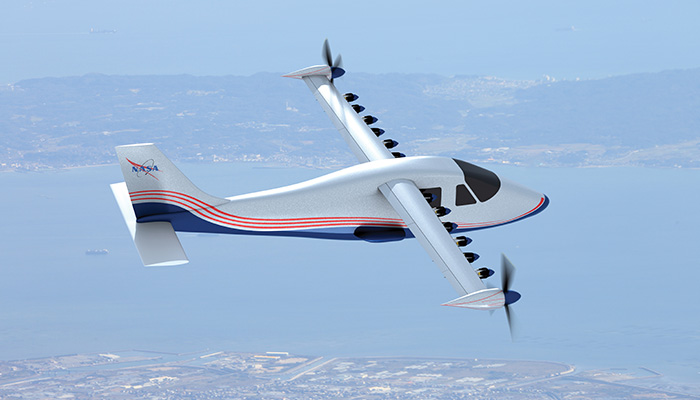 Breakthroughs in propulsion systems and power storage herald a new era of clean, green electric flight.
Sometime in 2020, the National Aeronautics and Space Administration plans to launch the third iteration of an experimental airplane that could transform commercial aviation. The X-57 "Maxwell" differs significantly from the Italian twin-engine Tecnam P2006T on which it is based—particularly in noise and pollution levels. Gone will be the traditional two 100-horsepower gasoline engines. In their place, a dozen small (10 to 12 kilowatt) electric motors will extend along the leading edges of the wings, with a 60-kilowatt motor perched on each wingtip. A 790-pound lithium-ion battery pack will supply up to 300 kilowatts of power. And while similar in span, the X-57's wings will be 40 percent smaller overall. The goal: Cruise at 9,000 feet at a speed of around 175 mph using one fifth as much energy as a conventional plane.
If successful, Maxwell's maiden voyage will mark an important milestone in the annals of flight: electric-powered aircraft. That future could arrive sooner than most people might imagine, if as experts expect, electric airplanes follow the path toward commercialization blazed by electric cars—which studies estimate will compose 35 percent to 50 percent of the global automobile market by 2040.
Like the first electric automobiles, early electric aircraft almost certainly will have limited ranges of no more than 200 miles. But rapid advances in battery technologies and big changes in aircraft architecture to take better advantage of electric motors will ensure that larger, long-distance carriers won't be far behind. "Will we have fully electric planes in 30 years? I think so, yeah. And hybrids sooner than that," predicts Richard "Pat" Anderson, a professor of aerospace engineering at Florida's Embry-Riddle Aeronautical University who researches hybrid and electric aircraft propulsion systems.
Cheap, Clean, and Quiet
For airlines, which count liquid fossil fuel as their single biggest expense, the benefits of electric flight could prove game-changing. Operating and maintenance costs stand to plummet as well. "Electric motors are such simple machines there are very few things that wear out on them," explains Sean Clarke, the NASA engineer who is the co-principal investigator for the X-57 project. "Also, you can install sensors inside the machines and collect data. That helps you predict the health of the system over time; all of that works together to make them much less expensive to own and operate." In addition to having few moving parts, electric motors emit no pollution or greenhouse gases. Even if the power to recharge the batteries comes from fossil fuels, Clarke says, that is "still more efficient than doing it in a smaller combustion engine that you have to fly around with you. It's still a net win." Moreover, electric planes will be much less noisy than their fuel-guzzling counterparts. "That's not a trivial issue," Anderson notes, "particularly for a lot of crowded cities."
A growing number of companies already are working to realize electric flight's potential. Europe's Airbus developed and flew the E-Fan, an all-electric experimental two-seater that hit speeds of 137 mph in 2014. It since has segued to developing a hybrid regional-service jet it hopes to bring to market by 2030. Boeing has invested in Washington start-up Zunum, which expects to have a hybrid short-haul plane that can carry up to 50 passengers ready within the decade. And start-up manufacturer Wright Electric of Massachusetts says it wants to start selling fully electric short-haul planes that can carry 150 people within the next two decades.
Heavy Lift
Despite breakthroughs in energy technology powerful enough to supercharge the electric vehicle (EV) market, battery technology has yet to advance to the point of making commercial electric flight viable. "The single biggest bottleneck is the energy density of batteries," says Venkat Srinivasan, director of the Argonne Collaborative Center for Energy Storage Science at the Argonne National Laboratory. It's not nearly enough, especially compared with conventional fuel. Typically, gasoline or jet fuel provides 12,000 watt-hours per kilogram (Wh/kg). A current top-end lithium-ion battery system provides around 200 Wh/kg. That's a massive gulf to bridge—and would require more battery packs than a plane could carry.
Electric motors are much more efficient than internal-combustion engines, however. They use 90 percent to 95 percent of the energy stored in a battery, compared with only 28 percent to 35 percent of gasoline-stored energy for combustion engines. That significantly closes the energy-density gap from 60-fold to 20-fold. And the energy density of batteries is roughly doubling every 14 years.
Along with improving battery power, engineers also are investigating new architectures that capitalize on distributed electric propulsion. Today, if electric engines were merely bolted onto planes as currently designed, they would likely require batteries with an energy density of 1,000 Wh/kg. But because electric motors are small and lightweight, more of them can fit onto a plane in configurations that reduce drag and increase lift. A small electric aircraft could fly with batteries boasting an energy density of just 400 Wh/kg. Clarke foresees that happening no later than 2030. And then, he adds, "our models show that missions up to maybe 200 miles start to make a lot of sense."
The X-57 was designed to highlight the merits of distributed electric propulsion—an architecture that also could boost some electric-hybrid systems. The final version calls for a high-lift system, in which all 14 motors work together to accelerate the plane off the runway or during landings. Once the aircraft hits cruising speed, the two large wingtip engines will take over. The smaller wings are designed to optimize high-speed cruising, making them superefficient, so the plane needs much less power. However, the wings "don't do very well at low-speed flight unless they've got some augmentation," Clarke explains. That's where the 12 smaller motors come into play during low-speed flight. "We're able to get the wings to act as if they're actually going faster than the airplane because we're pushing so much more air over them, getting extra lift performance," he says. Why not use the same setup with gasoline engines? Weight and practicality. A piston engine would be too heavy to mount on a wingtip. Plus the cost of running and maintaining 14 combustion engines would be prohibitive.
While small, battery-powered planes that can reach distances of 200 miles are nearly 25 years away, commercial electric flight could still take wing within the next five to 10 years in the form of two-seater commuter planes that take off and land vertically (VTOL). "The big push now is on small urban fliers that have a 30-mile range and speeds of 15 mph," Anderson says. With multiple rotors run by high-torque electric motors, "they can really drive down noise levels." Joby Aviation of California, Bell Helicopter, and Aurora Flight Sciences of Virginia—which has received funding from the Defense Advanced Research Projects Agency—are among the companies seeking to develop these airborne commuter vehicles.
Hybrid Buzz
For larger short-haul commuter planes, electric-fuel hybrids will almost certainly hit the skies first, says Anderson. Like hybrid EV drivetrains, hybrid propulsion systems for planes come in two types: serial or parallel. A serial hybrid features electric motors powered by either batteries or a fuel-operated generator. In a parallel system, a battery-powered electric motor and a fuel engine run in tandem to propel an aircraft. The main advantage of serial systems is "there are lots of ways of mitigating noise," Anderson says, but they're not as efficient as parallel hybrids at reducing emissions.
Parallel hybrids also save fuel. In December 2014, University of Cambridge researchers led by Paul Robertson, a lecturer in electrical engineering, flew a small, single-seat demonstration plane with a parallel hybrid propulsion system that used 30 percent less fuel than a similar gas-powered aircraft. Serial hybrids are heavier and less efficient because they must carry the extra weight of a generator, explains Robertson. But, he adds, distributed propulsion can improve performance, "so you can be more efficient if you can afford the weight penalty." Boeing-backed Zunum, the hybrid manufacturer, is developing a serial system that will let its planes run on batteries for 175 miles, then use the generator to extend their range to 700 miles.
Another reason the industry may start with hybrids is the ability to piggyback on a fuel infrastructure already in place at airports, Robertson says. Ultimately, however, he believes that creating an infrastructure to allow for the fast-charging of aircraft batteries won't be a big problem since "we already know how to move electricity around." He's convinced that fully electric airplanes are the ultimate future of flight, and that "one hundred years from now, it's likely they'll all be electric." German aviation start-up Lilium, which successfully flew a full-scale prototype of its electric-jet vertical "air taxi" earlier this year, has more lofty ambitions. The Munich-based team aims to test a manned version of the vertical takeoff two-seater in 2019, with "on-demand air transport" by 2025. Whether commuters actually can zip from JFK airport to Manhattan in five minutes for $6 as envisioned, however, may depend on engineers developing new air-traffic control systems to keep congestion from clouding the electric skies.
By Thomas K. Grose
Thomas K. Grose is Prism's chief correspondent, based in the United Kingdom.
Design by Francis Igot