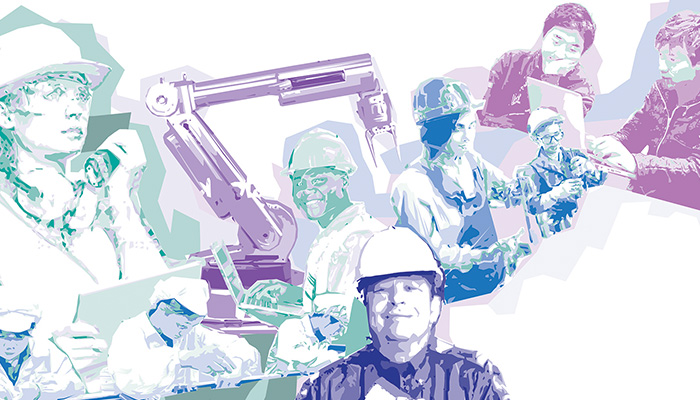 While not everyone in Wisconsin welcomes manufacturing behemoth Foxconn, educators anticipate a variety of jobs for engineering graduates and research opportunities.
Plans by Taiwanese manufacturer Foxconn to build a $10 billion electronics plant in Mount Pleasant, Wis., have their share of detractors. Critics fault the promised taxpayer subsidies of up to $4.5 billion and say the money could be put to better use on schools, health care, and roadwork. They question how many of the projected 13,000 jobs will actually go to Wisconsin residents, noting that Chicago lies just a 90 minute drive away. And, citing reports of air and water pollution attributed to the firm in China, they worry about the environmental impact on rural Racine County and its acres of wetlands from a 22 million-square-foot facility—the equivalent of 300 football fields—that will run through millions of gallons of water daily.
But what nay-sayers have dubbed the "Fox Con," the state's leading engineering schools are calling an opportunity. Educators anticipate a demand for engineering graduates trained not just in manufacturing but in data analytics, remote medicine, and smart transportation and the possibility of collaboration with Foxconn on research and development.
"Foxconn will need engineers from a wide range of disciplines, including those educated in the area of advanced manufacturing," says Ian Robertson, engineering dean at the University of Wisconsin, Madison. "The College of Engineering will continue to work with Foxconn and our other industrial partners to provide them with the engineering workforce they need for their business to be successful." While he's confident his students will have what it takes to succeed in manufacturing, Robertson is aware that Foxconn's diverse business interests extend beyond the manufacture of liquid-crystal-display panels for Sharp brand televisions, the intent of the Mount Pleasant plant. The 8K+5G technology involved, which combines ultrasharp 8K definition and superfast 5G wireless speeds, has wider potential applications.
Technology Development
As the world's largest contract manufacturer of consumer electronics, supplying Apple, among others, Foxconn may offer more than employment of engineering graduates. "Beyond the obvious activities associated with the core plant activities, the Foxconn project presents exciting opportunities in the use of connected and autonomous vehicles for freight delivery as well as people movement," Robertson says. "This is an area of research expertise within our College of Engineering, and I can envision the faculty and students being engaged in technology development as well as assessment of its effectiveness and connectivity to the associated regional development."
Foxconn has held numerous meetings with various schools and colleges at UW–Madison to learn about the breadth of talent that is available, Robertson says. According to the Wisconsin State Journal, Chancellor Rebecca Blank hopes her campus's research strength "particularly in medicine and engineering—could boost the company's ambitions in the field of medical imaging." Recounting her informal talks with Foxconn executives, she told the paper, "My main message was: There is a world-class university in Madison, Wisconsin. If you came to this state, there are many ways in which we can help you do your work even better."
Other engineering programs laud the coming of Foxconn, citing an opportunity for jobs and ongoing innovations. "We see the Foxconn arrival as an opportunity to explore the analytical and data-science-driven side of manufacturing,'' says Carmel Ruffolo, associate vice president for research and innovation at Marquette University. At three times the size of the Pentagon and perhaps the largest foreign investment in U.S. history, the Foxconn plant "could change how we educate to prepare students for high-level advanced manufacturing jobs and innovations,'' Ruffolo adds. Seeking to prepare students for the global marketplace that Foxconn exemplifies, the school is introducing a leadership program that helps them communicate better and learn about cultural differences.
Expansion Ahead
John Walz, president of the Milwaukee School of Engineering, also expressed excitement about the Foxconn decision to come to Wisconsin. "This all comes at a time when our own campus is expanding and looking to the future,'' he says. A $34 million academic facility dedicated to the study of artificial intelligence and computational science will be constructed at the school's downtown campus.
To make sure Wisconsin is in the front seat when it comes to Foxconn's recruitment of engineering expertise, the University of Wisconsin, Platteville campus is working to build a new $55 million, 75,000-square-foot engineering school building. "This initiative has been in the mix for the past six years, and we anticipate being able to accommodate an additional 500 more engineering students in our program,'' says Philip Parker, assistant dean of the College of Engineering, Mathematics, and Science. The campus, located about 170 miles from the Foxconn site, now supports 3,300 engineering students.
Parker says companies like Foxconn and the increased demand for engineering students with cross-disciplinary skills in the growing market areas of artificial intelligence, advanced manufacturing, and robotics are pushing engineering programs to broaden curricula. "Our new building will allow us to be more interdisciplinary in this innovative economy," Parker says. The new building is due to be finished in the 2022-2023 school year.
Meanwhile, the state is seeking to accommodate Foxconn in more ways than subsidies. And that means restricting one area of engineers' potential involvement in the project—wetlands protection. In September 2017, Wisconsin legislators changed state law to give up state authority over wetlands near the village of Mount Pleasant that are slated to be filled in as part Foxconn's plan. Wetlands are generally protected because they prevent flooding. They also play key roles as habitat for wildlife and in filtering pollutants. The U.S. Army Corps of Engineers says it has no jurisdiction over the wetlands—a decision that could help hasten construction by removing potential roadblocks, including allowing the public to comment on the permit. Tressie Kamp, an attorney with Midwest Environmental Advocates, said the effect of the Corps' decision means the public will have no say in wetland impacts caused by the project and thus no way to push for changes in how the site is developed.
By Chriss Swaney
Chriss Swaney is a freelance writer based in Pittsburgh.
Design by Francis Igot