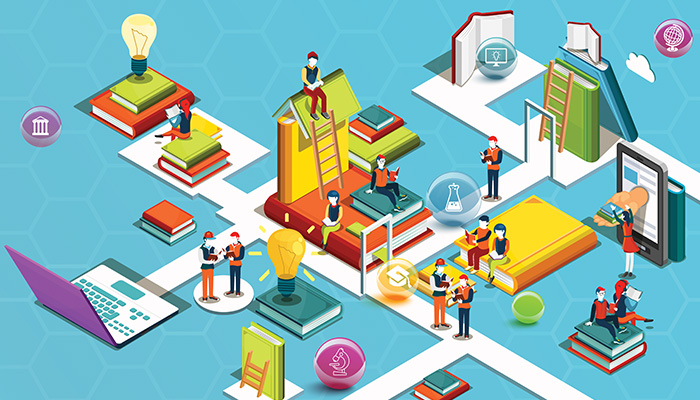 High school-college collaborations are pushing engineering schools to reimagine the student pipeline.
It's an unseasonably warm winter morning, yet inside a low brick building on North Carolina State University's leafy Centennial Campus, students already are hard at work. In one classroom, two young women draw imaginary graphs in the air to calculate forces on the roller coaster they're designing. Down the hall, freshmen are sweating to master basic programming in time to create and present e-books on such topics as fusion energy—to kindergarteners. Such project-intensive learning may be common in capstone courses. But this is a Wake County public high school, albeit an unusual one, where students not only take advanced math and other courses at NC State but also graduate with up to two years of college credit that other institutions potentially accept.
Wake STEM Early College High School has another distinction. The entire curriculum at this nationally recognized magnet school, developed in partnership with NC State, centers on the National Academy of Engineering's Grand Challenges for the 21st century, issued in 2008. The goal: Cultivate creativity and other habits of mind along with the rigorous academics and professional skills students will need to succeed as undergraduates or in the workplace. "The whole premise is that in order to solve the grand challenges facing society, you have to think like an engineer, no matter what you do or career you enter," says David Schwenker, the school's seasoned principal.
Collaborations between high schools and local colleges are spreading across America as politicians and policy leaders champion reforms to prepare a shrinking, increasingly diverse population of high school graduates for tomorrow's tech-driven economy. While some, like Wake STEM, include actual college courses, others focus on curriculum innovation, teacher training, and research on learning.
Already, all but three states—Alaska, New Hampshire, and New York—have state-level "dual or concurrent enrollment" policies permitting high school students to take college courses, most for some sort of credit, according to the nonpartisan Education Commission of the States. Two additional factors could tilt this trend in the direction of engineering. One is growing support for Advanced Placement Engineering or similar course.  (Prism, March 2014) ASEE's Engineering Deans Council recently endorsed such a course and is urging engineering schools nationwide to do likewise, granting placement and credit in either their core or elective engineering curriculum or in general education. Another is the adoption by 19 states and the District of Columbia of Next Generation Science Standards (NGSS), which stress engineering design as well as cross-disciplinary core concepts. "There's a lot going on in K through 12 that's going to affect your programs and that you should pay attention to," NAE senior program officer Greg Pearson told engineering deans in February at ASEE's Public Policy Colloquium.
Dual-Enrollment Credit
Consider Engineer Your World, a yearlong introduction to engineering design for high schoolers developed at the University of Texas, Austin. What began as a pilot in 2011 with 212 students in seven Texas high schools has blossomed into a network with more than 10,000 students in 216 public, private, and charter schools in 24 states, the District of Columbia, and South Korea. Texas students also can receive dual-enrollment credit by taking the college-level version at one of four University of Texas campuses.
Some colleges help prepare teachers to teach the design-based engineering, biomedical science, and computer science courses offered by Project Lead the Way (PLTW). This 21-year-old program, which began in New York and has spread nationwide, can earn students special consideration or credit at a number of engineering schools—including the Rochester Institute of Technology. PLTW also partners with the College Board to offer special recognition for those who also ace Advanced Placement science and math.
"I don't think there's a one size fits all," says NC State's engineering dean, Louis Martin-Vega, immediate past president of ASEE. He sees "all this bubbling up" of STEM programs as a positive for engineering education.
"We could double the numbers of engineering graduates just by making sure the ones who come are prepared," contends Mark Conner, a Ph.D. mechanical engineer who founded and leads the Engineering Academy at Hoover High School in Hoover, Ala. Mere exposure to engineering is not enough, however. "If they're taking Algebra II and chemistry, it doesn't matter if they get college credit; they're not ready for the calculus and physics" that engineering requires, says Conner, who developed the academy's four-year college-prep curriculum, including the two calculus-based AP Physics courses he currently teaches. He worries that an overemphasis on hands-on projects sugarcoats the math and misleads students. "They think engineering is 'I got this kit' or built this cool thing," he observes. The reality: "Sometimes it's not fun."
Rethinking Pathways
Wake STEM Early College High School offers a model for how universities can lead a K-12 transformation that satisfies the demands of engineering schools while advancing equity. "We're at the juncture where there has to be some rethinking about high school and college interactions" as a P-16 continuum, says ASEE Fellow Laura Bottomley, director of NC State's Women in Engineering and Engineering Place outreach programs, who helped pilot the school and still serves as a liaison. "This is the niche of engineering education as a discipline."
The school is a natural fit for North Carolina, where STEM education has long been considered a key to economic growth. Now in its seventh year, Wake STEM occupies the first floor of a former children's ward on the parklike stretch of campus that once housed the state mental hospital. Its mission: Get traditionally underserved high school students ready for college—in two years.
The first assignment comes within the first two weeks, when freshmen must choose an engineering career to research and present to the class. Wake STEM students, who are selected by lottery, are "presenting all the time," says Schwenker, to hone the "four C's"—collaboration, communication, critical thinking, and creativity. Classes require two team projects, with a grade-wide Grand Challenges capstone project each semester. Sophomores, for example, combine math, science, and engineering in their physics class to create a wearable nanotechnology device to aid asthmatics, and psychoanalyze Macbeth in English. Juniors do a grade-level project on nuclear proliferation and study aquaponics, while seniors debate the bioethics of Frankenstein. Calculus is introduced as early as ninth grade; students can start taking classes at NC State in junior year.
"It's very fun and definitely very different," says freshman Martim Gaspar, describing the excitement of taking lake water samples and seeing bugs in a grade-wide project that involves earth science, graphing, and comparing local access to clean water with that of a Spanish-speaking country. "We had to put our thinking caps on," agrees his classmate T'nya Savage, who was horrified to discover a rainbow of oil polluting the water right in front of the school. An aspiring pediatrician, she had enjoyed middle school and initially balked at attending a small (each grade has 50 to 60 students), academically intense magnet school with no sports teams. "Now it's more of a struggle to get an A—for me, B is failing," she says, but she's learned to communicate with teachers and is thriving. Gaspar, who found middle school "very boring—it was out-of-the-book study," is equally engaged, particularly in learning different computer programs. "I'm really into business," he says. "I see many opportunities."
Career Exploration
Those opportunities include work-based learning experiences. Though geared toward STEM, the high school has a business advisory board and encourages career exploration. Students successfully compete against college students for summer internships with SAS, Optum, and other local firms—one even made $24 an hour and has been offered lodging in a downtown Raleigh apartment. Back in school, career-technical and computer science teacher Richard Lockamy runs his classroom like the information technology division at Glaxo SmithKline he used to head before retiring. No prepackaged plug-and-play programs are allowed. Freshmen must learn visual basic by writing code "from scratch," and he never tells them how to make e-books flip from one page to another or import pictures when they beg for answers. Instead, Lockamy tells them to ask a peer or calls on one of the "little project managers"—students who have mastered the technique—to respond. "Another set of eyes can help break the logjam," he reassures.
"We're making them do stuff that I didn't do until senior year of high school," marvels ninth grade environmental science teacher William Burgess, whose classroom includes a weather station and telescope. "There are some growing pains" until students "learn how to earn" their grades, and some have cried or gotten sick right before presentations. But he sees their deep research and learning pay off when he takes students to conferences and they handily field "pedagogical questions a teacher would ask" about project-based learning and the engineering design process.
One early takeaway for freshman Maryam Guerrab is the folly of flying solo. "I'm the type of person who likes to do everything myself," she says. "The water-quality project taught me how to work collaboratively." Teachers also coordinate so students learn about energy and forces along with how to graph the motion of roller coasters. "We always look at the alignment piece," says math teacher Suzanne Gibbons, who meets with NC State professors to look at the data. The school's culture of success includes lunchtime and after-school tutors, some of them engineers from industry, and a full-time math teacher on-site at NC State. It also includes a touch of humor, such as joking that "your imaginary friend" will show up in that day's unit on imaginary numbers.
Wake STEM has had to adjust the program to meet graduation requirements and student needs. For example, the school had to win state approval to offer the mandatory health class as an online elective. Spanish was added because some colleges require a foreign language. An NC State counselor guides students through college course selection, and a homeroom on campus assuaged parental fears that their kids would mingle with an older, wilder crowd. (Because they can't pull all-nighters on campus, high schoolers don't participate in college design projects.) There also are two full-time counselors, a career-development coordinator, a college counselor, and engineering and tech support.
Learning the College Ropes
Students learn to peruse a syllabus (a practice the senior English class adopted), navigate a big campus, seek out a tutor, and ask questions, including getting the professor to sign required grade reports. "They get to me and don't expect me to give them the answers," says NC State's Bottomley. "They know they have to ask questions. In a traditional school, students are stymied by open-ended problems—they're too vague."
That doesn't mean Wake STEM students have the proper study skills or stamina to sit through lectures, however. Recent feedback from NC State prompted the high school to institute a weekly college study-skills class. The final high school math courses are being tweaked to include 40-minute lectures so students learn to take formal notes, with ramped up use of textbooks to prepare for college exams and expectations. Veteran chemistry teacher Evelyn Baldwin playfully suggests a better strategy might be inviting her to conduct a teaching methods course—for NC State faculty.
Wake STEM's model may be hard to replicate on a wide scale, but its success with first-generation collegegoers, who make up half the enrollment, indicates the merits of its approach. Every student who applied has been accepted to a college or university this year. Of the 26 who sought seats at NC State, half already have won admission, half were deferred, and none got rejected. One graduate attends Johns Hopkins University; another has a full ride to a local private college, the first step toward a career in environmental law. "I know we're doing good work here when SAS hires our graduates," says chemistry teacher Baldwin. In the process, the kids are helping to redefine STEM. As principal Schwenker declares, "I'm an engineer."
By Mary Lord
Mary Lord is deputy editor of Prism.
Design by Miguel Ventura
Get Set for Diplomas
As Advanced Placement Engineering gains traction, another high school trend could affect undergraduate programs: STEM diplomas. Twelve states will award special distinctions for exceptional achievement to the class of 2018 and beyond, reports the Education Commission of the States, and half include STEM honors. High school graduates in Colorado, Hawaii, Nevada, and Texas can earn STEM certificates or endorsements; Virginia offers a seal for math and technology; and Ohio issues a STEM honors diploma. Students typically must take additional STEM courses and demonstrate knowledge of advanced science and math on exams or via capstone projects. Whether colleges or employers recognize the diplomas of distinction remains to be seen.