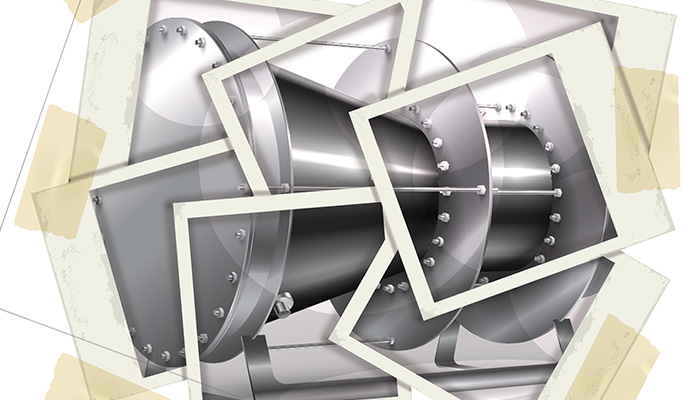 A now ended government program to investigate UFO sightings poses intriguing questions for engineers and astrophysicists.
"Look at that thing, dude!" a Navy pilot exclaims in a video as he and his copilot watch a mysterious aircraft—one of a "fleet"—maneuver easily in 120-knot headwinds. In another grainy cockpit clip, a disk-shaped object seems to defy the laws of physics as it turns 90 degrees and zips away. Such unnerving scenes may be a staple of low-budget sci-fi movies. But this footage is labeled as coming from the U.S. government. The videos emerged publicly last December accompanying a news report of a little-known $22 million Pentagon initiative to study unidentified aerial phenomena.
Although funding for the seven-year Advanced Aviation Threat Identification Program (AATIP) ended in 2012, the project has been picked up by a nonprofit group, To the Stars Academy, which hired Luis Elizondo, a former intelligence officer who ran it at the Pentagon. Revealed by the New York Times, AATIP began as a result of legislation sponsored by former Senate Majority Leader Harry Reid, a Nevada Democrat, and the late Democratic Sen. Daniel K. Inouye of Hawaii. The project is reported to have generated a 490-page report describing decades' worth of unexplained sightings.
"It's not a stupid thing to study," contends Paolo Salucci, an astrophysicist and dark-matter expert at the International School for Advanced Studies in Trieste, Italy, who has coauthored papers on theoretical space-time passageways known as wormholes. "First of all, you start with a very scientific approach, so you rule out the crackpots." Michael Swartwout, chair of the aerospace and mechanical engineering department at Saint Louis University and an authority on the design of low-cost spacecraft, agrees the subject of unidentified flying objects "is worth exploring." The problem is how. "Our tools for investigations depend on repeatable experiments, and there's no way to re-create these events," he explains.
Natural Causes
UFO reports have bubbled up since ancient times, though sightings seem to have proliferated since the 1950s and the advent of the Cold War. Hollywood blockbusters like Independence Day, E.T., and Arrival, along with the X-Files and other TV shows, exploit the notion that earthlings are not alone—at least in popular culture. In reality, the majority of UFO sightings can be explained by phenomena from swamp gas to weather balloons to optical illusions. For instance, a glowing plume that startled thousands of Los Angeles residents one night last December turned out to be the illuminated exhaust from a SpaceX rocket launch, not a flying saucer. The U.S. Air Force pulled the plug in 1968 on an early UFO probe—dubbed Project BLUE BOOK—after a review led by renowned University of Colorado physicist Edward Condon concluded that further study was unlikely to yield any scientific knowledge.
Still, 701 of some 12,618 sightings reported to Project BLUE BOOK from 1947 to 1969 remain unexplained. And even the Condon Committee acknowledged that UFO research might help close knowledge gaps in fields such as atmospheric optics, including radio wave propagation. It therefore recommended that government agencies and private foundations take an "open-minded" approach to supporting individual research proposals.
One compelling factor for pursuing research is that many of the most inexplicable sightings come from witnesses seen as trustworthy, including military and commercial pilots. These often are trained observers who feel obligated to make reports, Swartwout says. "They have every reason not to appear like a loon; they've no vested interest."
'Spectacular' Evidence
Moreover, there's a fair amount of consistency to the reports of aircraft with capabilities well beyond any human-engineered vehicle. They race at unfathomable speeds, move intelligently, and clearly are piloted. They also can stop, hover, rotate, and silently move vertically or horizontally, with no visible means of propulsion or lift. "In some cases, the evidence is spectacular," underscores Salucci. The 1956 Lakenheath-Bentwaters incident, for example, included multiple sightings and radar contacts over airbases in eastern England, culminating in a fighter being chased by a mysterious craft. While natural causes couldn't be ruled out, the Condon Committee concluded the probability of the incident involving "at least one genuine UF0" was "fairly high."
The New York Times recounted a more recent encounter from 2004, when two Navy pilots flying F/A-18F Super Hornets spotted an unusual craft hovering 50 feet above the churning sea some 100 miles off the coast of San Diego, Calif. As one jet descended to get a better look, the UFO ascended toward it before accelerating off at extreme speed. The two jets, ordered to fly to a rendezvous point 60 miles away, had traveled only 20 miles before a radar operator informed them that the object was already at the meeting spot. A plane taking off from the nearby USS Nimitz followed the UFO for several minutes. Radar footage shows the object suddenly shooting off at a 90-degree angle. In a later interview, one of the F-18 pilots, Cmdr. David Fravor, called the spacecraft "something not from Earth" that used "revolutionary technology" deserving of study.
Even though "there are a lot of physical phenomena we can't explain," such "real head-scratchers" merit study, says Wallace T. Fowler, a professor emeritus of aerospace engineering at the University of Texas, Austin, and a past ASEE President. "You may not answer the question you are looking at, but you will get an answer—that's the value of research." He's dubious that probes will uncover extraterrestrial spacecraft, given the need to travel faster than the speed of light to cover vast stretches between galaxies. Even in the Milky Way, "it would take 6,000 years to reach the nearest stars, and no pit stops" for a spacecraft moving at one tenth the speed of light, calculates Fowler. "I can't see any way to bridge those distances, if Einstein is right. But if Einstein is wrong, all bets are off."
Salucci is up for the wager. He points to recent discoveries of exoplanets within the Milky Way—studies indicate there could be at least 1 billion, including some that could potentially support life—and suggests that alien visitors need not be from another galaxy. "Now we find planets everywhere, so we have to be open to the idea," he says. Moreover, Einstein's space-time continuum could contain wormholes, or theoretical shortcuts between galaxies that obviate the need to break the light-speed limit. In a 2015 paper, Salucci and his coauthors found evidence, using theoretical models consistent with the theory of general relativity, that our entire galaxy may be a stable, navigable wormhole. "The math is correct," he says.
Fowler acknowledges that wormholes might provide a means for interstellar travel. "But that's if we can find them. And how do we enter and exit them?"
Quantum Leap
Some researchers believe breakthroughs will come with a better understanding of quantum physics combined with exotic technologies that currently seem beyond human reach—antigravitational propulsion, for instance. "It could be what we have here is a new physics," Salucci says. Consider the so-called EmDrive, or radio-frequency resonant cavity thruster, developed by a British inventor. Two years ago, NASA's Advanced Propulsion Physics Laboratory—known as Eagleworks and headed by aerospace engineer and applied physicist Harold G. "Sonny" White—published a paper concluding that the system, which bounces microwaves around the inside of a conical-shaped chamber, did, indeed, produce thrust without fuel, seemingly flouting the laws of physics, particularly the conservation of momentum. A paper published in January by Portuguese researchers says theoretical pilot waves, which some physicists think underlie quantumlike behavior, may explain the conundrum.
The late Paul Czysz, a former professor of aeronautical engineering at Saint Louis University, also thought quantum physics might hold the key to UFOs. As a lieutenant at Ohio's Wright-Patterson Air Force Base in the late 1950s, he handled reports of credible sightings over the Midwest, including one object tracked on radar that hit 20,000 mph. "You can't explain that in conventional physics.… It has to be related to quantum physics," he said in a video interview with the Disclosure Project, a nonprofit that investigates UFO reports, a few months before his death in 2013. "A lot of things become possible, things we think impossible within our current understanding of what time and space and thrust are," he added.
Currently, researchers are developing advanced propulsion systems and other technologies that one day might send humans on long, deep-space missions. At NASA Glenn Research Center, for instance, engineers recently set a record of operating a free-piston Stirling engine at full power for over 12 years; it's still running without a hitch because there is virtually no mechanical wear and tear. Meanwhile, the Tau Zero Foundation, a nonprofit formed by Marc Millis, the former manager of NASA's Breakthrough Propulsion Physics Project, which operated from 1996 to 2002, is dedicated to investigating the feasibility of interstellar exploration, including developing avant-garde propulsion systems.
Iain D. Boyd, an aerospace engineering professor at the University of Michigan, notes that hyperspeed travel in Earth's atmosphere would require many other new technologies beyond a radical propulsion system. That includes materials more advanced than any we now have that could withstand the enormous heat generated at low altitudes. While unconvinced that UFOs are extraterrestrial, he and Fowler readily agree on the likelihood of intelligent alien life elsewhere in the Milky Way. Given how far human flight has advanced in just 100 years, a civilization that's 1,000 years ahead of ours may have developed technologies we can only dream of, Boyd acknowledges. "I'm just waiting for stronger evidence."
The bigger puzzle is that if extraterrestrials exist, "why have they not made contact?" wonders Boyd. They certainly "don't seem to mind being seen," Salucci agrees. Could the lack of contact mean that these UFOs are actually high-tech aircraft that the United States and other countries have been trying to develop in secret? "They do have to fly them," notes Boyd. Certain prototypes might have been tested and then returned to the shelf. Hypersonic vehicles, for instance, were quite advanced in the 1960s but not put into full production. In his video interview, Czysz asserted that many UFOs are "covert" military projects. But he also thought at least 20 percent were extraterrestrial, arriving here "by way of a process that we're not familiar with—and that is time-space travel." Unimaginable? Not to NASA, which recently announced a $44 million partnership with six companies to develop such "tipping point technologies" as liquid cryogenic thrusters and precise landing systems. Earthlings, phone home.
By Thomas K. Grose
Thomas K. Grose is Prism's chief correspondent, based in Great Britain.
Design by Miguel Ventura