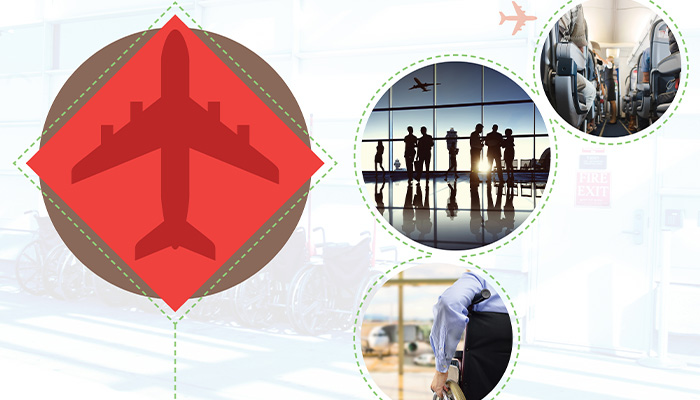 Airlines' drive to fill their planes can make travel uncomfortable for people with disabilities.
Commercial air travel is seldom a relaxing experience even for the most nimble passenger, what with lines at security checkpoints, a gantlet of walkways, escalators, and shuttles, cramped cabins, and crammed overhead compartments. Having located their seats, however, most people are OK. But for those with mobility difficulties, the challenge is just beginning.
Many passengers with disabilities travel to the aircraft by wheelchair, powered chair, or motorized scooter and are then placed in a narrow portable aisle chair, also known as an onboard chair, which is wheeled to the person's seat by airport staff, much like luggage. Chris Wood, head of the London-based wheelchair advocacy group Flying Disabled, likens the aisle chair to the device that is used to shift around Hannibal Lecter in the movie The Silence of the Lambs. Many users decry the chair's rigid seat and backrest, a particular problem if the passenger is disabled because of a spinal cord injury and at risk of further harm. Later, in flight, if a passenger with a disability needs to go to the toilet, the aisle seat may be called into service again, provided an onboard chair is available. And the problem doesn't stop there: Airline bathrooms are a tight fit for average-size, able-bodied people; for someone who has problems moving around, they can prove to be unusable.
Rory Cooper knows all about this. The founder and director of the Human Engineering Research Laboratories (HERL) at the University of Pittsburgh, Cooper himself is a wheelchair user. Following an accident when he was struck by a bus and paralyzed from the waist down while stationed in Germany with the U.S. Army in 1980, he became a Paralympic bronze medalist. Cooper holds two dozen patents in wheelchair technology and has invented mobility devices such as MEBot, a stair-climbing wheelchair, and a wheelchair with robotic arms and hands that can grasp. (See Prism profile, September 2015.)
Still, when Cooper turned his attention skyward, he began to realize how difficult it was to change the status quo. He designed a wheelchair with three pivot points that allowed it to fold flat and be stored in an overhead compartment on a plane. "Every time I flew, the flight attendants said it was awesome. 'We love your chair.'" Still, he couldn't get an airline to use it. "There were several talks with US Airways [now part of American Airlines], but nothing happened. Mine would have cost around $800, and they probably get their current ones for like $200."
Design Solutions Ignored
Cooper's experience was not unique. In 2012, Paul Priestman's London-based design consultancy PriestmanGoode came up with a solution to provide wheelchair users faster and better access to their airline seat: a detachable wheelchair that could be wheeled onboard an airplane and then locked into the fixed frame of an aisle seat. The device featured wheels that pivoted 360 degrees to enable the wheelchair to slide into place without the passenger's needing to get up. Because the seat cushion and seat back matched those of other seats on the plane, the chair could also be used by passengers without disabilities. Since the seatbelt is secured to the fixed element of the seat, the wheelchair does not have to withstand the 16G shock test that aircraft seats have to survive to be certified by agencies like the Federal Aviation Administration (FAA). A new certification, Priestman said, would have added significant costs to develop and manufacture the seat.
But as Cooper would also discover, no airline or aircraft manufacturer was keen to follow through on Priestman's design, something he found frustrating. It may not have been a total solution, he says, "but it was a solution. We didn't do it for profit. We just sent it out. We're happy to let someone use the design. Just do it."
Restrooms pose another problem for disabled travelers. The U.S. Department of Transportation (DOT), which issues rules regarding aircraft accessibility, does not require accessible bathrooms on single-aisle, narrow-bodied planes like the Boeing 737 and Airbus 320. Those planes originally were used for short-haul flights; today, however, there are domestic flights lasting up to six hours flown by narrow-bodied planes.
Airbus created a bathroom design called Space-Flex for its single-aisle aircraft in which the galley at the back of the plane is reduced in size. Two lavatories are installed side by side with a common wall that can be folded away, creating more room for disabled passengers. "We didn't have any regulatory requirements that were obliging us to do so, but we wanted to offer this possibility to our airline customers," says Roser Roca Toha, aircraft interiors marketing director at Airbus America. In an incentive for airlines, the design also created space for six added passenger seats. (Boeing, Airbus's leading competitor in the manufacture of commercial aircraft, declined a Prism request to discuss making aircraft more accessible for people with disabilities.) Still, it's one thing to offer the option; it's another for an airline to choose to order it. According to Roca Toha, "Some airlines in the U.S. have decided to select the Space-Flex option offering the folding lavatory wall solution to accommodate people with disabilities. That said, it might not be available in all airplanes."
A second version of the design, called "Space-Flex v2," has a bigger galley than the original Space-Flex so flight attendants can serve full meals. It also has a persons-with-reduced-mobility (PRM) lavatory, but in a tighter space. Instead of the removable partition and the extra space, it has a tip-up seat so a wheelchair can enter the lavatory. In late 2017, Bloomberg reported faulty equipment associated with the v2 version, quoting JetBlue spokesman Doug McGraw as saying, "These problems are leading to a high rate of inoperable parts and out-of-service lavatories." Zodiac, which makes Space-Flex v2, says it has worked to fix the defects.
Struggle for Privacy
On flights on double-aisle, wide-bodied aircraft, the options are better, primarily because DOT mandates wheelchair-accessible toilets for this class of aircraft. Still, Cooper tries to avoid using the restroom on an aircraft, holding off as long as he can. He can recall more than a few flights with his wife where she had to hold up a blanket to shield him from view when he wasn't able to fit into an aircraft lavatory and had to leave the door open.
One area where progress is evident long before passengers reach the gate is at the automatic check-in kiosks, the stand-alone computer terminals used for printing boarding passes, paying for stowed luggage, and scanning passports. DOT rules stipulate that kiosks installed after Dec. 12, 2016 in U.S. airports with annual enplanements of 10,000 or more must be accessible. By December 2023, DOT has mandated that 25 percent of all kiosks at U.S. airports must be accessible.
Cooper says he wishes flying could be more like the car rental industry, "where, for example, you can phone and quickly order a midsized vehicle with left-hand controls and spinner knob. You should be able to call the airlines and book a ticket to do the same on an aircraft." One of the problems is that, unlike the car rental industry and other organizations involved in transportation, airlines are exempt from the 1990 Americans with Disabilities Act (ADA).
"The airline industry did a good job in the 1990s of exempting themselves," Cooper says. "They argue they aren't a form of public transportation; other alternatives are available for the public." You can hear the ire rising as Cooper continues: "It's appalling. They use public airspace managed at the public's expense. They land and take off at public airports paid by taxpayers but they do not have to be accessible to the public—unlike the airports, which are covered by ADA." He adds, "If you own a McDonald's, you have to be accessible. You're not exempt from ADA because you have to access the restaurant by public roads and public sidewalks. Even Amazon and any Internet company has to be ADA-compliant because the Internet is supported by the public."
While exempt from the ADA, airlines are subject to the Air Carrier Access Act, which bars discrimination on the basis of disability in air travel and contains a number of access provisions, including priority storage space for folding wheelchairs, packing for potentially hazardous wheelchair batteries, and assistance with boarding, deplaning, and making connections.
Democratic-sponsored legislation now before the U.S. Senate Commerce, Science, and Transportation Committee contains added provisions that advocates for the disabled applaud. The Air Carrier Access Amendments Act, as the proposal is named, currently lacks any Republican cosponsor, making passage unlikely in the current GOP-controlled Congress.
Wheelchairs Locked
in Place
One section of the bill that has Chris Wood excited proposes determining ways "in which individuals with significant disabilities, including power wheelchairs, can be accommodated through cabin wheelchair restraint systems." Securing chairs to the floor isn't such an outlandish idea. As Cooper points out, cargo planes secure heavy loads to the floor of an aircraft with no safety problems.
Still, there is a raft of safety concerns with allowing wheelchairs onboard, according to Snorri Gudmunsson, associate professor of aerospace engineering at Embry-Riddle Aeronautical University. "While I support disability laws, it's a complex issue," says Gudmunsson, who helped develop the Cirrus SF50 jet, the winner of the 2017 Robert J. Collier Trophy, the world's most prestigious aviation award. "For instance, what do you do in an emergency situation? A wheelchair may clog up the aisles during an emergency egress, which would pose considerable risk to other passengers by limiting access to the exits." He cites other factors that come into play. "For one, what kind of wheelchairs are we talking about—a conventional wheelchair or some other design? Keep in mind that the wheelchair would have to be certified to FAA standards. With conventional wheelchairs, you have to consider space claims inside the cabin. Provisions for a specific number of wheelchairs in a jetliner might reduce the total number of seats, which would be an economic issue. In many ways it's like opening Pandora's box with all the issues involved that need to be solved."
The pending legislation would allow passengers to sue for damage to an assistive device. Motorized wheelchairs can cost $10,000 or more. But the Convention for the Unification of Certain Rules for International Carriage by Air—more commonly known as the Montreal Convention—limits the amount that can be claimed for damages for baggage and carry-on luggage to roughly $1,500. "This is clearly very wrong," says Wood. "More importantly, wheelchairs are not baggage."
Meanwhile, DOT has issued rules that will require airlines, starting Jan. 1, 2019, to report statistics on mishandled or damaged wheelchairs and scooters used by passengers with disabilities that were transported in aircraft cargo departments.
Would airlines move forward on their own to change their practices­—such as by allowing passengers to bring nonportable wheelchairs on board—if not required to do so by law? While Delta, American, and United all declined comment on the issue to Prism, the economics of air travel work against voluntary accessibility improvements. Airline profit margins are tight, forcing companies to maximize every available square inch aboard a plane. In 1985, seat width on American, Delta, and United ranged from 19 to 20 inches. By 2014 it had shrunk by roughly an inch. Airlines are also working hard at filling planes. Up until the 1980s, planes typically flew less than 70 percent full. Today, they average more in the mid-80 percent range.
Advocates for the disabled point out that airlines could benefit by making air travel more attractive to people with disabilities. "I have colleagues who simply don't fly anymore because they're in power chairs and they can't easily get into an airplane seat," says Cooper. Wood adds, "Yeah, we understand the business model: It's bottom line and it's price. But let's try to make it work for both of us so you become more inclusive and you also keep the customers who are dropping off the cliff and not flying anymore."
As Priestman and Cooper have discovered, however, it's hard to get all the stakeholders—aircraft manufacturers, seat manufacturers, airlines, advocacy groups—working towards a common goal. "They just need to get in a room and get their heads banged together," Priestman suggests. He adds, "If they don't do something, a solution might be imposed on them by government that will be more restrictive." Voluntary measures, if successful in attracting more passengers, might encourage others to follow suit, he says. Rory Cooper, Chris Wood, and thousands of wheelchair users are hoping he's right.
By Pierre Home-Douglas
Pierre Home-Douglas, a Montreal-based freelance writer, is a frequent contributor to Prism.
Design by Francis Igot