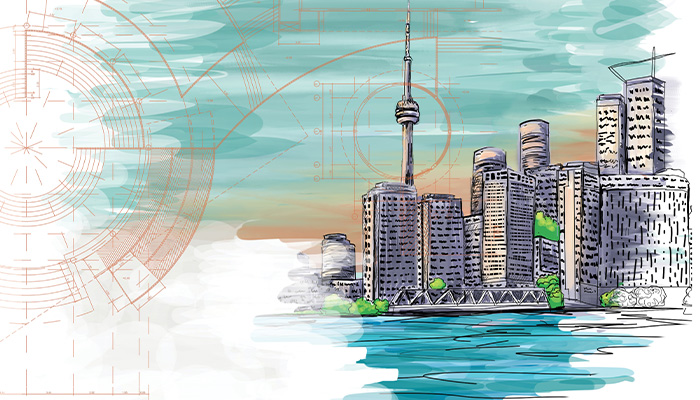 Toronto engineers seek to turn a waterfront wasteland into a high-tech test bed—and the world's smartest cityscape.
By Pierre Home-Douglas
There's nothing particularly inspiring about the derelict industrial zone that stretches along the east side of Toronto's harbor. One of largest tracts of underdeveloped urban space in North America, its 800 acres encompass a decommissioned power plant, rusted-out railway lines, and the 700-foot-tall smokestack from a defunct incinerator. Yet the Port Lands, as this gritty swath of Lake Ontario shoreline is known, offer fertile ground for an ambitious experiment to reinvent city life.
Already, plans are underway to transform a 12-acre section of decaying dockyard into a smart-system showcase, Quayside, billed as "the world's first neighborhood built from the Internet up." Quayside's proposed makeover features roads that not only detect pedestrians in crosswalks but also heat up to melt snow. Autonomous vehicles will pick up and ferry trash via subterranean chambers, while buildings can be quickly assembled, reconfigured, or adapted according to changing needs, thanks to modular design and interchangeable parts. "This will create a test bed for new technologies—technologies that will help us build smarter, greener, more inclusive cities," enthused Canadian Prime Minister Justin Trudeau when announcing the project in October 2017. He anticipates intelligent neighborhoods scaling up across Toronto's eastern waterfront and eventually in other parts of Canada and around the world.
Sidewalk Labs, an urban innovation start-up founded by Google parent company Alphabet, shares that vision. Tapped to revitalize Quayside in a public-private partnership with the local, provincial, and national governments, the firm's $50 million Sidewalk Toronto project offers what CEO Dan Doctoroff considers "an opportunity to fundamentally redefine what urban life can actually be." He views the waterfront revitalization project, which is estimated to cost more than $1 billion by the time it's completed in the next decade, as an example of the very early stages of "the fourth revolution of urban technology," after the steam engine, electric grid, and automobile.
Inspiring Future Engineers
Toronto is hardly the first city to embrace intelligent infrastructure. As Prism has reported, New York University researchers are crunching data from sensors, cellphones, and other sources to capture the pulse of Manhattan's sprawling Hudson Yards development ("Don't Miss a Beat," December 2014), while South Korea's "ubiquitous cities" movement has spawned a number of smart communities—along with a hot new field for engineering education. ("Home Sweet Utopia," February 2013).
Whether Quayside becomes the affordable, sustainable municipality envisioned by the development agreement signed this past July remains to be seen. But planners can draw on a strong local brain trust. The University of Toronto, which recently established an interdisciplinary School of Cities, has 220 faculty members conducting urban-focused research. Among them are engineering faculty whose work includes algorithms that optimize traffic-signal timing to reduce congestion and studying the distribution and potential drone delivery of automated external defibrillators at key points around the city. Alberto Leon-Garcia, a professor of electrical and computer engineering, even created an interactive "smart transportation" map that shows how people get around Toronto in real time.
Sidewalk Toronto seems likely to influence the education of future engineers. At the 2017 event, for example, 20 girls in fourth, fifth, and sixth grade regaled Prime Minister Justin Trudeau with their ideas for what a neighborhood of the future should include. The students were part of a University of Toronto Saturday program called Girls' Jr. DEEP (Da Vinci Engineering Enrichment Program) offered by the University of Toronto. The young women in this particular group had focused on creating a sustainable city of the future, learning about some of the design constraints engineers must consider when creating homes that are ecologically friendly. "Having a project like Sidewalk Toronto in our back yard is really exciting," explains Dawn Britton, the university's associate director of engineering outreach. "When students see how technology can transform their environment and make a difference in their daily lives, they are inspired to become inventors and innovators."
Undergraduates are equally engaged. In the summer of 2018, two University of Toronto engineering undergraduates were selected with 10 other local college students to participate in a fellowship program organized by Sidewalk Toronto to contribute to Quayside planning. They met with builders from cities across North America and Europe and later wrote a report on their experience. Paul Seufert, a fourth-year engineering science student, came away impressed by what Sidewalk is trying to achieve—and with greater appreciation for the automobile's impact on cities and neighborhoods. "The highway system and urban sprawl are things I don't think anyone planned to happen," he notes. "This is a chance to reevaluate that and bring all the new technologies together in an optimal way. If this is done well, it could be fantastically productive."
Carol Yeung, another fellowship program member from the University of Toronto, was struck by the proactive nature of Sidewalk Toronto's planners. "Decisions are often made in a reactive way—there's a crisis; let's fix it," explains the fourth-year industrial engineering student. "Here there's a plethora of issues, and they're going to try to solve it before it breaks down." She also appreciated the interdisciplinary nature of the fellowship experience. "A lot of time we hear in engineering courses that we're not going to work all the time with engineers; you'll have to learn how to understand other disciplines and how to integrate them with your work," Yeung says. She had a chance to do exactly that during summer travel to cities like Amsterdam, Boston, and Vancouver, working alongside students from architecture, urban planning, data science, and medicine. "It popped out at me almost from Day 1: Having a team composed of people with different backgrounds of study only helped widen our scope and allowed each member of the team to integrate their expertise into discussions and recommendations," says Yeung. As an industrial engineering student, she adds, "I have a deeper understanding of technology but may be lacking in a comprehensive understanding of urban spaces."
Traffic Flows, Weather Woes
Like Seufert, Quayside's planners have zeroed in on transportation. "The No. 1 priority is for the site to feel connected to the city of Toronto," explains Willa Ng, associate director for mobility and streets at Sidewalk Labs. That means providing an infrastructure for cyclists and direct links to the city's streetcar and subway networks. Reducing traffic will largely be accomplished with the help of autonomous vehicles, says Pina Mallozzi, director of design at Waterfront Toronto, the government-funded organization formed in 2001 to oversee the revitalization effort. Take parking. "The reason why a car is parked is because we drive our car and no one else is going to touch it," she notes. "Success will be when we don't actually own our own vehicle," which would eliminate the need for parking spaces while creating a steady stream of self-driving cars to zip people around town. Automated traffic flows also would allow for narrower streets and more parks, plazas, and walkways.
Even traffic lights are being scrutinized to improve liveability. Ng gives the example of an elderly person crossing a street. "An adaptive traffic light could detect you, detect how fast you're moving, and then in real time hold the cars" until you are safely across, she says.
In addition to monitoring traffic flow, a network of sensors throughout Quayside will monitor everything from garbage cans that need emptying to noise levels created by commercial or industrial occupants. The system will also adapt to weather. For example, when sensors detect precipitation, they can slide out "building raincoats" made of lightweight material to protect people walking below from rain and snow. This is just one of dozens of strategies for mitigating uncomfortable weather conditions, with a goal of doubling the number of hours people can use the outdoor areas—a big advantage given Toronto's grim winters.
Craig Nevill-Manning, head of engineering at Sidewalk Labs, says the possibilities of a single unified digital platform offering improvements for day-to-day life are almost endless. He gives a "slightly random" example of throwing a block party. "Right now that takes a lot of permits, a lot of paperwork. Imagine I can do that from my phone," says Nevill-Manning. "We can quickly survey everyone who lives around for a thumbs-up or thumbs-down. If we get a thumbs-up, a permit is automatically issued and then mixed in with all of the rest of the infrastructure of the city to make sure that stuff happens correctly."
One hot-button issue continues to bedevil Toronto's utopian planners: Who will own all that sensor-produced data and intellectual property? Privacy is a growing concern, too. "We think we can develop an approach here that sets a global standard," insists Sidewalk Labs CEO Doctoroff. But Jim Ballsillie isn't so sure. In a scathing Globe and Mail op-ed, the former CEO of Research in Motion (BlackBerry) castigated Sidewalk Toronto as "a colonizing experiment in surveillance capitalism attempting to bulldoze important urban, civic, and political issues." The data that smart cities rely on to make their vast arrays of sensors function better, he noted, can generate "an enormous new profit pool" when controlled by private interests.
Like Rome, even smart cities take more than a day to build. No matter how Sidewalk Toronto resolves the data-protection and other infrastructure challenges, its pioneering planned community will hold lessons for engineers and educators everywhere.
Pierre Home-Douglas, a Montreal-based freelance writer, is a frequent contributor to Prism.
Design by Toni Rigolosi