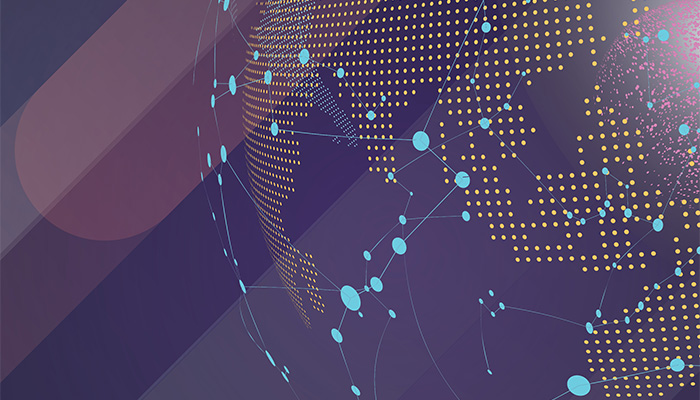 Mixing altruism and business promotion, Britain employs space technology to battle disease, assist farmers and herders, and boost economies in the developing world.
By Thomas K. Grose
The global market for coffee beans is booming. Valued at $10.5 billion last year, it is projected to hit $15.6 billion by 2024. Growers are prospering in many developing countries—but not in all. The vast majority of coffee farmers in Kenya and Rwanda live in poverty because, for a variety of reasons, their yields are low and their crops are often of poor quality. A consortium led by Earth-i, a British satellite data provider, believes it has a solution. Earlier this year, it began a three-year project that constructs micro-forecasts using Earth observation data to help struggling coffee farmers harvest better-tasting beans—and more of them.
Funded by a $3.5 million, three-year matching grant from the U.K. Space Agency's International Partnership Program (IPP), the project is part of a five-year, $194 million effort, begun in 2015, to apply British space technologies in promoting economic growth among developing countries.
"It's about making use of space and satellite technologies to make them a key tool for sustainable development," explains Chris Lee, UKSA's chief scientist.
UKSA is a funding agency with a mandate of fostering growth in Britain's burgeoning space and satellite industry. The U.K. space sector, valued at around $17.5 billion, is growing at a rate of 6.5 percent a year and employs 40,000 people. "We are not NASA," Lee says. "Eighty to 90 percent of what we do is downstream." One goal of IPP is to build up the market for satellite data by showing developing countries that making use of space assets is a sustainable way to improve their economies. Satellite technologies are increasingly available for development work because they have rapidly become more affordable. "Five years ago," he notes, "data that would have cost millions of pounds is now very cheap or even free."
IPP has so far funded 33 projects, issuing 10 matching grants totaling $48.6 million in the last year alone. The projects range from using satellite data to mitigate the effects of floods and drought in Ethiopia and Kenya, to leveraging satellite communications to areas of the Philippines hit by natural disasters, to monitoring illegal gold mining in Colombia with eyes in the sky. The companies involved range from large companies like Airbus to startups like Earth-i. Around 80 percent of the projects so far use Earth observation technologies. But Lee expects that future projects will make more use of navigation technologies, which can be deployed for things like precision farming and maritime security.
UKSA puts out open calls to companies to tender pitches for IPP projects. Typically, each proposal focuses on a specific problem in one or more developing countries and offers a solution that uses satellite technology and is sustainable in that it can continue to be used once the project ends. Each pitch comes from a lead company and involves a multidisciplinary team of partners that can include private companies, universities, government agencies, and nongovernmental organizations. The proposals are vetted by a team of independent consultants, which scores and ranks them.
Here is a closer look at four IPP projects:
Dengue Early Warning System
Dengue fever is a dangerous mosquito-borne disease that infects millions of people a year, killing 10,000 to 20,000 of them. It's now prevalent in 141 countries, and in Vietnam, the number of cases has increased more than 100 percent since 2000.
A $5.25 million, three-year project begun last February and led by HR Wallingford, a large civil and environmental engineering consulting firm, is working to accomplish a world first in Vietnam: a countrywide prediction of dengue outbreaks derived from satellite data. Wallingford's partners include dengue fever experts from the London School of Hygiene and Tropical Medicine (LSHTM) and the U.K. Met Office, Britain's official meteorological agency.
"We're basically starting with a blank sheet of paper," says Darren Lumbroso, a civil engineer and technical director of Wallingford's flood and water management practice. Adds Gina Tsarouchi, a senior engineer: "At the moment, there is no dengue fever warning system."
LSHTM experts have designed dengue models, Tsarouchi says, but they're geared toward smaller areas and don't include environmental data. The forecast they're working on will be linked to Earth observation satellites, and will cover the entire country. The model will include data on water levels, rainfall, temperatures, and land cover and information from ground-based data, including population density and elevations.
The plan is to provide forecasts at least six to nine months in advance. If an outbreak of dengue seems likely, health officials can put resources in place to combat it—such as blanket spraying of affected areas—and educate the public on what it can do to help ease the threat, particularly covering or draining standing water. "With a forecast in advance, they can try to minimize breeding grounds," Lumbroso says.
The project hopes to see a measurable decline in dengue cases, helping Vietnam hit its goal of an 8 percent drop by 2020.
Monitoring Tailings Damns in Peru
Mining waste, or tailings, is toxic. In Peru, tailings are often used to construct embankments, or dams, that can reach more than 300 feet in height. They're not heavily regulated, are often badly designed, and have a high failure rate. When they fail, they can leach toxins into downstream food chains and water supplies.
HR Wallingford is also the leader of a consortium that last February began a 2½-year, $3.5 million project that uses satellites to monitor the dams and predict potential failures. The team is trying out remote sensing to measure ground deformation and monitor nearby vegetation and soil to determine if a dam is leaching toxic iron oxide. Sensor-laden boxes will also be placed on dams, and a second satellite will monitor the signals they emit, which will give the forecast very accurate readings of a dam's strength. The model will also include rain forecasts, because heavy rains could affect the dams.
Until now, this type of monitoring has been performed only in research, Lumbroso says. If the monitoring indicates a dam is likely to collapse, "there are remedial actions you can do," Lumbroso says, including giving early warning to people living downstream. The project hopes to detect up to 95 percent of signs of failure in tailings dams and reduce leaks of toxins into the environment by 10 percent.
Lumbroso says HR Wallingford is keen to help people in the developing world. But there's a business-enhancing element, too. Both the Vietnam and Peru projects, he says, "help us to use satellite data to increase and deepen our expertise" in water management.
Predicting Dzuds in Mongolia
A dzud is a catastrophic weather phenomenon unique to Mongolia. It happens when a summer drought is followed by a harsh winter. Climate change is making dzuds worse. In Mongolia, a third of the population is seminomadic herders, and dzuds wreak havoc on their livestock. The droughts reduce vegetation the animals need for grazing, so those that don't starve are so weakened they can't survive the winter. "It's a double whammy," says Nick Walker, a director at eOsphere, a remote-sensing data provider. The firm worked in Mongolia years ago on a Dutch government-funded project to install satellite ground stations, and it got firsthand knowledge of the problem dzuds cause herders.
Currently, on-the-ground officials monitor the grazing lands each August, but that's a fairly hit-or-miss effort. So eOsphere won a three-year, $2 million IPP grant last February to construct a satellite-monitoring system that can better predict dzuds. Using satellites, the team, which includes Deimos Space UK, a space services company, can measure the entire country with a 30- to 60-foot resolution every two weeks. "Through all seasons, we can keep an eye on what's going on," Walker explains.
The challenge is Mongolia's size. It's six times as large as the United Kingdom, and so enormous amounts of data are collected. To handle all that input, the consortium has set up an Open Data Cube, open-source software designed to store huge volumes of data.
eOsphere's forecasts will be disseminated to herders and local officials via a weather-forecast text-message service. They will also help Mongolia's government manage the large reserve areas used by herders when conditions in other grazing areas deteriorate, and help insurance companies set rates.
The commercial benefits of the project include expanding the company's knowledge base, Walker says, and gaining entrée to Mongolia's insurance industry. But there is, he adds, "a real sense that we are doing something that will help."
Micro-Weather Forecasts
Earth-i's partners in the coffee project include WeatherSafe, an agriculture-data provider. The two companies worked together a few years ago mapping coffee plantations in Burundi. "So we had an idea of the challenges facing coffee growers," says Jonathan Sumner, Earth-i's business development director.
Coffee bean farmers in Kenya and Rwanda have increasingly suffered in recent years because climate change is making weather more unpredictable, so it's harder for them to know the optimum times to apply "inputs" like fungicides, pesticides, and fertilizers.
Big data forecasting has mainly been for large industrial farms. "But these are very small-scale farms, around a half hectare," he says. The micro-forecasts will be built on data from ground mapping done by a hand-held unit that's overlaid with local-based satellite data. "These are very accurate weather forecasts," Sumner says; they combine a range of measurements, including rainfall, humidity, temperatures, and leaf fall. "They're precise 48 hours out; it's all about timeliness and immediacy."
It's a decision-making tool that will help farmers time the application of inputs. The forecasts will also include advice culled from local agronomists and will be sent to farmers or local cooperatives by text message.
To make it work, Sumner says, the project needed buy-in from growers and cooperatives, "which we are getting. It's early days, but we've done a lot of mapping on the ground, which we could not do otherwise, because the farmers do all the ground tracking." The overarching goals of the project are to increase yields and quality, and to boost farmers' revenues. "If you increase their income, you also prove that coffee is an attractive and sustainable cash crop," he says.
"There is a core commercial basis for the program," Sumner says. If it works as hoped, "we expect to roll it out beyond Kenya and Rwanda, and build it into a commercial service" that can give growers a better life and keep the coffee industry afloat. It's gratifying that satellite data can be used to give a boost to people who are struggling, Sumner adds. "This is a hugely exciting, very human-scale project. It really brings satellites down to Earth."
Thomas K. Grose, Prism's chief correspondent, is based in the United Kingdom.
Design by Miguel Ventura