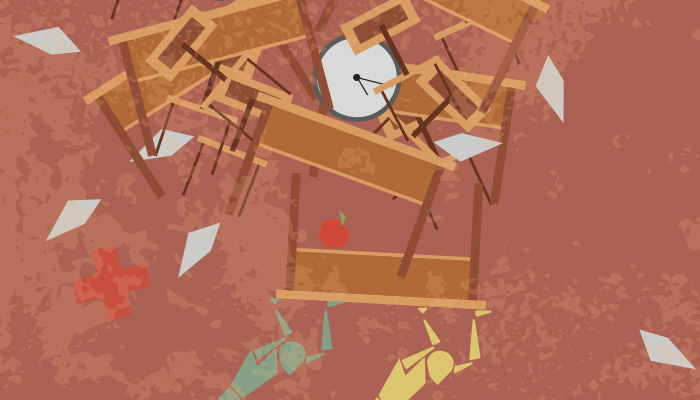 Tired of shouldering heavier course loads for unequal pay and promotion, non-tenure-track faculty seek fairer work environments—and a say in decision-making.
By Mary Lord
With the clarity of hindsight, Emily Boyd recognizes she at least should have asked for an orientation upon joining Washington University in St. Louis back in 2015. But becoming a principal lecturer was her first job, and she didn't know the ropes. "I just kind of laid low and tried to absorb it all," recalls the thermofluids specialist, who had aimed to pursue an industry career after receiving her Ph.D. the previous year, then wound up getting married and relocating with her spouse. Hired by WashU's mechanical engineering and materials science department, she encountered "archaic policies and cultural norms" that made her second-guess having accepted the full-time teaching position. She wasn't invited to faculty meetings and so had no idea what was going on in her department. Nor could she participate in the faculty senate. Second-class status extended to benefits: Ineligible for paid parental leave or vacation—information only gleaned from scrutinizing the university's website—Boyd timed her pregnancy to give birth to her second child over the summer rather than lose salary.
Far from some isolated handmaiden's tale, such slights are among a litany of institutional inequities that affect a surprisingly large—if invisible—group of educators: non-tenure or "professional-track" faculty. This contingency workforce, typically teaching full- and part-time on annual or multiyear contracts, has become the norm as campuses nationwide scramble to cut costs and serve ever expanding student bodies. According to a 2017 Government Accountability Office report, the number of non-tenure-track, full-time positions surged by nearly 110 percent between 1995 and 2011, compared with just 9.6 percent for tenure-track appointments. As a result, about 70 percent of postsecondary instructional positions currently fall outside the tenure track, federal data show. That's a complete flip from five decades ago, when 78 percent of all appointments were filled by tenured or tenure-track faculty, notes a 2013 American Association of Governing Boards of Universities and Colleges report on the changing academic workplace. While the proportion of full-time, tenure-eligible faculty is higher at research and doctorate-granting institutions—totaling 47.8 percent of appointments in the most recent National Center for Education Statistics digest—part-time contractors still make up half of all faculty.
The result, argues Georgetown University assistant teaching professor Paul S. Merritt in an Inside Higher Ed opinion piece earlier this year, is a "pseudo caste system" in which the majority of instructors languish under heavier course loads, with lower salaries and fewer opportunities for advancement. Engineering, with its heavy research focus, tends to buck hiring trends—though not the double standard Boyd encountered. A University of Oklahoma analysis presented at ASEE's 2018 Annual Conference, for example, found that just 8.9 percent of faculty appointments in engineering departments nationwide were non-tenure-track. Federal data from 2003, which include two-year institutions, indicate a much higher 15.9 percent, with part-time faculty accounting for a hefty 42 percent of total instructional staff. In many departments, it's possible for undergraduates to earn a degree having taken no courses from a tenured or tenure-track professor.
Separate and Unequal
Full-time teaching faculty often make a distinction between themselves and adjuncts, who as part-time instructors also feel they are treated poorly and have formed unions around the country. Advocacy groups like the Association of American University Professors, which is also affiliated with many faculty unions, contend that the rise of the contingency workforce represents an erosion of academic freedom. Others, however, see benefits. Professional-track faculty help to reduce teacher-student ratios, particularly in large first-year courses, bring substantial real-world experience to the classroom, and free up tenured and tenure-track faculty—who typically have lighter teaching duties—to concentrate on establishing, funding, and running their research labs. Many earn strong course evaluations from students and often prove among their school's most committed, effective instructors. A much-cited 2015 study of Northwestern University freshmen published in MIT's Review of Economics and Statistics, for instance, found "consistent evidence that students learn relatively more" from professional-track faculty than from their tenured or tenure-track peers. The differences appeared across a wide variety of subject areas and were particularly pronounced for average and less-qualified students.
Unlike their tenure-eligible peers, however, professional-track faculty often follow serendipitous routes into academia. Many get invited by friends or, like Boyd, happen to be available when a vacancy occurs. But as most soon learn, higher education's gig economy has outpaced policies governing everything from hiring criteria to professional development and even the positions—instructor, lecturer, professor of practice, and teaching professor, to name a few—they're supposed to fill. "The titles are all over the place," attests Cliff Fitzmorris, a professional-track assistant professor of electrical and computer engineering at the University of Oklahoma whose doctoral dissertation examined the career pathways of full-time contingency faculty like him. "There's no standard set." Navigating the title maze can particularly flummox newbies like Boyd, now a teaching professor, who two years into her job as principal lecturer discovered that "I was in the highest teaching-faculty rank that existed at the time and didn't know it!"
Despite their increasing reliance on professional-track faculty, many institutions maintain separate—and unequal—pay scales and promotion policies. The GAO's 2017 analysis, for example, found that contingency faculty taught between 45 percent and 54 percent of the courses at public four-year institutions, yet received up to 75 percent less in compensation than their tenured or tenure-track colleagues. Adrianna Kezar, codirector of the Pullias Center for Higher Education at the University of Southern California, highlighted a number of major disparities in a 2013 analysis coauthored with Ph.D. student Daniel Maxey. Non-tenure-track faculty received no orientation, professional development, or formal evaluation process, they found. They're excluded from serving on committees, determining curriculum, or even accessing travel or research funds. As Boyd told a packed opening plenary at ASEE's Annual Conference in Tampa this past June, "This makes it difficult to fully love and thrive in their jobs." It also reinforces stereotypes, she added, noting that "our work is sometimes considered less important or maybe easier, and it's presumed we weren't good enough" to land a tenure-track appointment.
There are exceptions to the trend of lower-tier status for teaching faculty. The University of Virginia's School of Engineering and Applied Science provides very clear promotion paths for professional-track academics, "whom we value as equals" in departmental and school-wide governance, says Executive Dean Pamela Norris, a professor of mechanical and aerospace engineering and ASEE Board member. Teaching faculty carry a "significant credit-hour load," she adds, which is "a tremendous benefit" because the school teaches all of its own math and many science, technology, and society courses. These "academic general faculty" members can advance through the same assistant, associate, and full professor ranks as their tenure-track counterparts, and also may conduct research—though their primary emphasis is on instruction, advising, and service. "We are well integrated," says Larry Richards, a teaching professor emeritus of mechanical and aerospace engineering and an ASEE Fellow who has served on both his school's and the university's tenure and promotion committees. "From an outsider's point of view, faculty is faculty."
While most professional-track faculty express enormous job satisfaction—as Fitzmorris notes, "if they don't want to teach, they go and do something else"—academia's pecking order can dismay those who previously held executive-level jobs. "I reported to the president and had many subordinates," lamented a former upper-level manager, who was quoted in the ASEE paper presented by Fitzmorris and two colleagues. "Now, I'm the lowest guy here, and there's no real chance for advancement or promotion . . . . So am I going to spend the rest of my career as the lackey when I started my career as 'the guy'? That's a little hard on the ego." Professional-track engineering educators often work in isolation compared with their liberal-arts counterparts, observes Fitzmorris, who is one of just two non-tenure-track faculty in his department. Mechanical engineering also has a pair, as does biochemical engineering, with one apiece in chemical and industrial engineering.
Dedicated though many non-tenure-track faculty are, a paper presented at the American Educational Research Association's annual meeting last year should give engineering educators pause. Examining the effects of faculty status on student success in science, technology, engineering, and mathematics, researchers from the University of Massachusetts–Boston found that the higher the proportion of non-tenure-track instructors, the greater the likelihood that students would switch out of a STEM major or fail to graduate.
'Collective Voice'
Complaints from non-tenure-track faculty have not gone unnoticed by influential figures in education policy. In its 2015 "Future of Undergraduate Education" report, the American Academy of Arts and Sciences recommended a "systemic commitment to the improvement of college teaching" that included analyzing the faculty incentive system and providing non-tenure-track faculty with "stable professional working environments and careers." Make more teaching positions full time, the authors exhorted. Offer longer-term contracts and give instructors "a clear voice in governance" along with better integration and support for part-time faculty.
Last year, Pennsylvania State University overhauled how it classifies and rewards the roughly half of its faculty members who teach full time but are not on the tenure track, resulting in hundreds of promotions and new multiyear contracts.
Creating a more affirming environment for teaching faculty may help diversity efforts. Ebony McGee, an associate professor of education, diversity, and STEM education at Vanderbilt University, researches the experiences and trajectories of minority Ph.D. students in engineering and computing as principal investigator of a large, National Science Foundation-funded project. Already isolated due to their underrepresentation, the vast majority of African-American doctoral students wind up disinterested in pursuing an academic career—even though many entered graduate school with the aim of becoming a professor. Their main turnoff: the "secrecy and toxicity" of the grant-chasing, publish-or-perish tenure and promotion process. ("Turned Off from an Academic Career," International Journal of Doctoral Studies, Vol. 14, 2019)
Where individual schools have improved conditions for non-tenure-track faculty, it has mostly come through a combination of fortuitous timing, dedicated advocates with evidence-backed arguments, and receptive administrators. "A lot of people don't take action on this because they feel powerless," says WashU's Boyd, noting that teaching faculty aren't department chairs or in other decision-making roles. "If you want to make change, you have to find your collective voice." Otherwise, she says, no one will know there's a problem or what steps must be taken to fix it.
Boyd credits a "fortunate" twist of fate for her own successful call to action. A new engineering dean had just come on board as the school was launching a strategic planning process, and she was "preapproved" to lead the subcommittee that produced a study on "improving the workforce culture" for non-tenure-track faculty. "If it hadn't been for that, quite honestly I probably wouldn't have ruffled feathers," confesses Boyd, who is director of undergraduate studies in her department and teaches courses on fluid dynamics and heat transfer.
"You're not going to win anything by demanding it," she cautions. Instead, she held "issues forums," gathered pay, promotion, and other workforce data, and pulled together not just a wish list but compelling arguments for supporting the various proposed changes. In many cases, that boiled down to noting the obvious: The 26 percent of full-time faculty who weren't on the tenure track were teaching almost half of all student-hours and spending a lot of time interacting with undergraduates, so it was important to have supportive policies.
The approach helped fill some major gaps. Annual performance reviews now are part of the formal process for evaluating professional-track faculty. Non-tenure-track instructors can attend faculty meetings and have voting rights on the school and university level. They also are listed on the same departmental Web pages as their tenure-track colleagues, a major change from past practice, receive $1,000 for professional development per year from the provost's office, and are entitled to the same paid parental leave and other benefits as tenured and tenure-track faculty. Titles and promotion procedures have been clarified. Boyd has been advanced to the newly established position of "teaching professor" position—the top rank.
Fitzmorris, a former electronics industry engineer who started as an adjunct at Oklahoma in 1998 before being elevated to full-time lecturer status in 2007, sees merit in broadening the conversation. He got together with other professional-track faculty at ASEE's 2018 Conference in Salt Lake City and was blown away by the energy in the room. "Oh my gosh, this is a nationwide thing!" he recalls marveling. "I didn't know there were other people like me out there."
Fitzmorris has helped level his engineering school's practices toward non-tenure-track teaching faculty. As of last year, for example, Oklahoma has promotional guidelines for non-tenure-track faculty. His happiest moment came when his new position—assistant professor—won approval by a vote of the faculty, the same as for any engineering educator. "That did more for my job satisfaction than anything else," says Fitzmorris. "The faculty agreed you were part of the department… that you're part of the family, you're worth it."
As with most design projects, efforts to equalize faculty work environments remain an ongoing process. Sprinkled throughout various engineering departments, Fitzmorris and his fellow non-tenure-track educators meet informally and watch out for one another. During a recent gathering, they were startled to discover that non-tenure-track faculty had received the minimum rate when university-wide raises were announced. "It's not 'man the barricades' yet," insists Fitzmorris. Nevertheless, he remains vigilant, scrutinizing every new policy to ensure it's fair for those who toil in engineering's teaching trenches.
Mary Lord is Prism's deputy editor.
Design by Miguel Ventura