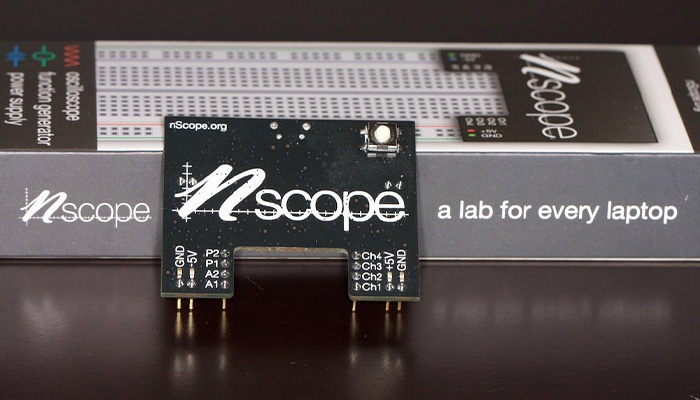 How a devotion to active learning spurred the creation of nScope, a low-cost answer to equipment shortages in mechanical engineering departments.
By Margaret Loftus
Like generations of engineering students before him, Michael Peshkin learned electronics by experimenting in the lab with circuits, voltmeters, and that iconic test instrument, the oscilloscope. But the freedom to tinker that he enjoyed depends on the availability of equipment, as Peshkin discovered to his frustration when he began teaching. Typically, his classes had to make do with just eight to 10 lab benches. Among students who were comfortable with them, the benches' devices were in such demand that they "had to be bolted down with a bike chain," recalls Peshkin's colleague Nick Marchuk. Yet while those students did the heavy lifting, others stood passively by, learning next to nothing.
For Peshkin, who has a passion for active learning, the lab experience undermined the spirit he sought to instill and just wasn't fun. "I believe in hands as the path to [the] brain, to integrate the learning," says the professor of mechanical engineering at Northwestern University. Hands-on activities "consolidate the thing you are talking about on the board." His classes dispense with 50-minute lectures in favor of five-minute talks, followed by a plunge into designing and building. This style of teaching is particularly suited to electronics, he says. "It encourages us to work in class on the key skill of troubleshooting, rather than the lab attitude of 'this better work or I'm mad.'"
In a perfect world, Peshkin thought, students would each have a set of test instruments. So he looked for a way to make that happen. His "aha" moment came in 2010, when he pondered how electronics teaching could benefit from the reality that every student carried a computer to class. His idea: a "lab in a backpack," essentially a homemade oscilloscope, which, together with a kit of electronic parts, could be plugged into a laptop and allow students to build, measure, and test electronics. "I gave [the students] a boxful of parts, and now we could do electronics-building in class," he says. "The students liked it right off the bat."
Software Setback
Dubbed the Peshkin Box, the kit made the practice-based aspect of lab work accessible to everyone. "When you design and build a circuit, it won't work. Nobody's circuit works right off. That's how engineering is—you need to shift over to a point of view of 'I'm going to build this thing methodically and test as I go,' " Peshkin says. "It's good learning. It helps students develop their diagnostic skills."
The kits, though, had their own limitations. The task of cobbling them together for students in Peshkin's Intro to Electronics course fell to David Meyer, at the time a graduate researcher in haptic interfaces. He found that while Peshkin had written the interface to work with Windows only, most students by then were using Macs. "In a 10-week class, if you have to spend one of those weeks installing software, it was getting to be very tedious," he says. "I was annoyed with helping people, and they were annoyed with me helping them."
Something had to be done. Marchuk, a senior lecturer in mechanical engineering at Northwestern, recounts, "David said. 'This is ugly. Let's do better.' " Marchuk and Meyer went to work designing an improved Peshkin Box. After five iterations, they had a prototype for what came to be called nScope. (The n stands for Northwestern). "They did a really pro job of producing this thing," Peshkin says. While no study has been performed of its effectiveness, Marchuk says students using the nScope are more willing to come in and design on their own. "We've given them permission to try and fail and ask questions and try again."
Birth of a Start-Up
As with the previous kits, assembly was initially done by hand. But this would change as the device gained recognition beyond Northwestern. Word of the nScope spread as students went on to graduate school and took their devices with them. When Peshkin shot a video for a MOOC (massive open online course), commenters inquired about the handy kit he used in the clip. "This was a hint to us to commercialize it," says Marchuk. Northwestern's technology-transfer office advised Marchuk and Meyer against trying to seek a patent but approved a Kickstarter campaign to raise capital for production.
"We had no idea what to expect," recalls Marchuk. "The day we launched, David and I decided to halve [their financial goal]." No matter, they ended up passing their goal of $25,000 on the third day of the campaign, ultimate raising $187,058 without any advertising.
Looking for a manufacturer, Marchuk and Meyer initially contacted prototyping houses in the United States, which in general were slower and more expensive than higher-volume electronic manufacturers overseas. "When you run a Kickstarter campaign and claim you want to make electronic devices, you get inundated with people wanting to make your product," says Meyer. They ultimately lined up a British manufacturer.
Today, nScope retails on Amazon for $94. It is also sold directly to a handful of universities. As an instructor, "it's infinitely better for me to buy these things than try to make them," says Peshkin.
Early Adopters
Among schools that have bought nScope, reception has been enthusiastic. "We have built our entire lab curriculum around nScope," says Jungho Kim, a mechanical engineering professor at the University of Maryland. "We have found it to be perfect to teach students basic electronics since they can each have their own unit at a low cost." Timothy Reissman, an assistant professor in the University of Dayton's department of mechanical and aerospace engineering, requires nScope as part of a kit in his sophomore-level mechatronics class in lieu of a textbook. "It allows us to replace all the equipment we have in the lab that's costly to universities. It's not the only tool out there, but it's by far the most affordable and easiest to implement," he says.
Marchuk and Meyer are currently working to develop online content to support nScope's use, thus replacing textbooks, to make it more affordable for students and more attractive to engineering departments. The popularity of nScope did not come without headaches. Keeping software up to date became so labor intensive that the team, which holds a copyright, recently decided to release the source code and invite collaborators to help. For now, Marchuk and Meyer provide customer support. "We do our best over e-mail, and in some cases, we've gone and taught introductory classes when professors have a desire [to implement nScope]," says Meyer.
Ultimately, success of nScope hinges on the willingness of instructors to adopt the kind of active learning for which it was designed, says Meyer: "[The main factor] will be younger and newer faculty members who are interested in our type of teaching model, who want to teach in a more engaging way."
While sales are steady, the margin is slim. "David and I don't expect it to take off in such a way that we could quit our jobs as engineers," says Marchuk. "We don't know anything about business, so we've been learning a lot." After completing his Ph.D. at Northwestern, Meyer landed at Tanvas, a tech start-up that pioneers surface haptics. Marchuk continues teaching, including a robotics course previously taught by Peshkin. Neither entrepreneur plans to quit his day job.
Margaret Loftus, a freelance writer based in Charleston, S.C., is a frequent Prism contributor.
Design by Toni Rigolosi