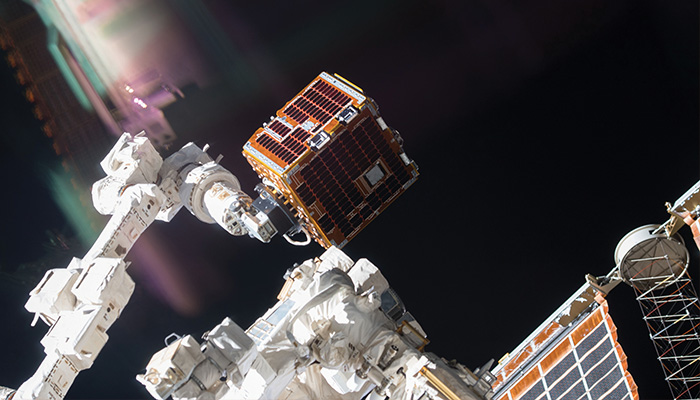 Researchers race to clear debris from cluttered satellite lanes before one tiny collision triggers a disastrous chain reaction.
By Thomas K. Grose
Low Earth orbit—anywhere from 160 kilometers to 2,000 kilometers in altitude—is one crowded corridor. And it's getting more congested every day. The International Space Station (ISS) occupies a lane. So do some 2,200 defunct and 1,800 working satellites, with thousands more slated to join them. Two companies alone, California-based SpaceX and OneWeb, a global communications company in London, plan to launch nearly 14,000 communications and other satellites over the next few years. Then there's space junk: an estimated 128 million tiny bits of manmade clutter, from jettisoned rocket boosters to garbage bags from the long-gone Russian Mir space station and even an astronaut's lost glove. The Air Force's Space Surveillance Network currently tracks 20,000 of these objects over 10 centimeters in diameter, about the size of softballs, all zipping along at speeds of up to 17,500 mph. Monitors have logged numerous close calls and issued hundreds of possible collision alerts.
For a world increasingly reliant on fragile satellites for navigation, communications, scientific discovery, defense, entertainment, and even Internet connections and broadband services, cleaning up the clutter has gained new urgency—and spawned a 2018 presidential directive urging the development of innovations to detect and reduce space junk. That's because of a nightmare scenario outlined by NASA scientist Donald J. Kessler back in 1978. One day, he warned, there would be so many objects in orbit that crashes would become inevitable, creating even more debris and precipitating a domino-like cascade of splinter-spewing crunches. Far-fetched? Consider what happened when a defunct Russian satellite and American communications bird collided in 2009, producing 100,000 shards smaller than 1 cm. Space junk scares have sent ISS crews scrambling for shelter several times since then, and a solar panel on a European Space Agency (ESA) Copernicus Sentinel-1A satellite sustained extensive damage after a 2016 encounter with a millimeter-size particle. "You've heard of the Kessler syndrome?" asks John Crassidis, a University of Buffalo professor of mechanical and aerospace engineering and an expert on space systems. "We're definitely at the tipping point with that."
The prospect of a fatal chain reaction has spurred the hosting of the world's first international orbital debris conference next month in Texas along with a flurry of activity to develop technologies to remove as much space junk as possible. Earlier this year, for example, RemoveDEBRIS—an industry-academia partnership at Britain's University of Surrey partly funded by ESA—wrapped up a $19 million effort that successfully captured an object in space with a net and also caught another target with a harpoon. Meanwhile, Singapore start-up Astroscale plans to demonstrate in mid-2020 a spacecraft designed to trap a defunct satellite by docking with it magnetically, while ESA is studying industry proposals to design, build, and test a robotic junk-snatching arm. Researchers also are looking to develop better ways to deorbit satellites as they approach the end of their working lives as well as to improve the tracking and identification of all satellites. By 2030, ESA envisions a largely automated, artificial-intelligence-enhanced traffic-control system that would greatly reduce the chances of space collisions.
Nets and Spears
Fueling this frenzy of low-orbit housekeeping is a host of potential earthly impacts. Increasing numbers of close encounters, for example, could raise risk levels for satellite operators and prompt insurers to boost premiums. Junk levels also might compel launch plans to be reviewed and changed, adding cost and uncertainty. Over time, global communications, weather observations, and other vital services could diminish.
For now, most of the research centers on finding ways to retrieve the largest hunks of rubbish, since collisions generate huge amounts of dangerous fragments. "There is an increasing number of objects in space every day," explains Holger Krag, head of the European Space Agency's Space Debris Office, "so active removal is mainly to stop this growth. If we can maintain the current level of debris, that would be a big achievement."
Surrey's RemoveDEBRIS mission offers a glimpse at the challenges. Sent to the International Space Station via a SpaceX CRS-14 resupply mission in April 2018 and propelled into orbit that June, the test-platform satellite has conducted several successful demonstrations. In September 2018, it catapulted an untethered net and snared a small CubeSat it had launched as a target. "We have never really used nets in space before this," says Eleonora Botta, an assistant professor of mechanical and aerospace engineering at Buffalo who researches debris removal. "What they did was clearly exciting." In real life, however, a net would need to remain fastened to its satellite so that any trapped object could be towed down and released to naturally deorbit—a capability the Surrey team is not investigating. Moreover, space junk is wildly unstable and rotates furiously. "I am not sure what control we would have over that," says Botta.
This past February, the RemoveDEBRIS platform notched another success, spearing a target metal panel dangling from a 1.5-meter boom with a tethered harpoon that sped along at 20 meters per second. While an impressive display of engineering, harpoons "are a bit more risky," cautions Botta. Unlike nets, which can envelop an entire object, a harpoon must precisely skewer a spot strong enough to withstand the impact without causing its quarry to splinter and break apart. A trial in October 2018 demonstrated an onboard vision-based navigation system that uses both lidar and cameras to measure the distance, direction, and speed of a targeted chunk of space debris. "We now hope our [business] partners and other companies will move these technologies forward," says a delighted Guglielmo Aglietti, a professor of space engineering and former head of the Surrey Space Center who oversaw the project.
Meanwhile, ESA is reviewing proposals for developing a robotic arm to snag orbiting trash. "Industry is interested," Krag says. A team at Rensselaer Polytechnic Institute is pursuing a smaller approach: a trio of tiny CubeSats named OSCaR (for Obsolete Spacecraft Capture and Removal) that detect and trap trash. One unit will house the "brains," including GPS and communication systems, while a second supplies propulsion and the third uses imaging sensors to spot, then capture, debris with its four gun barrels, nets, and tethers. OSCaR will be programmed to deorbit within five years, safely destroying the junk along with itself. Project leader Kurt Anderson, a professor of mechanical, aerospace, and nuclear engineering, envisions the device becoming routine cargo in outbound spacecraft or dispatched in fleets to tackle big jobs.
Orbital Janitors
Jason Forshaw, Astroscale's European R&D manager, acknowledges that "it is a complex problem overall to capture and remove a target. That has not been done before." Some objects, he adds, tumble so fast they are too dangerous to try and grab. Engineers are building in fail-safes. First, before launch, they will assess the object's rate of tumble. Then, the cleanup satellite will circle its target while reassessing its speed and tumble rate before a final decision is made on whether to attempt a capture. Researchers also are looking at de-tumbling technologies, such as magnetic fields, to stabilize orbiting junk. "These are blue-skies research," Forshaw says. "Practically, they are at least 10 to 15 years in the future."
On average, 10 percent of satellites fail in orbit. Astroscale's business plan includes contracting with companies (OneWeb is among its funders) to capture their dead birds. Propelled by an ion thruster, the space-trash collector would take the derelict equipment down to an altitude where it would fall harmlessly out of orbit, detach it, and head back to nab another dangerous object. Astroscale also sees a market in servicing governmental space agencies that are willing to pay to have their obsolete equipment removed. Since none of that debris would have docking plates where a magnet could attach, the system would need to be outfitted with a robotic arm.
What about the more than 128 million bits of litter careening around the satellite belt? "Those we can't track are what scare us," Crassidis says. Fortunately, notes Krag, such motes are more susceptible than large objects to the light atmospheric drag that exists at high altitudes, and many eventually slip from low orbit. Engineers also are working on ways to get rid of these menacing morsels. For instance, Delaware-based Launchspace Technologies is proposing to place football-field-size platforms in orbit, each carrying "debris impact pads" to collect untrackable objects.
Policy also can play a role. Currently, no international laws require operators to deorbit dying satellites, though the accepted standard is nudging them into a lower position so that they naturally reach and disintegrate in the atmosphere within 25 years. Buffalo's Crassidis thinks that is "way too long." The standard, he says, "should be closer to 10 years, at a minimum." The U.S. Federal Communications Commission is considering a rule to require American operators to deorbit satellites within five years. While most adhere to the 25-year standard, not all do. It takes a lot of fuel to slow down and deorbit a satellite, and some operators opt to use it to keep their craft flying longer. Propulsion subsystems for deorbiting also are a big reason for satellite failures. Researchers are looking at passive systems, like drag sails that, when deployed, can speed the time it takes a satellite to deorbit. The RemoveDEBRIS project, for instance, tested a drag sail on its satellite to make it deorbit more quickly, but it failed. Since then, the same type of drag sail has been deployed successfully on three other commercial craft. "We learned from our mistakes and made some corrections," Aglietti explains.
Sharper Eyes On the Skies
Debris tracking also is poised to improve. The Air Force is building a new radar system on the Pacific atoll of Kwajalein that will be able to track as many as 200,000 pieces of space junk—compared with 20,000 larger objects today. Space Fence, which is due to go online this year, got an early demonstration in May when it detected debris from an Indian anti-satellite weapon test. While radar works well in finding new objects, Krag notes that it's not particularly precise, so researchers are developing complementary laser tracking systems that can more accurately pinpoint the location of orbiting objects.
ESA's concept for an automated traffic-control system would ensure fewer close calls and also reduce the number of unnecessary maneuvers operators must make to avoid collisions. The Air Force logged 308,984 close calls in 2017 and issued 655 possible collision alerts. The manual alert system now used is costly and labor-intensive, Krag says, and too often satellites are needlessly moved to new positions because decisions have to be made too far in advance. With SpaceX and OneWeb's huge constellations of satellites planned for the near future, the current traffic-monitoring system is untenable. An automated system, says Krag, would allow satellites to be moved "literally at the last minute," and only if the algorithm determined a crash was imminent.
Eventually, capture satellites also could refuel or make repairs to mission satellites—not unlike an orbiting AAA roadside service. "That's all in the more distant future," Astroscale's Forshaw says. "For now, our business concern is debris removal." In other words, cleaning up before company arrives.
Thomas K. Grose, Prism's chief correspondent, is based in the United Kingdom.
Design by Miguel Ventura