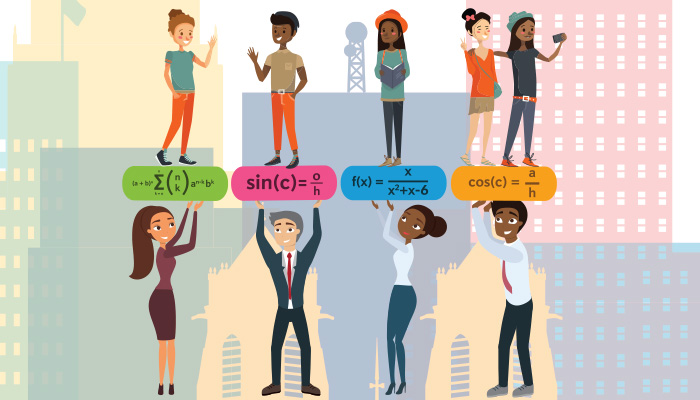 A polytechnic university partners with its local school system, aiming to triple enrollment from a struggling city.
By Mark Matthews
NEWARK, N.J.—The New Jersey Institute of Technology sits near the heart of this struggling metropolis, but you couldn't tell that from the composition of its student body. Founded in the city's manufacturing heyday, the polytechnic university formerly named the Newark College of Engineering counts among its alumni Newark's first African-American mayor, civil engineer Kenneth Gibson. Yet in a city where blacks make up more than half the population, the school's proportion of African-American students has been stagnating at about 8 percent, far below its percentages of whites, Asians, and Hispanics. And of its 11,400 students, only about 200 at any one time come from local public high schools. A big reason, say NJIT officials, is inadequate math preparation: Just 40 percent of recent Newark Public Schools graduates were proficient or advanced on the state's high school math exam, a 2018 report found.
That's a problem Newark's current mayor, Ras Baraka, wanted to address well before assuming office in 2014. As principal from 2007 to 2013 of Central High School, where Gibson graduated in 1950, Baraka had to spend part of his time helping students cope with neighborhood gang violence, author Dale Russakoff recounts in The Prize. But he also stressed college readiness, extending the school day, introducing small learning academies, and greatly intensifying test preparation. "I stole ideas from everywhere," she quotes him as saying.
Baraka had an idea about math. "I was vice president at the time, and our precollege programs reported to me," Joel Bloom, who became NJIT president in 2011, tells Prism. "He [Baraka] called me up one day and said, 'I want you to work with us on a precalculus curriculum.' " Bloom, an economist who says "the language of science, engineering, and technology is mathematics," enlisted the university's Center for Pre-College Programs. Baraka brought in Naseed Gifted, a NJIT-trained electrical engineer who switched from industry to education in the early 2000s. Joining Central High School in 2003, Gifted taught math and robotics, became a vice principal, and founded one of the small learning academies—in engineering. Now principal at Newark's Malcolm X Shabazz public high school, he maintains a sideline of creating action comic books with STEM themes.
Talent Scouts
The resulting partnership with NJIT launched in the summer of 2010 with a select group of Central High School students enrolling in a precalculus course as part of the university's well-established Talent Search campus. Along with learning math, they earned college credit and received motivational coaching and training in social skills and test taking. Two of that inaugural cohort went on to graduate from NJIT in 2017 with degrees in industrial engineering.
Baraka, son of Newark native Amiri Baraka, the poet, playwright, and militant once known as LeRoi Jones, grew up imbibing political activism, often centered on education. His father, whose local movement helped Gibson win his first term, fought for community control of schools and opposed the powerful Newark teachers' union. At Howard University, the younger Baraka was among the leaders of a successful campus protest against the appointment of Lee Atwater, a bare-knuckled Republican strategist, to the board of trustees. His 22 years as an educator in Newark schools coincided with a state takeover and controversial reform efforts, including a $200 million intervention led by Facebook CEO Mark Zuckerberg and championed by then Mayor Cory Booker, now a Democratic U.S. senator from New Jersey and 2020 presidential hopeful. Baraka fought against state control, which has since ended, and opposed the growth of charter schools.
As mayor, Baraka pressed the city's "anchor institutions" to invest more in the community. In NJIT's case, this meant enrolling more Newark residents. Bloom says he recognized an obligation. "I said, 'I tell you what: We will double the undergraduate enrollment [from Newark] if you and the superintendent do the following,' " Bloom recounts. "The following" were the components of what became the Math Success Initiative (MSI), a partnership between NJIT, the city, and Newark Public Schools announced early this year. Building on the effort with Central, MSI draws rising seniors from four public high schools into a rigorous program to ready them for first-year calculus by the start of their freshman year in college. The goal is to triple the number of Newark residents enrolled in the university in four years.
The inaugural cohort—37 students, slightly less than the 10 each school could select—received seven weeks of intensive instruction in college algebra, precalculus, and calculus enrichment from math faculty on the NJIT campus over the summer. They also got preparation for standardized tests and college applications. In those respects, MSI probably resembles any number of precollege STEM programs around the country. Less common are features added to buttress the students' chances. Depending on what math level they reached in the summer, students could either enroll tuition free in precalculus or calculus at NJIT this fall, attending class on campus and earning college credit, or continue taking math at their high schools but attend regular college-prep classes at NJIT and have access to college facilities.
Teachers from each of the four high schools attended the summer training as well, absorbing research-based NJIT teaching techniques with the expectation that they, in turn, will train colleagues at their home institutions. "Hopefully, they will be missionaries," says Bruce Bukiet, an associate professor of mathematics and associate dean of the College of Science and Liberal Arts. Adds Levelle Burr-Alexander, a chemist and biomedical engineer who directs special projects at the Center for Pre-college Programs, "It's important for teachers to see what colleges expect of students coming in as freshmen."
Coach Viisits and Financial Assists
Also on scene are teaching assistants—crack students from NJIT's Albert Dorman Honors College. Supplementing the program's 15 instructional and support staff, Burr-Alexander conducted four orientation sessions for parents and paid fly-on-the-wall visits to classrooms over the course of the summer. During the coming school year, NJIT faculty plan to visit the four high schools every two months to see how the teachers apply what they learned. Finally, everyone gets a stipend during the summer session, with students each receiving $200 a week plus free breakfast and lunch—a needed incentive in a city where a third of citizens live below the poverty line. The university, city, and school district together share the program's $330,000 cost, exclusive of overhead. On top of that, NJIT pledged more than $1 million in financial aid for Newark students. "NJIT will work to assure that none of these students leave our university because of financial need," Bloom said when the program was announced.
For the first summer, MSI drew students and teachers from two comprehensive high schools, Central and Malcolm X Shabazz—where Gifted became principal in 2018—and two magnet schools with competitive admissions: Science Park and Technology High School. Arguably, students from the magnet schools—which rank in the top half of public schools statewide—stand a good chance of gaining entry to NJIT without a boost from MSI. "The mayor said, 'Why Science?'" Bloom recalls. But the heterogeneous mix was intentional. "Putting students together—you know what happens: They challenge one another," Bloom argues. High-achieving students, he says, will tend to pull up their peers who are less well prepared. Even so, students underwent initial screening at NJIT to determine which ones were ready for calculus, precalculus, or algebra.
The curriculum, designed largely by senior lecturer Ken Horwitz, stresses inquiry and teamwork—both of which were evident during a July visit to NJIT. "It's a lot of discovery-based stuff," says Matthew Michal, a university lecturer and one of the instructors. "We give them a little more time to get the answers themselves." Constructivist teaching, which he applies, can be harder for instructors than lectures, even though it means that in class, "you're going to see me do a lot less than other teachers. The question is, 'Are you learning?'"
Fellow NJIT lecturer Donivyn Schmidt reacts with delight when a student says, "I don't want the answer. I want to understand how to get the answer." That, Schmidt remarks, is "poetry. That's the exact thing we want to hear."
The MSI teacher participants sound eager to embrace NJIT's approach. "I love what I'm seeing," Central High School teacher Tamara Easterling tells Prism. Students "are now seeing the connection of why algebra and geometry are important. They understand more concretely, the way it's taught here"—and help one another. "When they communicate with each other, they speak a different language." Regan Jones, also from Central, vows "my class will be modeled after this one." Yet teaching math in a Newark high school requires more than mastery of cutting-edge pedagogy, he allows. "At my school, we tend to parent our kids. In order to teach urban kids, you've got to get into a parent relationship." Students also show "a lack of knowledge of opportunities available to them" through education, Jones says.
Bukiet seeks to set students straight on that score with a lively, humorous PowerPoint lecture on the career-enhancing benefits of applied mathematics, including engineering. He clicks to a slide of explosives research at the Los Alamos National Laboratory with the aside, "Math is a real blast." Then he ticks off the top 10 professions that rely on math, including actuary and various positions in pharmaceutical research and manufacturing—a major New Jersey employer. "The only Nobel not won by a mathematician is the Peace Prize," he asserts. For balance, he cites a couple of rogue mathematicians: Unabomber Ted Kaczynski and former Peruvian President Alberto Fujimori, convicted of human rights abuses.
Boosting Self-Assurance
Building confidence is a key MSI priority. "Students are made to feel they are capable of succeeding," stresses Jacqueline Cusack, executive director of the Center for Pre-college Programs. Jones has learned that even at the college level, students experience fear of certain concepts, such as fractions. They're also afraid of making mistakes. Speaking just as MSI was getting under way, Jonathan Luke, professor and chair of mathematical sciences, hesitated to predict success, given the students' wide range of preparation. Still, he said, "to the extent they're willing and interested, we can move the needle for them and help them move to a situation where they're better able to engage with the STEM curriculum."
Lloyd Brown, a rising senior at Central who wants to become a chemical engineer, welcomes the rigor. "I've been trying to get better at math since freshman year," he says. "Here we have four to five hours of study in math." Okyere Boateng, a student at Science Park, is among the more advanced MSI students. He joined the summer program because it offered a bridge to NJIT courses for college credit. Plus, "the pay is pretty good," he says.
By the end of seven weeks, 35 of the 37 original enrollees had completed the program. Of these, 23 students were ready for pre-calculus or calculus, and the number prepared to enter calculus had risen from five to 12, Horwitz reports. "At every turn [the students] exceeded my expectations," he tells Prism. "They were really getting into it, putting forth 100 percent effort." He cited one student who began the summer "disheartened about math" and staying very quiet. "By the end, she had taken leadership and was moving around, helping others." Cusack adds, "I hear them talking about how they did on quizzes. They're upbeat, bordering on arrogance." Among changes going forward, says Burr-Alexander, more attention will be paid during college-prep sessions to improving students' SAT scores with practice tests.
With the number of participants this past summer, "we're really just scratching the surface" of high school students who could benefit, says Shabazz Principal Gifted. Beyond academics, the college campus experience lifts students to the "next level of maturity [in] scheduling, planning, and study skills."
Bloom wants the same four high schools to participate next summer, but with more students—"Let's start with 50"—and one or two more teachers from each. "Then we'll take on two other [schools] two years from now." NJIT's stake in Newark's revival is more than a summer romance.
Mark Matthews is editor of Prism.
Design by Toni Rigolosi