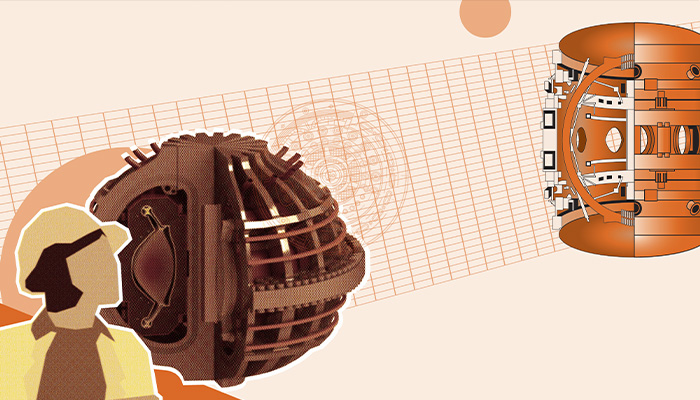 Start-ups, defying academic skeptics, enlist big-name investors as they vie to be first with a workable source of fusion energy.
By Thomas K. Grose
An oft-repeated joke about generating electricity from nuclear fusion—that the technology is only 30 years away, and always will be—has gone stale. Now there's growing optimism among physicists and engineers that the code for commercializing fusion power can be cracked in the not-too-distant future. This is thanks not only to decades of replicating quick shots of fusion in lab experiments, but also to recent scientific breakthroughs in supercomputing and superconductors.
The advent of these powerful technologies has not only shortened the projected timetable for achieving fusion power but has also lowered cost estimates. "They have given us the confidence that it can happen," says Michael Zarnstorff, deputy director for research at the Princeton Plasma Physics Lab. The remaining hurdles are engineering challenges—albeit ones that won't be easily conquered.
Amid mounting evidence of the need to wean the world from its dependence on fossil fuels, more than a dozen privately funded companies have joined the chase for fusion power, which would generate carbon-free electricity by applying the same process the sun uses to create energy. The Fusion Industry Association estimates private investment at between $1 billion and $1.5 billion. Familiar names backing start-ups include Amazon CEO Jeff Bezos, Bill Gates, and Google parent company Alphabet. Congress is giving modest encouragement to research collaborations between industry—both in the United States and abroad—and U.S. national laboratories with a $4 million fiscal 2020 appropriation for the Department of Energy's Innovation Network for Fusion Energy program, or INFUSE.
Publicly funded big science remains the dominant player in the fusion arena. The world's largest fusion project is the $22 billion International Thermonuclear Experimental Reactor (ITER), now under construction in southern France and more than 60 percent complete. Overseen and supported by a consortium that includes the United States—which will provide $242 million this year—and 34 other countries, ITER is on track to perfect technologies that could be used by member states to start building demonstration plants by 2050.
Several private companies are predicting they'll reach the demonstration phase well before ITER. For instance, Commonwealth Fusion Systems (CFS), an MIT spinout, predicts it can start building a fusion plant by 2025, while First Light Fusion of Oxfordshire, England, hopes to license its technology to a grid-connected plant in the 2030s.
'Not a Slam Dunk'
Ryan McBride, an associate professor of nuclear engineering at the University of Michigan, is somewhat skeptical of those projections: "They are all still in the lab. They are all doing good things, but it's likely not a slam dunk." Leigh Winfrey, an associate professor of nuclear engineering at Penn State University, also considers those time estimates overly optimistic. Nevertheless, says Winfrey, 37, "For the first time in my career, I think we might see a working fusion power plant in my lifetime."
Since the 1950s, scientists and engineers worldwide have been working to make nuclear fusion a reality. Why? Because unlike today's nuclear plants, which rely on nuclear fission—the splitting of uranium atoms to generate power—fusion plants would be safer, cleaner, and not subject to dangerous meltdowns. Moreover, their fuel is as inexhaustible as it is benign; there's enough of it to meet humankind's energy needs for 30 million years.
Fusion works by subjecting the atomic nuclei of two hydrogen isotopes, deuterium and tritium, to great pressure and heat, forcing them to smash together and merge into one heavier atom of helium. That process releases high-energy neutrons that provide the wanted energy. The main technology used for this chore—the one used by ITER and most of the start-ups—is called magnetic confinement and typically takes place within a tokamak, a Russian invention from the 1950s. A tokamak is a huge, bagel-shaped vessel in which the hydrogen fuel is heated to 100 million degrees Celsius to turn it into an ionized cloud called a plasma. But plasmas are fragile things and if they make contact with the walls of the vessel, they'll cool and dissipate. To keep that from happening, the plasma is contained within a magnetic field generated by superconductors. The power-producing neutrons are collected by a blanket of lithium, which produces heat and also breeds tritium—which is a good thing because it's a rare isotope; thus, the fusion process creates a necessary component of its fuel. Deuterium, on the other hand, is as common and plentiful as seawater, which is where it comes from.
More powerful supercomputers "have given us a better understanding of the plasma itself," which has led to design improvements, says Winfrey, editor of the Journal Fusion Science and Technology. Unlike a fission chain reaction, "which is really hard to stop, with plasma, you have to work really hard to keep the chain reaction going." Also, a new generation of high-temperature superconducting magnets, which are smaller and more powerful than previous iterations, makes it easier to contain a plasma. At least two of the start-ups—CFS and Tokamak Energy of Oxfordshire—are using high-temperature superconductors in their fusion process.
Going for the Gain
While scientists have successfully created fusion reactions in the lab, so far they've not reached net-energy gain; that is, the capacity to generate more energy than it takes to produce it. ITER plans to produce its first plasmas in 2025 and reach net gain around 2035. Moreover, the fusion reactions that have occurred so far have been split-second pulses. So one of the remaining hurdles is how to generate a continuous, self-sustaining reaction, or a steady state. ITER's minimal goal is to generate 500 megawatts of power for 500 seconds. Nevertheless, says Tim Luce, ITER's head of science and operations, generating a continuous fusion is "something we'll explore at ITER. It's a single device that can be operated in two or three different ways, and our task is to test and optimize," to determine which method would work best for a power plant.
While fusion doesn't produce radioactive waste, the released high-speed neutrons continuously bombard the vessel's structural materials, leaving them damaged and radioactive. But unlike nuclear waste from fission, which remains dangerous for tens or hundreds of thousands of years, radioactive structural materials remain active for only about 100 years, and so are easily buried. "It's a manageable problem," Luce explains. Nevertheless, Zarnstorff adds, "you have to carefully choose the metals you use," picking those more resilient to neutron damage. "You will also have to have a maintenance scheme."
The collected heat from the neutrons can be used to boil water to create steam to turn a turbine. However, Winfrey says, "that may not be the most efficient way of doing things, so people are looking at alternatives." These include liquid metals and high-temperature gas coolants, and even materials that shield the walls but also transfer the heat.
Given the complex, still-extant problems to overcome, can well-funded start-ups even compete at this stage? That's unclear, because many of their technologies remain secret, hidden from competitors. "A lot of what they're doing is proprietary, so it's difficult to assess," McBride says. "It's not typically published in peer-reviewed journals or presented openly at conferences." Zarnstorff agrees: "Some parts of their stories are clear, but others are complicated and involve matters of opinion. They think they have a proprietary idea that will lead them to the promised land, but we don't know how to judge it."
Luce, however, is dismissive. "Have the mammals supplanted the dinosaurs? The answer is no." Companies will need to achieve control sufficient to be suitable to make energy, and they are not investing in the necessary technologies, he claims. "But I welcome them, absolutely. They aren't competition. We are all trying to accomplish the same goal. If they get there first, I'll applaud them. That's possible, but unlikely."
CFS's improved magnet is based on a high-temperature superconductor called yttrium barium copper oxide, which allows it to design a tokamak much more compact than ITER's. Tokamak Energy is using a high-temperature superconductor made from rare earth barium copper oxide, which enables it to swap a ring-shaped tokamak for a more efficient, smaller spherical one. Luce admits that these new superconductors "are interesting" and possibly viable because they're smaller, cheaper, and more powerful. But that also means they produce more of the radiation that damages structural components, and because they have less volume, it's harder for them to breed the necessary tritium to be self-sufficient. "These are technical challenges not being addressed," says Luce.
More Routes to Fusion
There are, however, other technologies beyond magnetic confinement to create nuclear fusion. One is inertial confinement fusion. The main research on this is conducted at the National Ignition Facility (NIF) at California's Lawrence Livermore National Laboratory. At NIF, 192 mega-powerful lasers are aimed at a dime-size gold cylinder called a hohlraum that contains a tiny capsule of D-T fuel. The blast from the lasers creates x-rays that cause the hohlraum to implode, generating shockwaves that force the hydrogen atoms to fuse for a few nanoseconds. But NIF has yet to reach ignition or a reaction that generates more energy than it takes to produce it. "NIF is a great physics experiment," Winfrey says, but its primary purpose is to study hydrogen physics. "Getting power out of it was not a major goal." As such, Zarnstorff says, only a couple of companies are looking to commercialize inertial confinement. One is First Light Fusion. But instead of using lasers to compress a fuel pellet, it's using a machine that launches a copper projectile, or driver, to trigger a fusion reaction. Each release creates a large burst of energy, which is repeated every few seconds.
Another technology is called magneto-inertial, and it's basically a hybrid of the magnetic confinement and inertial confinement techniques. A small amount of plasma is contained within a tiny chamber by a magnetic field that's blasted by a laser every few seconds. Because the target fuel is magnetized, much less laser power is needed to compress it. It could be a less-expensive route to fusion because it doesn't require massive, expensive tokamaks and huge numbers of powerful lasers. General Fusion, of British Columbia, Canada, is doing a slightly different version of magneto-inertial it calls magnetized target fusion, which involves firing plasmas into a reaction chamber and containing them with a magnetic field.
No matter which route is used to get there, Zarnstorff is "very optimistic that fusion is doable." But he's less sure if it can be done cheaply enough to be economically realistic.
"It is a high technology, and it's unusual to use high technology to produce (an inexpensive) commodity. Usually, that's not a good idea." If it weren't for global warming and the fast-growing need to curb the use of fossil fuels, he says, scientists and engineers probably wouldn't be pursuing fusion at such a furious pace. "That's what is spurring a lot of private companies," Zarnstorff says, "because they're thinking, 'We know how to do this and the only thing standing in our way is the need to be very clever engineers.'" For society, the payoff would be incalculable.
Thomas K. Grose, Prism's chief correspondent, is based in the United Kingdom.
Design by Miguel Ventura