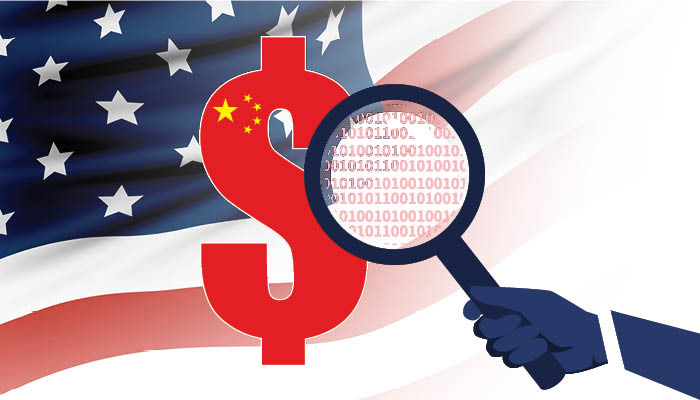 A U.S. national security crackdown puts universities and faculty on notice about risks in global research collaborations.
By Beryl Lieff Benderly
It could have been a scene from an over-the-top spy movie. But in February, when federal agents arrested one of America's most prominent and prestigious academic scientists, it became shocking reality. Charles M. Lieber, chair of Harvard University's chemistry department and a nanotechnology pioneer named the top U.S. chemist by Thomson Reuters in 2011, faces charges for allegedly lying to the United States government about lucrative associations with China's Wuhan University of Technology and the country's "Thousand Talents" program, one of the Chinese government's numerous efforts to obtain and exploit the knowledge of foreign experts in cutting-edge science and technology.
These so-called "talent" programs, among numerous other tactics, form part of a coordinated strategy to attain scientific, technological, and military pre-eminence by stealing American research and intellectual property, U.S. Deputy Assistant Attorney General Adam Hickey told a February conference at the Center for Strategic and International Studies in Washington, D.C. The conference centered around the Department of Justice's China Initiative, begun in November 2018, which has resulted in a number of arrests and heightened scrutiny of researchers by funding agencies and universities.
Lieber, who holds a joint appointment at Harvard's School of Engineering and Applied Sciences, is accused not of theft or espionage, but of failing to provide truthful information about payments he received for his research affiliations in China. He has the highest profile of a number of researchers at respected American universities who face criminal charges and other difficulties over what authorities say was untruthful or inadequate accounting for financial or other ties to Chinese research institutions. (Individuals also have been prosecuted for spying and stealing). The publicity surrounding Lieber's case has sharply focused academe's attention on what security and law enforcement authorities have long called the pressing need for universities to take stronger action to protect both research and researchers involved in relations with China.
'Loose' Security
Universities, however, don't have "the same safeguards in place as a technology company [that] has an infrastructure to secure this research," Richard Donoghue, U.S. Attorney for the Eastern District of New York, told the conference. "Academia is much more loose in how it secures these things. And the emphasis on collaboration tends to leave them vulnerable." He warned university officials: "If you are in an academic institution and you are not thoroughly scrutinizing the grant applications that you're putting [in], you are committing administrative malpractice."
China uses a broad range of duplicitous techniques to extract information about American science and technology, Hickey added, including co-opting strategically placed scientific workers, planting intelligence agents in unsuspecting university laboratories, and inviting researchers to China under guises such as presenting university talks, attending conferences, or participating in collaborations. Such travel subjects academics to the potential theft of their research and intellectual property, via electronic surveillance, interference with their electronic devices, and other means. Visitors to American laboratories from abroad can also use a variety of means to purloin information about research.
Rebecca Spyke Keiser, head of the National Science Foundation's Office of International Science and Engineering and chief of research security strategy and policy, tells Prism that in spite of these very real threats, "nothing has changed as far as the overall principles that underlie STEM research" in the United States. "Openness, transparency, and merit-based competition" both remain the standards that account for American success and should guide international collaboration. In the face of adversaries "so driven to obtain talent" that they systematically and unscrupulously violate these norms, "we ask all researchers, graduate students, everyone involved in the research enterprise [to] stick to the tenets that are really important." For individual researchers at every level, she says, in practice, this means "disclose, disclose, disclose. Be transparent about where one's funding comes from, whom one is working with."
'Umbrella' of Integrity
Research integrity in fact provides a framework broad enough to encompass both traditional scientific values and current security needs, concludes a report by JASON, a scientific advisory group that has long advised the U.S. government on security issues. Commissioned by the NSF and released in December 2019, the report, entitled Fundamental Research Security, "underscores the need for a robust, coordinated approach to strengthen the integrity and security of the U.S. research enterprise," added Kelvin Droegemeier, director of the White House Office of Science and Technology Policy. The nation's continued scientific pre-eminence requires that the "long and illustrious history of foreign-born scientists and engineers training and working in United States" must continue, the JASON report asserts. American science, however, must also safeguard its ethical basis, founded on values including "objectivity, honesty, accountability, fairness, and stewardship," it continues.
The current threats thus require that the "umbrella of research integrity" expand to include the value of full and honest disclosure of scientists' commitments and actual or potential conflicts of interest, the report states. Notably, such conflicts extend beyond the "strictly financial" to include "those that might occur in foreign research collaborations or result from required reporting obligations for scholarships or grants," the report emphasizes.
Particularly problematic are efforts like talent programs that can co-opt or subvert the work of researchers who accept part- or full-time commitments abroad while maintaining positions at American institutions. It is therefore incumbent on U.S. universities and funding agencies to investigate failure to disclose such commitments and conflicts fully and honestly "as presumptive violations of research integrity, with consequences similar to those currently in place for scientific misconduct," the report states.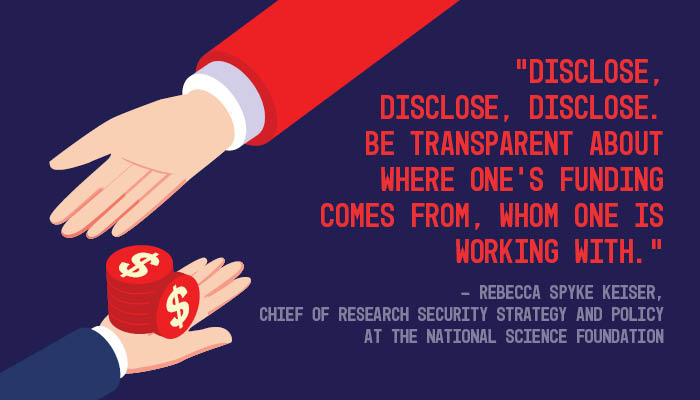 Building Infrastructure
Because responding to the current threats requires changes in traditional university culture, current policies and procedures are "often insufficient" to guide researchers in assessing security risks and taking appropriate action, the report notes. "Our systems and policies built to be open and collaborative [are] not built for these issues," University of Kansas chancellor Douglas Girod told the CSIS conference. Institutions and funding agencies thus must urgently provide improved training in scientific ethics and research integrity that incorporates the new concerns. "Increasingly," added Girod, "it's a matter of building the infrastructure . . . to help inform decisions faculty are making" and to distinguish between promising and problematic collaborations and relationships.
Girod's institution has been made aware of the risks: A KU faculty member, Feng (Franklin) Tao, faces multiple federal fraud counts in connection with his work for China's Fuzhou University. Tao, an associate professor of chemical and petroleum engineering, is on administrative leave from the school and has pleaded not guilty. In another recent case, Anming Hu, an associate professor in the Department of Mechanical, Aerospace and Biomedical Engineering at the University of Tennessee–Knoxville, was indicted on charges of wire fraud and making a false statement, for allegedly concealing his affiliation with Beijing University of Technology. He has been suspended from the school.
Keiser says it is important for universities to develop and strengthen ties with federal agencies charged with protecting the security of American research, especially the Federal Bureau of Investigation, which can provide valuable information and advice on coping with unfamiliar problems posed by research security. The FBI's Office of the Private Sector "is specifically focused on working with academia [and] views this work as much more of a partnership than you would think, helping provide information to universities on what to look for" in evaluating security issues, concerns, and incidents. The bureau has been active in reaching out to universities. Early this spring, for instance, Melissa Abbate, an FBI intelligence analyst, and John Hartnett, a supervisory special agent in the economic espionage unit, spoke and responded to questions at ASEE's Research Leadership Institute. In one successful collaboration between OPS and academe, for example, "the FBI identified a foreign research lab that was a threat to our national security," says John Sharp, chancellor of the Texas A&M University system, in a video on the OPS website. "As a result of that timely information, we were able to terminate the relationship with that particular organization." Beyond that, "FBI provides our senior leadership with regular threat briefings that are extremely important to securing all of our research. It's a huge asset to our university's security." University of Texas–Austin president Gregory Fenves says his institution maintains a "very strong relationship" with the FBI. "I would encourage all universities to work with their local FBI office and form that kind of relationship," he said at the CSIS conference. A call to the private sector representative at the nearest FBI field office can start the relationship.
Not everyone is totally comfortable with the implications of expanded FBI-academia cooperation. If it means that "university personnel—and perhaps students themselves—should be asked to monitor the movements of foreign-born students and colleagues," that would be "antithetical to who we are," Columbia University President Lee Bollinger wrote last August in the Washington Post. But for their own protection, universities need to exercise greater scrutiny, the law firm Wilmer Hale advises: "Academic institutions should consider vetting visiting scholars, postdoctoral students, and lab personnel to understand potential foreign affiliations, including membership in foreign talent programs." They add: "Institutions would be well served to know whether any of its faculty, staff, or research personnel raise national security concerns, or could potentially lead to government scrutiny."
Yet overall, "we've been really impressed with how universities have stepped up" and established programs, processes, and offices to help their faculty, students, postdocs, and staff fulfill their responsibilities, Keiser tells Prism. Stanford University, for example, has established an office where "any faculty member can [take] any questions about potential conflicts of interest or commitment," Keiser notes. UT–Austin is in the "process of merging the streams of reporting that faculty have, which currently go to different offices, according to Fenves. The university is working to centralize the grant paperwork "so we can monitor all activities and advise faculty where there is potential conflict."
The University of Kansas, meanwhile, has established an office of global operations and security, an idea that "came out of conversations with our regional FBI people," Girod told the CSIS conference. It will help faculty and students assess collaborations, affiliations, and contracts and inform those traveling of risks and how to mitigate them, what devices to bring, and more. It will also help the school "interact with our federal partners [and] translate from their world into our world."
The 'Big Factor': People
One way that malign actors can steal cutting-edge ideas and research is through breaks in confidentiality; for example, a leak during peer review of a proposal. NSF, through its Office of the Chief Information Officer, works "to make sure that our peer review process is kept confidential and that the cyber systems that maintain our proposals are as solid and secure as absolutely possible," Keiser says. The "big factor" in security, though "is people," she adds. "You can have the greatest data system in the world, but you need to have people understand the complete importance that these proposals stay confidential until we choose to fund them, [when] the researcher can choose to publish the data and information."
A 2019 study, however, found a major gap in this confidentiality: the widespread practice of postdocs and even graduate students secretly "ghostwriting" peer review reports assigned to their principal investigators and professors. NSF, Keiser emphasized, does not condone such substitutions. "We require those who review for us to sign statements saying they will not disclose the information, and we're looking at ways to make that system even clearer," including additional training.
"Reviewers are not transferable. If one wants postdocs to help with the review, they need to inform the program officer" and request permission for a postdoc to do the review. "They can't just up and do it." Such permission requires "an exceptional circumstance," she adds.
In the end, security depends on vigilance by all members of the academic community and adherence to the principle of "see something, say something." But, as in cases of sexual harassment, reporting suspected security violations—especially those perpetrated by senior figures—can strike many junior faculty members as problematic.
"Sexual harassment issues are really very, very different," Keiser says, "but one similarity with research security is the power dynamic" that operates between senior figures and junior people dependent on them for advancement and approval. "One can always report these types of issues" to NSF's inspector general's office, where "information is kept confidential," she advises. Beyond that, universities need to provide clear advice about where people should go with suspicions about wrongdoing "where it would be confidential."
Attorneys at Wilmer Hale, citing reports of some 200 FBI investigations at academic institutions around the country, expect that additional enforcement actions "will be forthcoming shortly." The arrest of Charles Lieber serves as a stark warning.
Beryl Lieff Benderly is a Washington, D.C.-based freelance writer and a fellow of the American Association for the Advancement of Science.
Design by Nicola Nittoli