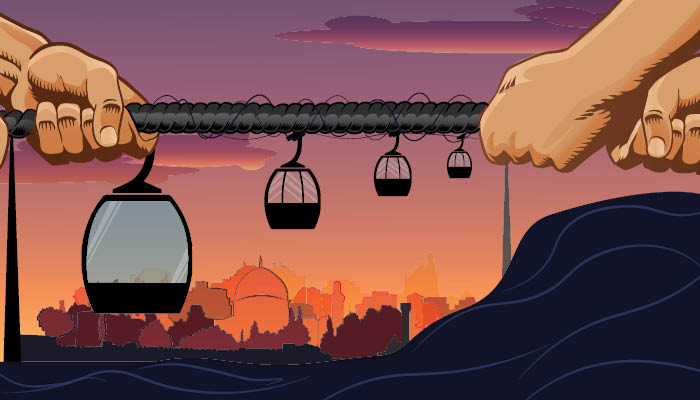 A controversial cable car project in Jerusalem shows the perils of urban planning in hallowed places.
By Joshua Brilliant
JERUSALEM – Whether designing apps or aircraft, erecting bridges, or clearing bottlenecks, engineers are called upon to consider the human and societal impact of whatever product, device, or system they develop. They often confront regulatory, financial, and political hurdles—which technical knowledge and skill alone cannot resolve. Educators engaged in service learning and humanitarian projects stress this, but the concept applies more broadly.
An unusual example of political impediments to engineered solutions is roiling one of the world's cultural landmarks. Few places on Earth expose the futility of purely technical approaches more than Jerusalem, where resistance to change is rooted in centuries of tradition. Even so, the Israeli government's promotion of an aerial cable car to ease traffic congestion and speed tourists to holy sites has united an astonishing array of opponents, from Palestinian leaders to scholars and an international Who's Who of renowned architects. Distinguished archaeologists have joined an Israeli nongovernmental organization and a small Jewish sect in petitioning Israel's highest court to block construction. The project thus presents a vivid case study of how, in a community polarized along religious, nationalist, and cultural lines, a seemingly straightforward engineering project can turn into a clash of civilizations.
Long a fixture of ski resorts, aerial tramways have gained popularity in recent years as a form of urban transportation. In Bolivia, the Teleférico system connecting La Paz, the capital, with the higher-elevation city of Al Alto forms the backbone of a regional public transit network that, when complete, will cover 20 miles with 30 stations. Elsewhere in the Andes, a cable system links Medellín, Colombia, with communities on its outskirts.
Slippery Slope
In Israel, aerial cable systems already send tourists to the top of Mount Carmel and to the ancient fortress of Masada. The city of Haifa plans a 2.7-mile public aerial cable car route from the central bus station to the Technion, the nation's premier engineering school, and on to the University of Haifa. Visitors to the Palestinian territories can ride a cable car from Jericho up the Mount of Temptation, the traditional scene of Christ's encounter with the devil.
None of those precedents applies neatly to Jerusalem, a city sacred to Jews, Muslims, and Christians. Palestinians and Israelis each seek international recognition of the city as their capital, making it one of the main flash points in the two peoples' generations-long conflict. The cable car would carry tourists close to the Old City's most sensitive site: a single structure that combines the Western Wall, the focal point for Jewish worshippers, and the Al Aqsa Compound, also called the Noble Sanctuary, the third holiest site in Islam after Mecca and Medina. The wall serves to support the compound, a man-made plateau on which the second Temple stood before its demolition by the Romans in the year 70 CE. On the compound, known to Jews as the Temple Mount, Muslims established the majestic gold-roofed Dome of the Rock, completed in 692, and, in 705, the Al-Aqsa Mosque.
Any infrastructure proposal affecting the Old City, no matter how well intentioned, is bound to be viewed through a zero-sum political and religious lens. And the intentions behind the $62 million cable car project have been questioned from the beginning. Backed by the Israeli tourism ministry as a national priority, the plan envisions up to 3,000 passengers per hour traversing the 4.5-minute route, ferried by 41 cable cars, each with up to 10 passengers and situated 72 meters apart. The cables would be held up by 15 pylons, erected at intervals of 10 to 200 meters and varying in height between 9.8 and 28 meters.
Passengers would board at a 19th-century train station in mostly Jewish West Jerusalem. The line would cross the Valley of Hinnom to a first stop at the southern slope of Mount Zion, traditional site of Jesus's Last Supper. Then the cars would move along the Old City's southern wall, over the flat roofs of Palestinian homes, church grounds, and a cemetery, to the Palestinian neighborhood of Silwan, part of East Jerusalem. Passengers would alight above an archaeological excavation opposite the Dung Gate, a southern entrance to the Old City. From there, passengers would take a tunnel to the Western Wall. Eventually the route may reach other sites, such as the Mount of Olives.
Though the route was drawn so as not to disturb historic treasures, and would not float over the Old City itself, the Valley of Hinnom holds historical significance as the site of child sacrifice, in the 6th century BCE, and of burial caves once thought to be an entrance to Hell. Coincidently, during the 1948 Arab-Israeli War, engineers in Israel's Etzioni Brigade surreptitiously ran a nighttime cable car from Mount Zion to carry supplies and rescue the wounded.
Choking Traffic
Jerusalem's mayor, Moshe Lion, tells Prism that the project is "primarily designed to solve a very difficult transportation problem in the Old City." Some 135,000 visitors and merchants enter the Old City during a routine week. Tour buses "are choking, literally choking, the Holy Basin," adds Deputy Mayor Fleur Hassan-Nahoum, referring to the area near Mount Zion and the Dung Gate. City officials estimate that cable cars will halve the number of tour buses and cut automobile traffic near the Old City by 30 percent.
Critics see an attempt to strengthen Israel's hold on traditionally Palestinian East Jerusalem and to promote a Jewish historical experience at the expense of the Old City's Muslim and Christian shrines, as well as Canaanite and Roman relics. They cite an ongoing archaeological dig at the final stop managed by an Israeli nationalist group, El'ad, which is reported to have close ties to the government of Prime Minister Benjamin Netanyahu. Archaeologist Yonathan Mizrachi, executive director of Emek Shaveh (Equal Valley), an Israeli NGO that monitors activities at sensitive archaeological sites, says visitors arriving by cable car will be "funneled" to El'ad exhibits linking Silwan to the biblical King David.
Hanan Ashrawi, grande dame of the Palestine Liberation Organization, denounced the cable car in a tweet as "an obscene violation of the cultural, historical, spiritual, geographic, and demographic character of Jerusalem." Opponents also include renowned engineer-architect Santiago Calatrava as well as architectural luminaries Daniel Libeskind, Moshe Safdie, Pritzker Prize winner Thom Mayne, Peter Eisenman, who designed Berlin's Holocaust memorial; distinguished Israeli archaeologists Meir Ben-Dov, Amnon Ben-Tor, and Amihai Mazar; and historian Benjamin Z. Kedar. Many architects signed a letter to Prime Minister Netanyahu arguing that a cable car "is not appropriate for ancient cities with a skyline preserved for hundreds or thousands of years. . . . Jerusalem's ancient landscape is a precious heritage to all of humankind." Scenes from antiquity would be marred by "gross technical elements," contends the Israel Association of Architects and Urban Planners, citing "a series of gigantic pillars, stations and auxiliary infrastructure, adjacent parking lots, and more." As a response to transit needs, "its efficiency is doubtful," the group said.
Pilgrim's Progress
A forum on the project did not go well for Hassan-Nahoum, who presented a breathtaking image of an aerial cable car in Gibraltar that carries tourists to view a colony of monkeys. "That is the view from my mother's home there," she explained. Architects and academics in the audience were appalled at the comparison with the Holy City. Jerusalem is not just another item on a tourist's itinerary, they asserted; no one would think of a cable car delivering tourists to St. Peter's Square or used to ease canal congestion in Venice. Holy sites require "an architecture of pilgrimage," argued Rivka Gutman of Jerusalem's Bezalel Academy of Arts and Design. Historian Elchanan Reiner of Tel Aviv University said that just as a holy site is important, so is the route people take to reach it, like the long trek by pilgrims to Santiago de Compostela in Spain: "The holy site infuses its holiness into the entire area."
"The criticism is political," Mayor Lion insists. The activities by El'ad might strengthen the Jewish hold in the city, "but it is surely not the reason for the cable car."
The cable cars would pass 16 to 30 feet above the homes of Palestinian residents of Silwan, according to their attorney, Sami Ershied. Plans he has seen suggest the pylons are very thin and don't address the need to protect houses against fire or falling metal, he says. Resident Ahmad Qaraeen tells Prism that the short distance between the cable cars and his roof is tantamount to "someone sitting on my sofa and choking me." Qaraeen, 48, who lives in a family compound passed down by his great grandfather, told an Israeli television station: "Soon they will ask us to wear nice clothes, sit here so that the tourists will come and look at us … see how our yard looks, how we eat."
"And ask you to wave to them?" an interviewer suggested. Yes, Qaraeen replied, and waved. "Yes. Shalom. Hi." Silwan residents have little political clout; Palestinians have boycotted municipal elections since Israel annexed East Jerusalem after the 1967 war, not wanting to legitimize Israeli occupation. But neither, from evidence so far, have the other opponents, who could teach engineering students something about taking on powerful political forces. There is, however, a higher power: the courts. Some 70 Palestinian residents and business owners, along with archaeologists and Emek Shaveh, have petitioned Israel's High Court of Justice to block the cable car. They have been joined by the Karaite community, a small Jewish sect dating to the ninth century, which says the project would desecrate its cemetery—located near the Mount Zion stop. Hearings are expected to begin in June.
Joshua Brilliant is a freelance writer based in Tel Aviv.
Design by Toni Rigolosi