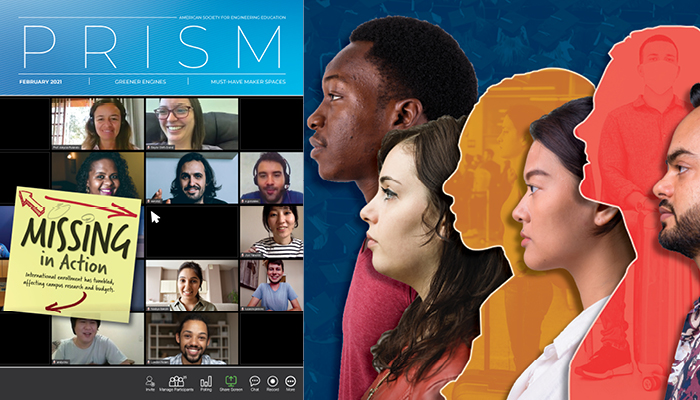 Hostile federal policies and a global pandemic have hammered international student enrollment. Biden administration changes could offer relief, but the long-term effects remain unclear.
By Beryl Lieff Benderly
When University of Pittsburgh postdoc Sergio E. Ramos—a Mexican citizen with a Ph.D. from the University of Zurich—flew to Switzerland in March 2020, he planned on an enjoyable week visiting friends and collaborators. What he got instead was three months trapped far from his lab. His trip coincided with the abrupt ban on noncitizens entering the United States from Europe imposed early in the coronavirus pandemic. First expecting a 30-day delay, Ramos soon realized he'd be away much longer. In June, an e-mail from his university warned of an anticipated White House executive order that would prevent some work and student visa holders from reentering the country and urged him to hurry back. He had a better chance of getting into the United States from Mexico, an official advised. Soon after Ramos reached his family's home with the intention of quarantining as required, he and other relatives came down with the virus. Though his case was moderate, it would be another month before he recovered enough to finish his trip back to Pittsburgh.
"Anxious and frustrated" by the challenges of both the virus and the U.S. government's tone on immigrants, Ramos explained in a Science Careers essay, he started to "question whether the advantages of being an international scientist outweighed the drawbacks." His odyssey was only one of the countless chains of circumstance leaving many international citizens hoping to attend or conduct research at U.S. universities instead waiting, worrying, and wondering about next steps in places and situations they never anticipated. Their institutions, meanwhile, have been coping with their own unparalleled and unexpected instructional, administrative, and financial issues.
The problems assailing international education did not begin with the pandemic. Tarek Sobh, provost of Lawrence Technological University in Southfield, Mich., talked to Prism this fall, partway through what he termed "the weirdest semester in the history of higher education." As the former University of Bridgeport engineering dean stressed, international students' situation wasn't "great two years ago, and has been getting worse ever since."
Sobh was among the educators interviewed for Prism's March 2019 cover story, "A Frayed Welcome Mat." It detailed how Trump administration policies that complicated visa attainment, in addition to years of hostility toward people hoping to come to the United States, had sown confusion, anxiety, and alarm among students and would-be students both nationally and abroad.
The Biden administration is making immigration one of its top legislative priorities, enacting swift changes to reverse many of the previously enacted policies, starting on Inauguration Day. Vaccines, and the new administration's planned actions to aid distribution, should also help bring COVID-19 under control. However, the effects of the upheaval may be long-lasting, and the outlook for international education remains unclear. Still, some engineering educators find reasons for hope amid the uncertainty, believing in the resilience and innovation inherent in the engineering mindset.
Apollo 13 Thinking
During the Trump administration, enrollment trends tracked the rise and fall of policy, emotion, and public health. The Institute of International Education's "Open Doors" reports have highlighted developments in international student enrollment over the past five years, with the annual percentage change in international students either enrolled or working under the Optional Practical Training (OPT) program steadily falling from a gain of 10 percent in 2014–15 to a drop of 1.8 percent in 2019–20. New international student enrollments demonstrated even greater volatility—from an 8.8 percent gain over the previous academic year in 2014–15 to a 6.6 percent decline in 2017–18, and then steadying out at a 0.6 drop in 2019–2020.
Then came the pandemic. By the start of academic year 2020–21, the total number of international students attending U.S. institutions—including those studying online from abroad—was down 16 percent, according to an IEE survey, and first-time international enrollments had plunged 43 percent.
Forced to react quickly, 99 percent of the 700 respondent institutions reported offering online instruction, with 88 percent following a hybrid model and the rest going entirely online. Twenty percent of international students were studying virtually from outside the country, many because they could not obtain visas when U.S. consular services closed worldwide and others because entry restrictions and requirements for repeated quarantines during multistage trips made travel unfeasible.
Students described the impacts in their institutions' newspapers. First-year Kenyon College student Asmod Khakurel was waking up for classes at 2 a.m. due to the 11-hour time difference between Ohio and Nepal, the Kenyon Collegian reported. In contrast, Raj Chag, studying at Ohio's Miami University from his home in the Democratic Republic of the Congo, enjoyed the advantage of a time zone six hours ahead. Though he had classes at 8 a.m. Ohio time, "I'm not really waking up for morning classes, so that's nice," he told the Miami Student. But challenges extended beyond time zone differences. Mechanical engineering major Nikita Shubin, a Russian student studying from Moscow, had difficulties obtaining class materials until faculty members stepped in and helped him access library books electronically. Nearly half of international students at Miami University were taking classes from abroad in fall 2020.
Some students, however, chose to defer their enrollment. At 90 percent of the institutions surveyed, at least some of the admitted international students did so. Incoming University of Texas freshman Anjali Bathra couldn't obtain her student visa in India, where embassies had closed due to the pandemic. After the university denied her request for admission deferral, Bathra started an online petition that garnered thousands of signatures, the Daily Texan reported. The university relented and allowed Bathra, who must wait months for her visa interview, to request an appeal.
Students enrolled at universities with satellite campuses, partnerships, or programs in other countries have availed themselves of the opportunity to study at those sites, often planning to come to the U.S. campus when it's more feasible. Electrical engineering student Kareem Hany, an Egyptian whose family lives in the United Arab Emirates, had planned to study at Canada's University of Manitoba, but feared being trapped abroad by COVID-related travel restrictions. He chose Rochester Institute of Technology's Dubai campus instead, he explained to the UAE's National News. Tianshu Wang, a computer engineering student at New York University's Tandon School of Engineering, found attending in-person classes at NYU's Shanghai center a "great alternative to staying at home watching late-night Zoom lectures" from the U.S. campus, he told the university news service. Fellow Tandon student Phillip Olshausen returned to his native Germany when the Brooklyn campus locked down, opting for in-person courses at NYU's Berlin academic center, which specializes in social sciences rather than engineering. Though still aiming to work in math and data science, he explained that his social science courses have "broadened my perspective," introducing him to "a new side of academia from which I certainly benefited."
Overcoming the unprecedented and unforeseen administrative, technological, and instructional hurdles to offer students flexible options has required institutions to adopt an "Apollo 13 mindset," says Tandon dean Jelena Kovačević, conjuring the celebrated 1970 engineering triumph when NASA improvised a fix for a malfunctioning spacecraft so the crew could return safely to earth. Devising solutions on the fly, institutions quickly deployed digital and other methods that allowed learning both in the classroom and around the world. Lab chiefs restructured research workspaces, staffing schedules, and methods so that projects could continue despite university closures and space limitations. Administrators reorganized campus facilities and program parameters to let students remain on or return safely to campus—or study thousands of miles away.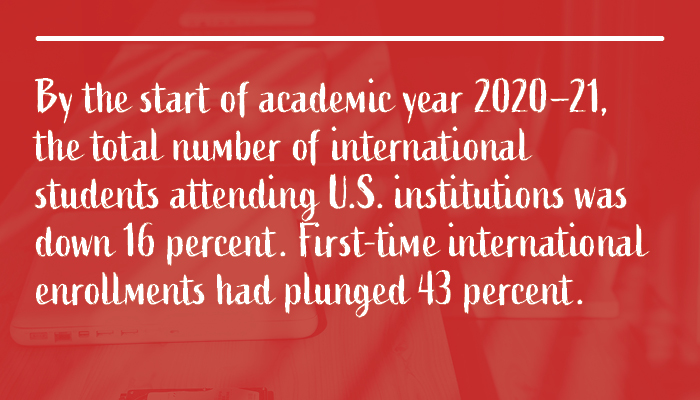 Policy Uncertainties
With their long-standing dependence on international students to fill their graduate classes and tuition coffers and to staff their faculty members' labs (almost 60 percent of engineering Ph.D. students hold temporary, nonimmigrant visas), engineering programs are particularly vulnerable to factors threatening international enrollment. Educators interviewed for "A Frayed Welcome Mat" had seen potentially ominous signs for enrollment, research, and faculty recruiting should the trends they were already noticing continue. By late 2020, the predictions were "starting to bear out [and] the pandemic has accelerated some of the expectations that I had," said Leo Kempel, dean of engineering at Michigan State University.
In 2016 and 2017, as the Trump era was beginning, "we saw across the board a significant decrease in international applications" in engineering and the sciences and across all the master's- and Ph.D.-granting programs, explains Joseph Helble, provost of Dartmouth College and former dean of its Thayer School of Engineering. The drop reflected "significant concern about staying in the United States" based on "rhetoric at the national level," he continues.
By 2018 and 2019, however, potential international applicants were hearing from students already in the United States that the country remained "a safe environment and that the reality didn't match some of the political rhetoric," Helble explains. A significant rebound in the student applicant pool followed. Applications for fall 2020 entry to Dartmouth's master's and Ph.D. programs—submitted during the winter of 2019 before the pandemic's spread—rose by 20 percent over the prior year. Other schools also experienced improvements. Stevens Institute of Technology, for example, saw "a great increase" in both international and domestic applications by undergraduate and graduate students. According to engineering dean Jean Zu, graduate enrollment jumped more than 20 percent.
But even as interest in studying in the United States was rebounding, changes in the visas crucial to international STEM students introduced new uncertainty.
In July 2020, Immigration and Customs Enforcement (ICE) announced that students would have to retain a face-to-face course load to maintain their visas. Harvard University and the Massachusetts Institute of Technology promptly sued, asserting that the rule would force universities "to attempt, with just weeks before classes resume, to provide in-person education despite the grave risk to public health and safety." A statement by ASEE signed by 30 other STEM-focused associations noted that "given that a fully online course load may be the only option at many universities, and given the challenges in international travel including visa access, the net effect of this change would appear to be to force large numbers of nonimmigrant students to disrupt their studies, leave the U.S., and be unable to return for the foreseeable future." The effect, the statement emphasized, would be "significant long-term damage to the global competitiveness" of the United States.
ICE eventually walked back the announcement with new guidance that applied to only new international students fully enrolled in online coursework. Those taking a hybrid course load or enrolled in in-person courses but forced to switch to fully remote learning midsemester due to COVID-19 would be allowed to stay in the United States. Existing international students already in the United States were not forced to leave, even if they were enrolled in 100 percent online coursework. This guidance was in place for the fall 2020 semester, and schools continue to operate under it for spring 2021 until the Department of Homeland Security provides updated guidelines.
Another change proposed by the Trump administration would have reduced the time that F-1 student visa holders could remain in the country, from essentially the period needed to complete a program to a fixed term of two or four years, with extensions requiring new applications. Because international undergraduates take an average of 4.69 years and Ph.D. students an average of 5.8 years to earn their degrees, the American Council on Education—on behalf of more than 80 other educational, academic, professional, and scientific organizations—sent a letter to ICE's Office of Policy and Planning calling such limits "largely unworkable for the majority of students, at all educational levels, as well as institutions of higher education." ASEE released a statement in October, stressing that "limiting the term of visas of such students will likely constrict the flow of talent to our shores, reduce degree completion within our universities, and diminish the quality and quantity of work that fuels our nation's economic growth and global competitiveness."
The proposed rule received more than 30,000 public comments—each of which the Department of Homeland Security would have been required to read—and was not finalized prior to the end of President Trump's term.
The previous administration's changes also applied to international student hiring. For many years, the possibility of entering the U.S. labor market, through either the OPT temporary work program available to holders of the F-1 student visa or the H-1B guest worker visa, has been a major attraction to study in the country. Students come to the United States "not only to get excellent training and education, but [also] to practice" their occupations after they graduate, says Sobh.
Trump administration policies, however, threatened to cut back those employment opportunities. A regulation scheduled to take effect in March, for example, would replace the annual random H1-B visa lottery with one prioritizing candidates offered the highest salaries. Critics say that could make international students too expensive to hire—and even affect whether students decide to study in the United States.
On Inauguration Day, the Biden administration froze for at least 60 days rules that have been published but haven't yet taken effect to allow time for public comment and reconsideration, in addition to temporarily halting both the making and publication of new rules.
But as Lawrence Tech's Sobh observes, "the ecosystem of research, both in academia and in industry, [is] interlinked" and depends heavily on overseas talent. Recruiting those needed students became more difficult, he says, because institutions in Canada and the European Union realized that talented students no longer see the United States as the unique "mecca of technology" and training. That effect may last well beyond the withdrawal of Trump administration policies.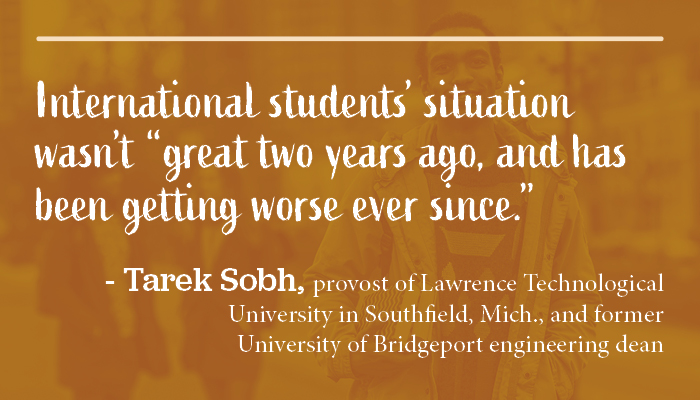 Institutional Challenges
The pandemic poses an additional obstacle to international recruiting. The United States' strikingly poor pandemic performance, notes Wendi Heinzelman, dean of engineering at the University of Rochester, made some other countries' infection rates "a real draw for people who don't want to have the restrictions" often imposed when rates are high. With U.S. case counts and trends "among the most concerning in the world," Helble agrees, "students will factor that into their decision making." In China, the main source of the United States' international enrollment, students' interest in going abroad has dropped, while health and safety have become priorities, according to a study by researchers at Lingnan University in Hong Kong published last fall. Japan and Taiwan, both boasting excellent pandemic control records, now rank among Chinese students' preferred destinations. The University of Hong Kong is even capitalizing on this advantage by offering generous Ph.D. fellowships to local students accepted at top overseas universities but prevented from traveling by the pandemic.
Yet another challenge: services needed by students unable to return home during campus closures, to enable them to remain at or near their universities while they study online. Inability to find paying summer internships during the pandemic can cost students both valuable experience and needed income. For summer 2021, therefore, NYU Tandon has established a program of paid summer research internships mentored by faculty.
For students unable to reach the United States, it's critical that they be able to start their studies where they are, says Michigan State's Kempel, despite the challenge that "in every country we have to look at what is allowed." Some nations, he observes, restrict the number of credits students can take from an international university, while others restrict access to particular digital platforms used for distance learning. Departments encounter similar restrictions sending kits for students to perform class experiments remotely. "Now I have to check to see if we're allowed to send the components in those kits to other countries," the engineering dean says. Since rules differ in each country, each case has to be looked at individually—a task that takes the "yeoman effort" of university administrators who "make sure that all the things we do meet the needs of the students and meet the laws of the U.S. and of all the countries our students are in."
International students' absence affects more than instruction, points out Sobh. Without "the people who do the bulk of the work" (graduate students and postdocs—the majority of them noncitizens), research could become difficult. Any drop in the "supply of the most competitive international graduate students [could pose] an important challenge to many universities' talent acquisition" strategies, concluded a study published by the research and strategy nonprofit Ithaka S+R in October. And that could impede universities' completion of grant-funded research.
Research can sometimes be accomplished online, Kempel notes, but this "gets very, very complex." Some projects are legal to pursue if students are in the United States, but not if they're in other countries, depending on their home nation. He also worries about the effect of lost time on the continuity of Ph.D programs. "When I'm recruiting graduate students," he says, "if I 'lose' a year of graduate students, now I've got a hole that moves its way through the process."
Still, predicts Helble, if the pandemic abates and "we have some return to some semblance of normalcy" in the next six to 12 months, the research enterprise will survive. "We'll manage in the short term with postdocs or with graduate students who stay a little longer." But over time, reducing the number of graduate students interested in academic careers could decrease the quality of applicants for faculty positions. "This is what I and others were concerned about three and four years ago," says Helble—the eventual impact on the professoriate of reducing "the supply of talented international students."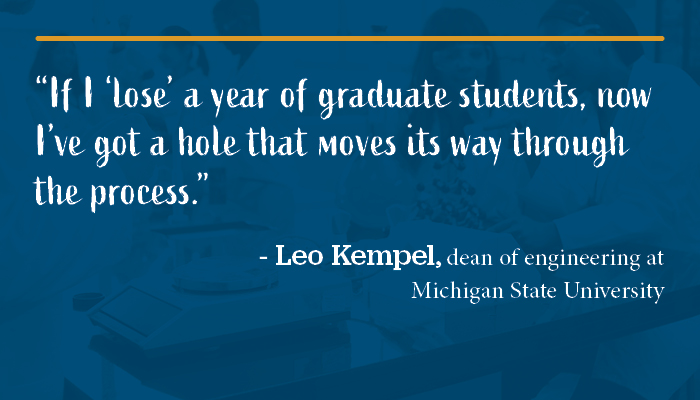 Financial Hits
Reduced numbers of international students also create financial challenges. Even before the pandemic, institutions were expecting decreasing enrollments of both domestic and international students. Contributing factors, the Chronicle of Higher Education reports, include demographic shifts, economic issues, and increased competition from other countries.
Students who don't enroll don't pay tuition, stresses Zu. Stevens has had to enact some budget cuts: "reduction in hospitality, materials, supplies, some furloughs."
"We've been hit" financially, agrees Heinzelman, but "it's too early to know what the full impact is going to be." Along with losing revenue from tuition, housing, and other fees, she notes, added costs come not only from providing the resources needed for digital learning, but also for regular, campus-wide COVID-19 testing; contracting with hotels for quarantine space; and other pandemic-related expenses.
A May 2020 report by NAFSA: Association of International Educators, estimated that U.S. higher education had spent about $638 million on financial support for international students who stayed on campus when learning went virtual. The funds went toward services such as food and rent support, emergency loans, and continued pay to student workers. About 40 percent of the 346 respondents also mentioned other financial effects of the pandemic, including loss of grants and contracts and refunds for program cancellations.
In November, NAFSA reported that drops in international student enrollment had taken a $1.8 billion toll on the U.S. economy. The 4.4 percent decline in economic contributions from these students was the first decrease in the more than two decades that NAFSA has been studying international students' economic impacts. In addition to providing tuition dollars, the association noted, international students create and sustain jobs. For every eight international students, NAFSA calculates, three positions are created in higher education, accommodation, dining, retail, transportation, telecommunications, and health insurance.
Universities' overreliance on international students to supply tuition, scientific labor, and future faculty ranked high among Tandon dean Kovačević's concerns in 2019.
A partial solution, she believes, is attracting more domestic students into engineering graduate programs. NYU's Bridge to Tandon, an innovative online program that prepares holders of non-engineering bachelor's degrees to enter master's programs in engineering, is helping boost domestic enrollment. More than 160 former bridge students are now master's students, according to Kovačević. The bridge program attracted nearly 1,000 applicants last fall, up from 600 in fall 2019, which in turn nearly tripled the 2018 number. Eight other engineering schools, including City College of New York and George Washington University, also accept successful bridge students into their own graduate programs.
Also attracting more domestic students to graduate school is the economic fallout of the pandemic. Labor market damage can vary by field, but "if you don't have a job," says Stevens's Zu, "why not study … rather than doing nothing?"
Unexpected Opportunities
According to Kempel, the pandemic has had at least one silver lining: lessons learned on remote assessment and instruction.
"Of course the pandemic cannot be beneficial," says Kovačević, "but any disruption is also a time to rethink what you're doing." (See "A Vision for Engineering Education Post-COVID-19," October 2020 Prism.)
Heinzelman also sees opportunity for online education to complement traditional methods, including by resolving pre-pandemic problems. "We've had in the past cases where students, especially international students, can't get here for months" because of visa or other issues, she explains. "If we can offer [to] them to register and start their classes online, they don't lose an entire semester." Because she believes in the benefits of residential universities, she sees this possibility as "supplementing, not supplanting" on-campus instruction as needed.
Helble predicts even bigger opportunities. With students now comfortable taking courses online, and institutions and faculty used to offering them, "imagine how you could reduce the cost of higher ed," he posits, without housing costs. "Perhaps the student starts remotely and after a certain amount of time comes to campus." Once the pandemic passes, he believes, institutions could consider approaches to "fundamentally change the financial aspects of higher education."
Without COVID-19, Kempel says, "we would have come to the same place, but it would have taken a lot longer."
New Messages
Looking ahead, it will be difficult to separate the pandemic's effects on international students from those created by the Trump administration's messaging and policies, Helble says. Kempel predicts that if pre-Trump policies return, "I don't think there's going to be a big impact on graduate student applications to the United States."
The Biden administration began its reversal of Trump policies on Inauguration Day with six executive orders related to immigration, including reversing the ban on travel for noncitizens from 13 countries—most majority-Muslim or African—and reissuing protections for "Dreamers" brought to the United States as children. Also on January 20, President Biden sent his legislative proposal for overhauling U.S. immigration policies to Congress. In addition to providing a path to citizenship for undocumented immigrants and granting DACA recipients immediate green cards if they meet certain requirements, the U.S. Citizenship Act of 2021 would "make it easier for graduates of U.S. universities with advanced STEM degrees to stay in the United States," according to a fact sheet released by the administration.
At press time, full details of the plan were unavailable. However, Biden's campaign platform called for giving foreign graduates of a U.S. doctoral program a green card along with their degree. "Losing these highly trained workers to foreign economies is a disservice to our own economic competitiveness," it stated.
Government relations firm Lewis-Burke Associates LLC, which represents ASEE on advocacy and policy issues, expects the new administration to continue its focus on immigration. More executive actions are anticipated by the end of January, according to Lewis-Burke, and work on the legislative package is just beginning.
But the new immigration agenda could face a tough path in a split Congress. And "other countries have already taken advantage and have better pathways for students to stay and work and possibly obtain permanent residency in their countries," the executive director of the Presidents' Alliance on Higher Education and Immigration, an organization of college and university leaders, told Inside Higher Education.
Still, Sobh describes optimism among higher education professionals about the new administration's actions to both undo policies and change the "anti-immigration and anti-globalization tone" that have led international students to reconsider the United States as a place to pursue their education, further their research careers, and remain after completing their studies. As he puts it, "welcoming international students to study in the United States [has] had transformative positive effects on our society, economy, scientific eminence, industry, and global leadership."
Beryl Lieff Benderly is a Washington, D.C.-based freelance writer and a fellow of the American Association for the Advancement of Science.
Look for Prism coverage of the Biden administration's approach to STEM in an upcoming issue.