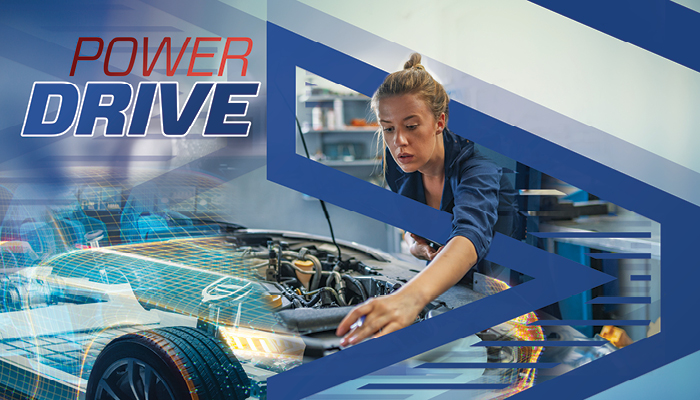 As sales of electric and hybrid vehicles grow, the internal combustion engine remains king of the road. Engineers aim to make it cleaner and greener.
By Thomas K. Grose
For passenger cars, electrons may be the fuel of the future. The world's major automakers have all bet big on electric vehicles, as have policymakers. In the U.S., where more than a quarter of greenhouse gas emissions are generated by the transportation sector, at least forty-five states and the District of Columbia have enacted incentives to increase the use of electric and plug-in hybrid vehicles, reports the National Conference of State Legislatures. Those enticements include tax credits and manufacturer loans. The United Kingdom is one of around a dozen countries that will go even further, banning automobiles that run solely on fossil fuels within the next decade. The U.K.'s ban begins in 2030.
According to forecasts by energy expert Daniel Yergin, vice chairman of global information and analytics company IHS Markit, 60 to 80 percent of new cars sold in 2050 will be some type of electric vehicle (EV), including hybrids and fuel-cell electrics. Growth can be attributed to both regulations and market demand generated by rapidly falling costs and battery advances that enable EVs to drive longer distances on a single charge.
But it would be premature to proclaim the end of the gasoline-powered internal combustion (IC) engine. Hybrids, for instance, will continue to incorporate IC engines to recharge their batteries, while many older automobiles will have miles to go before retirement, as most stay in use for 12 years. In addition, the pandemic and job losses have slowed car sales in the leading EV markets—the United States, Europe, and China—according to consulting firm Deloitte.
Yergin estimates that in 2050, two-thirds of the anticipated 1.9 billion cars on the world's roads will still rely at least partly on fossil fuels. Given that reality, car manufacturers and engineering academics are exploring ways to make IC engines cleaner. They're developing new technologies to increase engine efficiency and reduce fuel use; in addition, they're cultivating renewable hydrocarbon biofuels that could either replace fossil fuels or be mixed with them to cut the use of petroleum-based solutions.
Lean and Green
Improving the IC engine's fuel consumption isn't easy. The technology has existed for more than a century and been fine-tuned to use fuel economically, so improvements tend to come in small bursts. New-model cars today get around 25 mpg; that's up from 17 mpg in 1980. "Modern spark-ignition engines are very, very efficient," says Steven Begg, a reader at the University of Brighton's Advanced Engineering Center. "Gasoline is still number one when it comes to energy density," says the advanced combustion systems researcher.
IC engines burn a mix of fuel and air in combustion chambers that sit atop of their piston cylinders. Lean-burn technologies that accommodate more air and less fuel in the chamber are now garnering attention. The strategy is not more efficient because less fuel is burned, explains Dimitris Assanis, a State University of New York at Stony Brook assistant professor of mechanical engineering who studies engine combustion. Rather, the extra oxygen lowers the combustion temperature and enables the fuel to burn much more efficiently.
But using leaner combustion is no simple task. Extra air in the chamber can make ignition using a standard spark plug difficult and cause misfires. "A lean mixture is harder to burn and harder to control," Begg says.
Two promising lean-burn technologies are pre-chamber ignition and plasma ignition. Both are capable of igniting air-diluted mixtures that standard spark systems can't.
In pre-chamber ignition, a tiny amount of fuel ignites inside a minuscule pre-chamber. The huge buildup of heat within such a compact space results in a highly turbulent combustion filled with product, including carbon dioxide, excess nitrogen, and a bit of fuel. Jets of that product then shoot out of tiny orifices into the main chamber to ignite the fuel.
"With turbulence, ignition is very fast," says Li Qiao, a professor of aeronautical engineering at Purdue University who researches the technology. "That allows for multiple areas of ignition, and because the high turbulence is more reliable, you get a more reliable, faster ignition" that can accommodate more air. Begg explains that the reason turbulence makes for a more reliable ignition is that "it's a great mixer; it's a great way to transfer heat and energy faster." Assanis likens it to "a small bomb that creates a hot thermal mass injected into the main chamber."
Both Ford and General Motors, as well as Caterpillar, the heavy-equipment manufacturer, have expressed interest in pre-chamber combustion, Qiao says. "But it is very early days, and they are still evaluating whether they want to pursue it."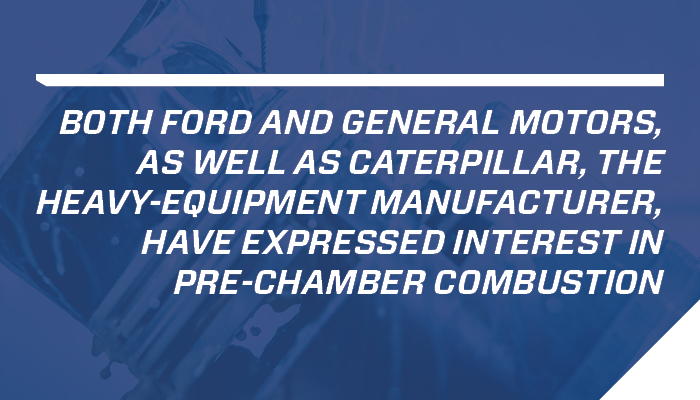 Cooler Plasma Prevails
Plasma ignition uses a nonthermal, low-temperature plasma instead of the heat from a spark plug to combust the compressed fuel mixture. Transient Plasma Systems of Torrance, Calif., a spinout from the lab of Martin Gundersen, a University of Southern California professor of electrical power engineering, is a leader in commercializing the technology. Its plasma plug emits high-voltage pulses that last around 10 nanoseconds to ignite the fuel. CEO Dan Singleton, who cofounded TSP with his former Ph.D. advisor, says "the benefit of our system is it's absolutely great at ultra-lean."
A traditional plug's spark causes the fuel mixture's molecules to vibrate until they react and combust, which takes time, Singleton explains. But nanosecond pulses of power create "a very short electric field that drives the electrons to accelerate extremely quickly and then collide with the fuel and air molecules." That collision results in a faster chemical reaction, he continues. Even though it's a low-temperature plasma, "the collision breaks apart the oxygen and it becomes two oxygen atoms, and when those react with the fuel, you are going to get heat."
That's a "significantly faster process" than oxygen molecules heating up and reacting with fuel. And "because it's a faster process," Singleton says, "we can ignite a more dilute mixture."
How dilute? Singleton estimates his plasma ignition can burn a mix that's more than 25 parts air to 1 part fuel, or nearly double the stoichiometric ratio (the optimal mix in traditional combustion, which is 14.7 parts air to 1 part fuel).
At an independent engine testing facility, engines using TPS's technology were able to improve fuel efficiency by 10 percent across the entire drive cycle, including stopping, starting, and freeway driving. That's a huge gain, Singleton says, noting that automakers typically consider an increase in fuel efficiency of around 3 percent a big deal. Producing those nanosecond bursts of energy is difficult, he says. "That's where our secret sauce is; it's how we differ from other plasmas."
Gundersen began studying plasma ignition decades ago. But recent advances in solid-state, high-voltage switching allowed him and Singleton to make it work commercially. All of a sudden, Singleton says, "we were within the realm of an affordable, compact, reliable" device. And while he can't yet name names, TSP is working on and testing engines with automakers.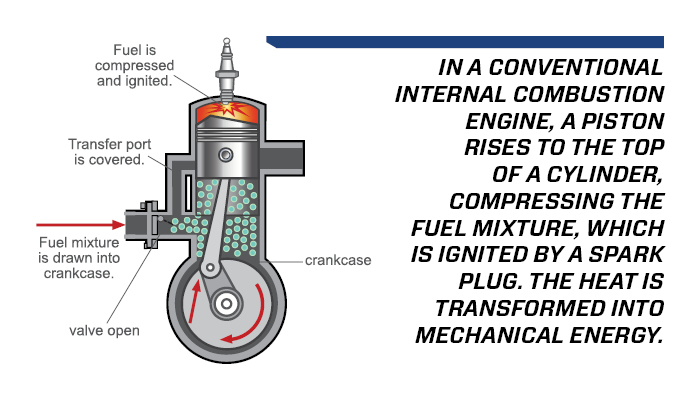 Growing Fuels
Another way to tackle emissions from internal combustion cars is to burn cleaner fuels, or biofuels. "The IC engine isn't the devil," Assanis says. "It's the fuel you put in it—so get rid of the dirtiest fuels."
But a major issue with biofuels is that the crops needed to produce them require huge swaths of farmland that are also needed to grow food. And efforts to use cellulosic feedstocks, such as wood waste, grasses, and corn stover, have so far proved expensive and difficult to scale. "The challenge is making it profitable," says André Boehman, a University of Michigan mechanical engineering professor and director of the engineering school's auto lab. "We use 20 million barrels of oil a day; that's a lot to replace."
The main biofuel now in use in the United States is ethanol, which is made from corn. Most gasoline sold in the country is a mix of 90 percent gasoline and 10 percent ethanol.
Several of the Department of Energy national labs are working to improve biofuels, conducting research and development on "drop-in hydrocarbon-type fuels" that could be burned directly by IC engines or blended with gasoline. The feedstocks under investigation include biomass, microalgae, and sewage sludge, which could be used to produce a variety of fuels, including alcohols, olefins, furans, ketones, and ethers. A major hurdle, a DOE representative says, is that the equipment used to handle and process alternative feedstocks hasn't been effective because of the variable nature of sources like corn stover. For example, even corn stover harvested from a single plot typically has widely different levels of quality, and that can affect the equipment used to handle and process it.
The labs are now modeling the molecular structures of these feedstocks in order to design new equipment more suited to the task.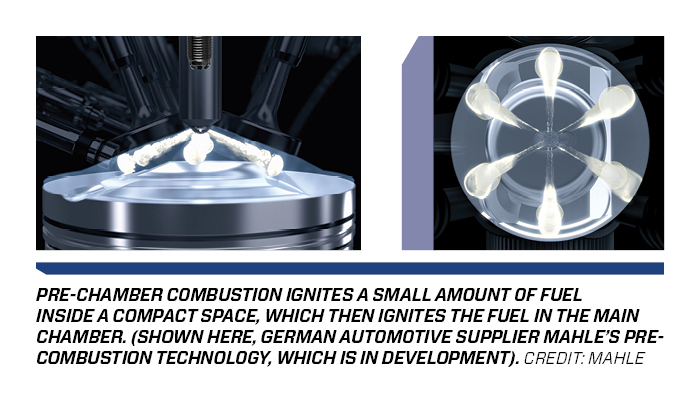 A Helpful Reaction
One new breakthrough, however, entirely leapfrogs the land-use issue. A team led by Di-Jia Liu, a research scientist at the University of Chicago's School of Molecular Engineering and a senior chemist at Argonne National Laboratory, recently reported its invention of a new low-cost electrocatalyst that can convert carbon dioxide and water into ethanol. The catalyst, which runs on low power and works in ambient temperatures, is made from atomically dispersed copper on a carbon-powder support. It creates an electrochemical reaction that breaks up the CO₂ and water molecules, then reassembles them into ethanol when an electric field is introduced. The method converts 90 percent of carbon into the fuel.
Employing CO₂ to generate ethanol offers another critical benefit, Liu points out: capturing and converting the greenhouse gas to "a useful material." And given the inexpensive resources needed for the catalyst, he adds, "there are no limitations for future implementation." What Liu's team hasn't yet worked out is where the CO₂ would come from, though fossil-fuel power plants and CO₂-belching industrial plants—operated by cement or steel manufacturers—are top prospects. Placing the bioethanol plants next to the sources of the CO₂ would be optimal, Liu notes. The necessary next step is running a pilot plant as a proof of concept.
So, yes, the future of motoring is indeed electric. But perhaps not entirely. Assanis says tomorrow's cars may be complex hybrids that switch between several different propulsion systems that include electric motors and lean-burn IC engines running on a variety of clean biofuels. "The future," he says, "is all about flexibility."
Thomas K. Grose, Prism's chief correspondent, is based in Great Britain.