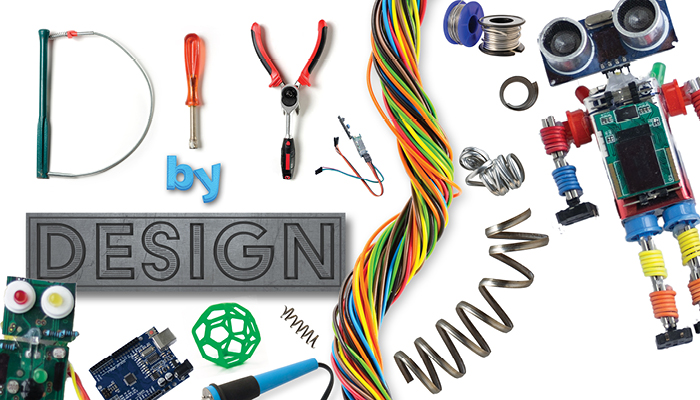 Once a novelty, maker spaces have become a must-have feature for attracting, engaging, and retaining engineering students.
By Pierre Home-Douglas
When Emma Hammer was applying to colleges, a collaborative environment was high on her wish list. She found it at Georgia Tech—specifically in the 15,000-square-foot, state-of-the-art Interdisciplinary Design Commons. The student-run maker space, filled with laser cutters, 3-D printers, and groups working together on "all these interesting, hands-on [activities] creating things was exactly what I was looking for," explains Hammer, now a junior majoring in electrical and computer engineering and one of the facility's peer instructors. "It made me fall in love with this school."
Hammer is hardly the only aspiring engineer captivated by the high-tech fabrication labs and equipment-studded design studios that have proliferated at schools nationwide during the past decade. The do-it-yourself spots have become hot destinations on campus tours—and a factor in enrollment, engagement, and retention. At Bucknell University, for example, 30 percent of engineering students say maker spaces influenced their decision to attend. Georgia Tech's interim engineering dean Laurence Jacobs concurs. "We are attracting many more students who seek us out for our maker spaces," the professor of civil and environmental engineering explains, citing a recent encounter with a prospective freshman who asked to visit the half dozen maker facilities on campus that had prompted him to apply.
Far from mere bells and whistles, maker spaces have become essential components of engineering education, transforming programs with immersive projects and novel industry partnerships intended to put the "I" in innovation from day one. Unlike traditional fabrication facilities overseen by skilled operators, today's souped-up shops provide students—including those who may never have handled a drill—with training and direct access to waterjets, CNC routers, and other sophisticated equipment to use for personal projects, not just class assignments. Cool tools are only part of the draw. For many students, maker spaces serve a vital social function, providing a refuge where they can gather, relax, pursue passions, and develop a sense of community and belonging. Some proponents believe these DIY havens can help create a more welcoming engineering culture for women, underrepresented racial minorities, and LGBTQ+ students.
Paradigm Shift
Academia's hands-on hubs are as varied as the programs and student interests they support. Some, such as the 20,000-square-foot Oshman Engineering Design Kitchen that Rice University opened in 2009 in the former campus central kitchen, are sprawling complexes with immersive teaching missions. Others occupy reconfigured nooks. The University of Nevada–Reno's DeLaMare Science and Engineering Library, one of the first academic libraries to install a maker space, provides loaner tools as well as an on-site milling machine, laser cutters, a sound recording room, sewing stations, and student "maker wranglers" to guide newbies. The University of Utah offers a unique living-learning maker space for entrepreneurially minded designers complete with piano and café, while New York University's Tandon School of Engineering features a "MakerGarage" in a converted Brooklyn factory where students work on projects from vertical farms to model rockets.
Though their configurations and focuses may differ, effective maker spaces share a strategy for engaging students. They flip the manufacturing model by emphasizing process over product, inviting everyone to participate, and adjusting schedules and staffing to accommodate all comers—early birds and night owls alike. "Primarily, the space has to create a culture in which making things is valued," explains Alan Cheville, chair of electrical and computer engineering at Bucknell University, who oversaw the development of the school's electronics maker space, the Maker-E. "It can't be a top-down managed space like a lab or a machine shop. You have to have a space for people's creativity to emerge."
Faculty have embraced maker spaces as a way of promoting student-centered, hands-on learning without overloading an already-crowded curriculum. Bucknell chemical engineering professor Margot Vigeant became an early proponent when a friend introduced her to Make magazine—dubbed "the Gutenberg Bible of the maker community"—a few years after the publication's 2005 debut. "It seemed clear to me that a college of engineering had to have a space where people could creatively apply some of the tools that had previously been restricted to research or class," she recalls. Vigeant showed the magazine to the dean, exclaiming, "We need to get in on this!" Launched with a $100,000 grant to cover the cost of renovating and equipping a modest wing in a craft center, Bucknell's first maker space opened in 2010. Today, the school boasts three, and Cheville reckons that 75 to 85 percent of maker space use is now driven by class assignments and projects.

Investing in Innovation
Fueling the boom is the declining cost of 3-D printers and other maker-space mainstays—a development that Micah Lande, chair of engineering education in South Dakota School of Mines and Technology's department of mechanical engineering, calls the "democratization of tools." The first 3-D printer under $10,000 hit the market in 2007; now many can be purchased for under $1,000. Meanwhile, academic maker spaces have expanded from small rooms and mobile fab labs into multimillion dollar enterprises with full-time staff, courses, and industry partnerships. There's even an annual research conference devoted to exploring topics from learning impacts to ensuring safety.
"This 'making' is the way engineering should be taught," contends Shawn Jordan, an associate professor of engineering education at Arizona State University, which hosted one of the earliest public-private partnerships to run and franchise maker spaces nationwide. (The school reclaimed the facility after its partner declared bankruptcy in 2017.) "At the end of the day, our students cannot create good designs simply in theory if they lose the ability to make those designs in reality."
Georgia Tech has invested heavily, carving out separate maker spaces for aerospace, biomedical, and materials engineering. An $11 million upgrade in 2018 transformed an old auditorium into the country's largest electronics maker space. Spread out over three floors, the Interdisciplinary Design Commons features a floor with laser and plasma cutters, 3-D printers, and a spray booth; a second floor with oscilloscopes, power generators, and other bench equipment; and a top-floor lounge and computer area for hanging out. "For the kind of students we have now and the kind of students we are recruiting, maker spaces are really important, so we've put a lot of time and energy into them," explains Jacobs, who speaks glowingly about the financial support from industry leaders like Texas Instruments and points to the many corporate sponsors whose names line the walls of the school's six maker spaces. "This is definitely where we put money. This is important to us."
Maker spaces are important to students, too, judging from the growing number who access them. More than 1,200 Rice University students used the Design Kitchen in the 2018–19 academic year for engineering design courses and project development, for instance. That's up from 450 undergraduates in 2009, the facility's first year. (Last year's total of roughly 830 students reflects a drop due to pandemic-related closures.) The most persuasive evidence of impact, however, lies in the outpouring of ingenious solutions.
Consider the projects enabled by the 24,000-square-foot Jacobs Institute for Design Innovation at the University of California–Berkeley's College of Engineering. Built in 2015 with the help of a $20 million philanthropic donation, the facility's studios and labs are set up for prototyping and fabricating just about anything. One duo, keen to help the 20 million people worldwide whose disability challenges prevent them from maneuvering a computer mouse, came up with Omni Mouse, a device that can detect tongue movements to control a cursor. A group of bicycle enthusiasts designed and built RattlesNeck, a collar-like piece of wearable technology with ultrasonic sensors that vibrate and flash LED lights to warn both cyclist and motorist of an impending collision. Then there's Halo, a running app that can beam a stadium light down on the track to show the previous record time and encourage the runner to pick up the pace.
The maker space's creative empowerment sold student Josh DeWitt on Berkeley. He initially was drawn to another engineering school, ranked among the nation's top 10, but it lacked the hands-on approach he craved. The shop centered on "very academic-focused work" and "was more like making a car for a competition or making a bridge, rather than some place more open where, sure, there is project-based learning but there are also students making things just for fun." DeWitt, now a senior majoring in mechanical engineering and a supervisor at the institute, says he is "a lot happier" at Berkeley. "It's exactly where I need to be." He sees a similar excitement in the high school students he leads on tours, concluding that maker spaces will be "a big factor in their choice of where to go," too.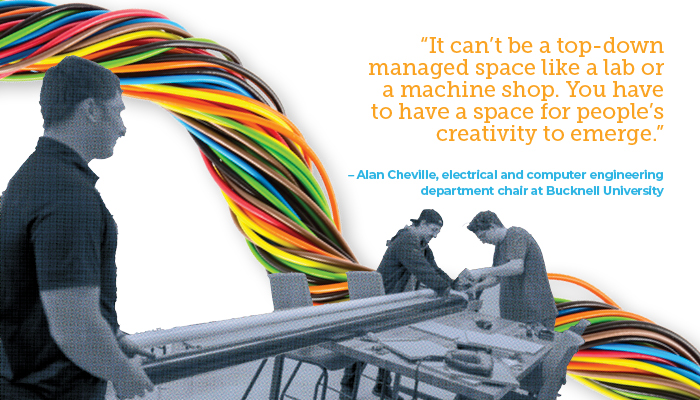 Lasting Effects
Once students enroll, maker spaces may play a role in their academic success and persistence. Studies report improved confidence in engineering skills, higher motivation and less anxiety about performing design-related tasks, and a greater sense of belonging among participants. Hamilton College's eight-year analysis How Colleges Work "pretty clearly shows that the degree to which students thrive in college is connected to making close friends among both peers and faculty," observes Bucknell's Cheville. "To the extent a maker space can help build friendship, tie students to a place, and give them a home away from home, then [these] are all factors that can improve retention." At Bucknell, he notes, the couch-filled maker space has become a "go-to study space" that offers a nonjudgmental and "very welcoming environment" for students, such as members of the LGBTQ+ community or even someone with a problem roommate.
In a presentation at ASEE's Collaborative Network for Engineering and Computing Diversity (CoNECD) conference in January, Arizona State University engineering educators Brooke Coley and Nadia Kellam—themselves makers—highlighted several practices to promote inclusiveness in engineering maker spaces. Among them: incorporating culturally relevant projects, such as making African musical instruments, into coursework and displaying posters with diverse makers on machine shop walls.
Maker spaces may be particularly pivotal in retaining first-year students. University of Louisville assistant engineering professor Brian Robinson argues that their higher dropout rates stem not from a lack of ability or effort but from seeing little practical relevance in gateway courses and becoming disinterested in "toughing it out." To boost persistence, Robinson created a first-year course that includes designing and building a small-scale windmill. Working with two instructors and four TAs to help answer any questions, he sends students into a maker space adjoining his classroom. There they figure out the optimum pitch and the optimum blade configuration, "so there is definitely making but there is also the designing and the experimentation," explains Robinson. Along with learning about electromagnetism, teams build AC motors with mounts to attach to the windmill and power a circuit board. "You might be surprised by how many first-year students don't even know how to use a drill," says Robinson. The result: A majority of 443 students surveyed in spring 2019 said the course had a positive impact on their interest in engineering, with a quarter calling the impact "significant."
Maker spaces are no magic bullet, cautions Cheville, noting that students abandon engineering for a variety of reasons. But even modest outlays—"a little bit of stuff and a couple of hundred square feet and the right culture"—can yield positive results. Given the nation's need for more engineering graduates, the inspirational value may be worth the investment. Just ask Georgia Tech junior Hammer. She now enjoys watching the faces of prospective students "light up" when they "see all the cool things we're doing" in the design commons while relishing her role assisting peers who "don't know where to start."
Pierre Home-Douglas is a freelance writer based in Montréal and frequent Prism contributor.