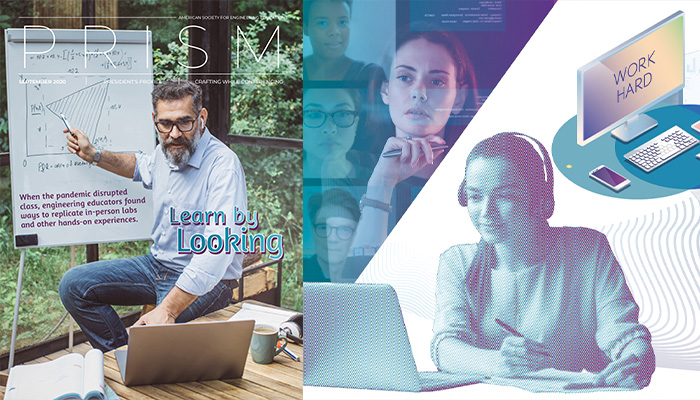 Locked down by the pandemic, engineering educators find creative substitutes for in-person labs and other hands-on learning experiences.
By Thomas K. Grose
Each spring, MIT mechanical engineering professor Maria Yang teaches a popular product-design course to some 80 graduate students, equally divided between the engineering and Sloan School of Management MBA programs and the industrial design master's program at Rhode Island School of Design. Their task: Create a prototype that not only works and is cost-efficient but also fits a feasible business model. "Student interaction is a big part of the class because team members come from three different disciplines," she explains. Thus, their weekly three-hour labs are critical for hashing out myriad project details. Those collaborations came to an abrupt halt in mid-March as the novel coronavirus shuttered MIT and campuses nationwide, leaving Yang and her students—barely a third of the way through the semester—with just two days to prepare for the exodus. "We spent a lot of time learning how to use Zoom for breakout rooms so we wouldn't lose the team aspect," she says. Still, with students scattered across time zones and grappling with unreliable Internet access or pressed into childcare and other duties at home, even scheduling meeting times proved daunting.
Engineers have never shied away from challenges, including today's urgent effort to quell COVID-19. But as the global pandemic stretches into autumn, those who teach the next generation of innovators and problem solvers find themselves again scrambling to virtually replicate the dynamic learning environment of hands-on labs, team projects, and capstone courses—the heart and soul of engineering education. Many instructors can draw on successful spring-term workarounds that used tools such as videoconferencing programs, Slack channels, chat rooms, and live demos beamed from home. Others substituted computer simulations for activities ranging from data analysis to end-of-course project showcases and even model racecar competitions. Faculty also shipped old-fashioned cigar-box kits, LEGO sets, and electronics parts to students' homes. "Meeting the educational objectives was the same," stresses Yang. "The experiential portions were different, but still satisfying."
Driver's Ed Minus the Car
Not everyone shares that rosy assessment. For their capstone research report, a multidisciplinary team of four graduating Worcester Polytechnic Institute seniors surveyed 200 undergraduates and interviewed six faculty members about their remote-learning lab experiences this past spring. While chemistry and physics students gave generally positive responses, particularly for teamwork and materials, a whopping 73 percent of engineering students panned the whole ordeal—which the report's authors likened to "learning to drive a car by watching a simulation of someone else doing it." Their study also found that faculty "are struggling just as much as the students" and similarly were "missing the in-person connection of face-to-face classes."
That distance learning proved disappointing doesn't surprise Richard Felder, a chemical engineering professor emeritus at North Carolina State University and recognized authority on effective pedagogy. He notes that college teaching is the rare profession that doesn't train its practitioners, forcing instructors to rely on trial and error. "Most are not taught to teach, and none is taught to teach online," says Felder.
Even the most engaging educator, however, would have trouble replicating remotely the deep learning that happens when lab partners, teammates, or the professor can immediately jump in and help troubleshoot. Nor can computer simulations teach the hands-on skills and other core competencies that come from working in a campus lab or maker space full of specialized equipment. Then there's the challenge of ensuring that distance learners have equitable access to broadband, software, and other resources—including support services. Affluent institutions, such as MIT and Stanford, decided to cover the costs of laptops and hot-spot connections for undergraduates in need, while students at North Carolina Agricultural & Technical State University (N.C. A&T), a historically Black university, were able to remotely access the school's servers to use MATLAB, Solidworks, and other course-required software programs through the virtual infrastructure the college had established pre-pandemic. Yet widespread disparities in, and barriers to, remote learning remain largely unaddressed.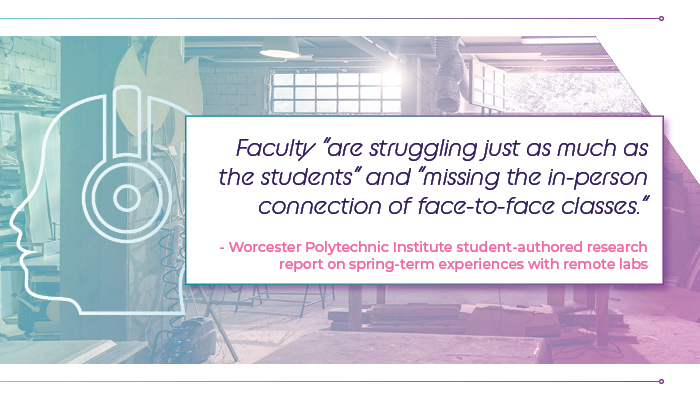 If engineering faculty were initially ill-prepared for the pandemic's upheaval, they had one major advantage heading into the new academic year: a summer to prepare. That breather enabled instructors to distill core content and recalibrate assignments—and expectations—accordingly. "Because we have the time to plan, we have that opportunity to think of what end results we want when we have no choice but for experiential classes to be taught remotely," says Robin Coger, N.C. A&T's engineering dean. "In some cases you have to really fine-tune the learning goals to the most important set, and focus on that, because it's not going to be an identical experience." Strategies will vary by discipline. Although some practitioners are sharing examples of what worked in the spring, there's no checklist of "best practices" that covers engineering's myriad fields, notes ASEE Fellow Milo Koretsky, a chemical engineering professor at Oregon State University. "For mechanical engineering, the capstone is making a widget; in chemical engineering, you can't make anything, and our labs are an expression of those differences."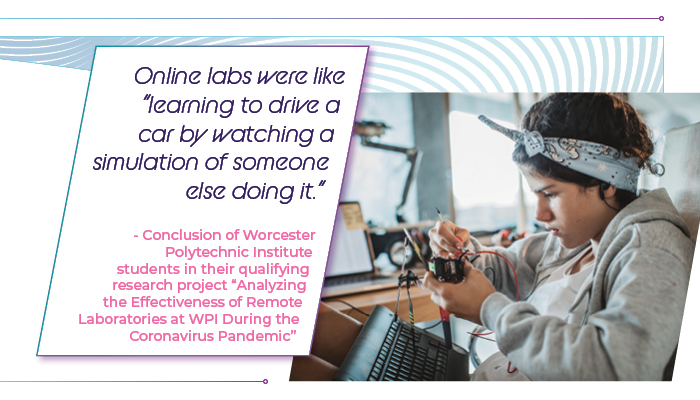 DIY Ingenuity
Like correspondence programs, which debuted more than a century ago, distance education need not involve tricked-out videoconferencing platforms like Zoom to boost students' creativity and lab know-how. To provide opportunities for hands-on experimentation and data collection in his Feedback System Design course, Jacob White, an MIT professor of electrical engineering and computer science, and his teaching staff of six spent a hectic two weeks cobbling together DIY kits from about $150 worth of LEGO bricks and other parts—finishing in time to send one home with each of his 135 students. The kits, which included software that let students view and share measurements in real time on their laptops, enabled teams to design and build controllers to duplicate equipment they'd normally use in the lab to suspend a magnet in midair and control a propeller-levitated arm.
White, a proponent of simulations who has designed several himself, felt it was crucial for students to watch an actual physical system in action while monitoring measurements on their laptops each time they changed parameters. "If it's hands-on, you really have to put your hands on it," he contends. Because parts sometimes broke, he adds, "we kept FedEx very busy." He and his staff kept busy, too, adjusting their schedules to work daily from 3 p.m. to midnight so they could talk students as far away as China and Taiwan through the hard parts on Zoom and later conduct post-experiment interviews. Despite some missteps, the experience was well-received, says White, "but it required an enormous amount of real-time online time"—far more than teaching the in-person class.
To ensure that distance learners get hands-on experience, some of Coger's N.C. A&T faculty are considering having them rerun the fall term's simulated experiments in the lab this spring, if the campus fully opens. "It would be for zero credit, but it would, at least, allow students to still touch and understand" the devices, she explains. Stripping down labs to a core set of learning outcomes also can create robust remote alternatives. Computer simulations based on actual measurements, for example, offer authentic opportunities for students to hone fundamental data-analysis skills. "Many people say 'oh, we can't possibly go online,' [but] it's all about they have to do this particular experiment," underscored Joanna Millunchick, a professor of materials science and engineering at the University of Michigan, speaking at a session on remote learning during ASEE's Virtual Conference in June. "Well, is it really about building that particular skill, or is it about gathering data and analyzing data?" Koretsky agrees that when it comes to data analysis, "virtual environments are really powerful, and for students, that's an effective learning objective."
Teamwork Across Time Zones
Project-based classes pose additional hurdles when migrating online. Team members may live in different cities or countries, making real-time collaboration and construction tricky if not impossible. And few have tool-studded home workshops. When MIT shut down in mid-March, for example, Yang's students had rough prototypes but "were nowhere near finished." One team splurged on a 3-D printer, spending $300 of the allotted $1,000 for materials, to make the parts needed to complete the first-aid kit it had designed. But classmates with "big and bulky" designs—like the collapsible suitcase one team developed—had to rely entirely on CAD designs and couldn't make the last short leap to a finished prototype.
Off-the-shelf kits salvaged the final project—building a violin—that Keith Williams, an associate professor of electrical and computer engineering at University of Virginia, normally assigns in his Introduction to Engineering course. After "a few hours of freak-out" upon learning his students wouldn't be returning from spring break and able to use the school's scroll saws and other tools, he realized that for less than $40 he could purchase cigar-box guitar kits that require nothing "beyond a screwdriver and some ingenuity." They were purchased and dispatched to his 30 students within days.
For William Oakes, director of Purdue University's EPICS, the country's largest engineering service-learning program, the online transition was magnitudes more complex. He oversees more than 600 students working on some 130 mostly community-based projects for clients ranging from local charities to international development groups, and most of those efforts required adjustment when the shutdown hit. One team of 20 students—14 from Purdue, two from South Dakota School of Mines, and four from Oglala Lakota College—assigned to design and build a greenhouse for a Native American community near the college was scheduled to visit the site in May to help with the assembly. Fortunately, their design had been finalized and all the parts ordered and shipped by the time COVID-19 canceled travel. Meeting via Zoom, the students had to find new local contractors and then work around restrictions imposed by the pandemic. "They finished [the project] like it was planned," says Oakes, an ASEE Fellow. "There was just a lot of scrambling." He expects that many students will likely spend more time doing online modeling and CAD design this fall, and very little actual building. He also foresees more teams working on feasibility studies for projects that will be completed by professional engineers.
By contrast, Mohamed El-Sayed, a professor of engineering and engineering technology at Eastern Michigan University, weathered the shutdown with just minor alterations to his ET capstone course. The first two-thirds of the industrial design process he favors is always done entirely online, with teams divided into designers and builders/validators. Unique parts are made by 3-D printers, but most are off-the-shelf components that students adapt. When the campus closed, the designs had been completed and teams had begun to order or print parts, which were sent to the homes of builders for assembly and testing. "The capstone can be totally online, with some hybrid work," says El-Sayed, who hopes students can return to the lab this fall to print, assemble, and test their products. But "the core part will be online without losing any aspect of learning—design is a virtual activity."
Millunchick concurs. Most engineers "do a lot of their design process remotely anyway, working with teams from all over the world," she observed at ASEE's Virtual Conference. "It's like a feature now of what worldwide engineering might actually look like."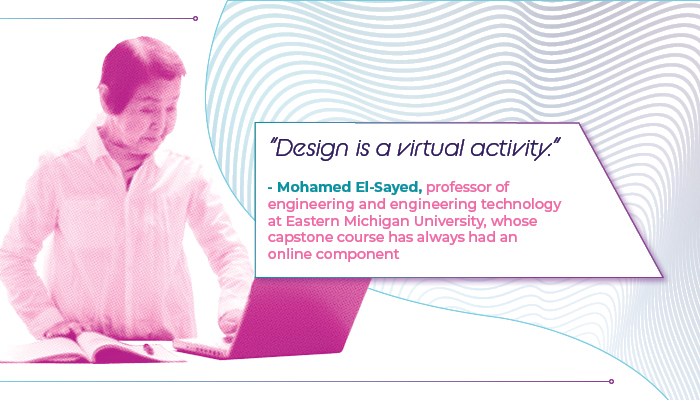 Group Bonding
As the fall term gets underway, one of the biggest concerns for faculty is how to forge interpersonal relationships and a sense of belonging among disparate team members who, unlike during spring term, are working remotely from the start. Stanford University's Sheri Sheppard, a professor of mechanical engineering and an ASEE Fellow, plans to use a method devised by Mark Cutkosky, another mechanical engineering professor, that's based on a strategy piloted by pioneering electrical engineering professor Jim Gibbons. Cutkosky divided his 80-minute online class of around 100 students into groups of eight, each facilitated by a TA. The students spent the first 20 minutes watching a video on teamwork, which was regularly stopped if anyone had a question or the TA wanted to underscore a point. Then the groups were broken into teams of two to four for an hour of problem-solving. "By then, each knew a little something about the others," Sheppard explains.
Whether such methods will work for hybrid classes with both in-person and remote students, as some universities are implementing, remains to be seen. Posting lectures online is relatively easy; instructors "flip" their courses all the time. But social-distancing guidelines limit the capacity for in-person meetings or labs. At Purdue, for example, "most [team members] wouldn't be allowed to be in one breakout room at the same time," Oakes says.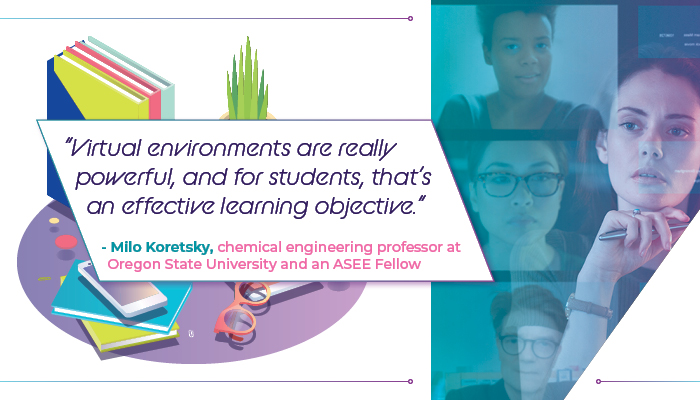 Like most displaced faculty, MIT's Yang hopes the COVID-19 crisis will ease to the point where she can fully resume in-person teaching. This fall, however, she is relying on kits and remote instruction for her sophomore Introduction to Design course. "I'm not sure how it will work when no one on any team will have met or worked together in person beforehand," she muses. "It will certainly change the dynamics." Despite the pandemic's continued disruption, engineering educators everywhere can take heart from the reaction of Yang's product-design students to remote learning. Some "actually liked it better," she marvels. "They thought it was more efficient."
Thomas K. Grose, Prism's chief correspondent, is based in the United Kingdom.
Design by Francis Igot
Help at Hand
ASEE offers a number of resources for remote instruction. Find teaching tips, evidence-based best practices, and other useful offerings for online course development and delivery at:
ASEE Resource Central. The Society's professional-development hub includes articles, blog posts, and webinars on topics ranging from insights on remote labs to teaching inclusively online.
https://resources.asee.org
Advances in Engineering Education. The online publication's special COVID-19 issue, slated for publication this fall, will feature brief research papers on virtual teaching and learning in the COVID-19 era.
https://advances.asee.org