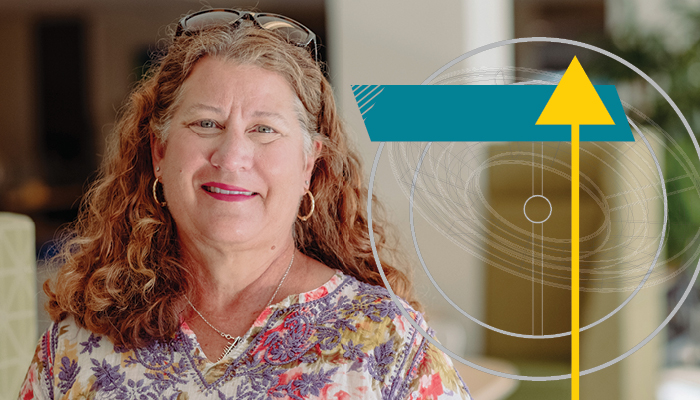 Sheryl Sorby once struggled to imagine 3-D objects. ASEE's new President is now envisioning ways to transform the engineering curriculum.
By Pierre Home-Douglas
Sheryl Sorby knows what it is like to feel like an outsider. In her first chemistry course as a civil engineering undergraduate, the professor urged the female students to drop out and pursue nursing instead. "All you women," or did he say girls, she muses, "think you want to be engineers. But you just don't have what it takes."
In 1978, Michigan Technological University was male-dominated, like most schools. Sorby only had one teacher in her undergraduate years who was a woman: her first-semester calculus teacher. "There was a constant feeling that you didn't belong there," she explains, remembering looking around and not seeing anyone who looked like her. "That can be quite devastating." For the first time, Sorby seriously doubted herself. "I thought, maybe they're right. Maybe I needed to go into something else."
Diversity Breeds Creativity
In the end, Sorby persevered. She even earned an A in the course. Still, that early experience kindled a belief that STEM education needs to be far more inclusionary and less elitist. Right now , she says, engineering is driven by a "weed-out" mentality, in which students prove themselves to fit in. Sorby feels that a curriculum that favors inclusion, rather than exclusion, will lead to a more diverse workforce in the future, with more women and more underrepresented minorities. It also means better engineering, as industry is demanding, she says. "Lack of diversity often means a lack of creativity." Homogeneous teams of engineers tend to render similar ideas, which can, in extreme cases, harm end users. She gives examples of airbags that worked well for men but injured women and children, and tailgates on minivans that the average woman couldn't pull down.
Sorby, 60, grew up in southern Michigan with her high school-teacher father and her school nurse mother. As soon as school let out every summer, they headed to the family cottage near Iron River in Michigan's Upper Peninsula. In choosing a university, Sorby went with the familiar—Michigan Tech—in Houghton. The full-ride scholarship also helped. She chose engineering because she had heard that it was a good way to eventually get into medicine. "Someone had told me that medical schools like to admit engineers because they are problem solvers," she explains. "Along the way, I figured out that I didn't want to be a doctor, and I liked my engineering classes."
After a smooth ride through her freshman chemistry course, she hit some bumps. The first engineering course she took in her second quarter was engineering graphics. For someone who had excelled in grade-school subjects, Sorby was taken aback when she realized "nothing made any sense to me." She didn't feel any better when she looked around the room and realized that her classmates all seemed to be breezing through.
Nevertheless, She Persisted
What Sorby didn't realize at the time is that her challenges with spatial awareness—the ability to mentally reproduce objects in three dimensions and picture how they will look when they are rotated—are common for women. In fact, studies have shown that women are three times more likely to have problems in this area than men. "Engineers have to think about how things fit together and work together," she emphasizes. "It's a very spatially demanding field."
Once again, she persevered with little help from her professor. "I remember going to him and asking about a problem, and his answer to one of my questions was, 'Well, it's obvious.'" A big part of the problem, she says, is that the instructors never had any trouble with the material themselves. "They can't imagine not understanding it."
Sorby earned her B.S. in civil engineering in 1982, showing up at her commencement married and eight months pregnant. She graduated top of her class. Her original plan was to work in industry and then attend graduate school, but because industry often demands 60-hour work weeks, she and her husband decided that route would not be conducive to family life. So she went straight into graduate school instead. By the time she completed her M.S. in engineering mechanics (1985) and Ph.D. in mechanical engineering (1991)—also at Michigan Tech—Sorby had three children. "I've always been a night owl," she says. "I'm up until 2 a.m. routinely, so I worked while my kids were in bed." Still, juggling finishing off a Ph.D. with three youngsters "is not the ideal way to do it," she admits.
The Art of Graphic Course Design
As Sorby completed her doctorate, she also worked full-time teaching in Michigan Tech's mechanical engineering-engineering mechanics department. Ironically, one of the first courses she had to teach was engineering graphics. To spare students some of the problems she'd faced as an undergraduate, she helped develop a course in 1993 with a grant from the National Science Foundation. It centered on spatial awareness using computer-aided design, with features that demonstrated key concepts such as rotation of objects around an axis. When she obtained a second NSF grant five years later, she created a workbook to pair with multimedia software upgrades and replacements. She has continued to modify the software and the workbook. Although the software is important, she says, the real spatial skills developments come from working through workbook problems. "They challenge students to use Lego-like snap cubes to build objects and sketch them from various viewpoints."
The graduation rate for women who enter engineering with weak spatial skills is roughly 50 percent, compared with 70 percent for those with good spatial skills. After taking Sorby's one-credit course, women with initially poor skills saw their graduation rate climb to 77 percent—even higher than the women who already had good skills. Men who took the course improved less impressively—from 52 percent to 62 percent, the same rate as those who arrived with good spatial skills. "But that's also good," says Sorby. "We need more men in engineering, too." The course also improved student performance by a half a letter grade in courses as disparate as calculus, chemistry, physics, and computer science.
The course Sorby initially labored over has now developed into a lifelong calling. "I dabble a little here and there in some other things," she says, but her focus on spatial skills has been consistent. "Now it's pretty much all I am interested in doing." Her own struggles are part of the reason why. "It became personal to me," Sorby explains. "I realized it's not a fatal flaw. You can be successful if you struggle with this." As to why women have weaker spatial skills, Sorby says "no one really knows. And it doesn't really matter because they can be learned."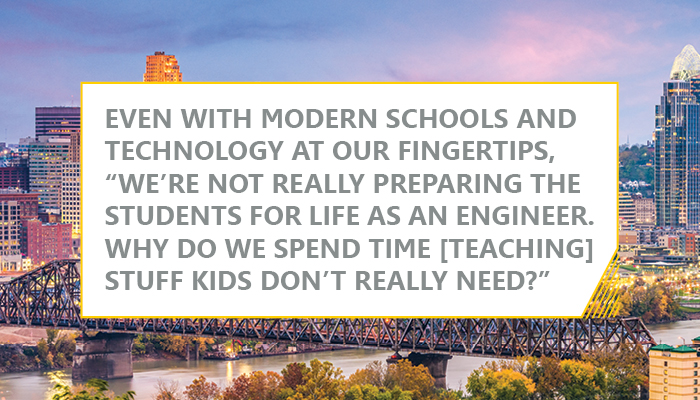 Tells It Like It Is
Sorby left Michigan Tech in 2011, following a three-year hiatus to serve as program director in NSF's division of undergraduate education. Karen Oates was deputy director for undergraduate education at NSF at the time. She was so impressed with Sorby that when Oates became dean of arts and science at Worcester Polytechnic Institute, she regularly invited Sorby to help faculty prepare their grant proposals. "I knew I had to prepare them to write and think like the reviewers of the grants at NSF," Oates says, noting that Sorby was the best program officer in her division. "I needed someone with knowledge and skills to look people in the eye and say, 'Well, why would someone fund this project?' Sheryl is a lovely person. There's nothing mean about her—but she'll tell it like it is."
Sorby spent five years at Ohio State University when the engineering school was revising its curriculum from quarters to semesters, helping to shape the first-year engineering program. A Fulbright Scholarship sent her to the Dublin Institute of Technology to conduct engineering education research. She had divorced her first husband and remarried engineering professor Norman Loney in 2009. The first eight years they were married, they "didn't even live in the same state," a common issue in academia. Loney was a department chair at the New Jersey Institute of Technology during Sorby's tenure at Michigan Tech and Ohio State. When the opportunity arose for both to go to the University of Cincinnati, "we were happy to take it." In 2017, Sorby became a full professor of engineering education at the University of Cincinnati. She has two daughters who are both engineers and a son who is planning to become a nurse practitioner.
Sorby first connected with ASEE in 1989, when she presented her paper on teaching CAD at a section meeting at Michigan Tech. She slowly began presenting regularly at conferences. "You learn a little more, then you make some more friends, and eventually you're involved," she explains. "Like most things in my life, serendipity has played a big part." She's garnered awards from the Society, such as the Sharon Keillor Award as an outstanding female engineering educator, ASEE's Distinguished Teaching Award, and the Dow Outstanding New Faculty Award.
During her tenure as ASEE President, Sorby plans a close examination of the engineering curriculum. "I worked with someone at Michigan Tech who once said to me that our whole curriculum consists primarily of problems that could be solved with a slide rule," she emphasizes. Even with modern schools and technology at our fingertips, "we're not really preparing the students for life as an engineer. Why do we spend time [teaching] stuff kids don't really need?" She points to requirements that students take three semesters of calculus as an example of an outdated system. "People in industry want problem solvers. Let's change it so students are solving big, messy, realistic problems" rather than those that can be solved using a calculator. She worries that industry will eventually supplant universities as the pipeline for future engineers by offering programs like micro-credentialing: mini-degrees in specific topics that can fast-track new engineers. "If we don't change what we teach and how we teach it," she contends, "students will stop coming. Industry will get their diverse workforce without us."
Pierre Home-Douglas is a freelance writer and frequent Prism contributor based in Montréal.
Design by Toni Rigolosi