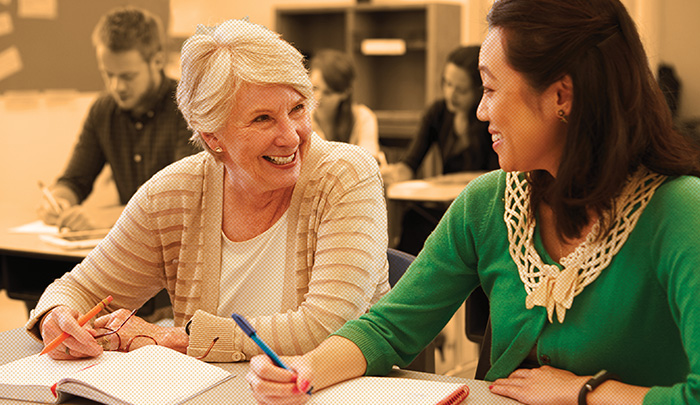 Ways to Motivate Teaching Assistants
They want responsibility and contact with both students and peers.
By Rachel L. Kajfez and Holly M. Matusovich
Graduate teaching assistants (GTAs) play critical roles in higher education. While they are teachers, they also are students. Therefore, institutions have an obligation to design positions and programs that support their professional development. Past studies have analyzed GTA developmental programs from the perspective of content and pedagogy training, but little research has examined the experience of GTAs in these programs. To develop teaching environments and training programs that support GTA development, we must better understand the factors that motivate GTAs.
According to self-determination theory, intrinsic motivation depends on supporting three psychological needs: competence, autonomy, and relatedness. The purpose of our study was to examine graduate students' motivation to teach in first-year engineering programs with regard to these three needs. We interviewed 12 GTAs from five universities in one phase of a mixed-methods study. Through a combination of a priori and open coding, we identified five factors that affect GTA competence, autonomy, and relatedness. They can be summed up as training, previous experience, appointment structure, students, and teaching colleagues.
All GTAs in our study received training that supported their competence. The most common forms included weekly and university-wide training sessions. These sessions provided a venue for GTAs to learn about program and university policies, course content, and general pedagogical practices. Based on our findings and previous literature, we recommend that all GTA positions include some form of content and pedagogy training.
Across all sites, GTAs reported that prior experiences contributed to their competence. The most common influential experiences were as a teacher or student. Accordingly, we suggest that GTA programs acknowledge and build on GTAs' previous experiences, tailoring training when feasible. For example, if GTAs will be teaching a lab course and have taught a similar class at a different institution, have them reflect on their previous work, identifying qualities of their teaching they would like to preserve and opportunities for enhancement the new position affords them.
GTAs noted that appointment structures affected their autonomy, including the jobs they were assigned. Duties that supported autonomy included lecturing, grading, one-on-one discussions with students, developing curriculum, holding office hours or review sessions, and overseeing undergraduate teaching assistants. When GTAs felt responsible for or had control over some decisions during each of these types of activities, their autonomy and teaching motivation improved. We recommend that institutions enable GTAs to engage in at least some of these activities.
GTAs reported that their relationships with students affected their teaching experiences. Helping and seeing their students succeed raised their view of—and enthusiasm for—teaching in general. We encourage all GTA positions to include such direct interaction with students as being the instructor of record or taking responsibility for office-hour sessions.
GTAs also discussed relationships with fellow GTAs and with faculty. In most instances, participants viewed their relationships with peers more positively than their relationships with faculty. They described the community they built with their peers and how they were able to learn directly from each other. We recommend that activities be integrated into GTA programs to foster positive working and learning relationships among GTAs.
In their relationships with faculty, our participants had both positive and negative experiences. Often faculty served as gatekeepers to experiences such as delivering a lecture to a class. We suggest faculty supervisors take an individualized approach to supporting competence and autonomy with each graduate student, carefully considering previous experience and appointment structure. We believe this individualized approach could improve relationships between GTAs and faculty.
When developing teaching environments and training programs for GTAs, we recommend that faculty and administrators consider the five factors that we identified and their effects on GTAs as teachers and students. Addressing these factors will strengthen GTAs' motivation in teaching and, with time, improve the quality of teaching in engineering.
Rachel L. Kajfez is an assistant professor of engineering education at Ohio State University. Holly M. Matusovich is an associate professor of engineering education at Virginia Tech. This article is excerpted from "Competence, Autonomy, and Relatedness as Motivators of Graduate Teaching Assistants" in the April 2017 Journal of Engineering Education.