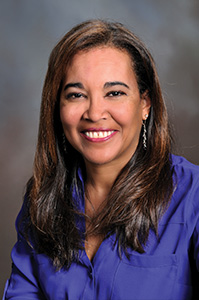 Letter from the President
Speak Out and Step Up
Members can best make their views known through active participation.
By Bevlee Watford
Communication has two common definitions: One is imparting or exchanging information or news. The other is "a means of connection," in particular between people or places. I prefer the second definition. When I speak of making communication a central theme of my tenure as ASEE president, I mean improving connections among members and between members and leadership. As part of a Strategic Doing Activity over the past year, we heard that many ASEE members feel we need to improve communication between ASEE headquarters and our membership. While they focused on greater understanding of ASEE operations, I would add that hearing what our members want from ASEE is equally important.
Since my "inaugural address" at the Annual Conference, quite a few members have been telling me what they think, connecting me with how they feel about their place in our Society. It should come as no surprise that there are conflicting views. Some individuals think things are just fine; others, not so much.
Active participation strengthens our connections and allows our views to be heard. That's been my experience. I joined ASEE in 1986, right after starting my first faculty position. In ASEE I found a place where education and students had the highest priority. So I became active and heavily involved in two divisions. I volunteered for work and eventually ran for an elected position. Fast forward to 2017, and I am writing this as President. What an honor!
What a responsibility.
ASEE was founded as a forum to connect educators with the profession. Originally the Society for the Promotion of Engineering Education, it was begun by individuals who believed their views on engineering education were critical to creating the next generation of engineering professionals. That is still true today. Our annual conference provides an environment for communicating research and practice that is evidence of our efforts to continually improve how we educate our students. Our membership includes not just educators but also academic staff, students, and engineering industry professionals. We have an organizational structure that promotes both disciplinary and interdisciplinary perspectives and discussions. We have over 12,000 members, each with opinions about engineering education and ASEE operations.
One connection we lack is an efficient means of hearing those different opinions. That is something I hope to be able to address. The ability to express views on issues that touch ASEE is a valuable benefit of ASEE membership. The existence of over 12,000 perspectives on issues critical to ASEE is a strength of our organization, a strength that we need if we are to position ASEE as the "Voice of Engineering Education."
Here is one example of how ASEE is seeking to engage the broader membership on a topic of current concern—that of making changes in the organization of the ASEE Board of Directors. It is proposed that ASEE examine how to create a structure that is more streamlined and efficient. You can read the details in Executive Director Norman Fortenberry's letter in this issue. Over the next year various ASEE leaders will be presenting the proposed changes at ASEE meetings around the country to elicit member feedback. The message is being refined, but already I have received multiple communications from ASEE members seeking to provide their perspective on the proposed changes.
I hope members use this new connection not just to speak out but to step up and get involved. While a written comment in a suggestion box can have some impact, actually voicing the comment in a committee or other ASEE forum is a stronger and more meaningful action. That requires that the individual say yes when asked to serve ASEE in some capacity or, better yet, volunteer to serve.
When ASEE leaders look for individuals to be of service, they tend to call on people they know well or ask people they know for a referral. One can only imagine the benefits of having a go-to list of ASEE members who want to be involved, a list with not only contact information but individuals' skill sets and expertise. This information would give ASEE access to literally thousands of experts in engineering education and related topics. Such expertise can be a formidable asset.
The question becomes how to best utilize this asset for the benefit of ASEE. That will become clearer as members share their views with ASEE and thereby demonstrate a desire get involved. Similar to the actions of the ASEE founders some 125 years ago, these individuals will have chosen to speak out and step up as is their right as ASEE members. We need more people to do the same.
Involvement. Communication. Action. Together they form connections that have a positive impact on engineering education and our profession. After all, isn't that the reason you joined ASEE.
Bevlee Watford is president of ASEE.
Image Courtesy of Virginia Tech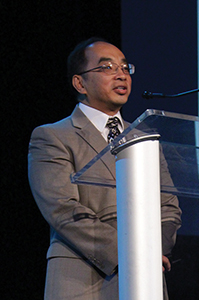 Different Drummer
2017 ASEE Outstanding Teacher of the Year, Amelito Enriquez
By Mary Lord
As Cañada College's only full-time engineering instructor, Amelito Enriquez faces design constraints galore. Yet over the past 22 years, this one-man-band has managed to orchestrate his program's revival, growing enrollment by 800 percent and coaxing the academic equivalent of symphonies from an eclectic mix of nontraditional students. His success at inspiring first-generation, low-income Hispanic students to persist through remedial math and pursue four-year STEM degrees may reflect his immigrant's experience of growing up poor, with no educational role models or expectations. "I see a lot of me in my students," explains ASEE's 2017 Outstanding Teaching Award recipient, who was the first from his high school to attend the prestigious University of the Philippines.
Enriquez's path from a Filipino village school without indoor plumbing or electricity to Redwood City, Calif., and a distinguished career as a game-changing community college engineering educator was far from preordained. After earning a bachelor's degree in engineering from the University of the Philippines, he worked briefly in industry before taking time off to study for the professional engineering exam, lecturing at his alma mater to make ends meet. He discovered he loved teaching and decided to pursue an academic career, heading to Ohio State University for a master's in geodetic science followed by a Ph.D. in mechanical engineering from the University of California, Irvine. Following his partner to the San Francisco Bay area, Enriquez, the subject of a March 2014 Prism profile, knew nothing about community colleges when he applied for a position teaching "engineering/math" at Cañada College—which had too few engineering students to warrant a full-time instructor.
"Your window's closing," warned his dissertation adviser and mentors, urging him to seek a more prestigious berth at a research university. But Enriquez enjoyed motivating minority students in STEM and the challenge of resurrecting a "dying" engineering program. If enrollment didn't grow, he reasoned, "at least I'll have a job teaching math."
Dr. E, as his students call him, can point to a host of innovations that have spurred transformation and student success, many buoyed by some $16 million in National Science Foundation and other grants. He developed and has taught every engineering course at Cañada College, from Introduction to Engineering to Engineering Graphics, recruiting "the good students" from precalculus and Algebra 1 classes, where "they get the itch" for engineering problem solving. To further bolster enrollment, he also began "aggressively going to high schools," talking to math teachers, launching a design contest, and establishing a two-week summer institute for sophomores and juniors to learn the skills to succeed in college engineering. Along with conducting summer institutes for engineering instructors, where he draws stellar evaluations, Enriquez has instituted mini-course "JAM" sessions to prepare Cañada students for upcoming math and science courses, a model that many community colleges now have adopted. He also created online curricula for various engineering courses and a tech-rich "interactive learning network" that lets students take snap assessments and get real-time feedback.
Still, it's Enriquez's personalized approach that hooks students. Likening him to a "second father," Cañada graduate John Louis Paulino, a General Motors infotainment validation engineer, hails his "unique" teaching style—which includes cracking jokes while introducing new material and beginning each course with a "name game" so students and professor get to know one another. Of particular note is Enriquez's ability to "break down hard concepts and theories into practical, easy-to-absorb information." Prepared for a "painful" experience in dynamics, Paulino ended up enjoying the class because of the excitement and examples Dr. E conveyed and online office hours.
That approachable teaching style may derive from Enriquez's struggle to catch up as an undergraduate. He scored lowest in his class on a reading test and bombed the first precalculus exam. Professors, he noted, taught as if all students had equally strong academic backgrounds and opportunities.
Now 54, Enriquez, who chairs ASEE's Two-Year College Division and is executive secretary of the Pacific Southwest section, has earned a string of awards for his work—including the 2011 Presidential Award for Excellence in Science, Mathematics, and Engineering Mentoring from the White House. His biggest accomplishment, however, lies in shaping students' futures. Paulino—also from the Philippines—arrived at Cañada College with "minimal extracurricular activities and volunteer experience." After Enriquez encouraged him to volunteer during his first semester at a computer-literacy program for underserved communities, he became engaged in various clubs and professional societies, which led to conferences, research experiences—and a bachelor's degree in engineering. Indeed, more than 80 percent of Enriquez's recruits go on to complete a degree in engineering. Teaching at a community college, he reflects, is "what I think I was born to do."
Mary Lord is deputy editor of Prism.
Columbus Highlights
In June, engineering educators from around the world gathered in Columbus, Ohio, to shake hands and meld minds. Engineering took flight in many different ways, from metaphorically high-flying ideas to the Exhibit Hall Drone Zone (top right). The conference was interactive for all involved, including virtual reality gaming, the Two-year College Division's model design competition (right center), and the Living Wall (bottom right), a community art project that showcased what members think "ASEE Is," located across from the busy Exhibit Hall (bottom center). Every morning, ASEE Active participants gathered at the Arnold Schwarzenegger statue for a group run/walk to energize their day (bottom left). Incoming President Bevlee Watford received the gavel (center left) at the President's Farewell Reception. Attendees experienced the Ohio capital's exciting attributes, from meeting denizens of Columbus Zoo (Sonny the Sloth pictured left) to ASEE's Taste of Columbus, where citywide restaurants featured their flavors. Even Ed, ASEE's mascot, made an appearance (top left)! Finally, before passing the gavel and bidding a fond farewell, Louie Martin-Vega posed with the student award winners. We look forward to seeing everyone next year in Salt Lake City!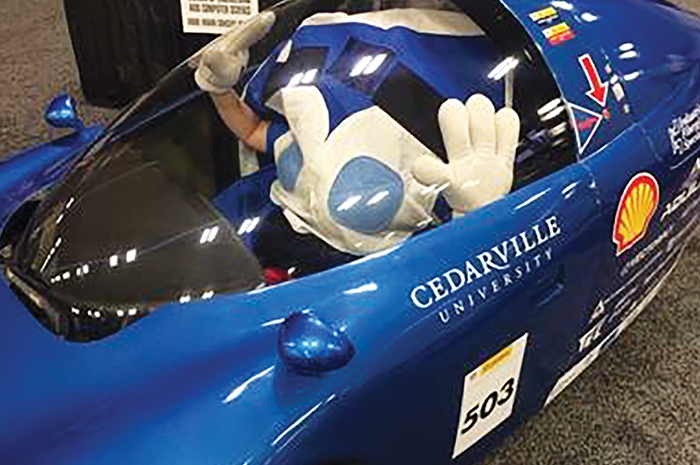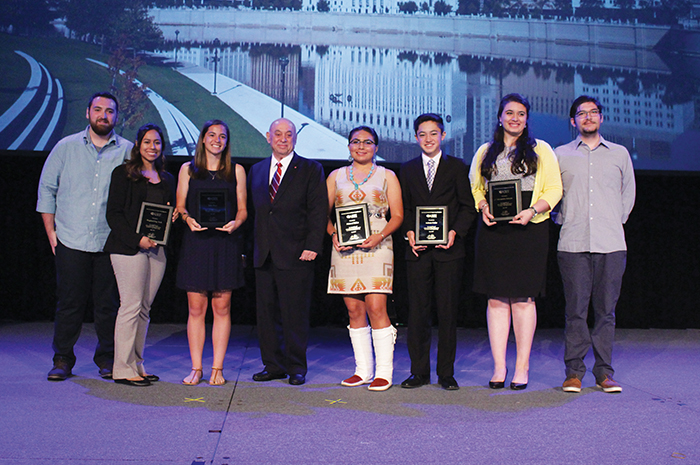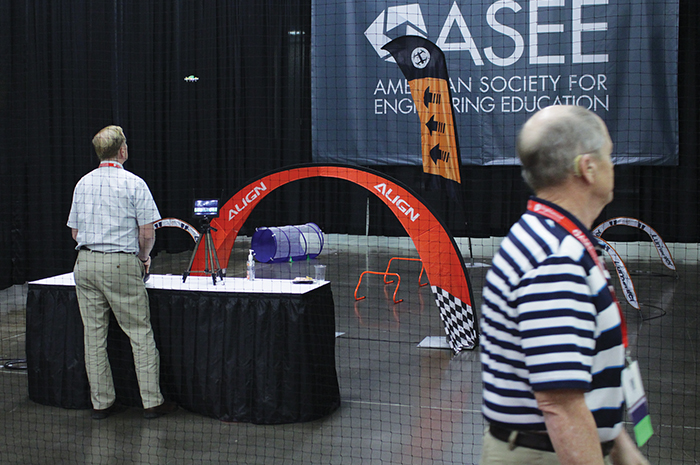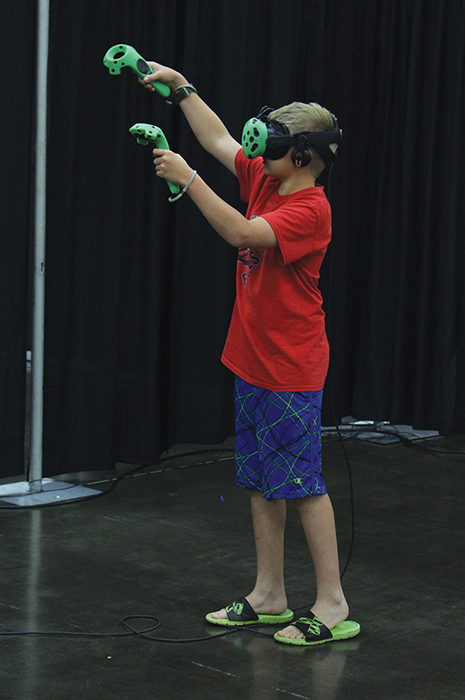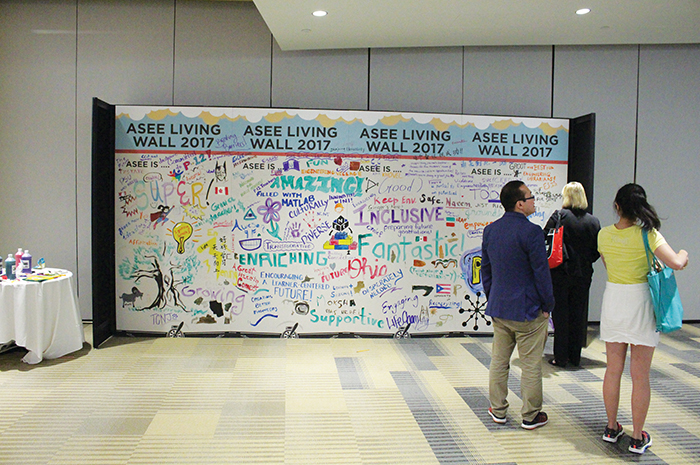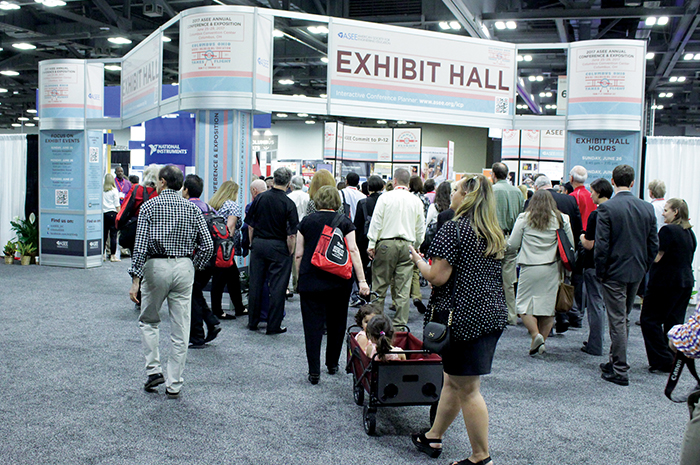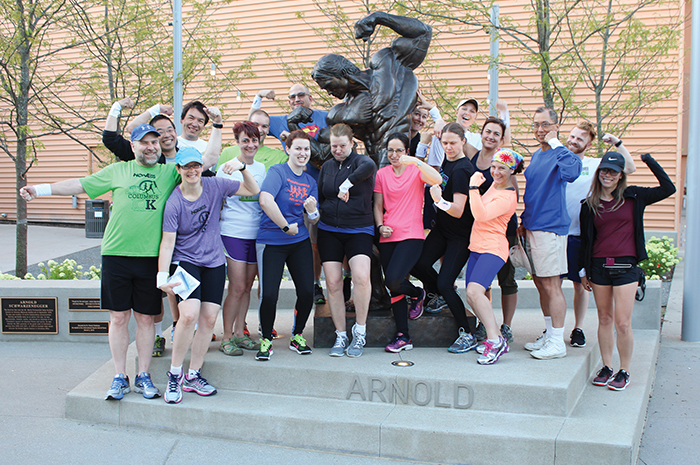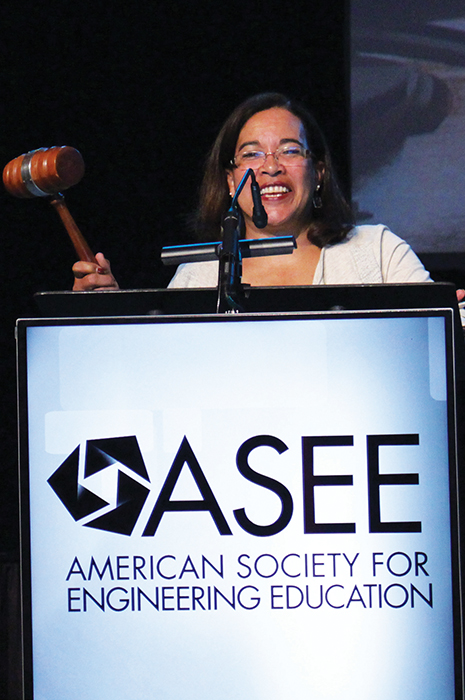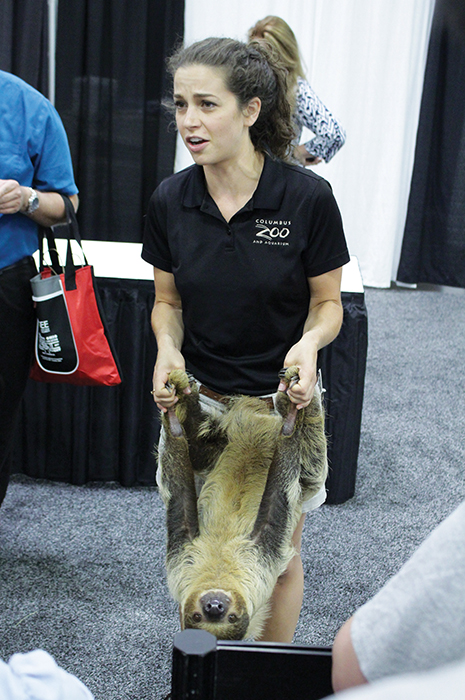 From Career Tips to K-12 Impact: They've Got You Covered!
Purdue's student chapter leaders have innovative ideas for professional development.
By Jennifer Pocock
This past spring, ASEE hosted a professional development webinar series for students and new faculty members called "Engineer Your Career," which covered such topics as fellowships, interviewing, networking, and portfolios. Some 39 members of Purdue's student chapter signed up, by far the biggest cohort—not surprising, given that the first ASEE student chapter was founded at Purdue in 1993.
It turns out that the webinars are just the tip of the iceberg when it comes to the chapter's ambitious professional development goals. ASEE sat down with its immediate past president, Nathan Hicks, and incoming president Julianna Ge at the Annual Conference in Columbus to learn more about their plans.
"One of the initiatives we're really excited about is an exchange of student guest lecture talks with a few other schools," Ge said. "There are limited opportunities for students to be invited guest speakers. It's also a really good opportunity to disseminate engineering education research." They will pilot the exchange with Virginia Tech and hope to expand it to other schools in the near future. The program eventually will include an application process for prospective speakers.
Another initiative involves engagement with the wider engineering community. One thing Hicks "would really like to see happen is for [engineering education] students to take their expertise and convey it to all of the other engineering students on campus." For example, he says, "we could help them assemble their [K-12] outreach programs so that they're more in line with what we know to be best practices in engineering education." This would give engineering education students practice in the field while exposing those in other engineering disciplines to more effective teaching methods—and thus motivating a broader array of K-12 pupils to pursue engineering majors and careers.
Ge also will continue encouraging the chapter to hold events that teach and foster skills such as networking, management, and cross-disciplinary collaboration. The pair's creative efforts should make for dynamic future engineering educators—not just in their own school but others as well.
Jennifer Pocock is associate editor of Prism.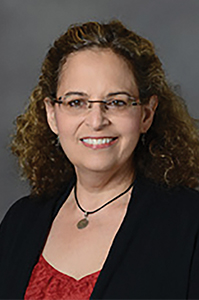 Board Profile
Leadership Trainer with a Passion for Sustainability
Patricia Fox is an engineering educator of a different stripe. Her expertise lies in the professional development of future engineers—specifically in how to lead organizations. With a B.S. in accounting and a master's in business administration, Fox joined Indiana University Purdue University Indianapolis in 1983 as a lecturer of supervision and assistant to the dean for research and sponsored programs. From there, she went on to serve as the assistant dean and then associate dean for a number of years.
Fox is currently a full-time faculty member, a clinical assistant professor of organizational leadership at the Purdue School of Engineering and Technology, IUPUI, and has "taught almost every course in our curriculum within our department." The school's organizational leadership courses are designed to work in conjunction with engineering and engineering technology courses to produce industry managers and leaders.
Fox's real passion, however, lies in teaching courses in sustainability practices. She is in charge of the school's multidisciplinary Sustainable Technologies Certificate Program. Her favorite course to teach is her study-abroad program in Germany called GO GREEN, which she has been running for 15 years. Housed in Mannheim, the course looks at the sustainability practices of businesses, industries, and municipalities in Germany from many different aspects, including waste energy, biotechnology, and recycling, just to name a few.
Having lived most of her life in Indiana, Fox is a Midwesterner to the core. "Indianapolis has a lot to offer," she says. "I wouldn't live anywhere else." She is drawn to the kindness, enthusiasm, and community-minded spirit of the engineering technology leaders she has come to know through IUPUI and ASEE. A member of ASEE since 1983, she sounds almost incredulous as she notes, "In two more years I'm going to be a life member!"
Fox is currently in her fourth position with the ASEE Board and her second term as the Engineering Technology Council chair. "I really care about the organization—I guess that's why I'm still working as hard as I am! It's because of my connections with the people, not just in engineering technology but all of the people I've met throughout my experiences and my work that I've done with ASEE."
2017 ASEE National and Society Awards
ASEE Fellows Named
The following members received the Fellow grade of membership in recognition of outstanding contributions to engineering or engineering technology education. This distinction was conferred at the awards ceremony during ASEE's annual conference in Columbus, Ohio.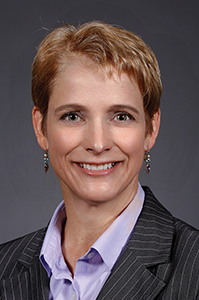 Kristen P. Constant
Professor and Chair
Materials Science and Engineering
Iowa State University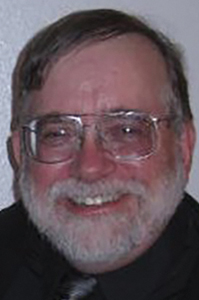 Ted Eschenbach
Professor Emeritus
University of Alaska, Anchorage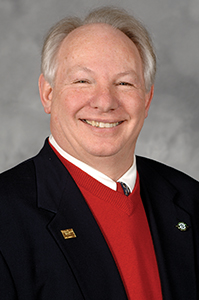 Craig J. Gunn
Director, Communications Program
Mechanical Engineering Department
Michigan State University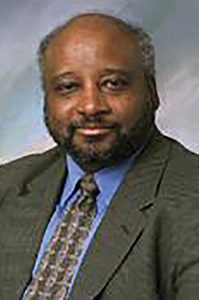 Michael T. Harris
Associate Dean of Engineering for Undergraduate Education
and Professor
College of Engineering
Purdue University, West Lafayette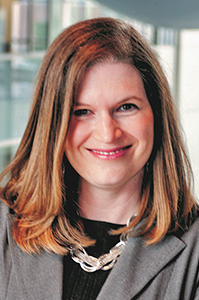 Beth M. Holloway 
Director, Women in Engineering Program
Assistant Dean of Undergraduate Education
College of Engineering
Purdue University, West Lafayette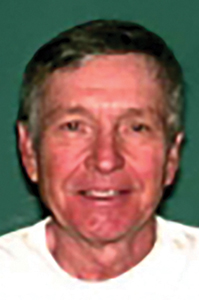 Nelson A. Macken 
Professor
Engineering Department
Swarthmore College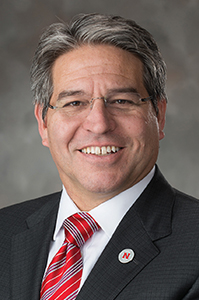 Lance C. Pérez 
Interim Dean
College of Engineering
University of Nebraska, Lincoln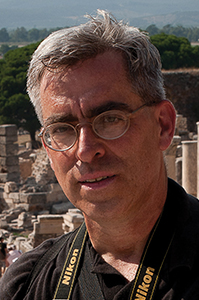 Stephen J. Ressler 
Chair
Civil and Mechanical Engineering
U.S. Military Academy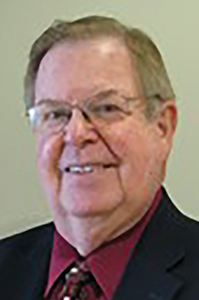 James R. Rowland 
Professor
Electrical Engineering and Computer Science
University of Kansas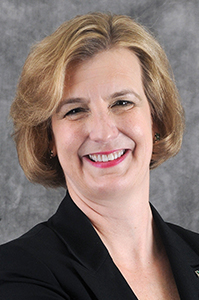 Cheryl B. Schrader 
President
Wright State University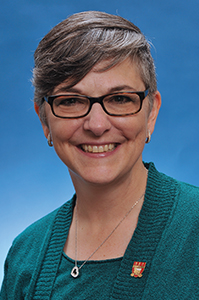 Susan E. Walden 
Associate Professor and Founding Director
Office of Undergraduate Research and the
Research Institute for STEM Education (RISE)
University of Oklahoma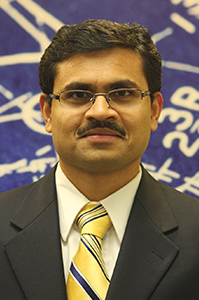 Dupont Minorities in Engineering Award
This award honors an engineering educator for exceptional achievement in increasing participation and retention of minorities and women in engineering. Endowed by the DuPont Company, it is intended to recognize the importance of ethnic and gender diversity among students in science, engineering, and technology. 
Salil S. Desai, an associate professor of industrial and systems engineering at North Carolina A&T State University, was recognized for his seminal contributions to increasing participation and retention of minorities in engineering at North Carolina A&T State University, for which he received the IIE UPS Minority Advancement Award. He has spearheaded programmatic, infrastructure, and extramural efforts that have given minority engineers a pipeline to careers in industry, academia, and national laboratories via the NSF Bridge to the Doctorate Fellowship, NC-LSAMP, and NASA-SEMAA enrichment programs. He has received an NSF CAREER Award and Outstanding Young Investigator awards from ASEE, ASME, IIE, SME, and the U.S. departments of defense and energy.
An adjunct faculty member at the Wake Forest Institute for Regenerative Medicine, Desai directs the Integrated Nano & Bio Manufacturing Laboratory and is an affiliate faculty member of the Joint School of Nanoscience and Nanoengineering (UNCG/NCA&T). He believes that education is the mission of "igniting the spirit of inquiry to transcend knowledge and benefit humankind," and strives to promote students' abilities to think analytically and independently using real-life case studies within a collaborative learning environment. He envisions a holistic education plan using a variety of pedagogical and longitudinal assessment strategies that prepares students beyond the classroom. In 2016, the UNC Board of Governors honored him with the highest teaching excellence award for translating his research into curriculum.
Desai investigates hybrid nano/micro manufacturing, combining direct-write fabrication and nanoimprint lithography with applications in the areas of flexible electronics, energy devices, and regenerative tissue engineering. His portfolio consists of more than 100 patents/invention disclosures, publications, book chapters, and conference proceedings. At NCA&T, he has established $3 million in facilities, including a Class1000 clean room, bio-printing technology, nanoimprint lithography, and metal-ceramic 3-D printer, and received more than $6 million in R&D funding from various federal agencies and the North Carolina Biotechnology Center.
Desai has been recognized by several prestigious awards, including the Triad Business Journal's 40 Leaders under 40 and Outstanding Engineer Awards from Oak Ridge National Laboratory and the Department of Defense. He obtained his B.S. in mechanical engineering from the University of Mumbai in India and M.S. and Ph.D. degrees in industrial engineering from the University of Pittsburgh.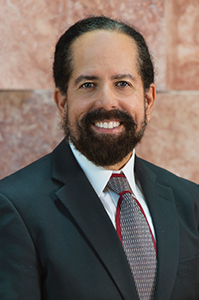 John L. Imhoff Global Excellence Award for Industrial Engineering Education
An engineering educator for more than 50 years, John L. Imhoff thrived on the global impact potential of the industrial engineering discipline. His vision encompassed the undergraduate, graduate, and teaching levels. He believed that global sharing through educational channels would lead to greater cooperation and understanding. He was very committed to students within the classroom and was passionate about professional student organizations as well as faculty involvement within those organizations. He encouraged students to travel abroad on work/study programs, and encouraged faculty to bring in speakers who had worked abroad to share their experiences.

César O. Malavé, dean and professor in the chemical engineering program at Texas A&M University at Qatar, was recognized for his 30-year commitment to the field of industrial engineering for his far-reaching work in interdisciplinary and international engineering education, for his leadership in developing educational diversity in the academy, and for his pioneering contributions to undergraduate engineering education. His innovations have influenced thousands of engineers across the globe, and his contributions will have lasting impact far into the 21st century.
Malavé, previously professor and department head of industrial and systems engineering at Texas A&M University, has served in a variety of administrative positions for the College of Engineering. Among them: assistant dean for international programs, associate dean for recruitment and international programs, and associate dean of engineering, which included responsibility for all international collaborations and undergraduate recruitment programs. Under his leadership, the industrial and systems engineering department recruited a number of new faculty, developed a new advanced manufacturing initiative, and launched major initiatives to revamp the undergraduate curriculum and graduate program. His major career accomplishments are in the areas of manufacturing systems analysis, engineering education innovation, and diversity development for engineering faculty and undergraduate student programs. He has been the principal or co-principal investigator of more than $35 million in sponsored research and academic projects.
Malavé, a member of ASEE, the Institute for Operations Research and the Management Sciences (INFORMS), and the Institute of Industrial and Systems Engineers (IISE), has served on the editorial board of the Journal of Applications and Practices in Engineering Education and is a coauthor of the recently published book, Global Engineering: Design, Decision Making, and Communication. He earned a B.S. in chemical engineering and an M.S. in operations research from the Georgia Institute of Technology and a Ph.D. in industrial engineering from the University of South Florida. He joined the industrial engineering faculty at Texas A&M in 1987.
Malavé's contributions to engineering education are recognized internationally. His work was the result of a 10-year NSF-funded Foundation Coalition Grant to revamp engineering education. As lead PI for Texas A&M, he coordinated all activities related to curricula development, implementation, and outcomes assessment across partner sites, disseminating this educational model through workshops in the United States and many countries.
Malavé is committed to diversity, promoting a bias- and discrimination-free environment, and providing a university experience rich in diverse perspectives and varied opportunities. As chief of diversity for Texas A&M's College of Engineering, he led multidisciplinary efforts to develop and implement underrepresented high school recruiting, summer bridge programs, and faculty and staff programs to promote diversity in hiring, retention, and promotion. In 2013, he received the Texas A&M Faculty Diversity Award.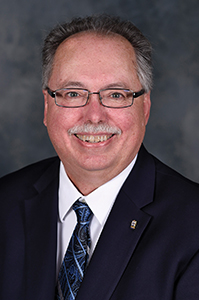 James H. McGraw Award
Named for the "dean of industrial publishers," the James H. McGraw Award is presented for outstanding contributions to engineering technology education. Established by the McGraw-Hill Book Company in 1950, the award is now cosponsored by McGraw-Hill Higher Education, the ASEE Engineering Technology Council, and the ASEE Engineering Technology Division.

Jeffrey L. Ray, dean of the College of Engineering and Technology at Western Carolina University and a professor of mechanical engineering, was recognized for his outstanding leadership, dedication, service, and contributions to engineering technology education and to ASEE. Above all, he was celebrated as a gifted educator and scholar.
Since joining Western Carolina in 2014, Ray has been leading innovation in the project-based learning curricula across all engineering technology and engineering programs. He arrived there from seven years at Southern Polytechnic State University (now Kennesaw State University) in Marietta, Ga., where he was dean of the School of Engineering Technology and Management and professor of mechanical engineering technology. Before joining SPSU, he was the director of the School of Engineering and professor of mechanical engineering at Grand Valley State University (GVSU) for 10 years, leading its multidisciplinary, industry-sponsored capstone engineering design courses. His academic career began as an assistant professor of mechanical engineering at Youngstown State University.
Ray, an ASEE Fellow, has published many conference papers at the section and national level and has served the Society in a variety of roles since 1993. His activities include chairing the Engineering Technology Council and serving on the ASEE Board of Directors as Council Chair and Vice-President of Institutional Councils. He currently is chair of ASEE's Risk Management Committee, cochair-elect for the Engineering Deans Council's Undergraduate Experience Committee, and chair of ABET's Academic Advisory Council.
Ray received both his B.S. and M.S. degrees in mechanical engineering from Tennessee Technological University and a Ph.D. in mechanical engineering from Vanderbilt University, where he worked in the Department of Orthopædics performing skeletal biodynamics research. Before beginning engineering school, he completed an apprenticeship and was awarded the title of Journeyman Industrial Electrician. These professional experiences have provided opportunities to experience the full spectrum of engineering careers.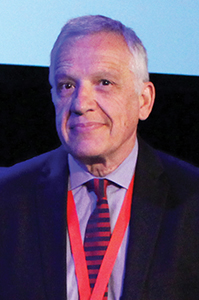 ASEE President's Award
Funded by the ASEE Engineering Deans Council, this award recognizes organizations that encourage PreK-12 students to pursue engineering studies and careers, and/or influence public opinion and create recognition of the critical role that engineering plays in today's technology-driven society.

The award was presented to the University of Southern California's Viterbi School of Engineering in honor of efforts by Yannis C. Yortsos, dean of the school, to promote ASEE's Deans Diversity Pledge and his presentation to the White House, in August 2015, of a signed pledge from nearly 150 deans. As of this writing, the pledge has nearly 210 signatories. This effort has raised public awareness not only of colleges of engineering throughout the country but also of the profession's commitment to addressing the challenge of managing diversity in our institutions. Yortsos devoted his own personal time and Viterbi resources to initiate, draft, and circulate the pledge.
Yortsos and the Viterbi School were co-founders of the Grand Challenges Scholars Program, inspired by the National Academy of Engineering's (NAE) Grand Challenges. This program makes young people aware of engineering's role in solving the challenges facing society and equips them to address these problems. Yortsos and Viterbi cohosted the first NAE Grand Challenges Summit in 2009 at Duke University and the second Grand Challenges Summit in 2010 at the University of Southern California, and have been engaged at the steering committee level in its global extension that now includes three academies of engineering (NAE, the Chinese Academy of Engineering, and the Royal Academy of Engineering) and three Global Summits (in London in 2013, Beijing in 2015, and Washington, D.C., in 2017). Yortsos and the Viterbi School have organized the Student Day Business Model Competition, which is a global competition among engineering teams from the three countries and precedes the Global Summit.
Under Yortsos's leadership, the Viterbi School has increased substantially in size, quality, and diversity of its faculty and undergraduate, graduate, and Ph.D. student body. The school has seen retention and graduation rates rise, a growing number of faculty receive major national and international awards, and a thriving research program expand to include six national research centers and total multiyear, multi-school funding of close to $200 million. Yortsos championed a concept called Engineering + that positions engineering as the enabling discipline of our times, helps change the conversation about the impact of engineering, and expands the appeal of engineering to a more diverse talent pool. He spearheaded strategic directions for the creation of educational and research programs that respond to the critical needs of the profession and society, including global outreach.
William Elgin Wickenden Award
Sponsored by the Journal of Engineering Education's editorial review board, this award recognizes the authors of the best paper published in the Journal of Engineering Education (JEE), ASEE's scholarly research publication. It was named in honor of William Elgin Wickenden, an engineer, educator, philosopher, administrator, and humanitarian whose wisdom and leadership so infuse the landmark "Report of the Investigation of Engineering Education, 1923–1929" that it has been popularly referred to as the Wickenden Report ever since. 
Amy Wilson-Lopez, Joel Alejandro Mejia, G. Sue Kasun, and Indhira María Hasbún received the 2017 William Elgin Wickenden Award in recognition of their article "Latina/o Adolescents' Funds of Knowledge Related to Engineering," which was published in the April 2016 issue of the Journal of Engineering Education.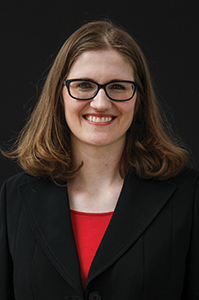 Amy Wilson-Lopez is an associate professor at Utah State University in the School of Teacher Education and Leadership. Her research and community outreach activities focus on youth-driven, literacy-infused engineering with emergent bilingual K-12 students. Through her research and practice, she seeks to develop and examine engineering pedagogies that rigorously engage underrepresented students' linguistic and cultural practices as assets to engineering.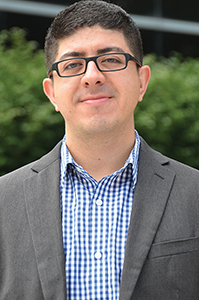 Joel Alejandro Mejia is an assistant professor of engineering at Angelo State University. He received his B.S. in metallurgical and materials engineering from the University of Texas at El Paso, his M.S. in metallurgical engineering from the University of Utah, and his Ph.D. in engineering education from Utah State University. Prior to working as an assistant professor, he worked at Tinker Air Force Base as a materials engineer and at FLSmidth Minerals as a project engineer. A former Gates Millennium Scholar and CADRE Fellow, Mejia has participated in different outreach programs to inspire the next generation of STEM professionals. His current research focuses on how Latino adolescents use engineering design processes to solve community-based projects, and how their household bodies of knowledge and social practices connect to engineering.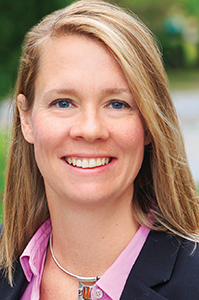 G. Sue Kasun is an assistant professor of language education at Georgia State University in Atlanta. She has extensively conducted studies with Mexican-origin populations for over two decades. Her multi-sited work is situated in sending and receiving communities spanning the U.S.-Mexican border, highlighting the transnationalism of many immigrant communities. She has focused on Mexican-origin populations' ways of knowing and intersections with language education as well as how youth of Mexican origin have performed in schools. Her research is published in several prestigious education journals, including Teachers College Record, Anthropology & Education Quarterly, and TESOL Quarterly.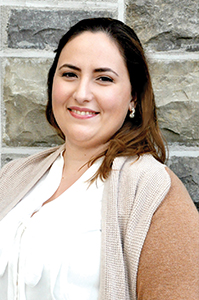 Indhira María Hasbún is a Ph.D. student in the Department of Engineering Education at Virginia Tech. Her current research focuses on professional ethics identity development in undergraduate engineering students. She is interested in expanding her line of research to include social justice and community engagement in engineering, particularly as it pertains to the Hispanic community.
ASEE Annual Conference Best Paper Awards
(For papers that were presented at the 2016 ASEE Annual Conference)
This award recognizes high-quality papers presented at the ASEE Annual Conference the previous year. One outstanding conference paper is selected from the four ASEE Zones. The Zone Best Paper Award consists of $1,000. Six outstanding conference papers are selected: one from each of the five ASEE Professional Interest Councils (PICs) and one overall conference paper. The award consists of $1,000 for each PlC paper and $3,000 for the best conference paper.
Best Zone Paper
Presented to:
Norman D. Dennis, Jr.
University of Arkansas
Edgar C. Clausen
University of Arkansas
Paper: "Clinical Faculty Development Program"
Best Paper – PIC I
Presented to:
Peter Schuster
California Polytechnic State University, San Luis Obispo
James Widmann
California Polytechnic State University, San Luis Obispo
Paper: "All Active All the Time? What Are the Implications of Teaching a Traditional Content-Rich Machine Components/Mechanical Systems Design Course Using Active Learning?"
Best Paper – PIC II
Presented to:
Derek Reamon
University of Colorado, Boulder
Beth Myers
University of Colorado, Boulder
Jacquelyn Sullivan
University of Colorado, Boulder
Marissa Forbes
University of Colorado, Boulder
Paper: "Exploring Student Impressions of and Navigations through a Flexible and Customizable Multidisciplinary Engineering Program"
Best Paper – PIC III
Presented to:
Kurt Paterson
James Madison University
Chris Swan
Tufts University
David Watkins
Michigan Technological University 
Paper: "Going Is Not Knowing: Challenges in Creating Intercultural Engineers"
Best Paper – PIC IV
Presented to:
Angela R. Bielefeldt
University of Colorado, Boulder
Nathan Canney
Seattle University
Paper: "Perspectives of Engineers on Ethical Dilemmas in the Workplace"
Best Paper – PIC V
Presented to:
Vedaraman Sriraman
Texas State University, San Marcos
Bobbi Spencer
Texas State University, San Marcos
Kimberly Talley
Texas State University, San Marcos
Araceli Ortiz
Texas State University, San Marcos
Paper: "Early Internships for Engineering Technology Student Retention: A Pilot Study"
Best Paper – Zone I
Presented to:
Kyle V. Moses
United States Military Academy, West Point
W. Michael Petullo
United States Military Academy, West Point  
Paper: "Teaching Computer Security"
Best Paper – Zone II
Presented to:
Sally Pardue
Tennessee Technological University
Nikolas McGehee
Tennessee Technological University  
Paper: "Upper Cumberland Rural STEM Initiative (UCRSI) STEMmobile: a sustainable model for K-12 outreach"
Best Paper – Zone IV
Presented to:
Sandrine Fischer
California Polytechnic State University, San Luis Obispo
Kelli Yogi
California Polytechnic State University, San Luis Obispo
Eric J. White
California Polytechnic State University, San Luis Obispo
Paper: "Attentional Demand, Encoding, and Affective Payoff of Context-rich Physics Problems"
Best Conference Paper
Presented to:
Kurt Paterson
James Madison University
Chris Swan
Tufts University
David Watkins
Michigan Technological University 
Paper: "Going Is Not Knowing: Challenges in Creating Intercultural Engineers"
2018 ASEE Annual Conference
Salt Lake City, Utah
Call for Papers
All divisions are 'Publish to Present'
With a few exceptions, all conference papers must be submitted for peer review in order to be presented at the conference and, subsequently, published in the conference proceedings.
The process for the submission of ASEE annual conference papers is as follows: All authors must submit an abstract of their papers to be reviewed and evaluated. Authors of accepted abstracts will be invited to submit a full paper draft to be reviewed by three engineering educators. A draft may be accepted as submitted, accepted with minor changes or major changes, or rejected. Successful review and acceptance of the full paper draft will allow a final paper to be presented at the annual conference. Exceptions to the "Publish to Present" requirement include invited speakers and panels.
Here are important dates in the process for authors:
September 5, 2017: System opens for submission of abstracts.
October 16, 2017: All abstracts must be submitted.
February 5, 2018: All draft papers must be submitted.
March 19, 2018: Requested revisions to blind drafts must be uploaded.
April 9, 2018: Deadline for authors to register and accept copyright.
April 30, 2018: Deadline for authors to upload final papers with all blind indicators removed; submit all bio and author information; and select who will present. No paper changes will be accepted after this date.
Abstracts must be submitted via ASEE's Web-based conference abstract/paper submission system, Monolith.
For more information and to see the full Call for Papers from each ASEE division, please visit:
https://www.asee.org/conferences-and-events/conferences/annual-conference/2018/papers-management/call-for-papers
Call for Nominations
The ASEE Nominating Committee, chaired by Most Immediate Past President Louis Martin-Vega, requests member participation in nominating board officers for the 2019 ASEE elections. Officers to be nominated for Society-wide Board positions are: President-Elect; Vice President, Finance; Vice President, External Relations; and Chairs of Professional Interest Councils I, IV, and V.
All nominees must be individual members or institutional member representatives of ASEE at the time of nomination and must maintain ASEE membership during their term of office. Nominating Committee members are not eligible for nomination. The slate of candidates selected by the committee will not exceed two candidates per office.
Candidates for President-Elect must be active members who have served or are serving on the Board of Directors. Because ASEE is a Department of Defense contractor, candidates for President-Elect must currently be U.S. citizens. Candidates for Vice President, External Relations shall be limited to those members of the Society who have previously served or currently serve on the Board of Directors. Candidates for Vice President, Finance shall be individual members or institutional member representatives of ASEE.
Candidates for Chair of the Corporate Member Council and Chair-Elect for Zone II and Zone IV will be nominated and selected by their respective councils and zones, as the ASEE Constitution stipulates.
Each proposed candidate for a Society-wide office should submit a first-person biographical sketch of fewer than 400 words that documents career contributions, ASEE offices held, awards and recognitions received, and educational background. Include comments on leadership qualities, ability to collaborate with others to achieve objectives, and willingness to serve if elected. Self-nominations are accepted. For nominations for the office of President-Elect, please include a statement summarizing why you think your nominee is a good candidate for the position. A listing of members who meet constitutional eligibility requirements for the offices of President-Elect and Vice President, Member Affairs is available from the executive director's office at ASEE headquarters.
Nominations will be accepted electronically at c.evangelista@asee.org. Please include a subject line that begins with the words "2019 Nomination" so that it can be forwarded to the Nominating Committee. Please be assured that your nominations are confidential and will be seen only by the Assistant Board Secretary and Members of the Nominating Committee. The deadline to submit nominations is June 1, 2018.
Nominations postmarked by June 1, 2018, will also be accepted by mail. Please mark the envelope CONFIDENTIAL and address it to Louis Martin-Vega, Chair, ASEE Nominating Committee, ASEE, 1818 N Street, N.W., Suite 600, Washington, DC 20036.
If you have any questions, please contact ASEE Assistant Board Secretary Christian Evangelista at (202) 350-3516 or c.evangelista@asee.org.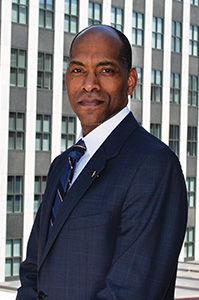 Norman's Notes
Members' Views Sought on Board Restructuring
(This is one of a series of quarterly letters to ASEE members from the executive director.)
ASEE Members,
I hope you had a refreshing and restful summer and are on your way to a productive fall semester.
ASEE had a tremendous Annual Conference in Columbus, where we once again topped the 4,000 attendee mark. NSF Director France Córdova and Aimee Kennedy, Battelle's senior vice president for Education, STEM Learning, and Philanthropy, headlined the event with plenary talks on Monday and Tuesday, respectively. Other popular events and attractions included a toy adaptation activity led by Ohio State, ASEE's new Living Wall community art project, a great slate of distinguished lectures, and the Exhibit Hall Drone Zone. We even had a local Columbus morning TV show broadcast live from the conference.
I want to use this column to share a proposed change to ASEE governance, the culmination of several years of discussion at the Board of Directors level. During his 2014-2015 presidency, Nick Altiero raised the issue of the Board's challenge to be both agile and responsive. Under his successor, Joe Rencis, we engaged in a Society-wide "Strategic Doing" process to position ASEE for the next several decades. (A key outcome for the Governance Strategic Doing Team was a set of recommendations for restructuring the Board. See the full report at https://www.asee.org/governance_team.) And under our most recent president, Louis Martin-Vega, our Long Range Planning Committee revised our mission, values, and goals.
Each of these steps has informed a proposed Board restructuring that the Board of Directors reviewed at its meeting during the 2017 Annual Conference. ASEE's leadership and staff are undertaking a year of dialogue with our membership, sharing information about the proposed restructuring and soliciting your feedback.
Why do we seek a change?
Our current Board of Directors meetings are structured such that operational matters consume a disproportionate amount of meeting time. Consequently, insufficient time is devoted to thinking about long-range Society needs and responding to a rapidly changing economic and political environment.
What might the change look like?
The working model calls for the current Board to be realigned into two units: an Executive Board, chaired by the ASEE President, and a Board of Delegates, chaired by the ASEE Immediate Past President. Information sharing between the two groups will be facilitated by five members of the Executive Board also serving on the Board of Delegates. The VP Member Affairs, VP Institutional Councils, and VP Professional Interest Councils will also be member of the Board of Delegates in addition to the Past President, and VP Member Affairs. The two boards will hold joint meetings at the June and February Board meetings.
The Executive Board will comprise:
President
President-Elect
Immediate Past President
First Vice President
Vice President, External Affairs
Vice President, Member Affairs
Vice President, Professional Interest Councils
Vice President, Institutional Councils
The Board of Delegates will comprise:
Past President (Chair)
Vice President, Member Affairs
Five PIC Chairs
Four Zone Chairs
Four Institutional Council Chairs
What are their respective roles?
Along with separating members and expertise, the duties of the current Board will be split between the Executive Board and the Board of Delegates, freeing up time for the Executive Board to focus on strategic issues.
The Executive Board will:
Set the Society's long-term strategic direction
Elect the First Vice President
Select and evaluate the executive director
Review ASEE's finances
Approve ASEE's budget
Set dues levels
Approve the annual security clearance resolution
Act as the legal "Board of Directors"
The Board of Delegates will:
Solicit candidates and hold elections
Approve MOUs and other collaborative activities
Set ASEE's annual foci (e.g., "Year of 'X' " activities)
Approve changes to Division, Section, and Zone bylaws
Address member issues with regard to headquarters operation and support
Approve future annual conference sites
Approve new awards
Approve petitions for Constituent Committee and Division status; dissolve moribund units
Create special committees (e.g., Diversity, P-12, etc.)
Authorize special studies and reports
Approve International Branches
Approve Life Members
Appoint honorary members and approve awardees
The Executive Board will have four physical meetings. The Board of Delegates will have physical meetings at the summer and winter Board meetings, during which it will meet separately and then concurrently with the Executive Board.
How can you provide feedback?
Over the 2017-2018 Society Year, ASEE Board members and staff will be soliciting feedback from you, our members. You can e-mail them directly—addresses can be found on the ASEE website on the Board of Directors page. Or, perhaps more conveniently, you can contribute your thoughts at http://boardcommunications.asee.org. We also expect to provide an overview of the proposed changes and solicit feedback during Section meetings.
As we said during the Strategic Doing process, the ground is shifting beneath the feet of both engineering education and professional societies. An agile, forward-thinking Board that is responsive to member needs and external forces is essential for ASEE to stay relevant and strong. We hope you will take the time to consider this proposal and share your feedback.
Norman Fortenberry is executive director of ASEE.